Culture
Are You One of the 943,967 Taxpayers Expected to Earn Higher Take Home Pay Under TRAIN Law?
The extra cash may help offset price increases because of higher taxes on goods and services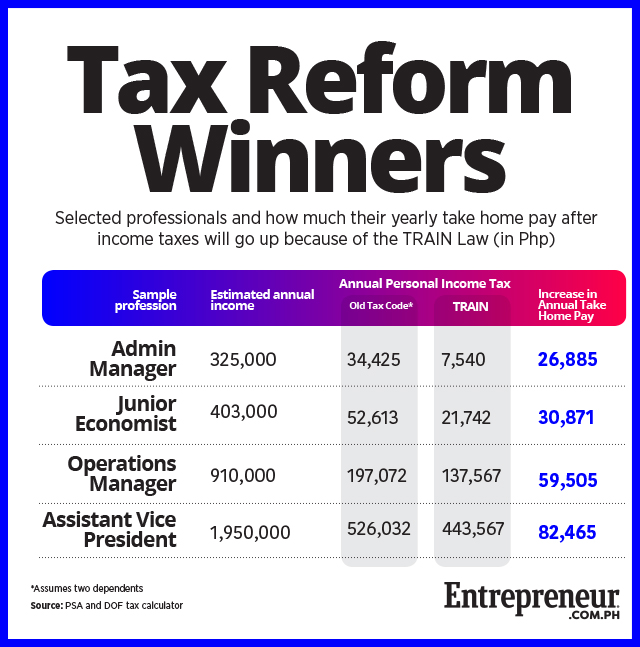 One of the biggest winners under the Tax Reform for Acceleration and Inclusion (TRAIN) Law which took effect Jan. 1, 2018 were employees earning Php250,000 and below a year because they no longer have to pay any income tax. They number some six million taxpayers or 86 percent of compensation earners, according to estimate sby the Department of Finance (DOF).
ADVERTISEMENT - CONTINUE READING BELOW
But amid the public outcry triggered by rising consumer prices blamed, rightly or not, on tax reforms, Finance Secretary Carlos Dominguez III reminded taxpayers that those earning Php250,000 to a maximum of Php2 million annually are set to benefit from the TRAIN Law, too.
"Individuals earning above Php250,000 a year but less than Php2 million used to shell out about 30 percent to 32 percent of their net taxable income for their personal income tax (PIT) payments," Dominguez said in a press release. "But under the first five years of the TRAIN's implementation, they would only pay between 20 and 30 percent for the PIT."
Data from the Bureau of Internal Revenue (BIR) show these taxpayers represent 13.48 percent of the total salaried workers in the country, or 943,967 individuals.
Under Section 5 of Republic Act 10963 or TRAIN, taxpayers are categorized under six taxable income brackets.
From this year until the end of 2022, those earning a net taxable income above Php250,000 but not more than Php400,000 annually will pay 20 percent of the excess of over Php250,000. Individuals earning above Php400,000 but not more than Php800,000 a year will pay Php30,000 plus 25 percent of the excess of over Php400,000, while those receiving more than Php800,000 but not over Php2 million will be taxed P130,000 plus 30 percent of the excess of over P800,000. Those earning over Php2 million but not over Php8 million will pay a tax of Php490,000 plus 32 percent of the excess over Php2 million. Finally, those making over Php8 million will pay a tax of Php2.41 million plus 35 percent of the excess over Php8 million. Slightly lower rates will apply starting in 2023.
ADVERTISEMENT - CONTINUE READING BELOW
The DOF says the new tax scheme provides relief to company managers and junior executives, or those whose tax payments under the previous tax scheme were usually lumped with those earning in millions a year. 
For the lucky thousands who will enjoy income tax cuts, the extra cash may come in handy to help them offset part of the ongoing price hikes of some goods especially with the new excise taxes imposed on oil, automobiles and sweetened beverages to name a few. It remains to be seen what is the net impact, or balance, on the various income groupings.
*****
Elyssa Christine Lopez is a staff writer of Entrepreneur PH. Follow her on Twitter @elyssalopz
This story originally appeared on Entrepreneur.com.ph.
* Minor edits have been made by the Esquiremag.ph editors.
"I'm a 28-year-old virgin."
A Chinese vessel rammed into a Filipino fishing boat, and then abandoned its 22 fishermen in their sinking boat at sea.
The track-inspired collecton drops June 27.
Is the new look all that it's cracked up to be?
Your favorite wrestling superstars will beat each other up in the Philippines in September.
The personalized and superior construction of custom-made shoes equal better wear and very happy feet.
In 1992 the Pearl Jam frontman connected with a woman after his concert. Last week he found her again.
From thick to thin, New York to Neapolitan, stuffed crust to Hawaiian, the options for the best pizza in Manila are aplenty.
Facts about our National Hero that may have been overlooked in the teaching of history in classrooms.
This idea has upset Piers Morgan for some reason.
The Shazam! star made a splash in some great looks for his biggest-ever night as master of ceremonies.
Google celebrates the 158th birth anniversary of Philippine National Hero Jose Rizal with a Doodle.