Arts & Entertainment
Here's Your First Look at Amber Heard in Aquaman
Lucky guy, that Arthur Curry
IMAGE Twitter @zacksnyder
Aquaman director James Wan is officially at work creating the underwater kingdom of Atlantis, and now the filmmaker has shared a stunning first look at the film's underwater queen Mera—played by Amber Heard—emerging from the sea in his upcoming blockbuster.
"Lady MERA swept in from the sea," James Wan tweeted. "First day with the exquisite Amber Heard."
DC Entertainment has previously only given us brief glimpses of Mera from her supporting appearance in the Justice League movie, which first introduces the exiled queen of Xebel.
Once Justice League introduces her union with Atlantean king Aquaman, the two will step up for their own aquatic action movie in which the wider world of Atlantis will be explored.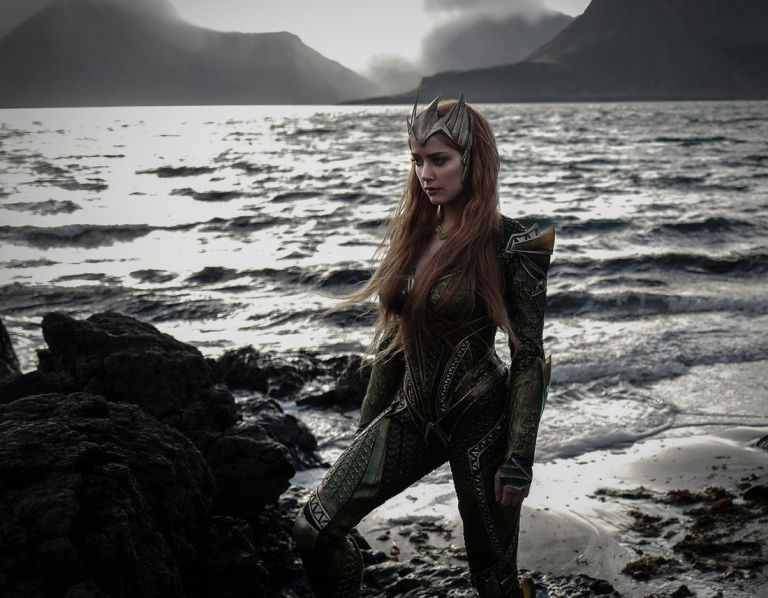 Mera in Justice League
Among the powerful Atlantean figures we'll meet will be Aquaman's (potentially untrustworthy) brother Orm (Patrick Wilson), the cunning Xebelean king Nereus (Dolph Lundgren) and the mercenary Black Manta (Yahya Abdul-Mateen II).
ADVERTISEMENT - CONTINUE READING BELOW
Academy Award winner Nicole Kidman recently opened up about her own casting as Aquaman's mother Atlanna more than 20 years after her iconic role in Batman Forever.
"The reason why I love [Aquaman] is James Wan is an Australian, and I've followed his career since he started," she said. "He's a really good friend of mine, and he offered to let me play Queen Atlanna.
"As soon as he said I could wear mother-of-pearl and be a mermaid warrior, I said, 'I'm done! Please! If there is one thing I have to do in my life, I have to be that!' Because you've got to have some fun."
Aquaman will arrive on 21 December 21, 2018, but Jason Momoa's hulking hero will first be seen in Justice League, which is arriving in the US and the UK on 17 November, 2017.
This story originally appeared on Digital Spy.
* Minor edits have been made by the Esquiremag.ph editors.
ADVERTISEMENT - CONTINUE READING BELOW
From the front lines of MTV, I watched the young star transform pop music's audience.
How to avoid having the same old regrets this February, according to Esquire's fitness columnist
Why are fans pretending otherwise?
Let's take a closer look at Jon's statue.
The XR and XS have only been out three months, but three new models are planned for this year
It's never too early to get excited about new music.
Romeo was believed to be the last of his species, but it turns out he doesn't have to croak alone.
A historical look at Pac-Man's fight earnings.
Lampara challenges how you see modern Filipino food.
Quiz Mo Ko is hosting a game show on February 1 with P1 million as prize.