Arts & Entertainment
7 Movies Banned For Ridiculous Reasons
Unjustified genitals, graphic gorillas and every Claire Danes movie ever.
IMAGE Fox 2000 Pictures
Different countries have different rules when it comes to censorship, and what's considered graphic, offensive or dangerous can vary from culture to culture over time. It can also be completely nuts.
Here are seven examples of the latter—the times when movies were banned for totally bizarro reasons.
1. Zack and Miri Make a Porno, Thailand – for fear of copy-cat pornos
Kevin Smith's comedy about platonic mates Seth Rogen and Elizabeth Banks, who decide to make a skin flick to solve their cash flow problems, wasn't banned for being too pervy. It's not that pervy. Instead it was banned for the potential persuasiveness of its perviness. Basically, the Thai film board was afraid other hard-up youngsters would be tempted to follow in Zack and Miri's footsteps and make their own home-grown porn.
2. Bruno, Ukraine – for unjustified genitals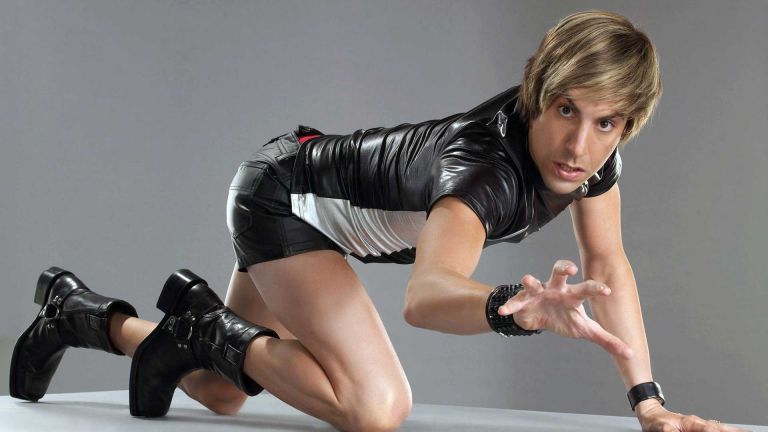 Ukraine probably wasn't the target audience for Sacha Baron-Cohen's flamboyant gay Austrian creation—just as well since they didn't see the joke at all. The movie was banned for a number of reasons including:
"Unjustified showing of genital organs."
"Homosexual perversions in an explicitly realist manner."
"Homosexual acts in a blatantly graphic form, obscene language, sadism, anti-social behaviour."
3. 2012, North Korea – for being mean about the year 2012
2012 was meant to be a really lucky year for North Korea. It marked 100 years since the birth of former leader Kim Il-sung, and according to then-leader Kim Jong-il it would be the year that would "open the grand gates to becoming a rising superpower". So he didn't want no Roland Emmerich movie messing that up by suggesting the world would be wiped out by a bunch of natural disasters that year. So much so that those trying to watch pirated copies would be arrested. And the movie REALLY wasn't worth that.
4. E.T: The Extra Terrestrial, Sweden – for making adults look like dicks
ADVERTISEMENT - CONTINUE READING BELOW
Okay not banned as such, but restricted for under-11s, who are exactly the people E.T. was presumably aimed at. The Swedish film board did this for the reason that all the grown-up characters are cold, antagonistic gits. The film board said it portrayed "adults as enemies of children". Which it kind of does.
5. King Kong, Finland – for being too graphic about gorillas
So this was 1933, and the effects for the time were pretty rad. But was anyone really shocked by King Kong and his man-eating, lady-stealing ways? Yes: the Finnish, apparently, who banned the movie on its initial release. Six years later they changed their minds. It's just a big ape, guys.
6. Zoolander, Iran – for being too gay
Iran has a strict policy of banning anything which promotes gay rights or depicts homosexuality, and Ben Stiller's catwalk comedy was just too much for their sensibilities. Even though it's not actually explicitly gay.
7. Every Claire Danes movie ever, The Philippines – for calling the country smelly and weird
In 1999 Claire Danes starred in a movie called Brokedown Palace about two women in Thailand who are sent to jail when they're caught smuggling. Though set in Thailand, the movie was actually shot in the Philippines, which at the time, Danes didn't warm to.
So much so that in an interview with Vogue, Danes said Manila was "ghastly and weird", and in Premiere magazine that it "smelled of cockroaches, with rats all over, and that there is no sewerage system, and the people do not have anything—no arms, no legs, no eyes."
The President of the Philippines got involved, saying they would ban all her movies until she issued an apology. She did but in a sort of "sorry, not sorry" way, saying:
"Because of the subject matter of our film Brokedown Palace, the cast was exposed to the darker and more impoverished places of Manila. My comments in Premiere magazine only reflect those locations, not my attitude towards the Filipino people. They were nothing but warm, friendly, and supportive."
ADVERTISEMENT - CONTINUE READING BELOW
Her apology was not accepted, and as far as we know she is still persona non grata.
This story originally appeared on Esquire.co.uk.
* Minor edits have been made by the Esquiremag.ph editors.
It really is incredible what an avocado can do.
Here are some of the most significant models in automotive history.
We're betting heavy on Dan Villegas and Eddie Garcia.
It's all about the camera and the assistant.
Jackson Maine's rugged Americana look got you jealous, we know.
It's a summer tradition in Northern Europe.
FWD Insurance outlines their desire to create equal opportunities for people with disabilities.
Henann Group of Resorts issued a statement of denial that reads...familiar.
Welcome to round two of our sartorial knockouts.
Somebody is out there with the receipts.
We may not have autumn, but it sure feels like it.