Sharp questions pierce through the halls of the Wild Silence exhibition in Hong Kong. The artist behind it, Filipino-American painter Jana Benitez, welcomes each self-reflexive needle. "The goal was not to make a great painting," she says. "The goal was to create a safe space for people to come and be moved, be touch be invited to be present to come like to come together, and arrive home and arrive in their bodies."
But she spoke too soon when she said this. Benitez would then contradict herself: "That's so specific. It's actually just an open-ended invitation."
Wild Silence is an invitation of the self directed at the self. The essence of the exhibit is creating a refuge for internal dialogue, somatic reconciliation, holistic intuition, and interconnectedness. Presence is the only prerequisite. The sooner we become present, the sooner we can arrive to consume.
"What comes to me is this introduction to the Tao de Ching, which is speaking about fingers pointing at the moon, you know, and the words of Lao Tzu being fingers pointing at the moon," the Brown-University-educated New Yorker explains. "So it's not the moon itself, but it's pointing toward that. And so I think that I'm pointing toward the fountain inside of all of us, and pointing towards the fact that we, at any moment in time, have the magical gift of connecting to this fountain of many, many different feelings."
Benitez at her studio.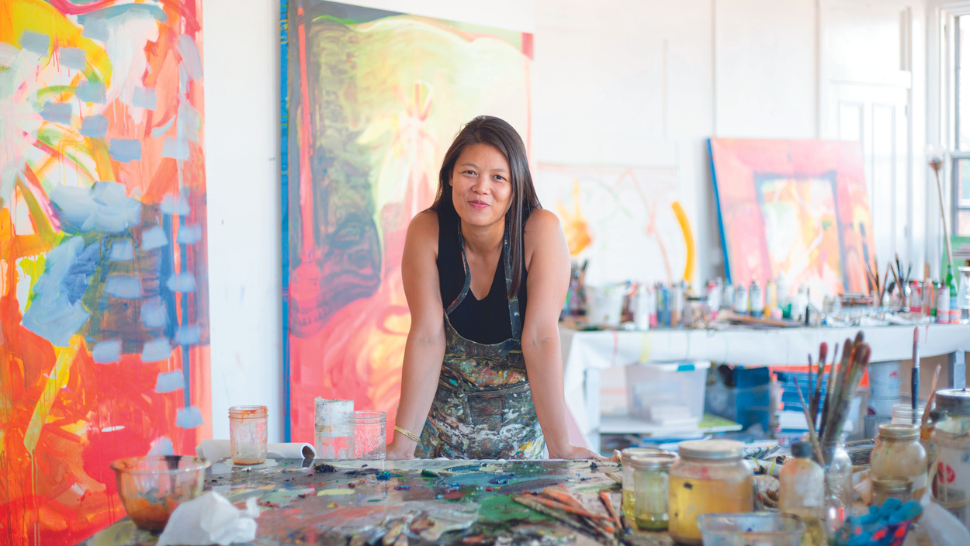 ADVERTISEMENT - CONTINUE READING BELOW
She tells us that it's about the abundance of joy and love (a word that Benitez says is a no-no in graduate school), and the profound lifeforce that comes from this wellspring. It's the same energy that helps flowers grow, she quips. And that energy isn't always happy or sad or whatever feelings we have in that particular moment of becoming. This energy is fluid, illuminating our inner worlds and connecting with the world outside us, withstanding the constant distractions, social dilution, or plain ignorance and hate.
When we talk about these elevated concepts of the self, groundedness, and presence, we have had our minds wired to automatically envision, let's say, Buddha under a tree or some long-white-bearded gentleman meditating. So far, what Benitez loves most about her latest showcase are the conversations that vibrate within those walls. She recalls one instance where someone came up to her and said, "you talk about Wild Silence, and I feel so much energy and I feel so moved. But I don't feel silence. There's color and there's excitement, mindfulness."
"Someone said to me, 'you know, sometimes, we try so hard to be mindful. And maybe it's just good to let go and not worry about that.' And it's an interesting thought because I don't really consider mindfulness to be a specific image or a specific state."
"Caliraya" (2020) by Jana Benitez, Oil and Acrylic on Canvas.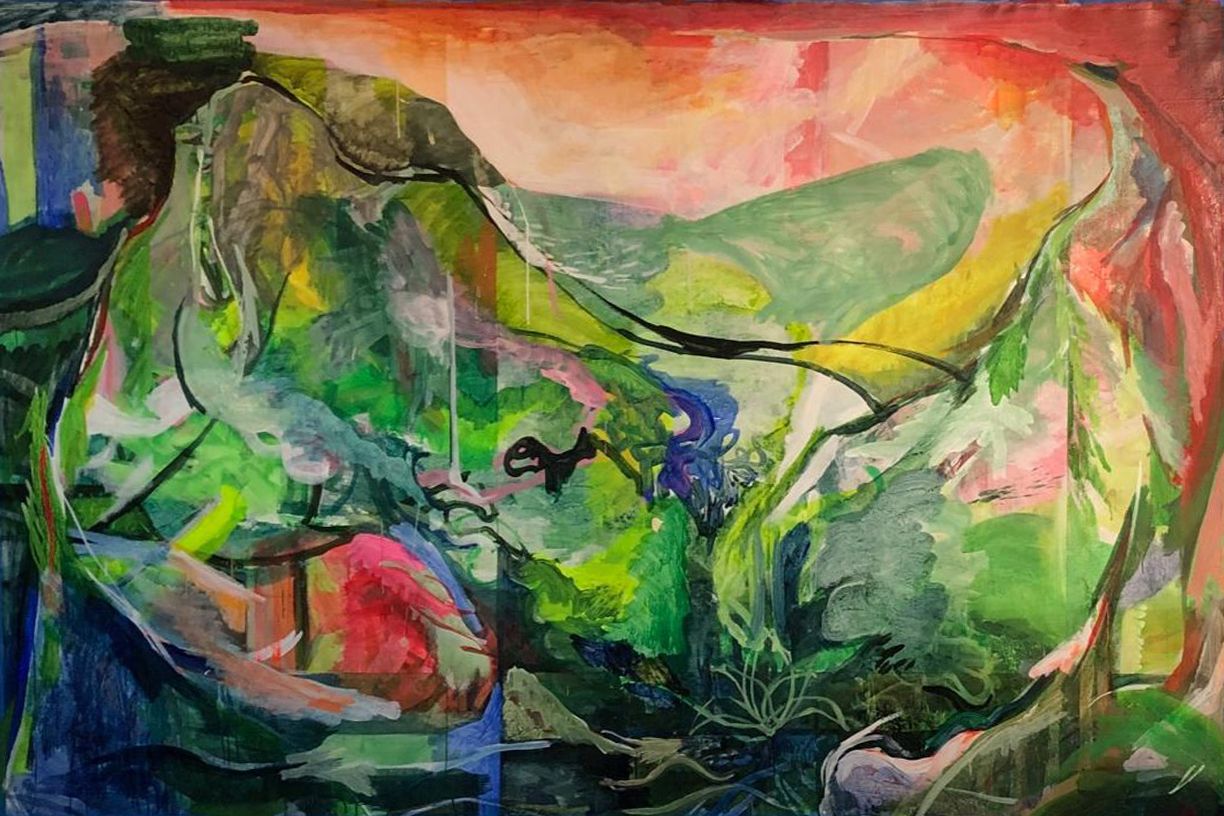 ADVERTISEMENT - CONTINUE READING BELOW
Recommended Videos
Benitez argues that this shouldn't be the case, as these performative pictures of what a mindful human being looks like are, in a sense, limiting. There's a certain mysticism to mindfulness, which leads to deeper feelings of connection with the self. Some of it comes from the spirituality of religion; teachings from Taoism, Buddhism, Christianity, and the like. Contemporary psychology is a key influence, too; newer ways of hacking and honing the mind. Another part of it is existential restlessness that we (usually) learn to tame over time; what would it mean to really be aware? How do we comb through all this texture within and around us?
But she's not looking to harness any of that for her work either. Presence transcends form and structure, after all. It holds no bounds. That sort of limitlessness means that we can have a much more profound connection with ourselves and other people. These concepts are almost inherent to Eastern philosophy, where collectivism is advocated over individualistic Western ideals. "There's such a vibrancy in Asia, and I don't know if it's the region in general. But there's a vibrancy. There's an excitement. There's a rootedness. People kind of sense who they are," the artist says.
"Dear Jessica" (2022) by Jana Benitez, Oil on Canvas.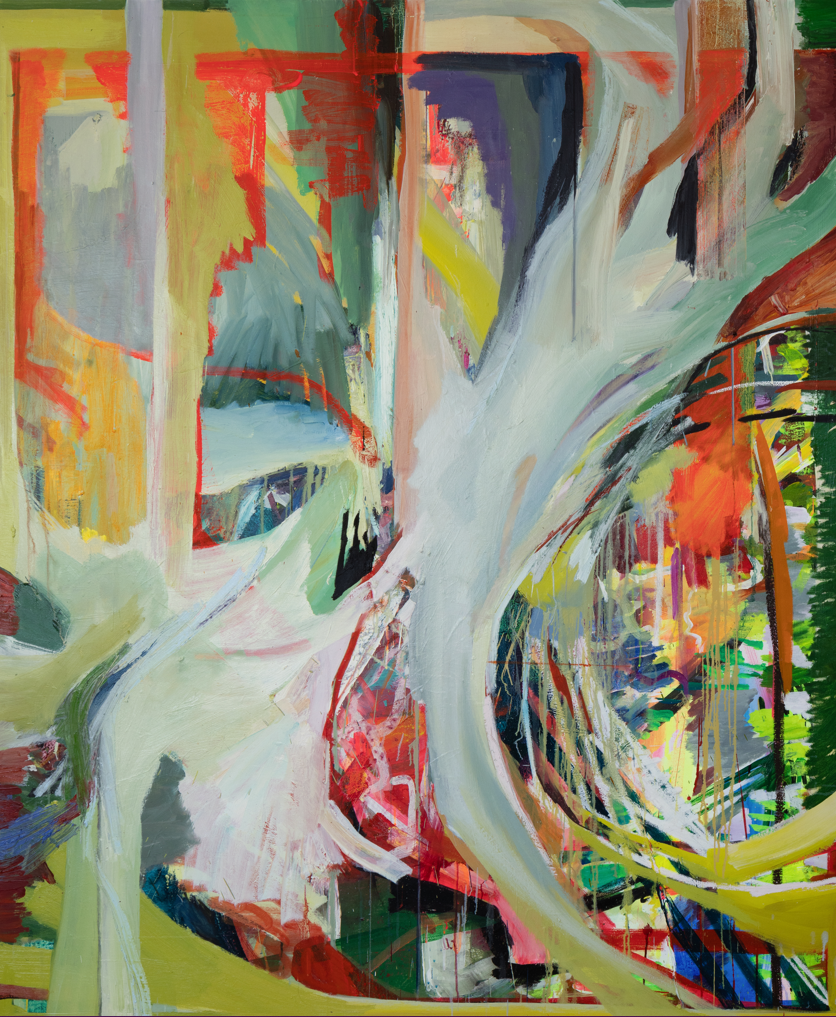 ADVERTISEMENT - CONTINUE READING BELOW
In the Philippines, we have this thing called "animinism," which traces its roots to Polynesian indigenous principles, some say. Pre-colonial Filipinos were animistic, believing that everything—from that rock in the corner and the trees we water to the animals we feed and natural phenomena, with us in the center—in one way or another has a spirit to it; and that we should confront and accommodate them as part of the order of our lives.
"One of the aspirations was creating a refuge, a sanctuary. By that, I mean a space for people to feel safe, to be divided to be all of themselves, and to feel whatever feelings they feel. There's no right and wrong."
The themes in the exhibit have been with Benitez all her life, from Manila to New York to Boston University to Brown University to now Hong Kong. She tells Esquire Philippines that the makings of this showcase began roughly a decade ago. She adds: "It was like coming out of the closet, because it's carrying what's most vulnerable to me and realizing that it's our responsibility with feeling connection to ideas that are not necessarily new, but require being applied to in a new way, or in a personal way."
This adherence to somatics carriers over to Benitez' brand of gestural abstraction. Diverse, ever-moving and ever-present, she incorporates various styles, techniques, and formats—layers upon layers of these, as a matter of fact. Her figures show us the transformative cosmic nature of energy, as elucidated by the human body; self-evident are the memories caried, both visceral and carnal. The depth of which these subjects operate have led Benitez to explore the past and present, from traditionalist moods to experimental obscuration. There is a loudly subtle alchemy to them that crystallizes the force of movement and even inertia.
ADVERTISEMENT - CONTINUE READING BELOW
"Antonio" (2022) by Jana Benitez, Oil on Canvas.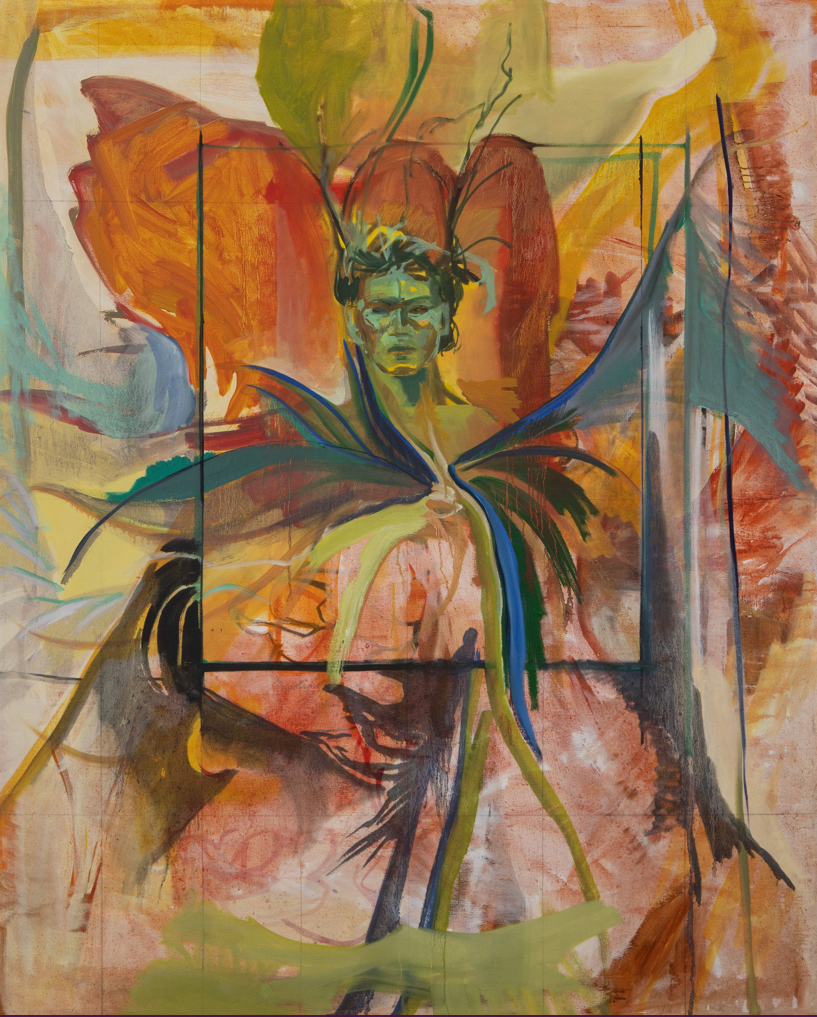 "I think what's interesting about my creative process is that I actually consider myself a slow painter. The brushstrokes are sometimes very fast," she tells us. "But the work is oftentimes years and years and years in the making, and I'll work on a whole set of paintings and then I'll be unsure of how to move forward with them."
Benitez adds: "I'm managing theme like they're babies that are in different stages, you know?"
We catch these subjects in flux, much like how we can ourselves on a random day. There's a sense of immediacy and a call to action. What Benitez likes most about gestural abstraction is the playful wildness of it. We get vibration. "I love how it reads and registers time and speed and relationships in a very interesting way," Benitez notes.
She continues: "Imagine a rock and then you imagine someone hitting this rock, and there's a physics dynamic that happens where that energy that enters the rock from the hitting has to move somewhere. And that's how they determine where it will break, because the energy doesn't disappear, right? The thermodynamics... And I think painting this gestural abstraction can can really give a visual form to that kind of energy."
ADVERTISEMENT - CONTINUE READING BELOW
Some paintings have more figuration while others have more recreation. "I think the merging of these different styles can help, hopefully, aim at more precise, poignant moments."
"Tonglen 1" (2022) by Jana Benitez, Acrylic and Pastel on Canvas.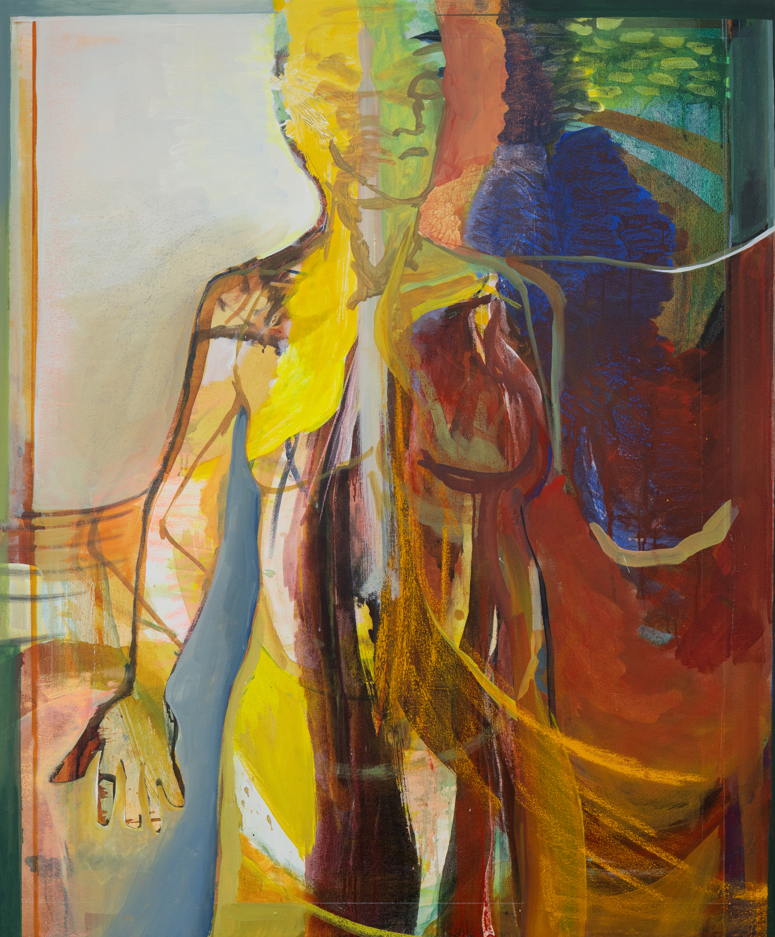 "Tonglen 1," for instance, captures a the poignancy of introspection. Here, we see a meditation practice that comes from Tibetan Buddhism. "Tonglen," in Tibetan, means giving and taking or sending and receiving. We can see a careful interplay of rhythmic colors and moods. The explosion of depth houses the subject's spirit, drawing our eyes to the different elements (the relationship between the spaces, strokes, texture, etc.) around the figure. Within it, we notice how the body blends with the kaleidoscopic backdrop, but not all of it. To the left, the part that's grounded and unmoving is the part that introduces us to the metamorphosis in transit.
"Dreamland Coney Island 1905" (2022) by Jana Benitez, Oil on Canvas.
ADVERTISEMENT - CONTINUE READING BELOW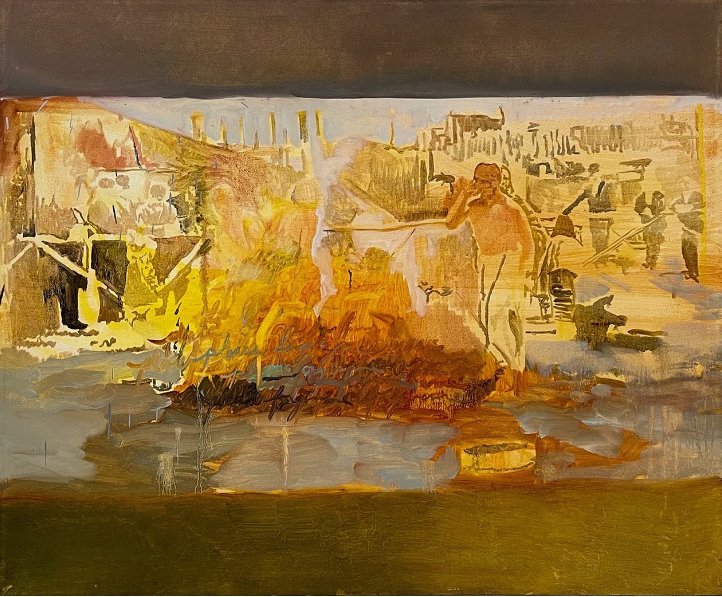 As for "Dreamland Coney Island 1905," the viewer is asked to confront many things, as Benitez points out. This piece is indicative of her approach. The subject is based off a horrid image of Igorot people on tour in the United States in the early 20th century. They were brought to New York's Coney Island amusement park, and became an exoticized spectacle for American observers. It can be uncomfortable to look at, but Benitez, as part of her reckoning with social unrest, nevertheless undertakes it and the politico-historical narratives that surround it.
"I am interested in reframing the individuals that were in these human zoos. And in these exhibitions, I'm interested in exploring what would it mean to consider them (something more) instead of merely victims of atrocity. To consider them to be Bodhisattvas," she explains.
The said Igorot Village at Coney Islandin 1905.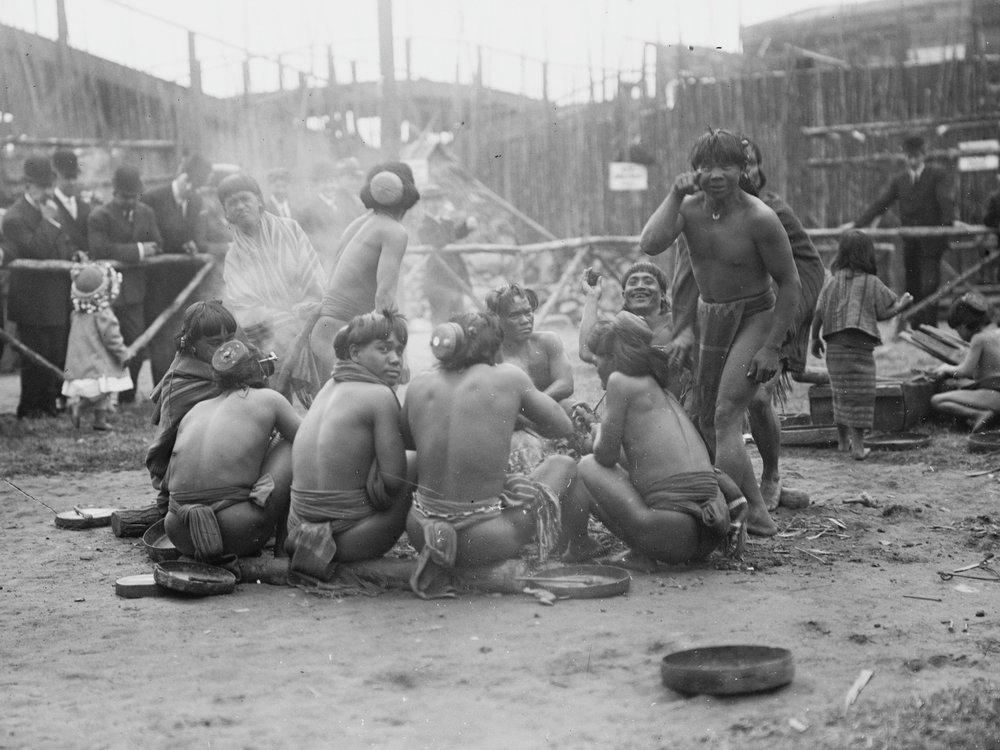 ADVERTISEMENT - CONTINUE READING BELOW
Bodhisattvas are enlightened beings who chose to help others attain enlightenment of Buddhahood instead of entering paradise. "To reintroduce this notion, which is like contemporary Filipino Bodhisattvas, who are taking the ignorance of the world and transforming it into compassion. So there is a in some ways, these human beings are catalyzing ignorance and cruelty."
"... The vulnerability and tenderness that this subject matter really brings out in me; but might it be possible, or what would it mean to consider these people to be leaders? Rather than, like, 'what the happened?' 'And who can I point the finger at?' 'I'm so angry at X, Y, Z.' What if the Filipino people are the non-violent leaders?"
Perhaps there is a modern lens in which we may view these Filipinos of the past as, there we say, leaders, as Benitez mentions. There is a potential for reconciliation of history and identity here, without denying the atrocities and the site of trauma, of pain.
The artist emphasizes: "In the scribbling of the blue and orange density here across the middle of the page, if you look up close, you may or may not be able to make out some words but I deliberately left it a little ambiguous so that it's not kind of in your face." These are supposedly mantras for forgiveness, rooted in the Hawaiian prayer "ho'oponopono," which goes: "I'm sorry, Please forgive me, Thank you, I love you." With this, she connects with the people of her past. That's where a reclamation of selfhood can take place.
Benitez is infinitely interested in the intersection of dialogues that comes with her art. In a grander sense, it is these dialogues that speak of the greater spirit of Wild Silence. The exercise of ideas and expressions comes from a deep compassion and desire to rediscover the self and its place in a post-modern world. This is what the exhibit embodies. It hopes to capture our innermost sensations and get them to crawl out of the surface, the same surface from which our most profound questions and feelings seep through; the residue that comes with it is raw, vulnerable, tender, and intimate. Hence, the need to ask inwardly each time we face one of her paintings. Our silence, ultimately, says so much.
ADVERTISEMENT - CONTINUE READING BELOW
Apart from the white wall in her studio, everything else, she stresses, is total chaos.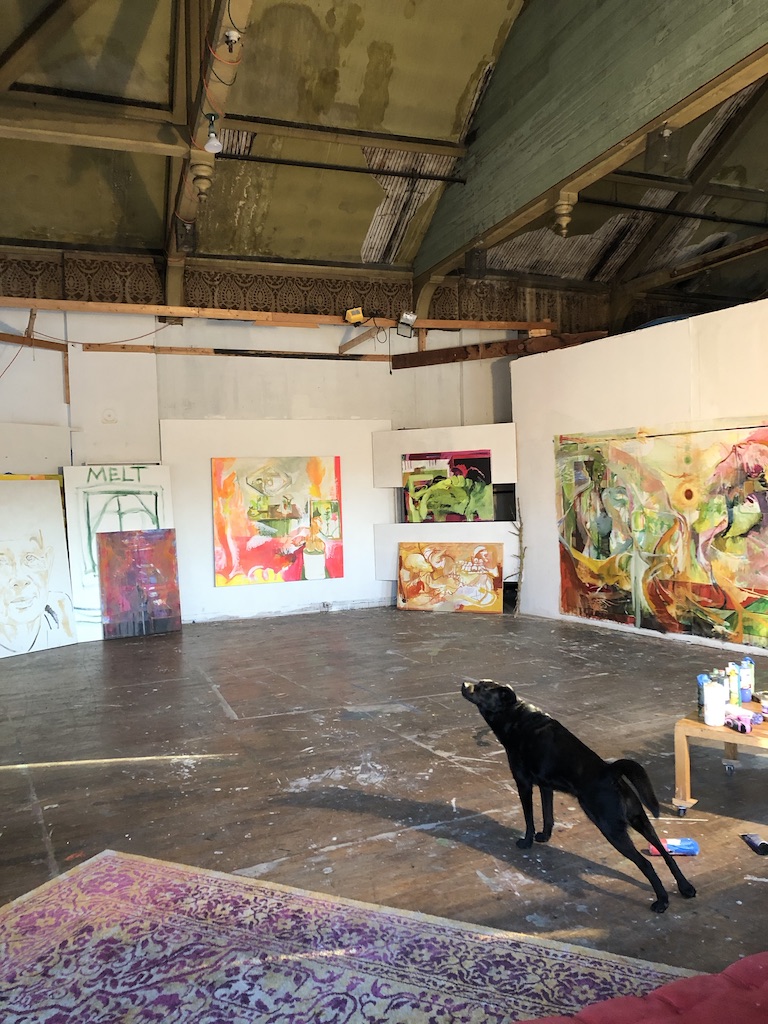 The Wild Silence exhibit runs until October 29, 2022 at Pearl Lam Galleries in Hong Kong.