This Instagram-Worthy Museum Tours You Around the Philippines
IMAGE JILSON TIU
While some people would raise an eyebrow (or, worse, roll their eyes) at museum-goers who just "do it for the 'gram," a new destination in Pasay City is banking on this very 21st-century practice. Lakbay Museo, located on the ground floor of S Maison at Conrad Manila, boasts 1,000 square meters of Instagram-worthy displays and interactive stations showcasing the best of the Philippines. It opens to the public on July 12, with regular tickets priced at P799 (You get a P100 discount if you book online).
Because the Philippines is an archipelago, you'll have a lot of options to check out.
The jeepney, with all its vibrant colors, airbrushed designs, and all sorts of decor, is distinctly Filipino.
ADVERTISEMENT - CONTINUE READING BELOW
"Paano ka maglalakbay?"—a display on the museum lobby asks. You can choose to enter through the vinta, hop on a colorful jeepney, or climb an airplane—and, surprise, slide down to enter the gallery. This reminds us of the many options for traveling around the Philippines—by water, by land, or by air. At Lakbay Museo, you can go from Luzon to Mindanao in just an hour.
The Pahiyas Festival in Quezon Province is a colorful celebration of the region's bountiful harvest.
A section of Lakbay Museo is dedicated to traditional textiles from all over the Philippines, including the t'nalak from Lake Sebu and inabel from Northern Luzon.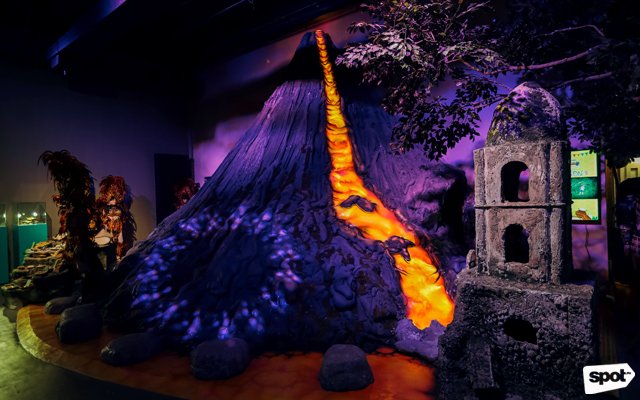 A small tunnel under a replica of the Mayon Volcano is filled with mirrors and lights, perfect for photo experiments.
One of the stations showcase the Philippines' one-of-a-kind underwater world. After all, we're in the Coral Triangle, the world's epicenter of marine biodiversity.
ADVERTISEMENT - CONTINUE READING BELOW
But if we continue to pollute our waters, this natural wonder may soon be gone—as shown in this display of plastic waste right above the underwater station.
The museum is divided into 11 areas with separate stations for the National Capital Region, Ilocos Region (Region I), Cagayan Valley (Region II), Central Luzon (Region III), Southern Tagalog (CALABARZON and MIMAROPA), Bicol Region (Region V), Western Visayas (Region VI), Central Visayas (Region VII), Eastern Visayas (Region VIII), Cordillera Administrative Region, and the whole island of Mindanao. Visitors can learn more about the region's festivals, such as the Pahiyas in Quezon, or traditional houses, like Batanes' Ivatan house and the bale of the Ifugao, as well as regional cuisines through life-sized displays.
There are cultural performances all throughout the day.
ADVERTISEMENT - CONTINUE READING BELOW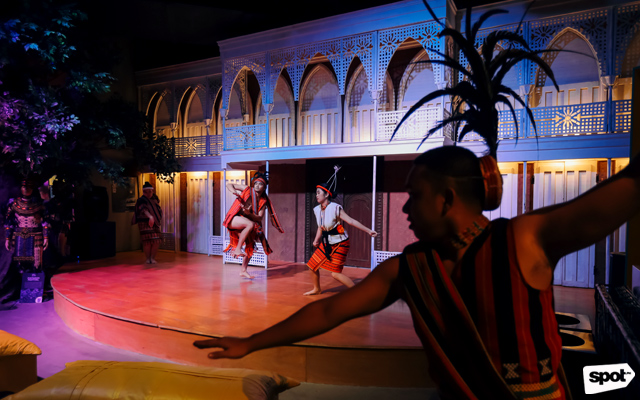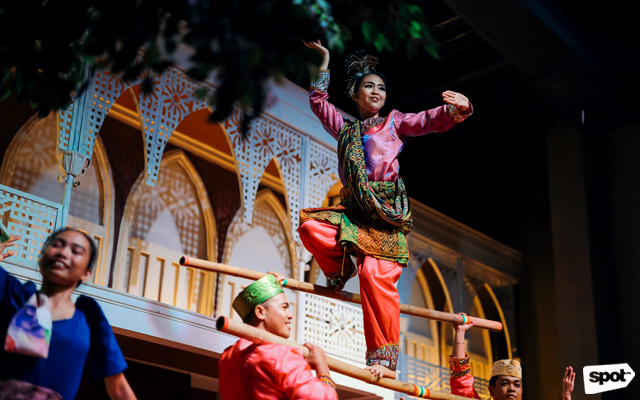 Lakbay Museo also houses a large collection of Philippine staples. This includes samples of dried fish, such as palad from Samar, bisugo from Ilocos, and labahita from Batangas. Don't worry, though! You won't end up smelling like tinapa (as if you stopped by the famous Taboan Public Market in Cebu), because what they have on display are just life-like replicas. The real deal is inside sealed jars, which you can smell for the full experience. There are also shelves for different kinds of local vinegar (from Sukang Iloco to sukang paombong), bagoong (from bagoong alamang to bagoong sisi), coffee beans and roasts (from barako to alamid), and rice grains (from the Ifugao's Minaangan to the Mountain Province's Ominio).
ADVERTISEMENT - CONTINUE READING BELOW
Feel like you're in Cebu's Taboan Public Market—minus the smell of dried fish.
Learn more about the different coffee beans grown in the Philippines.
As one of the top producers of rice, the Philippines has a long list of rice varieties.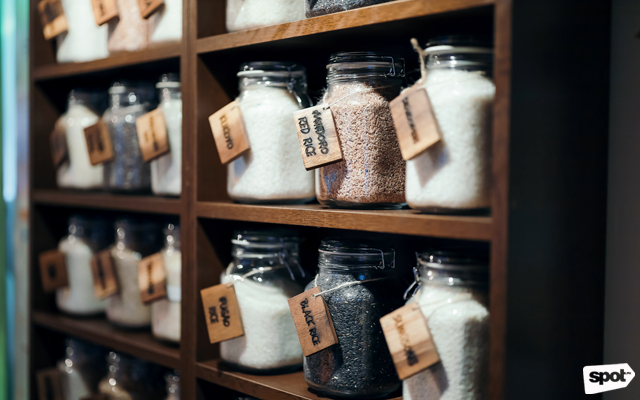 ADVERTISEMENT - CONTINUE READING BELOW
Lakbay Museo already has about 600 pieces showcasing local delicacies.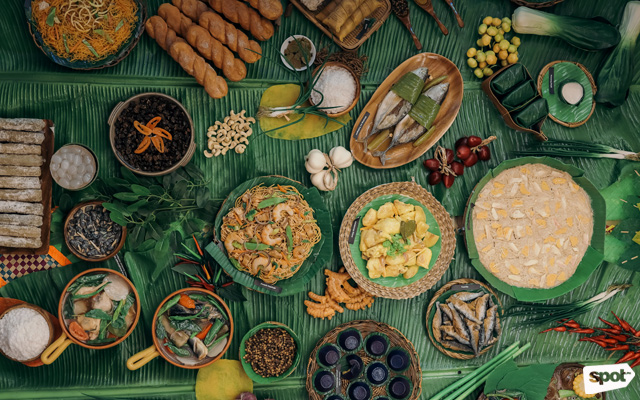 Admission passes include 12 tokens, which guests can use to buy meals from the carinderia or candies and chips from the sari-sari store.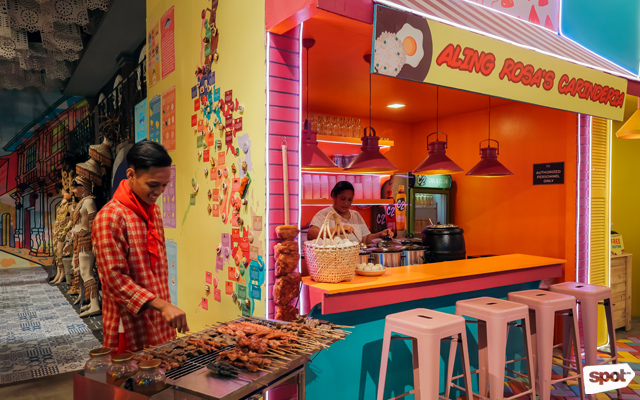 If you start feeling a bit of information overload, Lakbay Museo's well-trained guides can be found all over—ready to offer a myriad of interesting facts about the Philippines. Lawrence Li Tan, president of the The Millennial Concept Factory, says that most of them come from the marginalized sectors of the society. "Maraming drama dito," he shares. There's one who's the sole breadwinner of a family of seven, some who used to work at the red-light district of Malate, and another who's the child of a drug addict. The company also employs PWDs and senior citizens.
ADVERTISEMENT - CONTINUE READING BELOW
Lakbay Museum also aims to raise environmental awareness. Most of the displays are made of recycled materials from used rubber slippers, old tires, plastic bottles, and other waste products.
Lakbay Museo's display about Mindanao depicts the island's dances, traditional instruments, and local cuisines.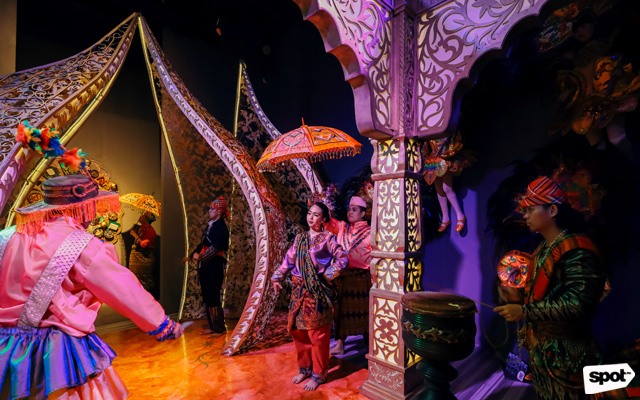 "It makes one proud to be Filipino, doesn't it?" Tan tells us at the end of the tour. Soon enough, photos of this colorful hub might just take over your newsfeed. Many will do it for the 'gram, but if #Philippines or #Pinoy will trend because of that—then, why not?"
Lakbay Museo opens to the public on July 12. It is located at G/F S Maison at Conrad Manila, Marina Way, Pasay City. Tickets are priced at P699 if you book online and P799 for walk-ins. For more information, visit Lakbay Museo's website.
All photos in this story are taken by Jilson Tiu.
ADVERTISEMENT - CONTINUE READING BELOW
This story originally appeared on Spot.ph. Minor edits have been made by the Esquiremag.ph editors.
More Videos You Can Watch