Books & Art
The Manila International Book Fair Is Back On-Site. Here's What We Know.
A little birdie... er, a chatbot told us.
IMAGE COURTESY
Did you miss being surrounded by piles and piles of books (and, maybe, the long queues and thick crowd that go with it)? After two consecutive years of an online version, the Manila International Book Fair is finally back with an on-site event. Well, at least, a hybrid edition.
In a chatbot exchange with the Facebook account of the "largest and longest-running book fair in the Philippines," it was revealed that the much-awaited book event is happening from September 15 to 18 at the SMX Convention Center Manila in Pasay City.
More: 10 Inspiring Books to Help You Deal With Pandemic Fatigue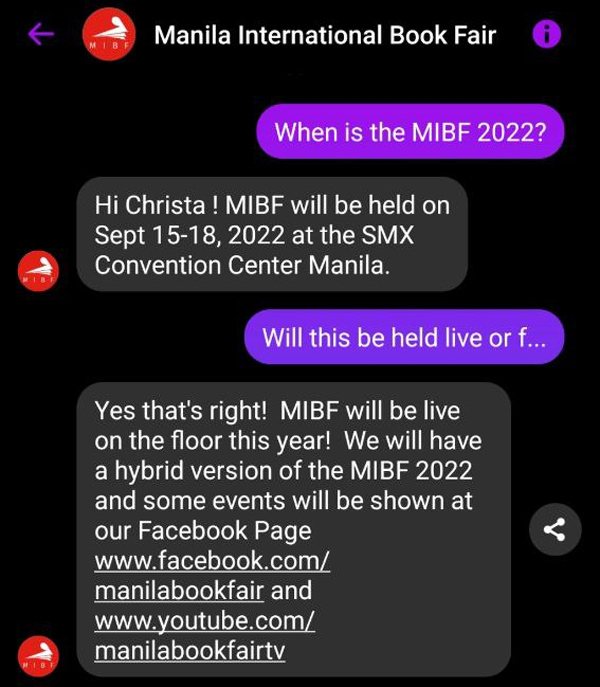 "Yes, that's right! [Manila International Book Fair] will be live on the floor this year! We will have a hybrid version of the MIBF 2022 and some events will be shown [on] our Facebook Page," said the auto-generated reply on their Messenger. Special events can also be accessed through their YouTube channel.
ADVERTISEMENT - CONTINUE READING BELOW
The MIBF first went online in 2020. You know, amid the pandemic. It's been some time since we've had a physical book fair so we can't wait to see how this turns out.
MIBF has yet to announce this great news on their online channels, but a confirmation from a bot is probably all that we need for now.
The Manila International Book Fair is from September 15 to 18 at SMX Convention Center Manila, Mall of Asia Complex, Seashell Lane, Pasay City. For updates, follow Manila International Book Fair on Facebook.
From: SPOT.ph
CONTINUE READING BELOW
Recommended Videos
Discover the best of culture, business, and style from Esquire Philippines. Visit Quento for more stories and subscribe to our YouTube channel for new videos.
More Videos You Can Watch