Cars & Tech
Which Kind of Car Has The Best Resale Value in the PH?
Keep this in mind when buying a new vehicle.
IMAGE Drei Laurel
What are some of the top things you consider when buying a brand-new vehicle? Engine performance is one of them, no doubt. The same goes for factors like fuel economy, convenience features, safety, and ride quality.
These are all-important qualities to keep in mind, but for more financially conscious consumers, a model's resale value carries just as much weight.
If you're a car buyer who's careful about where you throw your money, or if you have plans to sell a vehicle somewhere down the line, this might interest you: OLX Philippines recently studied sales volume data covering 11 automotive brands, and found that pickup trucks, MPVs, and vans take longer than other types of vehicles to lose their value.
"A number of factors affect the pickup truck's robust resale value," says Manuel Roman, head of cars at OLX Philippines. "The versatility and reliability of pickups make them desirable vehicles. In the brand-new vehicle market, light commercial vehicles—one of which is the pickup truck—are popular choices among consumers. In the secondhand market, the demand for pickups remains high. Without an oversupply in the market, they keep their value well."
Turns out utility plays a much bigger role in a car's resale value than we thought. The study also found that MPVs keep their value longer than SUVs do: MPVs take 7.06 years to lose 50% of their value, versus just 5.04 years for SUVs.
If we're talking about brands, data from OLX Philippines shows that Japanese nameplates like Toyota, Isuzu, Nissan, and Mitsubishi take longer to depreciate compared with other brands. Mitsubishi and Isuzu models take an average of 6.03 years before losing half their value, while Nissans and Toyotas take 6.02 years and 5.89 years, respectively.
ADVERTISEMENT - CONTINUE READING BELOW
Finally, the company added that on average, three-year-old cars still retain 62% of their value, while units that have reached five years of age only retain 52%. Once a car hits a decade, it retains only about 33% of its original value, OLX says.
It's important to note that a car's quality and badge aren't the only factors that come into play when considering resale value. Demand plays a significant role, too. You can check out the infographic below for more details.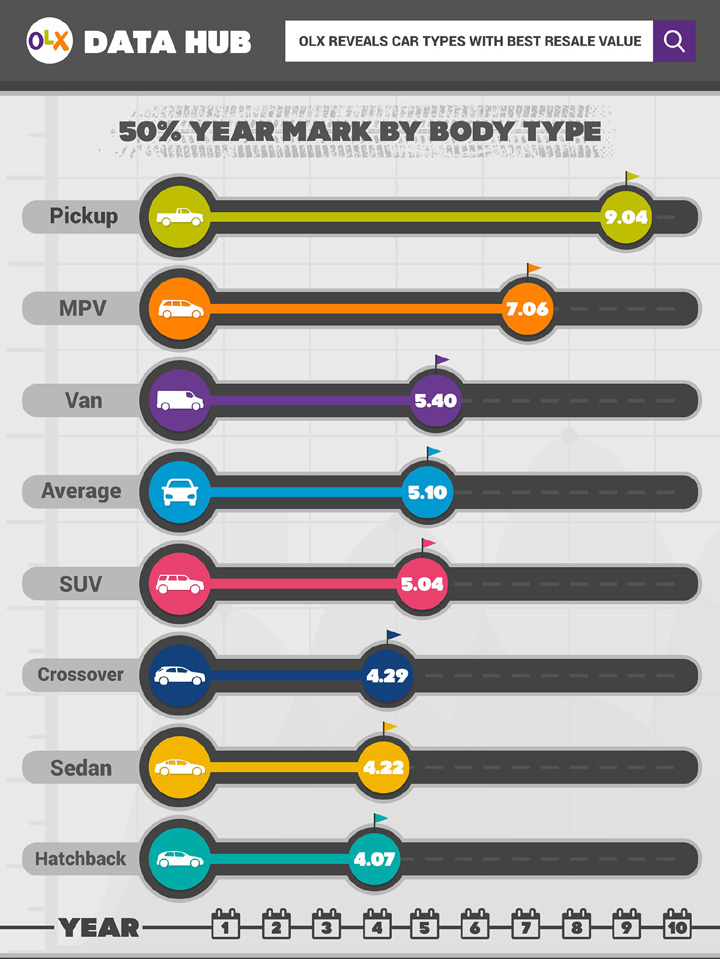 This story originally appeared on Topgear.com.ph. Minor edits have been made by the Esquiremag.ph editors.
The lineup includes Japanese Breakfast, Last Dinosaurs, Cynthia Alexander, UDD, and 11 other artists
JV Tanjuatco shares how he runs Comic Book Lab and where he sees the industry going.
The story of how our national hero bungled his first attempt at having a girlfriend, and how he shrewdly managed to be engaged to two women at the same time.
Details are scarce, but Vince Gilligan is returning to write and direct.
The Pilot Watch Mark XVIII features stripped-down good looks and a case made of an entirely new material.
Say goodbye to your 9-5 with advice from someone who's living the dream
Captain America and Iron Man look very, very different
Although a drunk Jon Snow might have been fun.
It aims to be the prime app for first time Internet users.
The rising business tycoon from Davao plans to raise P18.5 billion from the offering.
It's the first time athletes will receive international sporting medals for competitive video gaming.