Cars & Tech
Are These Really The Most Fuel-Efficient City Cars in the Local Market?
Based on DOE's latest test
IMAGE Volkswagen
The Department of Energy (DOE) recently held its 13th Fuel Economy Run in Clark, Pampanga. Numerous carmakers volunteered their units, with over 50 participating vehicles across different segments taking part in the test.
The run covered the following route: Petron Service Station Clark–SCTEX–TPLEX Binalonan–SCTEX–Petron Service Station Clark. The total distance was roughly 216.6km. The gasoline entries were powered by Petron XCS, while the diesels were fed Petron Turbo Diesel.
"Through this event, we will be able to determine fuel consumption rating in kilometers per liter of different brand-new vehicles available in the market in accordance with actual highway driving conditions," DOE undersecretary Wimpy Fuentebella said during the opening program.
From the diesel entries, the SsangYong Rodius emerged at the top of the pile and the SUV category with 33.12km/L. In the 'sedan' class (basically anything smaller than a crossover), the Volkswagen Golf GTS came out on top with 27.91km/L. The diesel MPV king was the Toyota Innova with 21.60km/L, while the best oil-burner pickup was the Mahindra Supro with 22.52km/L. 
The gasoline category, meanwhile, saw the Kia Picanto beating the other sedans with 29.23km/L. The Honda BR-V got 22.22km/L to win the top spot for SUVs, while the Chevrolet Trax led the MPVs with 17.98km/L. In the pickup segment, the BAIC Freedom ranked first with 15.10km/L.
There were a few guest entries thrown in the mix as well. The BMW X1 netted 23.88km/L, while the 318D got 26.94km/L. Toyota also added the hybrid Prius, which netted 26.13km/L. 
See the graph below for a full list of the participating vehicles and their fuel economy ratings from DOE's latest test. What do you guys make of the results? Let us know in the comments.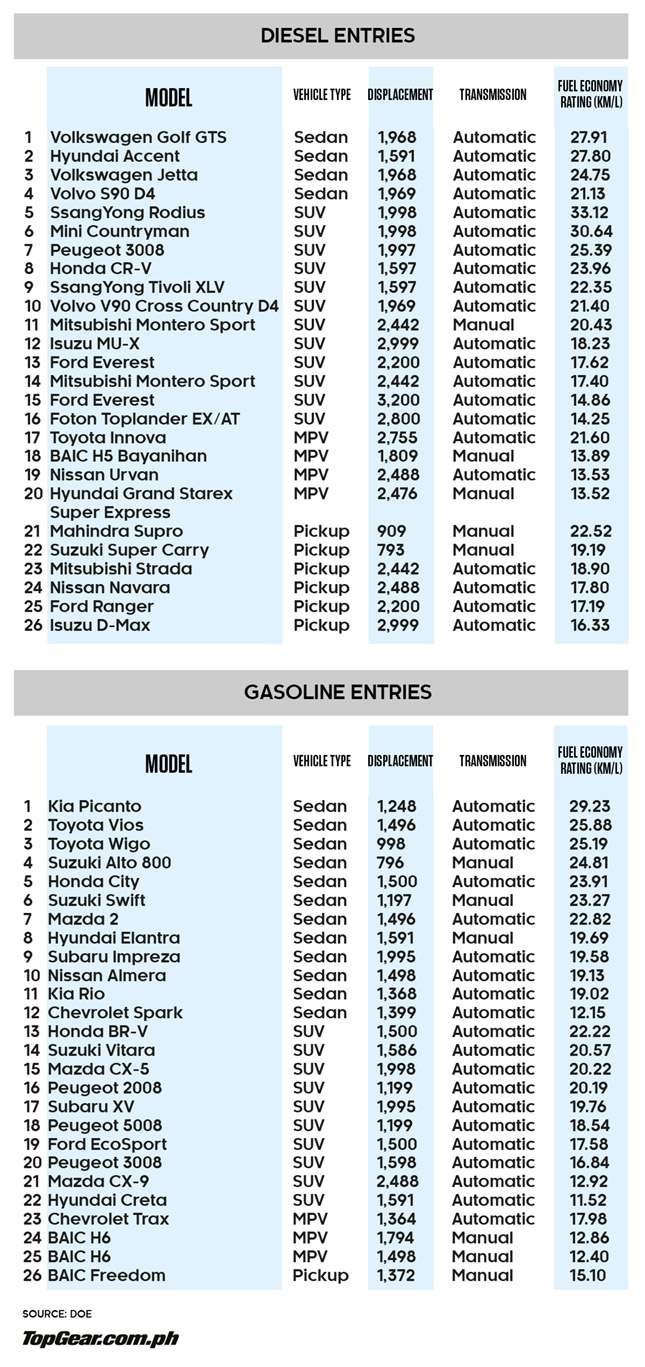 This story originally appeared on Topgear.com.ph.
ADVERTISEMENT - CONTINUE READING BELOW
* Minor edits have been made by the Esquiremag.ph editors.
The legend's posthumous music is both heartbreaking and inspiring.
A quick comparison of the richest billionaires from the US and the Asia-Pacific region
"Sometimes I'll wait for hours"
We all know Singapore is rich but how does it compare to the United States?
"7am: Pick up children from celebrity child kennel"
The actor's life is all over the place. That's how he likes it.
Another masterstroke from Mark Zuckerberg
Chef Paul Hancock reveals the secret to a nice smooth cocktail is all in the fat.
His best movie in a decade involves the actor, a homemade battle axe, and death metal-inspired grindcore.
When Restaurant Ode's Yusuki Namai wanted to do a collaboration with a Filipino chef, he found the perfect match in chef Nicco Santos.
A closer look at the True Detective director's work bodes well for 007