Culture
Every man should own a pickup truck, at least once in his life
Here's why.
Some style touchstones remain unwavering: blue jeans, sturdy shoes, and a pickup truck. You don't have to be a dyed-in-the-wool, denim-wearing Marlboro Man to appreciate the value of any of these. You don't even need to have ever set foot in a ranch.

The pickup is the Swiss army knife of cars. And it all starts with that open bed in the back. Hauling bicycles out to a favorite cycling spot? Check. Stargazing over a glass of wine in a nest of pillows? Check. Surfboard, cooler, and picnic basket beach duty? Triple Check. Hauling out to your weekend home? Easy-peasy. The only limits to its utility is your imagination.

Beyond the fun factor, a pickup is one of the most reliable means of transport around. The sturdy ladder frame and powerful engine help deal with the often harsh conditions of local roads. The heavyweight construction and reliable engine are the main reasons pickup trucks maintain their resale value better than any other vehicle out there.

Today's models have come a long way from pickups of yore, with their buckboard rides and smoke-belching tailpipes. New pickups blend the comfort and handling of a sedan with the cargo-carrying ability of a truck, with modern diesel engines having greatly improved over their predecessors.

Are pickups a bit big? Sure, but that's part of the charm, and there's a reason the pickup truck is a constant in the ever-changing automotive landscape: It's just too damn useful—and fun—to ever give up. The pickup truck remains a potent symbol of rugged freedom and independence.

On and off the ranch, the Mitsubishi Strada is a top choice in the pickup class. Its modern design doesn't cling to an imaginary past as some other pickups do, and its spacious cabin and smooth ride tame even the bumpiest of journeys. All without sacrificing its truck-like, go-anywhere ability or car-like handling—specifically, since it features a very maneuverable 5.9 meter turning radius.




The Strada GLS 2WD, in particular, is now equipped with the 4N15 MIVEC (Mitsubishi Innovative Valve timing Electronic Control) Clean Diesel engine which provides for as much power as you need—ensuring you have enough shove when you need to push—and is available either in 6-speed manual or 5-speed automatic transmissions. These are good things.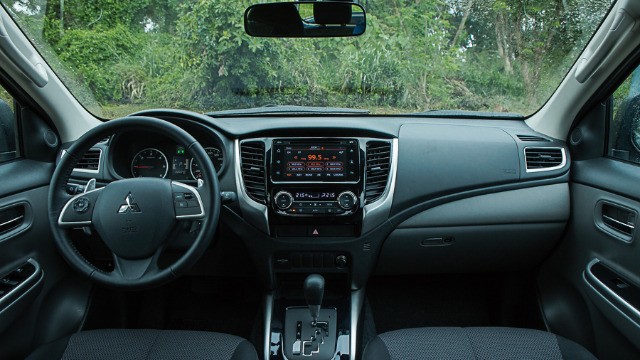 There are a few things in life that just work. A man and his pickup is high on that list.

For more information about the Mitsubishi Strada, visit Mitsubishi's website.