Cars & Tech
The PNP Now Has Toyota Prius Patrol Cars
A mean, green crime-fighting machine
IMAGE Toyota Philippines
Well, this is a surprise. Earlier today, photos of a truck full of Toyota Prius police cars surfaced on social media. They were white, equipped with sirens, and featured bodywork decals and the word pulisya plastered on the hood and the rear end.
Curious, we reached out to Toyota Motor Philippines (TMP) to find out if these were legitimate police units. According to the company, they are legitimate, and were donated to the Philippine National Police (PNP) and various other agencies by the Japanese government.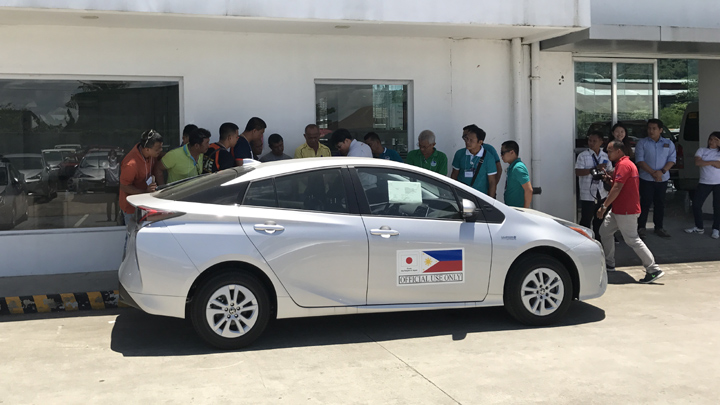 ADVERTISEMENT - CONTINUE READING BELOW
A total of 77 units were donated to the Philippines back in 2017 via two separate turnover ceremonies: one inside the Department of Energy compound in Bonifacio Global City, and another at a PNP regional office in Leyte. TMP also provided us with photos of non-patrol-car units in Tacloban (see above). We presume these were what the units looked like before the PNP attached the official decals.
Not bad at all. If you think about it, the Toyota Prius is a perfect crime-fighting vehicle because criminals will never hear its ridiculously quiet powertrain coming.
You can check out the photos of the hybrid PNP patrol cars in the Facebook post below. Have you seen any of these units patrolling a neighborhood near you?
Topgear.com.ph. Minor edits have been made by the Esquiremag.ph editors.
Our watch of the week once went to the moon. Now, it's going for gold
Beard and mustache styles of various lengths can change the way you look.
Sex can do wonders for your health.
Ralph Fiennes is facing criticism for saying James Bond should always be a white guy.
Can't go out of town? These are all in Metro Manila.
Who's got the most bling?
From "Goldfinger" to "Skyfall," we break down the best tracks playing alongside 007.
Cherish the days before your son learns to talk. You'll miss them when they're gone.
These Korean variety shows give their Western counterparts a run for their money.
We're slightly happier compared to last year, according to the World Happiness Report.
The XC40 is Volvo's first car designed and built around its new Compact Modular Architecture.