Culture
4 Local Brewers Shaking Up the Pub Scene
Green mango beer? Seriously?
Filipinos have a natural affinity for beer. Truth is, most locals list down every possible occasion or scenario as an excuse to savor at least a few bottles, whether they're in celebratory mode or their hearts are in the proverbial gutter. As if drinking isn't enough, some people have taken their love for the beverage to a whole new level by crafting their own versions—presenting worthwhile alternatives to those sold by commercial brands.

Recently, we caught up with four notable craft brewers at Corner of Lechon and Craft at Mercato Centrale where they shared the finer points to their unique brews as well as the passion involved in producing a host of variants. Fueled by love of beer and the need to diversify from what's already available in the local market, these brewers deemed Mercato Centrale the ideal venue for them to share their products with the public, while pulling in a profit where they can. These folks are in the business of exploring new ground in terms of taste, complexity, and adding unique notes to their beers that commercial brands often shy away from.



Crazy Carabao Brewing Company (CCB)
CCB aims to introduce the Filipino palate to frothy treasures like the kolsch beer, wheat beer, pale ale, and the IPA—all popular variants in countries that have a thriving craft beer scene. The Kalinga Kolsch, partially resembling commercial largers in appearance and taste, is CCB's crowd-drawer. According to head brewer Joel Loresco, it is the entry level brew for craft beer neophytes as it conditions one's taste buds for more complex brews.

Loresco explained, "People who are unaccustomed to craft beers might find the pale ale too bitter and the IPA too exotic. The kolsch and wheat beers are light and relatively tame, so beer drinkers will readily appreciate them." Using various social media platforms, CCB is also able to introduce their brews to more netizens, even before they get to try them. The group has found that a relibale mobile plan helps in keeping the public informed, in real time, about CCB's beers and what the company is all about.

As a relatively new player in craft beer industry, Loresco admits that passion is an integral component in coming up with new brews. "Without passion, producing craft beer becomes extra-tough. You have to devote a lot of time and effort to trial and error. I make it a point to taste and evaluate new brews, and see if I can incorporate them in CCB's creations."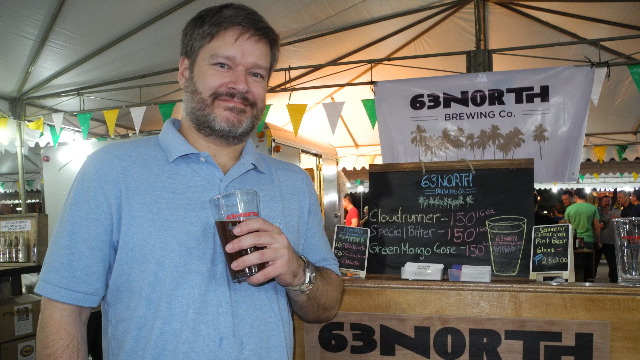 63 North Brewing Company
Love drives people to do crazy things. For Glen Carberry, owner of 63 North Brewing Company, his extreme fondness for hoppy beers and IPAs led to a stream of fuzzy moments and the dream to become a commercial brewer. Outside of his job as an IT professional, Carberry found time to produce his own beer in his apartment, with more and more people ordering his products.

Before long, 63 North Brewing Company was born, aptly named after Glen's apartment where he started his fizz-related dream. He was not satisfied in producing his fair share of bitters and ales, thus he began infusing rather unusual ingredients in his brews, such as green mangoes and other citrus fruits. His Green Mango Gose, which fuses green mango and pale ale, was well received by diners at the Corner of Lechon and Craft festival and in other establishments that sell the brand's brews.

"A big challenge in the Philippines is selling to a crowd that already loves their commercial beer. We're trying to break in to the market and create a new niche," Carberry explained. He underscored the importance of passion and persistence in coming up with new products and trying out new recipes. It's a never-ending process of trial and error, but 63 North Brewing Company is certainly up for the challenge.

With the help of technology, Carberry isn't far from his aspirations. "Right now, the ability to pull up information through my mobile gives us an advantage. We can keep in touch with our customers and respond well to the people selling our beer."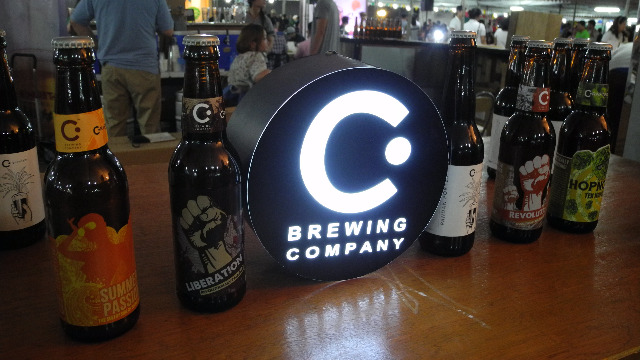 Craftpoint Brewing Company
For the average drinker, beer is defined as a fizzy and bitter alcoholic beverage that is meant to be chugged during happy times and after periods of stress. Craftpoint Brewing Company intends to expand that definition. With their use of outrageous ingredients and expertise in the beer brewing process, they managed to turn the frothy leisure companion into a beverage that is nearly as versatile as fruit juice.

Claudine Lanzona, from the Craftpoint booth at the Corner of Lechon and Craft festival, narrated that the lack of craft beers in the Philippines drove the company's founders (Marvin Moreno, Aldous Bernardo, and Chip Vega) to create their own business. They view the brewing process as both a science and an art, and successfully marrying them both is the key to producing a worthwhile beverage. After mastery comes the fun part: Playing with various ingredients.

Craftpoint's best-sellers include the Liberation Pale Ale, characterized by its smooth caramel base and floral aroma, the Pandan Porter, which marries pandan and dark beer, and the Summer Sessions Blonde Ale, which strikes a fine balance between maltiness and fruitiness.

"There are no strict set of rules in making a beer. Outside of those we're selling, we've made a champorado beer, a mango-chili IPA, and a mangosteen sour beer, among others," Lanzona revealed. At the end of the day, they are simply having fun drinking and making beer, as they plan to expand their operations so they can deliver more delightful variants to the drinking public. Part of this expansion includes tightening up the company's communication lines, starting with each partner beefing up his mobile plan. This, they claim, will ensure smoother information tranfer between all channels, resulting in a more efficient operation.

"Passion is the foundation of brewing beer. You can't brew beer without it because you'll probably wind up frustrated," Lanzona exclaimed. After all, it takes a lot of experimentation and refinement to produce a new concoction.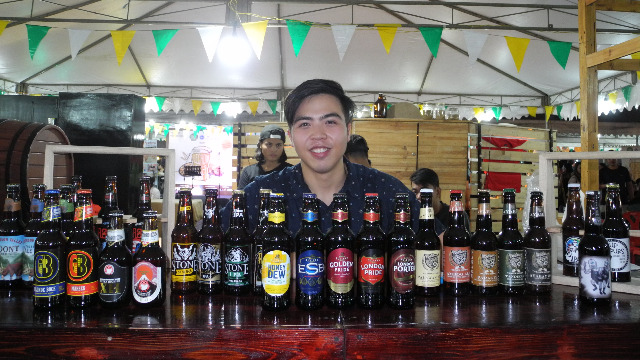 The Bottle Shop
Savoring beer is not as simple as downing countless bottles and then getting smashed. The current surge in popularity of craft beers has expanded the breadth of how the tipple is deemed to be taken. For Jim Araneta, owner of The Bottle Shop, the brews are comparable to wine. They can contain a variety of tasting notes and aromas, be paired with different types of food, and be venerated like a fine Merlot or Bordeaux.

As one of the pioneers in distributing imported beer in the country, Jim has tried tons of brews from all over the world and found love in international craft beers, such as IPAs and other complex variants. Seeing the opportunity to expand profits and the appreciation of the Filipino drinking palate, he decided to open up The Bottle Shop, which currently attracts droves of beer enthusiasts and those who are curious about tipple from other corners of the globe.

During the Corner of Lechon and Craft festival, the booth showcased an impressive roster of craft beers from the US and the UK as well as homegrown brands. "The challenge was to introduce more complex beers to people who have grown used to commercial beer," said Franco Araneta, Jim's son. "It's an acquired taste for those who have never tried craft beer, but if you're used to strong flavors and vibrant flavor combinations, you'll love the beers in an instant."

Similar to brewing craft beer, a lot of passion is involved in distributing unique brews. Jim went into business before many of the current beer crafters opened shop, so he had to mesh perseverance with resourcefulness in finding ways to sell his items. Not to be deterred, he solidified his sales strategies and expanded his product roster until he was able to successfully carve a niche for his company as well as improve the general appreciation for craft beers.

Franco admitted that he has become a beer nerd, maintaining a journal not for love problems, but for beer characteristics. Having vast product knowledge is important in the business, since part of the job is to match a customer's taste buds with the most agreeable variants. He also stressed that importance of communications and internet access in promoting the company.

"Mobile phones are important because my dad is always on the go, and he uses mobile phone to post promotional updates on Instagram and Facebook," explained Franco. It has helped their business flourish even further.

Aside from a love for everything hoppy and frothy, these brewers are addressing their own needs for more variety when it comes to beer. Powered by passion and aided by technology, they've got the right formula to make it.

For a reliable mobile data plan, check out Globe myBusiness' iPhone 7 Unli Plus Plan 1799 with double the data allocation plus a free chat suite. Sign up here to order your unit today, or call 730-1818.