Lifestyle
How to Be Fit While Working in Food, According to Anthony Bourdain's Abs
That is one solid 61-year-old.
IMAGE MEGA
Of course Anthony Bourdain would have abs like this.
While celebrating Asia Argento's birthday in Italy, the couple was photographed in swim gear at a hotel pool. Unsurprisingly, Bourdain, whose many interests know no bounds, appears to be sticking to one pursuit in particular: jiu-jitsu. Jiu-jitsu is a combat sport that emphasizes core strength, flexibility, and endurance.
Last year, the chef/adventurer said he trains every day, no matter his location on the globe. In New York, he trains at Renzo Gracie Academy. "An hour private and then an hour and a half general population. That's basically Fight Club," he told Nuvo.
Bourdain doesn't use machines or weights, and he also competes. "I have had my ass kicked everywhere in the world. I am a 60-year-old blue belt who doesn't suspect he will ever make it to black belt in this lifetime," he told Men's Journal. (Bourdain is 61 years old now.)
ADVERTISEMENT - CONTINUE READING BELOW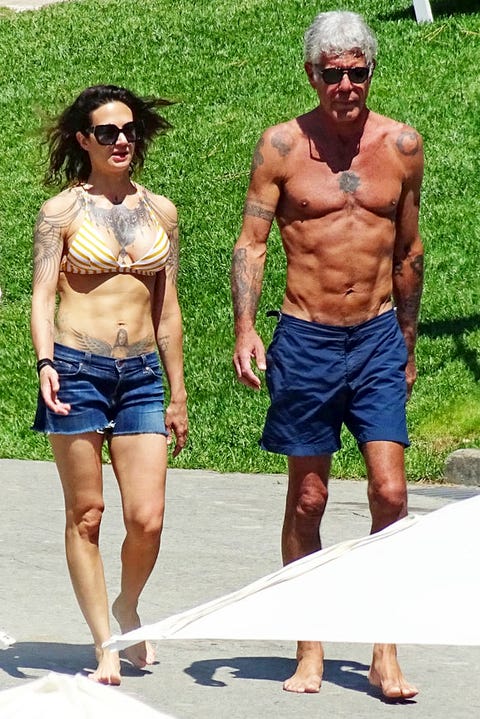 He has also said in 2015 he doesn't drink as much alcohol as he used to. Given that much of his time now is spent drinking on camera—and oftentimes, savoring whiskey—this is saying something.
Enjoying time with loved ones, traveling the world, and getting in a good workout every day—Bourdain's way is not a bad way to live.
ADVERTISEMENT - CONTINUE READING BELOW
This story originally appeared on Esquire.com.
* Minor edits have been made by the Esquiremag.ph editors.
It was hip and happening back in the day.
Heading into Season Eight, the HBO show's treatment of female characters remains unforgivable.
'I feel like a fan as much as anyone else'
The Swiss marque modernises a classic with a brand new material.
No more streaming 'Doomsday Preppers' to your TV via your iPhone or iPad.
Special menus in the exclusivity of your own home a perfect evening.
The side effects of ditching tech during travel include dopamine boosts and really fucking good views.
But what kind of life is that, anyway?
A look back through pictures of Manila the way it used to be.
The "Last Jedi" director says he wants to see a movie he isn't expecting.