Lifestyle
With Airplane Suites Like These, How Could You Not Fly First Class?
Emirates' now has virtual windows and NASA-inspired "zero-gravity" chairs.
IMAGE Emirates
Emirates' first class re-design is nothing short of a Whole Big High-Tech Thing. Naturally. The updates to the first class suites, featured in the airline's Boeing 777 air crafts, were revealed last month and took their first trip today, giving us an opportunity to ogle luxury we'll never see in person (probably—I don't know your bank account).
Let's start with size. In your 40 square foot space, each first-class suite is designed to have an "open and airy" feel. Floor-to-ceiling sliding doors ensure complete privacy.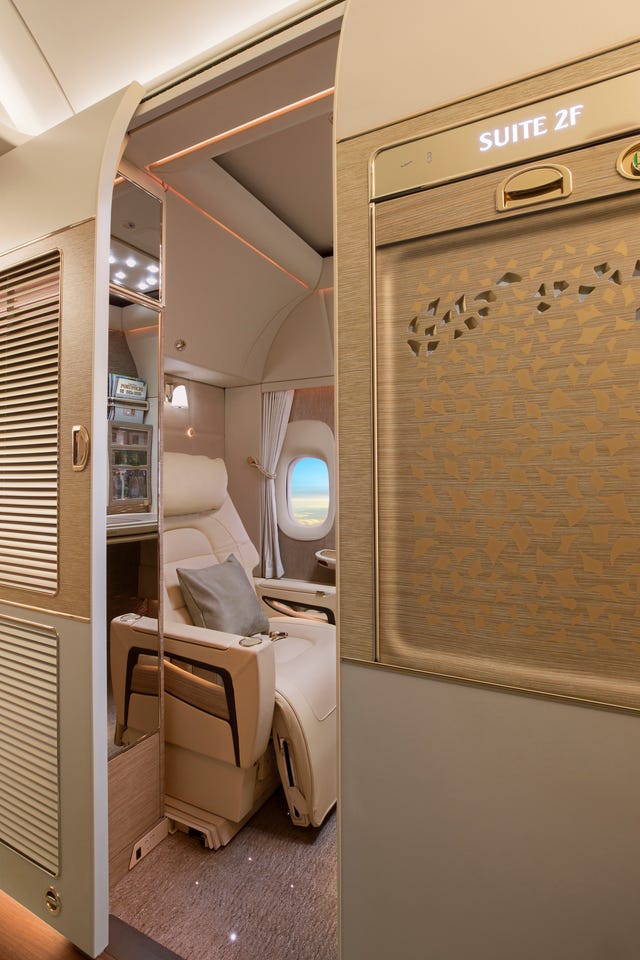 Just about everything in the new suites is swanky, largely because they were designed in partnership with Mercedes-Benz, mimicking the upholstery and features of an S-Class sedan. Suites will also feature service windows for on-demand fine dining and beverage options, and a video call function. Care packages for first class flyers include Emirates' Hydra Active moisturizing pajamas, Bulgari amenity kits, and Byredo skin care products, all especially appealing for long flights to destinations like Dubai.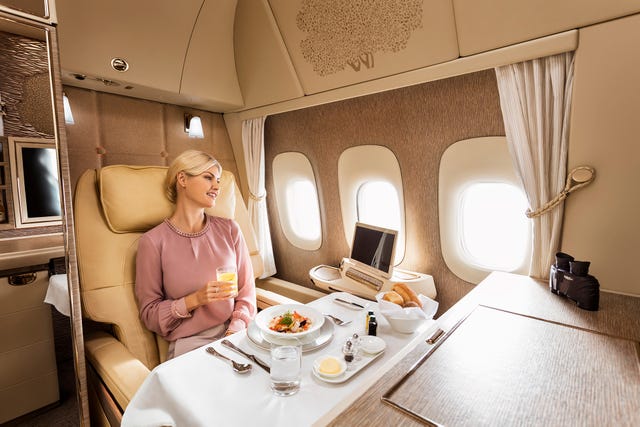 On to the fun part, Emirates' high-tech additions. The seats in the first class suites are inspired by none other than NASA—each is able to go into a "zero-gravity" position for a weightless feeling. For middle-aisle suites without access to windows, Emirates installed virtual windows that project whatever's outside the plane onto a high-res screen. The entertainment system features 2,500 channels on 32-inch HD LCD TVs, paired with Bowers & Wilkins active noise cancelling E1 headphones, made exclusively for Emirates. Sounds nice!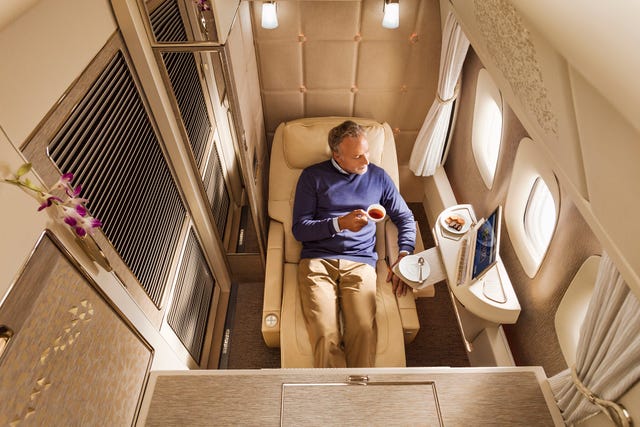 And finally, all first class passengers will be chauffeured to and from airports in Mercedes-Benz S-Class cars. (Emirates 777s fly to over 140 airports worldwide.) This is certainly one expensive, over-the-top luxurious way to travel.
This story originally appeared on Esquire.
* Minor edits have been made by the Esquiremag.ph editors.
For the planner who doesn't want to drink coffee
Next: Michael Jordan (32,292 points)
There were no eggs in sight at the La Chinesca x Singleton crossover.
Luxury and technical expertise come together in one of Switzerland's last true manufactures.
Tip your hat to Mickey Mouse in these birthday goods.
The Wolves, Nike, and the Prince Estate are bringing Purple Rain (back) to life.
A well-heeled Back to the Future superfan just snatched up a $45,000 hovercraft based on Doc Brown's famous wheels.
Thomas Pink is no more. Introducing Pink Shirtmaker London.
Did they really escape the Red Room?
In the 15 years since The Wire, Elba has starred in blockbusters and art house films, won a Golden Globe, released two albums, founded a production house, received an OBE, launched a clothing label and made his directing debut. He's only just getting started.
They rolled out the model in Malaysia.
This is some important evidence about The Prince That Was Promised.