Lifestyle
Finally, A Peek Into The Minimalist Muji Hotel
In photos: The modern-minimalist hotel is opening in China this week and it looks so relaxing.
IMAGE Muji Hotel website
In July 2017, it was announced that Japanese lifestyle store Muji would be opening a chain of hotels in the Asian region soon. It was recently announced that they would be finally opening their first hotel in Shenzhen, China to the public on January 18, 2018.
As seen in these photos from the hotel's website, the hotel is a minimalist-modern marvel, taking off from the brand's ethos of creating a lifestyle that is "simple," "anonymous," and "nature-oriented." Shall we add that everything looks extremely relaxing?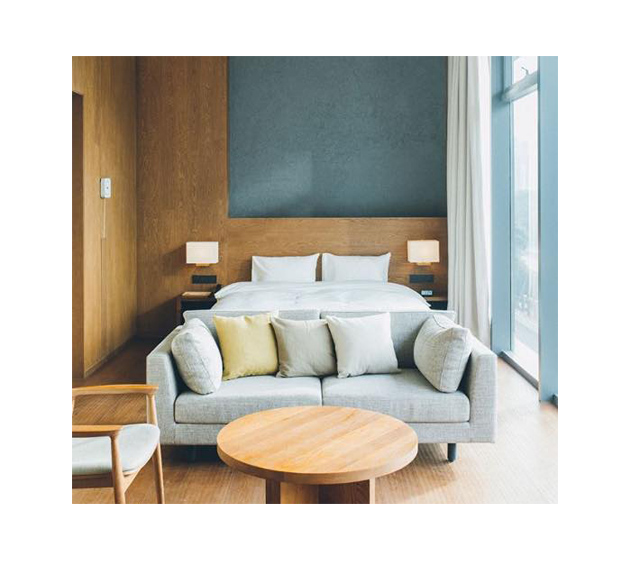 The hotel, which is located in the recreational district of Guangdong, has 79 guestrooms, and some of the facilities include a 24-hour library, a Muji diner that offers healthy food choices served on Muji dinnerware, and a Muji shop, of course.
Hallway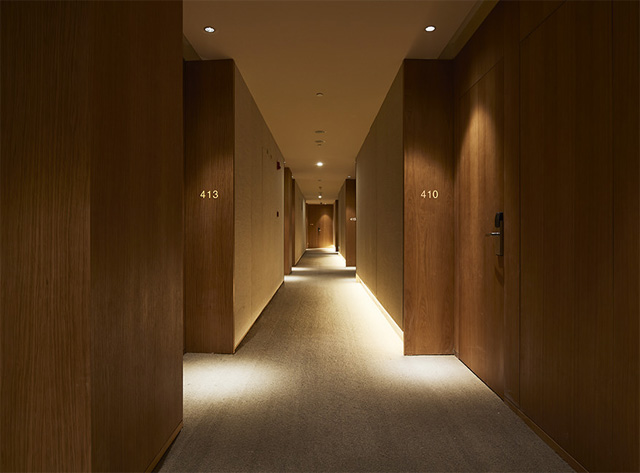 The standard guest room hallway features simple but warm, wood-paneled walls and plain, grayish-beige carpeting.
Type B Room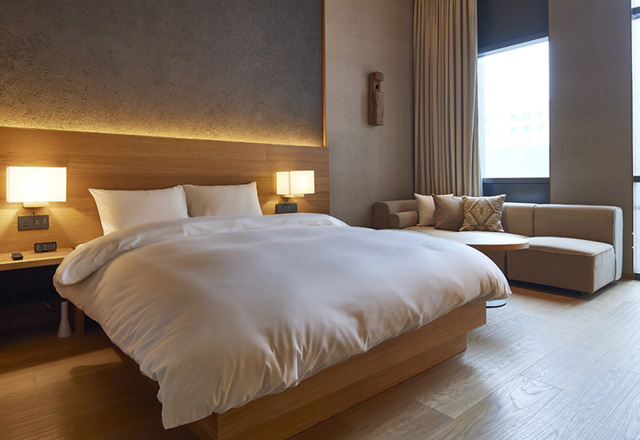 All of the rooms feature Muji's minimalist aesthetics, using natural-finish wood, simple white bed linen, a muted color palette, and the absence of any extraneous décor, like paintings. There isn't any need, because the view makes up for it!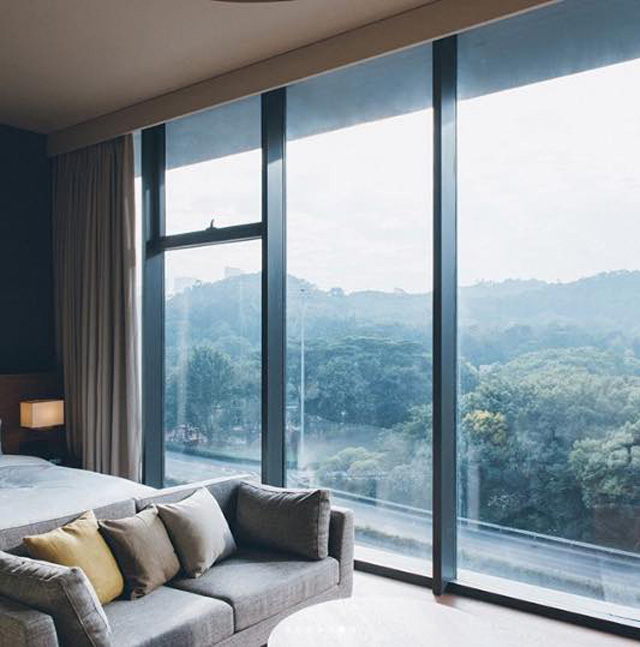 Type C & D Rooms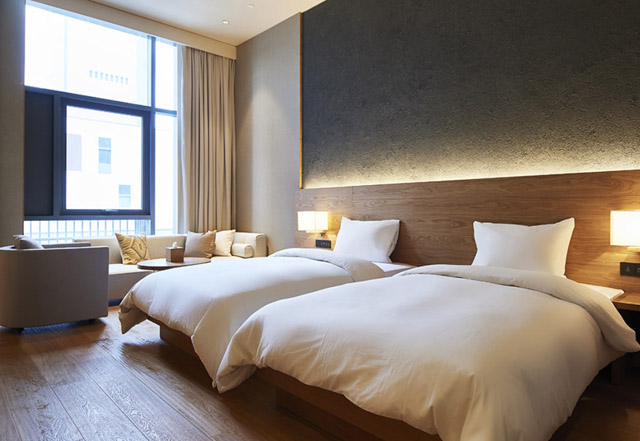 Some of the other guest rooms show Brutalist touches, like this raw concrete accent wall above the headboard (below). Brutalism is a style of art or architecture that uses raw, unfinished surfaces and massive forms in its design.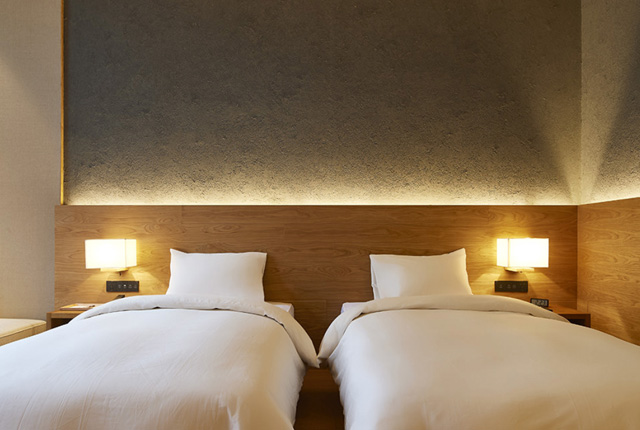 Amenities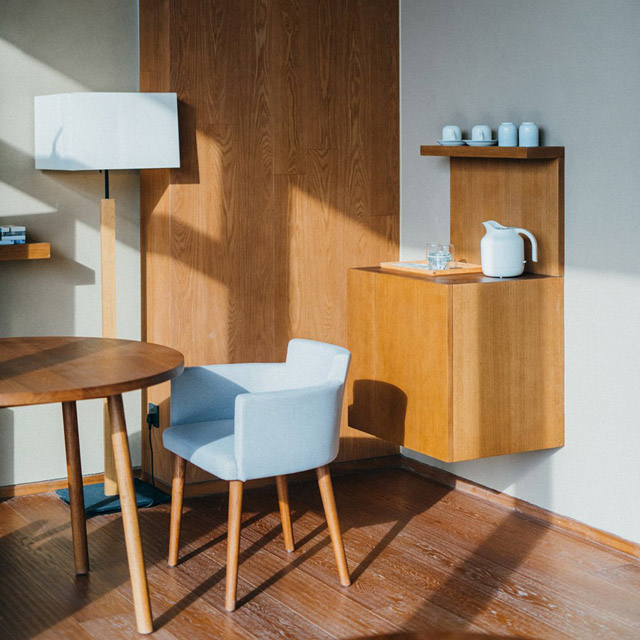 Each room is fitted out with Muji products, as seen in the refreshment nook of one of the rooms (this one has a Beech Wood Table). Muji's plain white dinnerware, in line with their "keep it simple" philosophy, are labeled only in letters signifying their sizes (ie: "Dish M", "Dish L", "Dish XL"). 
ADVERTISEMENT - CONTINUE READING BELOW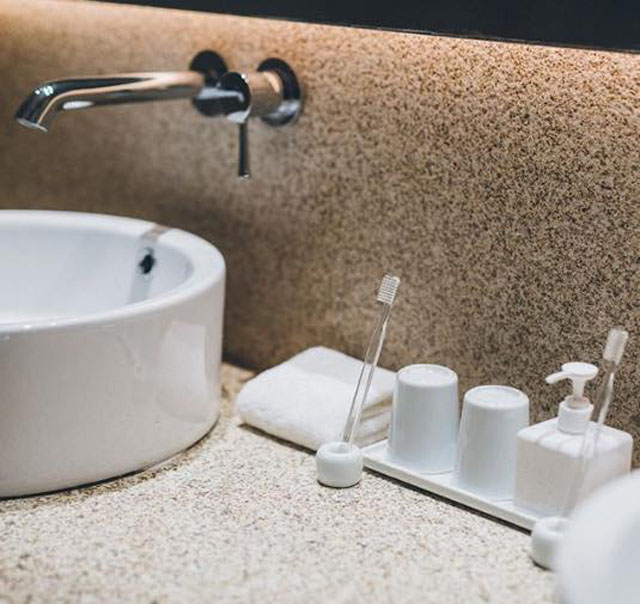 Even the bathrooms are kitted out with Muji accessories—check out the clear acrylic toothbrushes nestled in their own cute, tiny toothbrush holders!
According to this article, a second Muji Hotel will be opening in Tokyo, Japan, sometime in 2019. 
This story originally appeared on Realliving.com.ph.
* Minor edits have been made by the Esquiremag.ph editors.
Politics, controversy, and the odd piece of good news defined our year, says data analytics company Research and Tech Lab.
You shouldn't feel pressured to give gifts to people if you don't feel like it or you can't afford to.
It'll compete against the locally developed game show app Paydro.
The lower house approved the proposed charter change on third and final reading on December 11.
The Boozy Bar delivers to your theater seat.
The Mercer study also includes other market trends in hiring and employment.
In real life, Coco Martin also has a motorcycle and a tank.
There's a timepiece for everyone (and we mean everyone) on your list. Don't believe us? Let's get down to the nitty-gritty. 
The web giant's Year in Search 2018 report has some interesting news.
Having an emergency fund is having peace of mind.
World-famous graphic designer Kenya Hara details how it influences the minimal design of the lifestyle brand.
We're number 1 when it comes to time spent per visit to the website.