This Filipino Farmer and Waitress' Son Got a U.S. Scholarship Grant Worth P4.2 Million
IMAGE COURTESY
Little by little, Gelbert Cresenscio is reaching his dreams of becoming a neurosurgeon. The student from Bohol was just granted a full scholarship at Amherst College in Amherst, Massachusetts in the U.S. As a scholar, Cresenscio will receive $85,000 (approximately P4.25 million) yearly.
Graduating from college is one step closer to Cresenscio's ultimate dream. He'll be taking up an undergraduate degree in neurosciences in preparation for medical school in the U.S. to be neurosurgeon.
According to Cresenscio's research, there's a shortage of neurosurgeons in the Philippines. Currently, there are only 134 neurosurgeons in the country which translates to just one neurosurgeon out of 840,000 Filipinos.
Cresenscio also noticed that healthcare access in the country's many rural areas are lacking, and he believes that he can be one of the many to potentially provide a solution. "I hope to pursue medical school where I can train and become one of the best neurosurgeons in the Philippines and hopefully give back to the community," Cresenscio said.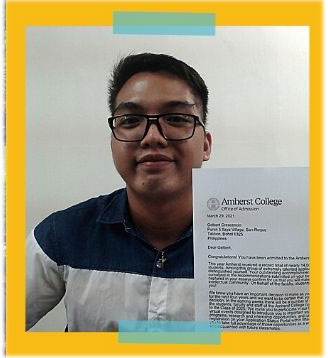 ADVERTISEMENT - CONTINUE READING BELOW
In August, Cresenscio is flying to the U.S. to begin his orientation at Amherst College, one of the prominent and oldest colleges in the country. Amherst College's notable alumni includes poet Emily Dickinson, former U.S. President Calvin Coolidge, Prince Albert II of Monaco, and international best-selling author Dan Brown.
Until Now, Cresenscio is still in disbelief about getting accepted to a college in the U.S. He told Smart Parenting, "When I heard that I got into Amherst, I started screaming and crying while calling my mom, and she started to cry as well."
Amherst College is part of the list of the colleges he applied to and it was his dream school. It was also one of the last to release results. Cresenscio is one of the 118 applicants that passed Amherst from 4,900 applicants.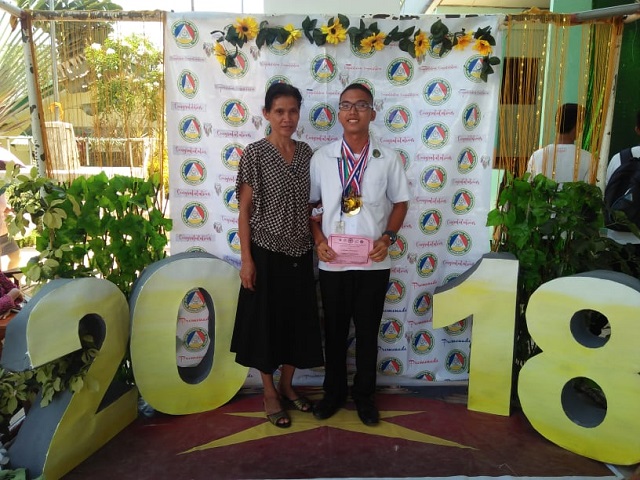 Born and raised in Talibon, Cresenscio is the youngest of three sons. His father is a farmer that sidelines as a tricycle driver, while his mother works as a waitress in a restaurant and was previously a worker in a store. He finished senior high school at Holy Name University in Tagbilaran City.
Cresenscio hopes to uplift his family from poverty. He admits that his parents are in debt, and some of the money has gone to fees for his studies. But since it hasn't been repaid, the debt is only getting bigger and bigger due to interest.
His two older brothers are both college graduates but are unemployed because of the pandemic. "I never heard [my parents] complain about how tired they are. So, I want to help my family in paying all the debts and loans so that I can give them the life that they truly deserve," he said.
He added that he was never forced by his parents to get intensely involved with his studies. Still, he took the initiative to do his best at his studies so that their sacrifice is worth it.
With all the many schools and universities in the U.S., why did Cresenscio choose Amherst College? "I chose Amherst because, being in a small liberal arts college, students have access to a myriad of opportunities and close collaboration with professors and fellow students," he explained.
His interest in neurosurgery began when he witnessed his grandfather being robbed of his health by Alzheimer's disease. He said, "His illness and death had deepened my interest and passion for neurosciences. I want to integrate engineering principles to create a device that can detect the early onset of Alzheimer's disease and also create a cure."
ADVERTISEMENT - CONTINUE READING BELOW
That's why it's a big deal that he got accepted at Amherst College.
Though it is a liberal college, Amherst is known for its STEM (science, technology, engineering, and mathematics) program. The science and math courses included are biochemistry and biophysics, biology, chemistry, computer science, environmental studies, geology, mathematics and statistics, and neuroscience.
Another added factor for Cresenscio is that there's a strong partnership between Amherst College and Dartmouth College Thayer School of Engineering, which is a STEM-specialized school. He plans to transfer to Dartmouth when he reaches his third year to take up ng engineering sciences as a second course. After, he'll have a dual degree, before he fulfills his dreams of studying in a medical school.
Cresenscio just needs to figure out how to maintain high grades so that each year his scholarship is renewed until he finishes at Dartmouth. In fact, he's already begun preparations this summer by communicating with his future Amherst classmates. He's also preparing himself for his collegiate life in the U.S.
"I have prepared a checklist of the things that I am excited to try and this includes experiencing winter for the first time, meeting new friends, and hopefully do research in the Neuroscience field," he said.
In addition to all that, Cresenscio is working part-time at a manpower agency in order to save for the materials and supplies he needs for the U.S. And, of course, he's also spending his free time with his family before he leaves in the coming months.
From: PEP.ph
More Videos You Can Watch