Lifestyle
How Many Filipino Dollar Millionaires Were There in 2017?
The latest Wealth Report from Credit Suisse showed the number fell slightly from 2016 to 2017.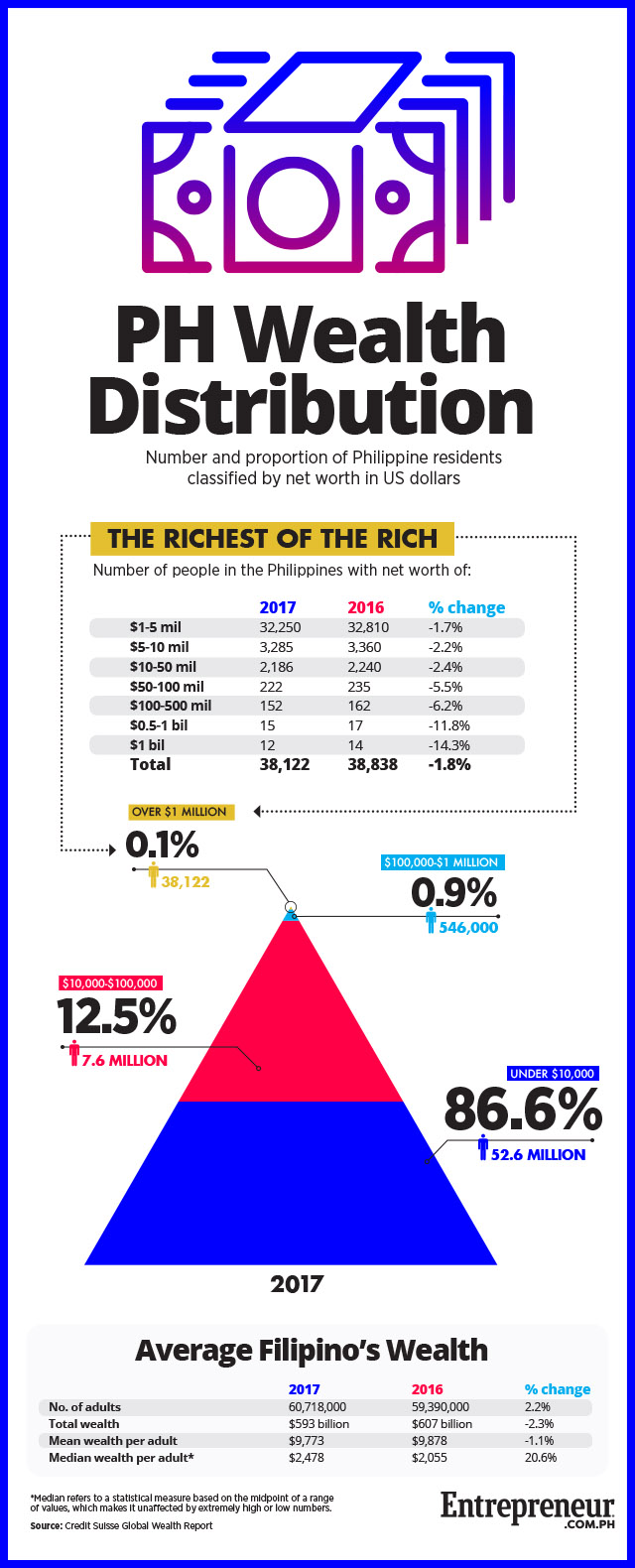 Around 38,000 Filipino adults had a net worth of at least $1 million (Php50.4 million) in 2017, according to Swiss financial services company Credit Suisse. That accounts for only 0.06 percent of the country's adult population.
In its Global Wealth Databook for 2017, Credit Suisse estimated the number of dollar millionaires in the Philippines at 38,122 individuals. That is slightly less than the 38,838 Filipino dollar millionaires Credit Suisse counted in the 2016 report.
ADVERTISEMENT - CONTINUE READING BELOW
That number shrinks quickly at higher levels of the net worth threshold. Only 2,587 Filipino adults have a net worth of at least $10 million, while a mere 179 individuals are worth at least $100 million. Credit Suisse estimated the number of dollar billionaires in the Philippines at 12, which is fewer than the 14 Filipinos on business magazine Forbes' list of the world's billionaires in March 2017.
Similar to 2016, the percentage of dollar millionaires in the Philippines is still much smaller than the Asia-Pacific average of 0.5 percent and the global average of 0.7 percent, suggesting higher inequality in wealth distribution.
Indeed, Credit Suisse revealed that 86.6 percent of the Philippine population had a net worth of under $10,000 (Php504,045) in 2017. That compares to only 72.9 percent for Asia and 70.1 percent for the world.
As well, the average wealth among Filipino adults stood at $9,773 (Php492,603), slightly lower than the $9,878 the year before. The median net worth for the country stood at $2,478 (Php124,902) in 2017, and while that grew from $2,055 in 2016, the high discrepancy between the two averages still highlights a large inequality between both ends of the wealth spectrum.
ADVERTISEMENT - CONTINUE READING BELOW
Credit Suisse sourced its data on global wealth distribution mainly from household balance sheets and similar sources. The report covers over 200 countries and breaks down how wealth distribution has changed in each country since 2000.
.
Lorenzo Kyle Subido is a staff writer of Entrepreneur PH
This story originally appeared on Entrepreneur.com.ph.
* Minor edits have been made by the Esquiremag.ph editors.
We revisit the remarkable journey of the country's leading pizza chain.
Featuring designs from Tiffany Men's collection.
Art is, after all, subjective.
There could be a huge reunion of dead Jedis' Force Ghosts in Rise of Skywalker.
It gives us a peek at what ocean life would look like on land.
In a 2016 interview, he called superheroes "very much white supremacist dreams of the master race."
What happens when your favorite breakfast goes Asian?
Taste success through Filipino or Western food concepts in the Philippines.
The besuited Brosnan brood made a big impression
Whether for work or weekends, formal setup or plain gym time, sneakers have grown into the everyday man's footwear of choice.