For a famous photographer-to-the-stars, Pat Dy is pretty unpretentious.
Case in point: when asked about how he must enjoy traveling often, shooting celebrity weddings and engagements (think Solenn Heussaff and Nico Bolzico, or Anne Curtis and Erwan Heussaff) in exquisite destinations, he is quick to brush it off as just a "perception." "For Europe or U.S., as much as possible, seven to ten days lang, balik na right away," he relates. "It used to be longer before. Siyempre, nae-extend nang sobra. Kasi the longer you stay, the more you spend"
Out-of-town shoots, on the other hand, stretch to only two nights at the most. The sooner he can get home, the better. Being away makes Pat pine for his master bathroom—an odd choice for a favorite spot in his two-month-old, four-storey home. Of course, I had to ask why. In response, he leads me to the third floor, through the door of the master bedroom and through another door that leads to the en suite bathroom. Suffice it to say that this private sanctuary Pat shares with his wife, Pauline, puts to shame all those shoebox condo units. It's huge, and it's ridiculously pretty.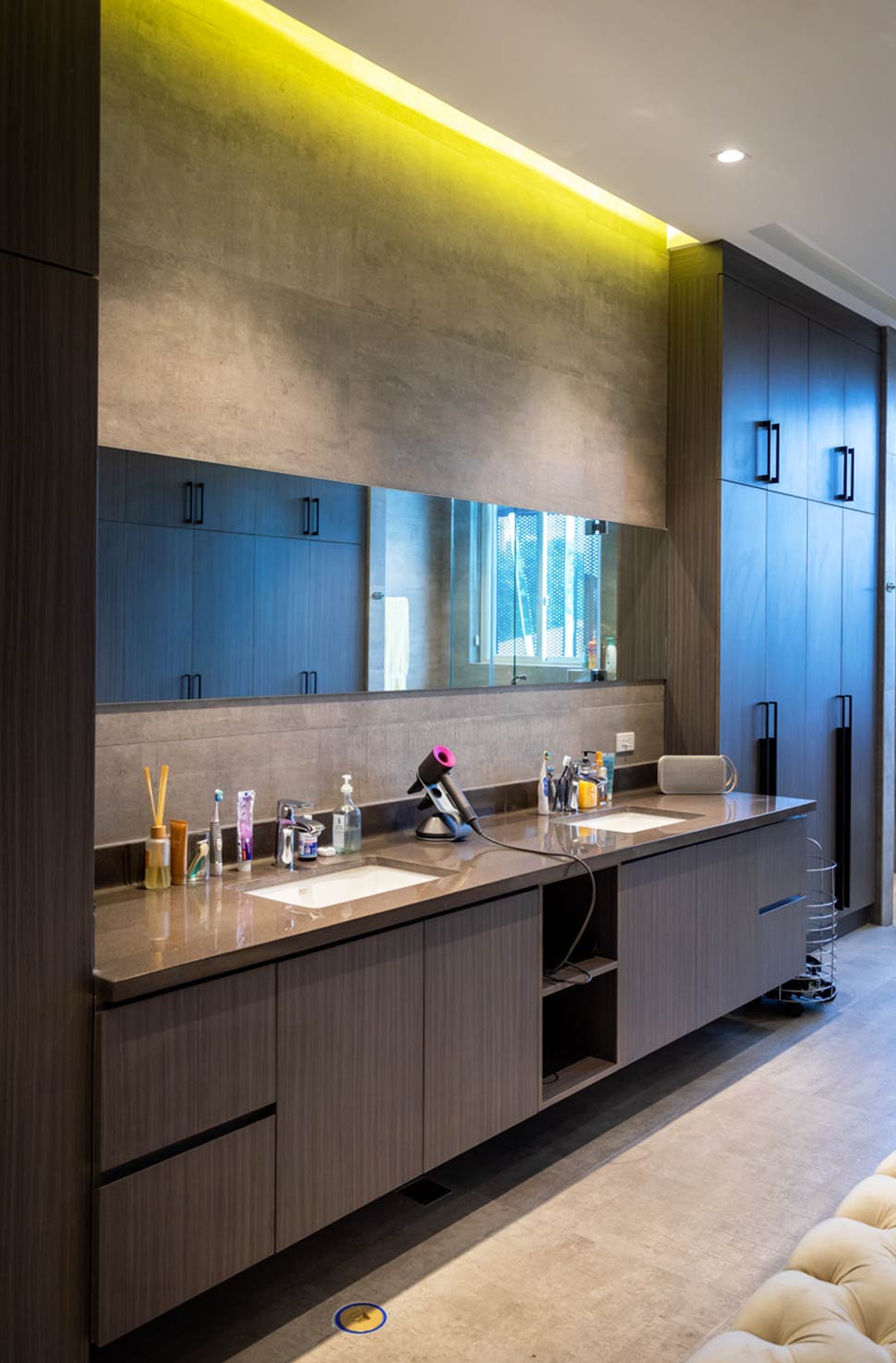 ADVERTISEMENT - CONTINUE READING BELOW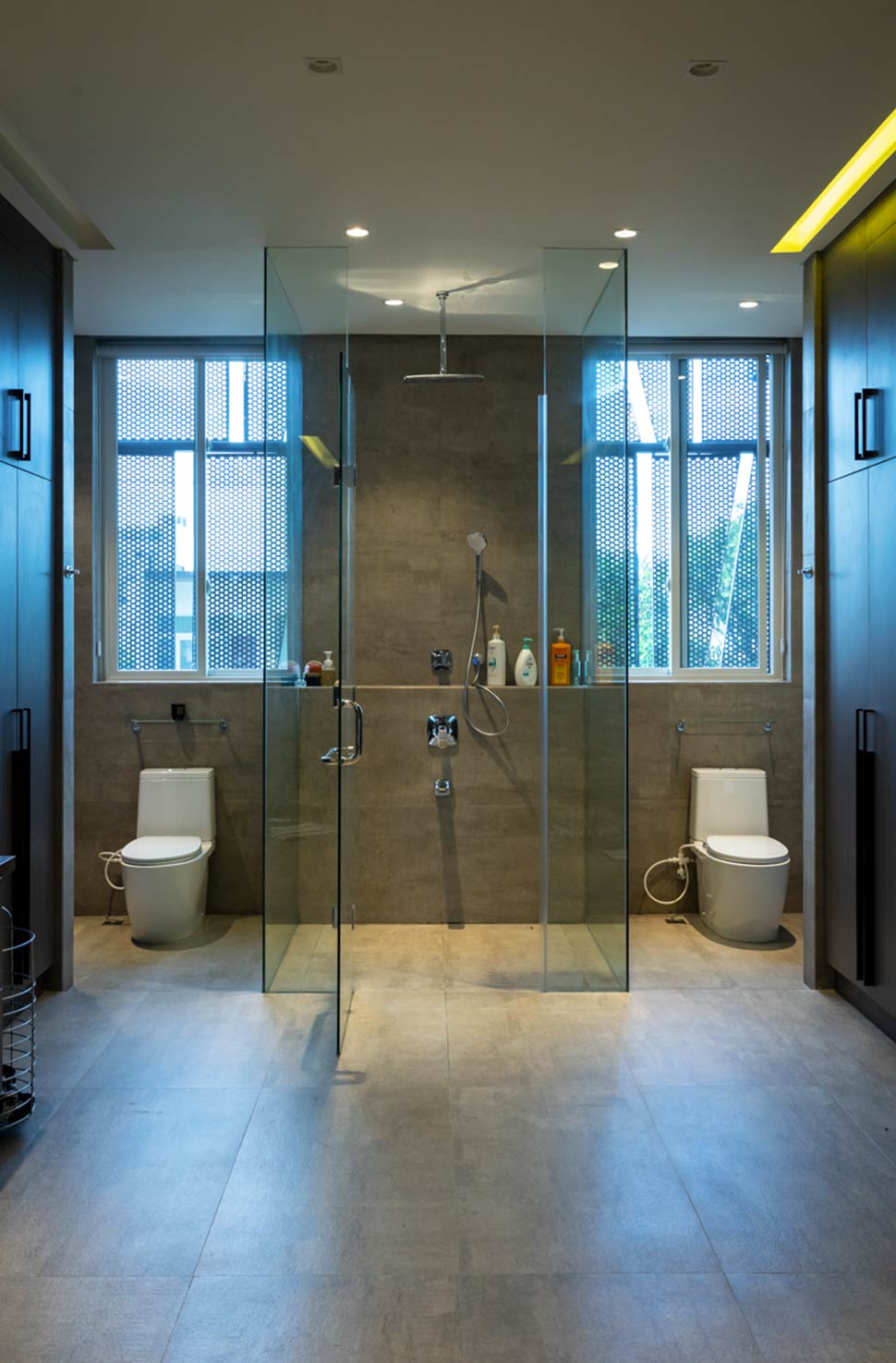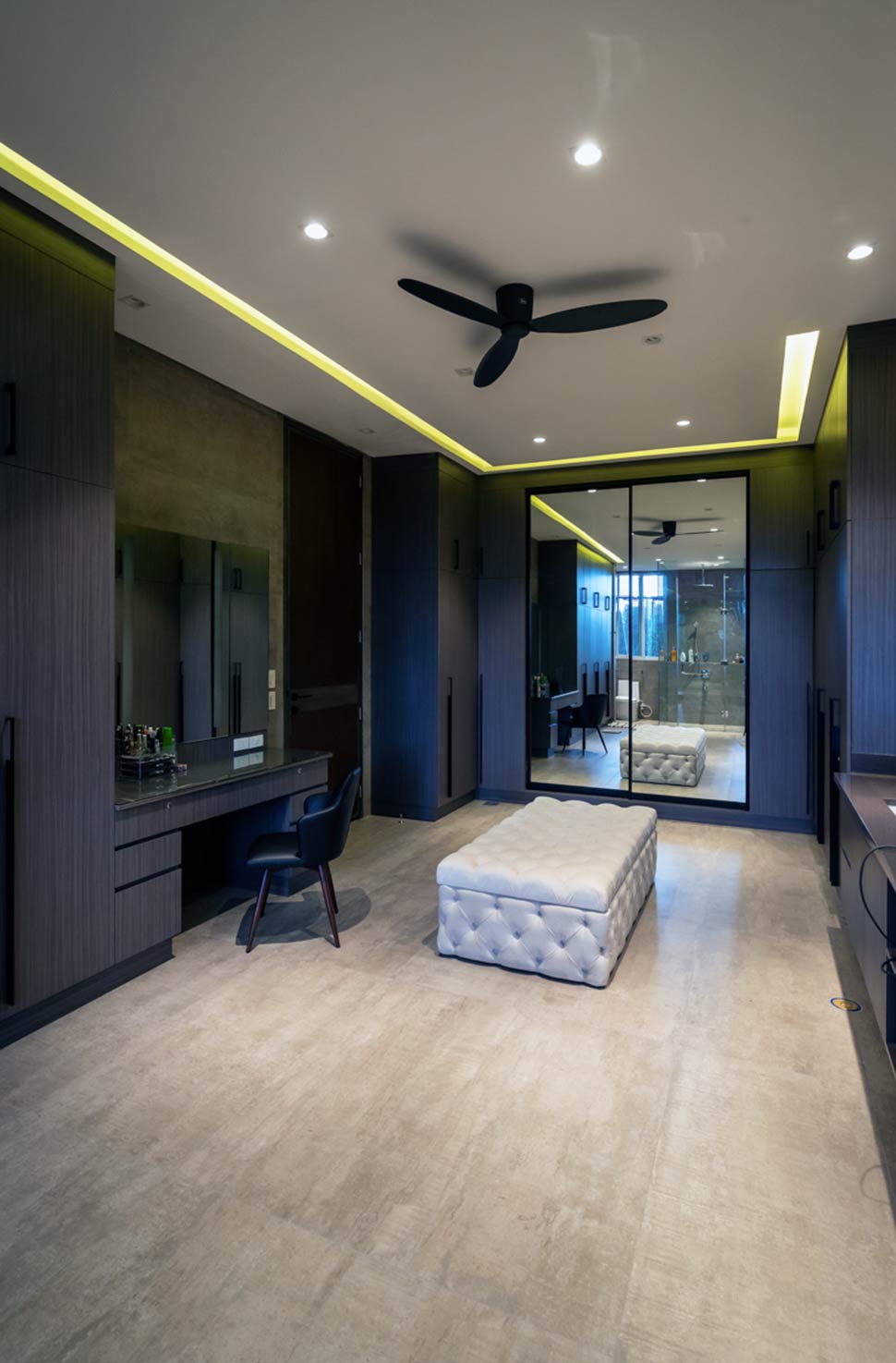 Custom-made cabinets done in wood finish clad one wall, opposite of which is the pristine T&B, with the toilet dividing the his-and-hers shower areas. The separate shower is mainly Pauline's idea "para less fights," says Pat with a snigger. The same principle applies to the two sets of wash basins that sit right across a vanity dresser.
This pristine bathroom is awash in neutral hue, lending the already elegant space even more class. Toto Labrador, also a seasoned photographer tasked to document this home, can't help but quip: "Give me Netflix, and I can stay here all day."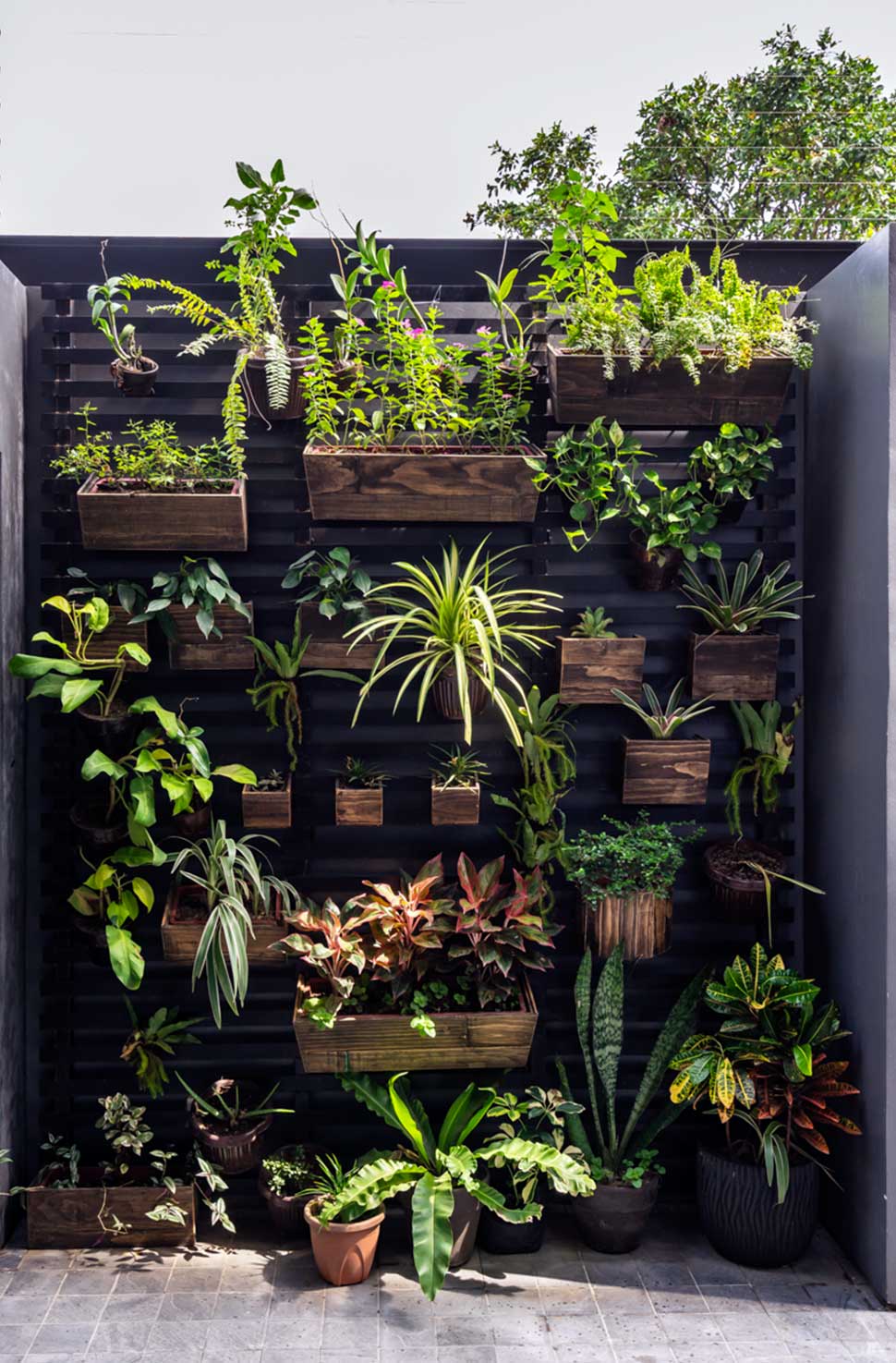 Wedding photography was not in the cards for Pat when he began his profession as a lensman. Photography was, in fact, just a mere side gig at first. Pat is a percussions major who graduated from the College of Music in the University of the Philippines-Diliman. At that time, he was busy with his own band and was also preoccupied with their family's food business and music school. After his first paid photography assignment in 2000, Pat began apprenticing with veteran fashion photographer Francis Abraham. "Then 2003, 2004 [came around and] I was able to break into the magazine industry," he recalls.
ADVERTISEMENT - CONTINUE READING BELOW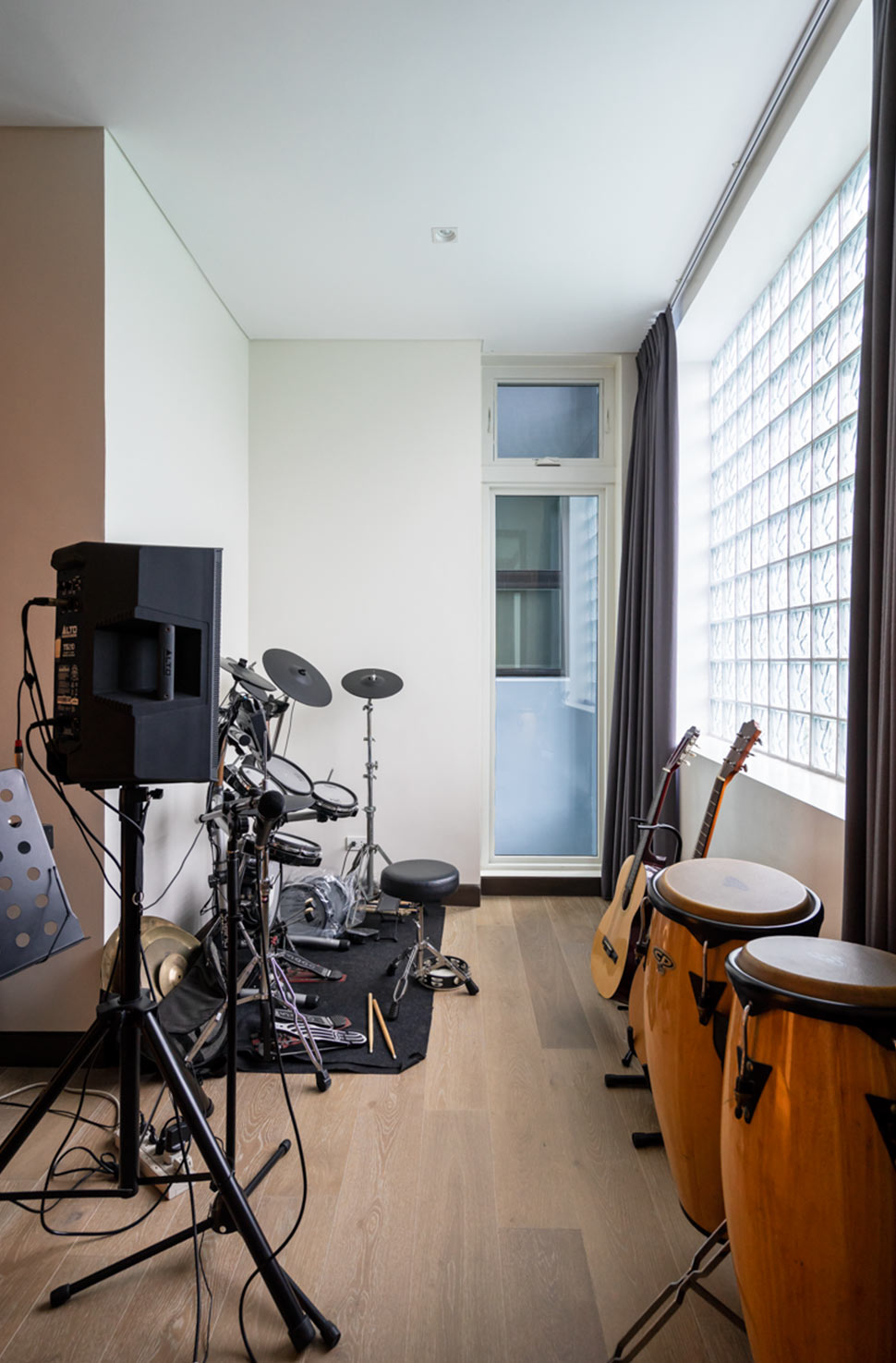 But instead of having lovestruck couples as subjects, Pat initially photographed the sartorial crowd. Top fashion publications of the country, like Preview and Cosmopolitan Philippines, were among the brands Pat had regularly contributed to. I ask him if shifting to wedding photography was a conscious effort on his part. "Ayoko pa ring i-admit throughout all those years, kasi parang 'Ayokong maging wedding photographer! Gusto ko fashion pa rin ako,'" he answers. Still, there is no one to blame here but himself—Pat got so good at incorporating fashion in his wedding shoots that people started branding him as a wedding photographer.
Instagram was also at fault. Pat says, "If you'll notice on my feed, yung posts ko [at first], kung ano-ano lang," Then he started uploading wedding photos, and the rest, as they say, is history. "Kasi parang what you post there, 'yun na agad yung brand mo, e." But that's not to say Pat is one ungrateful wedding photographer. He had been adamant, yes, but definitely not thankless. His roster of clients and the prestige of being photographed by Pat on one's wedding or engagement is proof enough that the man is taking to this genre like a fish takes to water.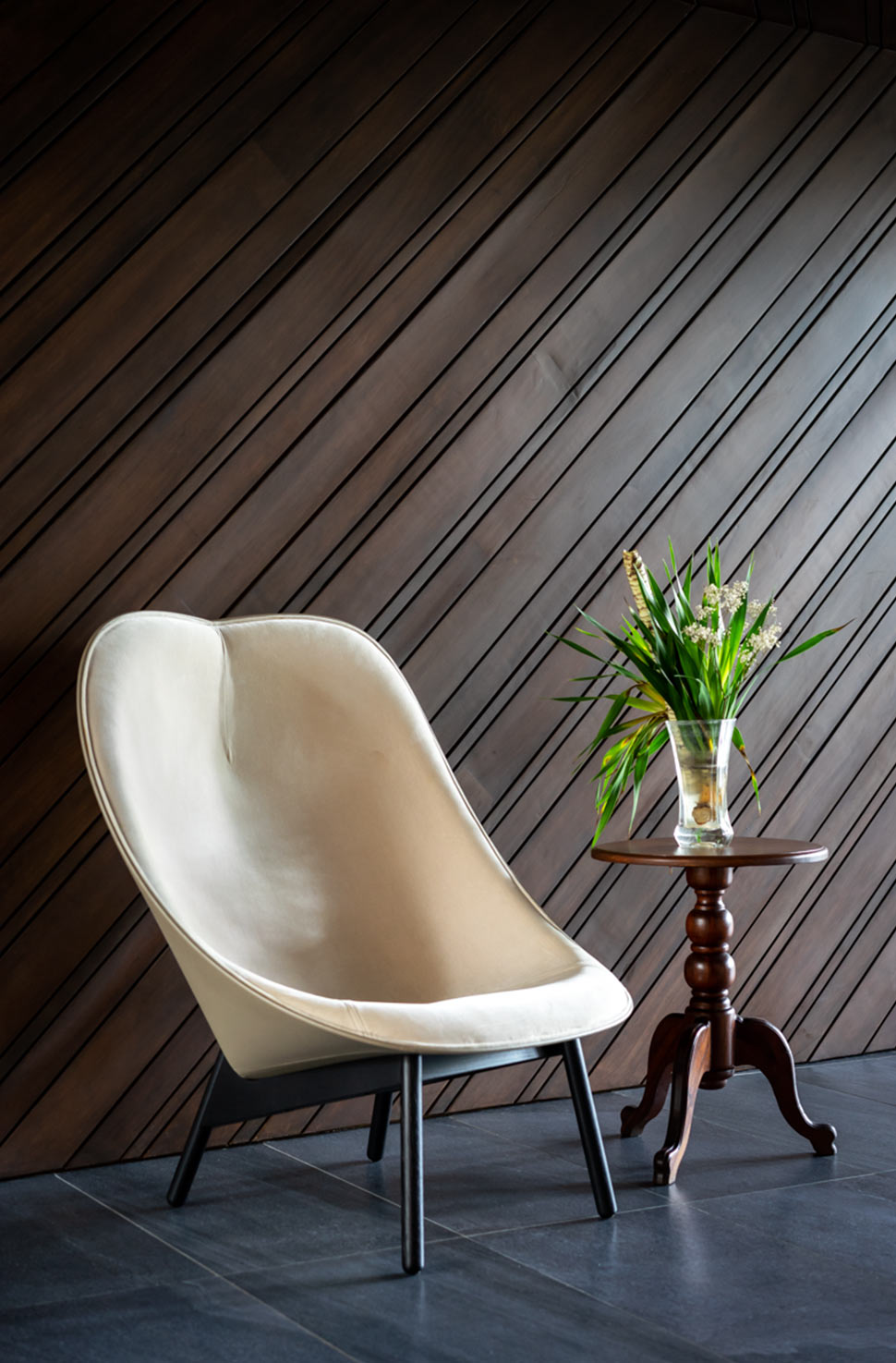 His new home, of course, reflects Pat's interests—photography included. Every corner is Instagrammable. Natural light finds its way to almost every nook and cranny of the abode, thanks to high glass windows and a skylight. At certain times of day, the perforated metal railing on the mezzanine casts playful shadows down the living area.
Pat and Pauline worked closely with architect Anthony Nazareno, who thought of incorporating these details that would best inject more personality to the Dys' place. Anthony asked Pat's family for each of their wish list. Pat and Pauline's number one request: that their house not be cookie-cutter. "We want something na medyo forward-thinking," says Pat. Anthony was more than happy to oblige.
ADVERTISEMENT - CONTINUE READING BELOW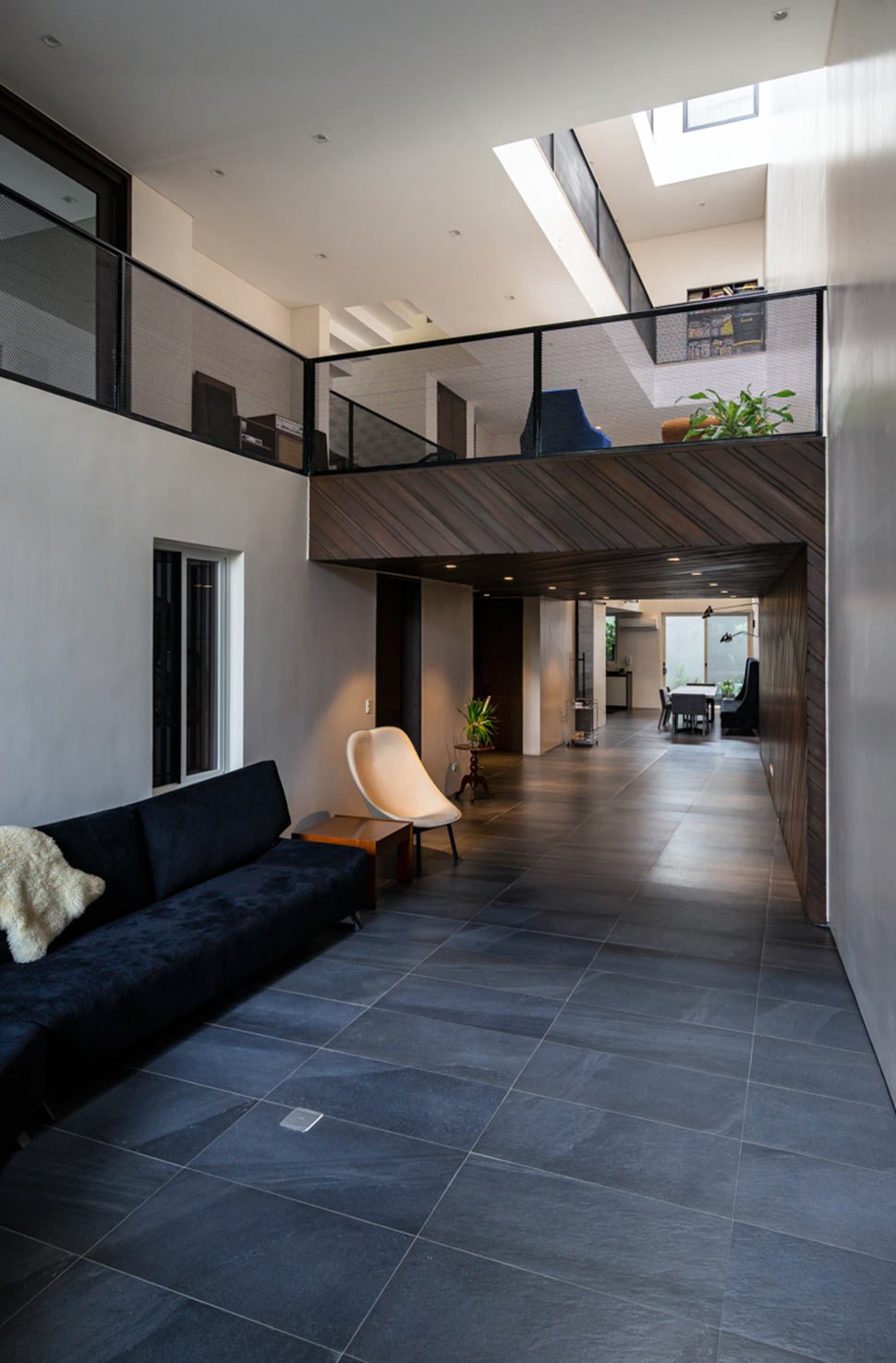 The façade, for instance, stands out in the neighborhood without trying too hard, the most striking feature of which is the perforated (it's a recurring feature) black metal gate accented with geometric lines. Pat credits the idea to Anthony, praising how open-minded the architect had been all throughout the design process. "Without the help of architect, mahihirapan kami. Malaking factor talaga with Anthony. Maganda with Anthony is, hindi s'ya yung siguro with other architects na iniimpose na lang," Pat relates. The entire house that sits on a 300-square-meter lot is a collaborative project between the architect and the homeowners. While Pat initially wanted only two floors, he and Pauline relented to Anthony's suggestion to go for four instead; otherwise, the space would be cramped. It's a decision the couple does not regret. And after two years of construction and designing, the result is definitely not a cookie-cutter home.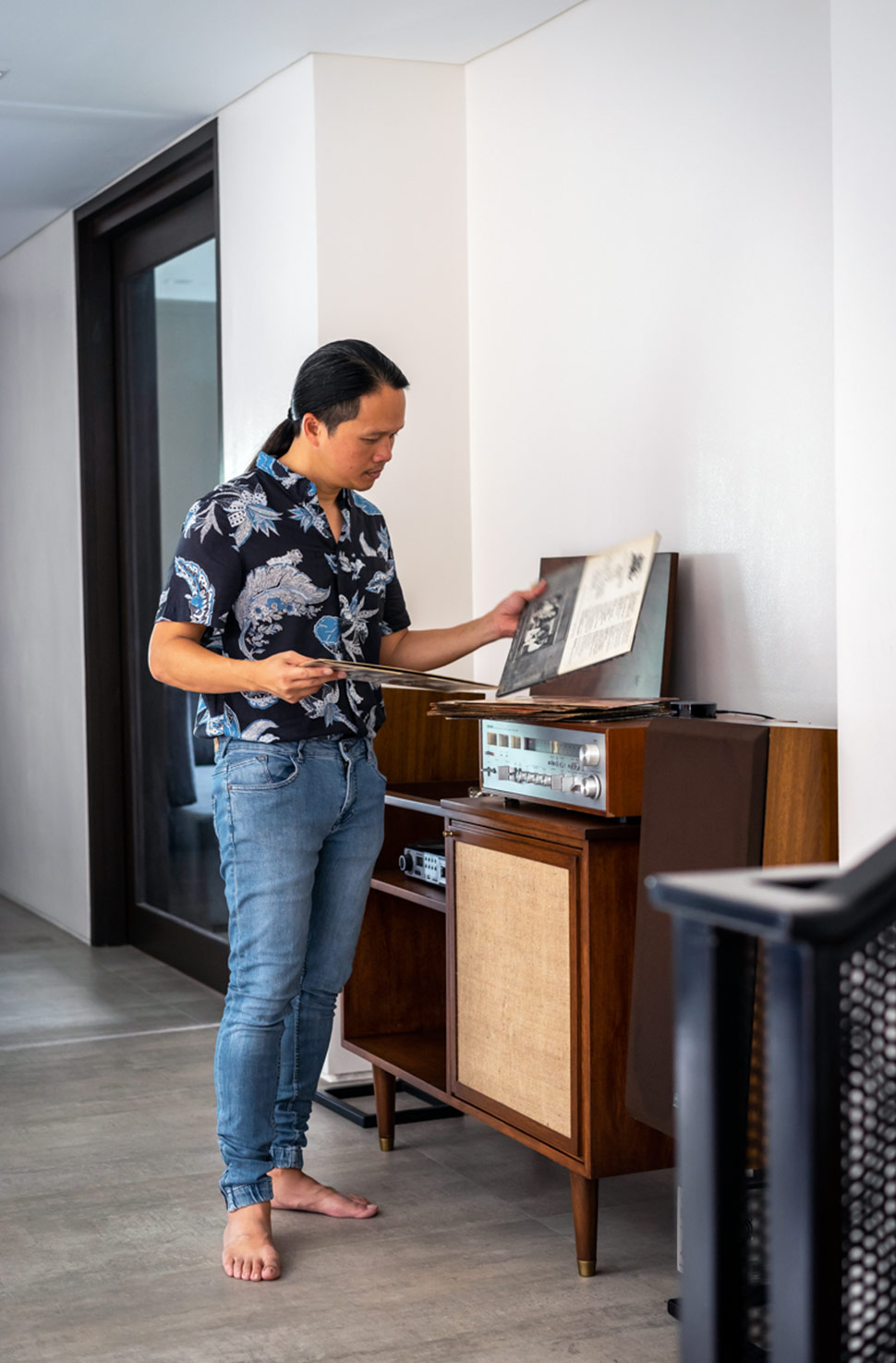 From the almost two-storey-high, wooden main door to the slanted walls that transition into a wood-paneled hallway accented in recessed, geometric lines, Pat's house is a study in unconventional aesthetics.
If there's another area that can contend with the bathroom as Pat's favorite, it's the kitchen. Not because he loves to cook (that's Pauline's turf), but because every morning, one can find Pat here brewing himself a strong cup or two of coffee to kick off his day. For Pat, his red Breville espresso machine takes pride of place here. As soon as he wakes up, and before he proceeds to checking his work emails, Pat pads straight to the kitchen to carefully prepare his morning brew.
ADVERTISEMENT - CONTINUE READING BELOW
The space is also part of Pat's wish list: it should be big and open, flowing seamlessly into the dining area. "Parang yun yung magiging hangout the whole day," he explains of his request. True enough, Pat's brood of three kids—daughter Kaz and sons Cole and Travis—would converge here, chattering or tinkering with their mobile devices. Even the family's pets, an Exotic Shorthair cat named Canon and a Shih Tzu named Chip, would frolic around as they vie for attention.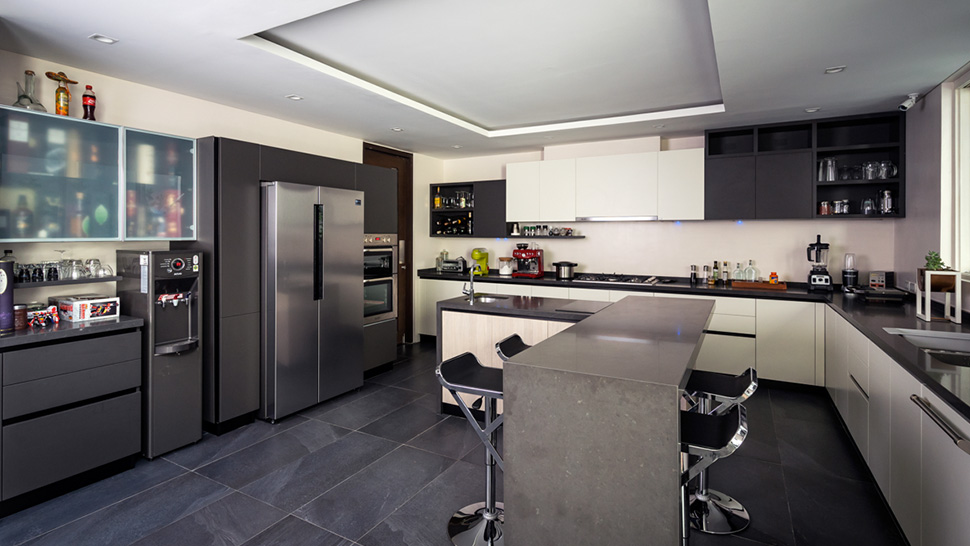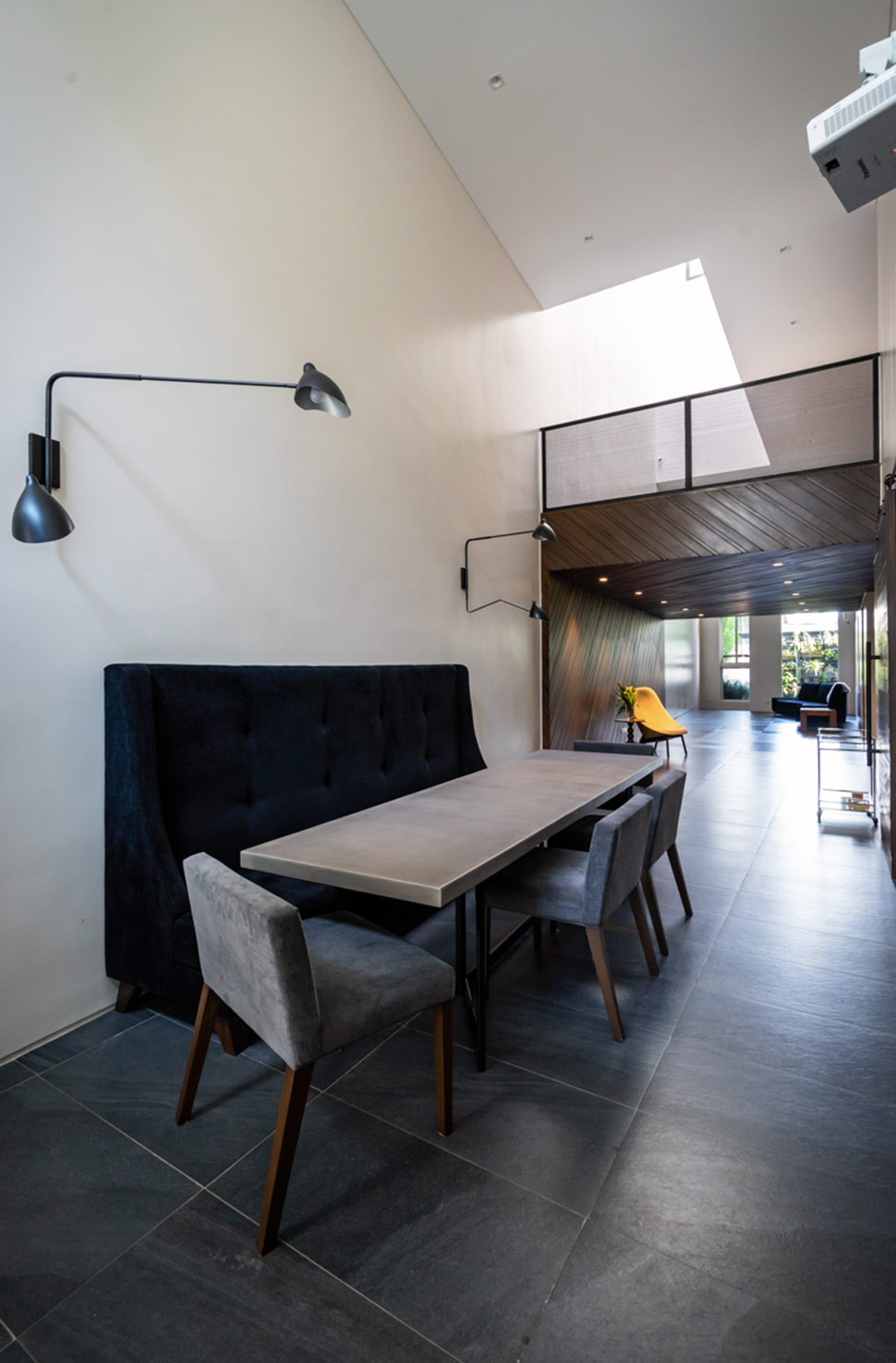 To further make the kitchen a hub for his family, Pat had a projector installed. Movies, NBA playoffs, and TV series are projected against the dining area wall for convenient viewing.
Alexa also takes up residence on the kitchen counter. "Pag lonely ka, you can just talk to her," Pat jokes. This new addition to the Dys' nest makes it easy for Pat to, for instance, switch from one Spotify playlist to another with just a few words of command. He can also turn up or turn down the music blasting from his vintage set of Yamaha speakers on the mezzanine level.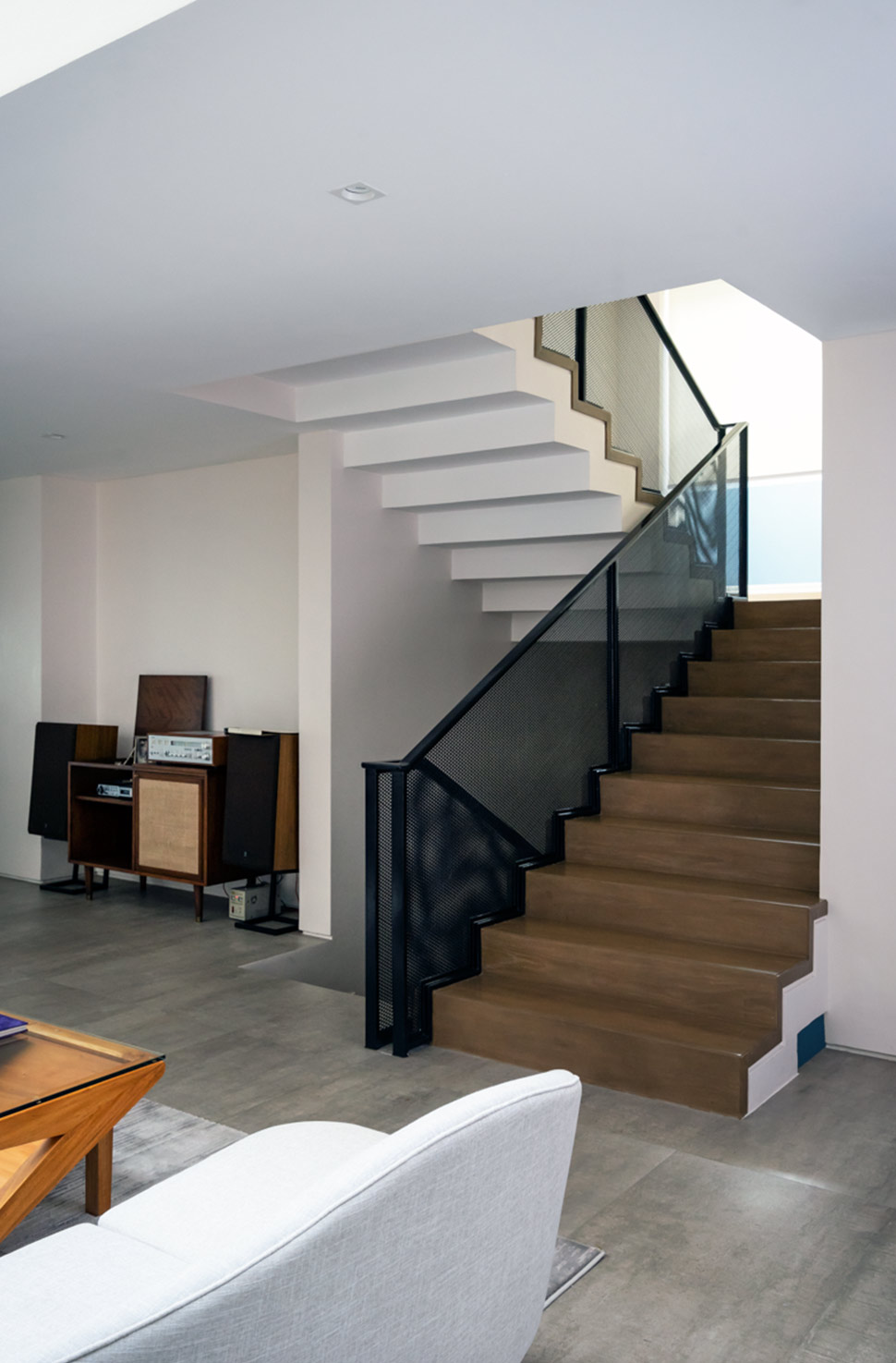 ADVERTISEMENT - CONTINUE READING BELOW
But Pat is not one to keep the volume down low. He prefers his music reverberating around the house without necessarily hurting the eardrums. Music is his first love, and the same thing can be said of his entire family. Pauline, just like Pat, is also a percussions major. The two have been married for 18 years, and their kids took after them: Cole, the eldest, has a DJ controller in his room; Kaz does vocals and plays the guitar; while the youngest, Travis, plays the drums.
It's no surprise, then, that a music room is part of the equation when Anthony designed the house. On the third level is a room full of guitars, a keyboard, a set of electronic drums, and a pair of conga.
The lounge on the mezzanine is also not without some music gadget. Pat's vintage set of Yamaha record player is stored in a console from Urban Abode, a local furniture and interior design brand. The wooden furniture piece is a housewarming gift from Pat's brother. It complements the rest of the mixed seating pieces (also from Urban Abode) in the area, Pat's favorite among them the Chesterfield couch in a zesty hue.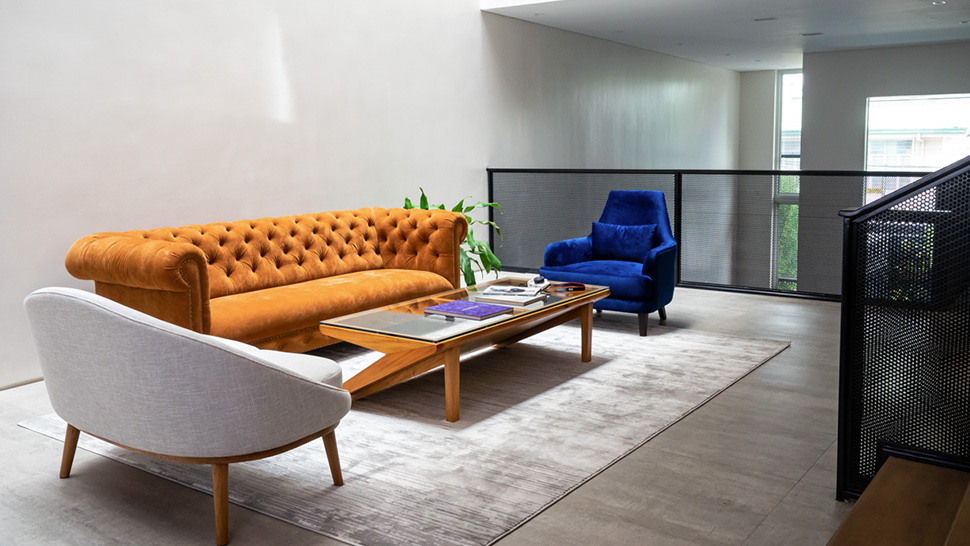 While there are still a few accent pieces lacking here and there, Pat is already content with how his and Pauline's dream house turned out. It's obvious in the way he shows us around—he beams with pride as he opens the door to each room, as he tells the story of how a certain detail was conceived, the way he makes his guests feel at home while he whips them a cup of freshly brewed coffee.
Pat tells me that his family will soon be going on a vacation in Hawaii, but I'm pretty sure they'll miss their new home in just a few days of being away. And the moment they get back, we all know where Pat is heading straight to—it's one hell of a bathroom, after all.