Lifestyle
A Timeline of the Top-Selling Christmas Gifts...Ever
A year-by-year look back at the must-have presents that changed childhoods forever, and a whole lot of Elmo.
Remember the Furby? Tickle Me Elmo? How about Beanie Babies? We collected the hottest gifts that drove parents crazy throughout the decades. And if you were one of the lucky recipients of any of these, remember to call home and say thanks.
2017: Cozmo 
The Big Deal: Right now, it's looking like a creative little robot named Cozmo is primed to be the top gift of 2017. He's customizable, programmable, learns on his own, works with your iOS or Android device, and looks like something out of a Pixar film. Priced at $180, Cozmo doesn't come cheap, but he's the closest thing we've seen to a real life droid. BB-8, you've got some competition. 
The Weird Part: Adults are going to want this one just as much as kids. 
Where to Buy It Today: amazon.com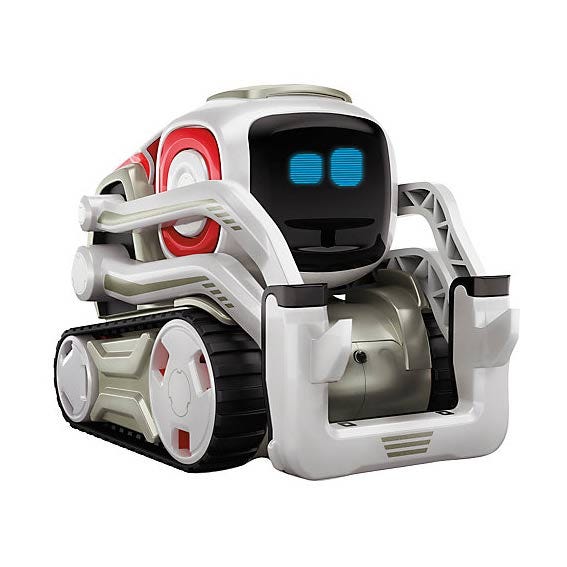 ***
2016: NES Classic 
The Big Deal: Let's face it, this was cooler than Hatchimals. Originally released in Japan as the Family Computer (Famicom) in 1983, Nintendo brought back the gaming console that started it all, complete with the O.G. controller. 
The Weird Part: Nintendo might have underestimated how popular this product was going to be, making this guy impossible to find for months—right before Nintendo officially discontinued it. 
Where to Buy It Today: amazon.com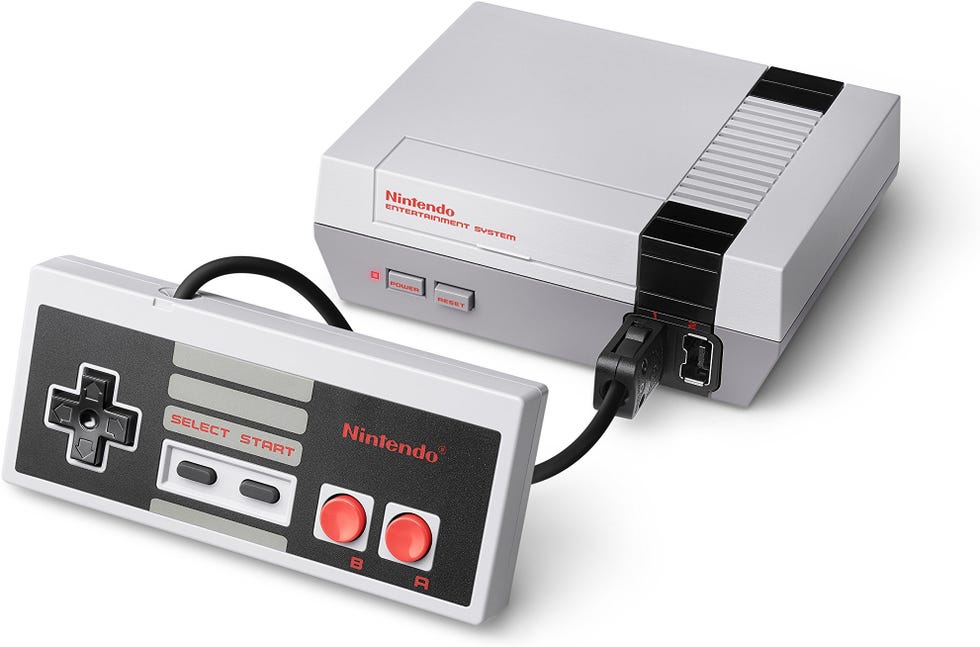 ***
2015: Sphero BB-8 Toy 
The Big Deal: Star Wars is always a big deal. When George Lucas' merchandising money-grab-disguised-as-sci-fi-franchise joined forces with Disney, you knew the Force would be strong with this one. Much like the breakout star of The Force Awakens, Sphero's BB-8 responds to voice commands and even has a mind of its own. 
The Weird Part: BB-8 can record and transmit video, so watch what you're doing in case the federal gover—uh, First Order is watching. 
Where to Buy It Today: amazon.com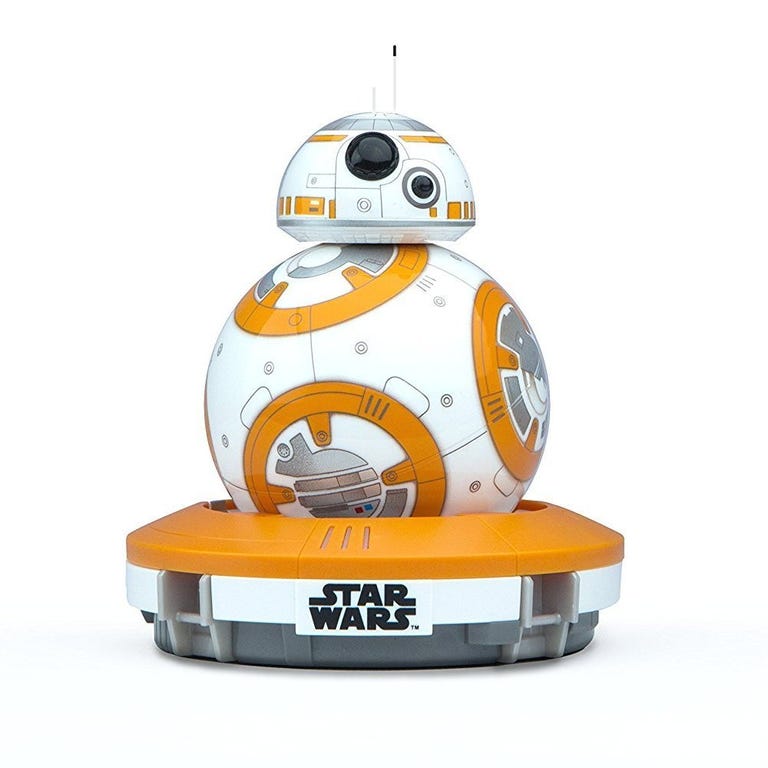 ***
2014: Disney Frozen Snow Glow Elsa Doll 
The Big Deal: Remember Frozen? Sure you do. You couldn't get "Let It Go" out of your head. Disney's hottest movie of 2013 was inevitably the hottest toy for a long time to come, and Elsa led the pack. 
ADVERTISEMENT - CONTINUE READING BELOW
The Weird Part: How the song is stuck in your head now. Sorry.

Where to Buy It Today: Toys "R" Us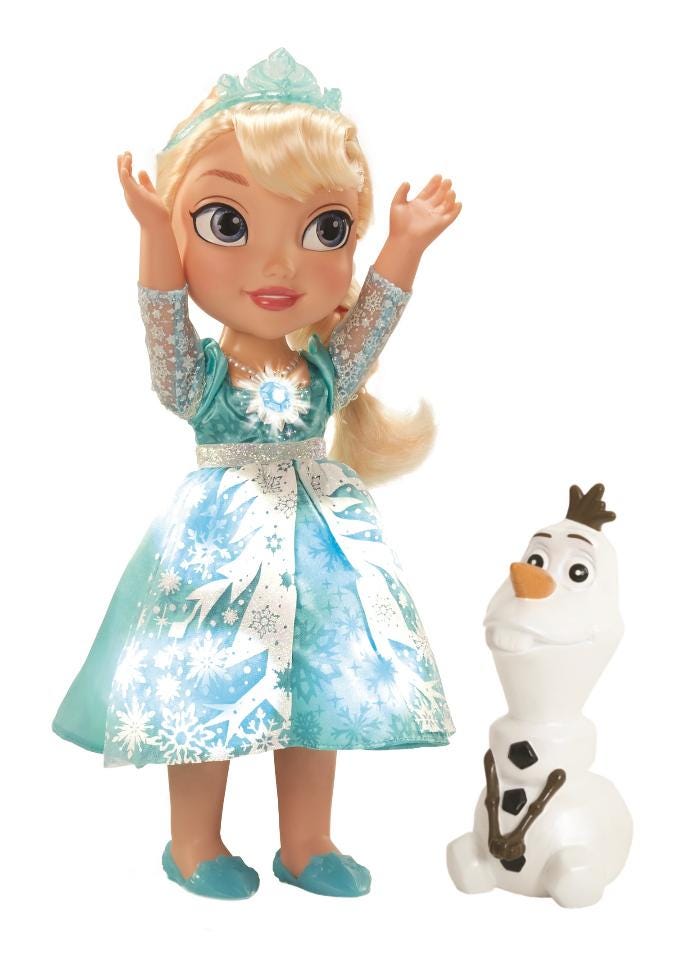 ***
2013: Big Hugs Elmo (Playskool) 
The Big Deal: Look, I'm writing this in 2017, trying to remember what things were like back then. Those were halcyon days. Honestly, this one's not a surprise, because Elmo has completely dominated the holidays over the years. Seriously, click through, this guy's been putting up Jordan numbers since the '90s. Anyway, this one hugs you. I think we could all use it, Elmo. 
The Weird Part: This is all pretty weird, isn't it? 
Where to Buy It Today: amazon.com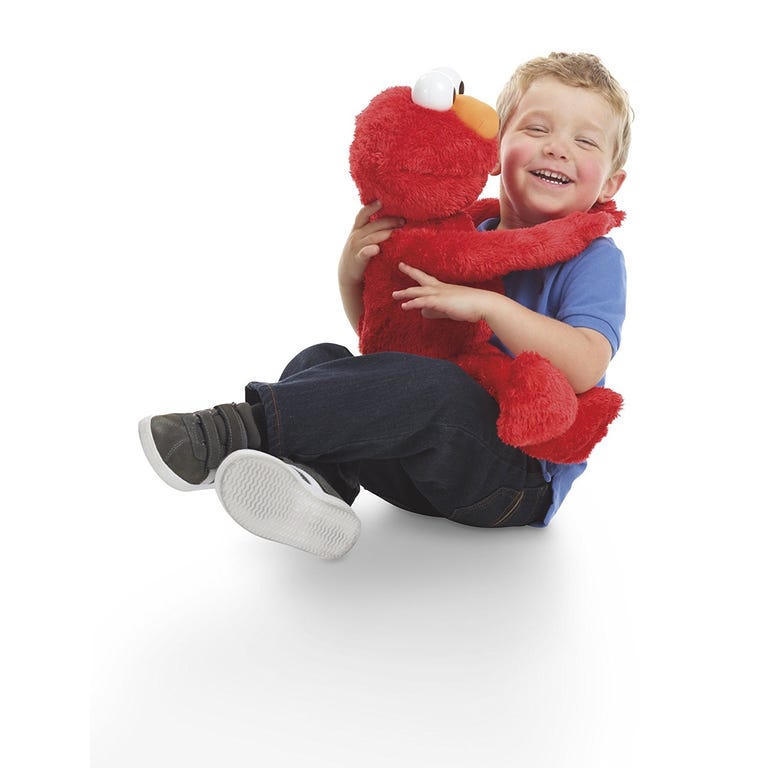 ***
2012: Wii U 
The Big Deal: The first "eighth-generation" video game console was also the first in Nintendo's lineup to offer HD graphics. Best of all, it would be joined by Super Mario 3D world a year later, one of the best Mario games in years. 
The Weird Part: The Miiverse, a social network of Wii avatars (Mii) which let gamers communicate with other players from around the world. 
Where to Buy it Today: amazon.com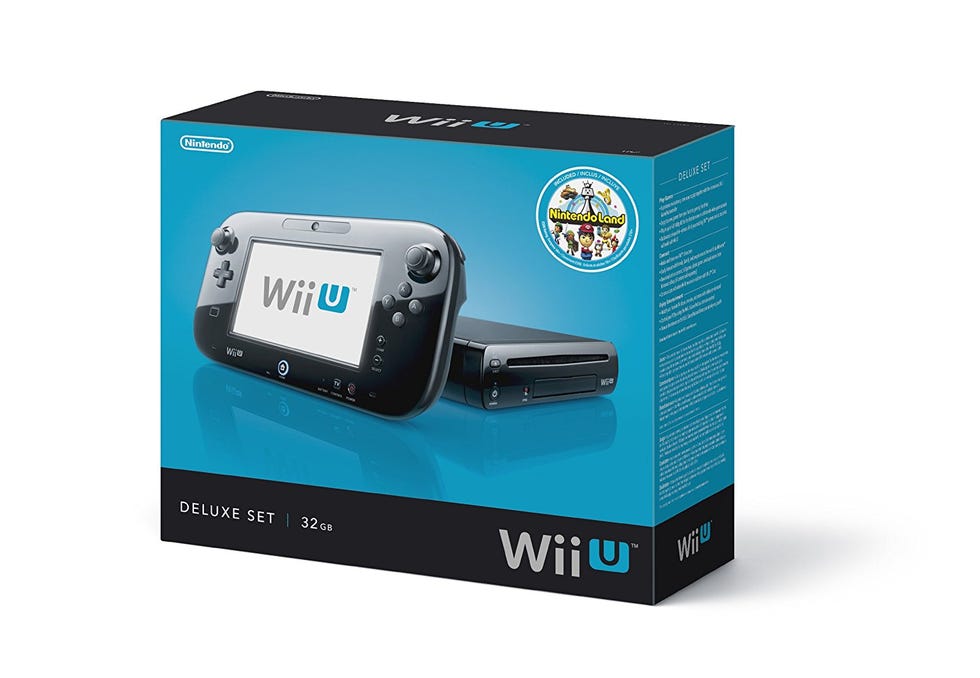 ***
2011: Let's Rock Elmo (Hasbro) 
The Big Deal: Elmo doesn't just laugh his ass off like he did 15 years ago or babble incessantly like he did in 2008. This time, the character that never fails to captivate toy market watchers (one of whom actually calls this "virtually the only exciting product" of the season) applies a more mature instinct: He's a bona fide rock star, albeit a very polite one. Let's Rock Elmo comes with a mic, tambourine, and drum set (anything more costs extra) and can launch into versions of "What I Like About You" and "It Takes Two." There are a few frightening video demonstrations out there, if you must. 
The Weird Part: That Elmo is back yet again. And that he pairs surprisingly well with a certain adult singer-songwriter. Where to 
ADVERTISEMENT - CONTINUE READING BELOW
Buy It Today: amazon.com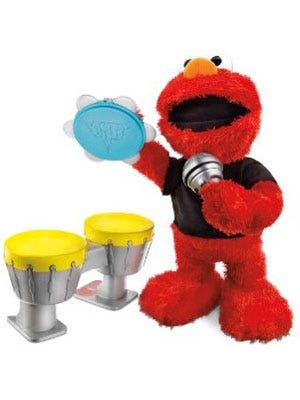 ***
2010: Apple iPad 
The Big Deal: Really, were there any other contenders? It's the first of its kind—a slim tablet that lets you seamlessly glide between movies, music, browsing the web, and Street Fighter beat-downs. With Wi-Fi and 3G, everything from racing simulators to magazines are just a touch away. And don't get us started on that gorgeous LED display. 
The Weird Part: You can use the iPad to do just about anything, but you're probably going to waste all your time on Angry Birds, which has been purchased over 10 million times on Apple's App Store. 
Where to Buy It Today: apple.com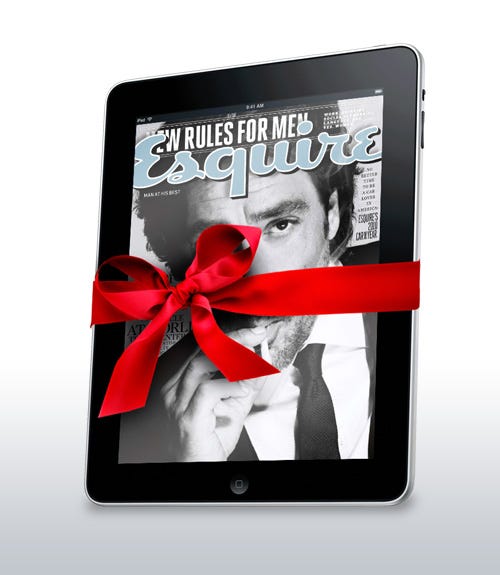 ***
2009: Nook eReader (Barnes & Noble) 
The Big Deal: We had a classic consumer showdown on our hands this holiday season: B&N's e-book has a second screen while Amazon's Kindle has just one; throw in its Wi-Fi and the Nook seemed set for a Christmas KO. That said, Beta had a much nicer picture than VHS. 
The Weird Part: For once, porn isn't the spark behind a new tech platform. No, this time it's something far more highbrow: romance novels. Now the serious career woman can enjoy Flowers from the Storm without having to explain the picture of Fabio. 
Where to Buy it Today: barnesandnoble.com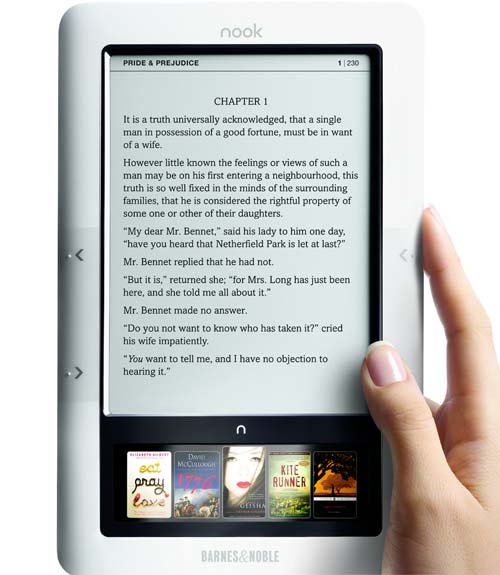 ***
2008: Elmo Live (Fisher Price) 
The Big Deal: Children can't really resist a "truly lifelike creation" that seems "to actually be speaking as his mouth opens," can they? But wait! The red monster also "waves his arms, sits and stands, even crosses his legs with just a tickle or a squeeze." 
The Weird Part: The related Elmo Knows Your Name experienced a public scandal when it was discovered one doll (owned by a two-year-old named James) would, upon being squeezed, repeat in Elmo's trademark singsong voice, "Kill James." So adorable…
ADVERTISEMENT - CONTINUE READING BELOW
Where to Buy it Today: fisher-price.com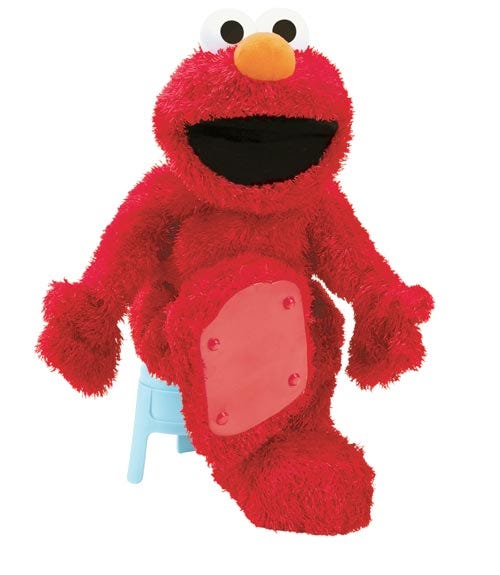 ***
2007: iPod Touch (Apple) 
The Big Deal: The first touchscreen and Web-enabled iPod went from annual fanboy fantasy to national must-have, largely because it came at a fraction of the iPhone's price tag. Christmas? There's an app for that. 
The Weird Part: Apple's profits took a slight hit when they had to deal with a lawsuit filed by an irate mother claiming her child's iPod Touch burst into flames while in his pocket, igniting his pants and "nylon/spandex underwear." 
Where to Buy it Today: apple.com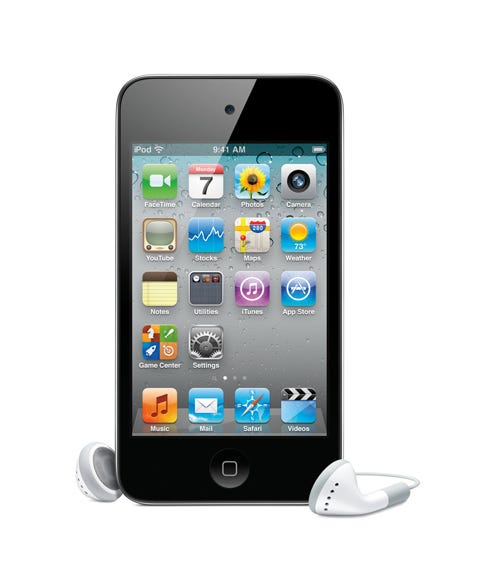 ***
2006: Playstation 3 (Sony) 
The Big Deal: Sony's response to Microsoft's Xbox 360 had a North American launch inspiring such anticipation that pre-sale units hit $3,000 on eBay (retail topped out at $599), while mothers and mouth-breathers alike camped out for days to buy one in person. 
The Weird Part: Legend has it one man on an advance line at a Walmart discovered there would not be any PS3s left by the time it was his chance to make a purchase. So he did the only logical thing: he treated people ahead of him in line to coffee spiked with laxatives. He got one. 
Where to Buy it Today: amazon.com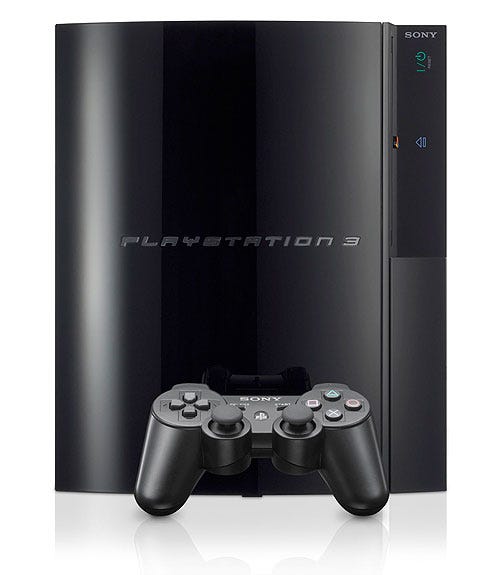 ***
2005: Xbox 360 (Microsoft) 
The Big Deal: Beating Sony to the punch? Check. Internet connectivity for Halo tournaments stretching from nerds in Taiwan to schoolchildren in Toledo? You got it. Enough supply to meet holiday demand? Not so much. Frenzy ensued. 
The Weird Part: Xbox 360 started production a mere sixty-nine days before its launch. Customers lucky or savvy enough to recognize the potential profits of Microsoft's dilemma cashed in, as forty thousand units (or 10 percent of total supply) ended up on eBay within a week. 
Where to Buy it Today: bestbuy.com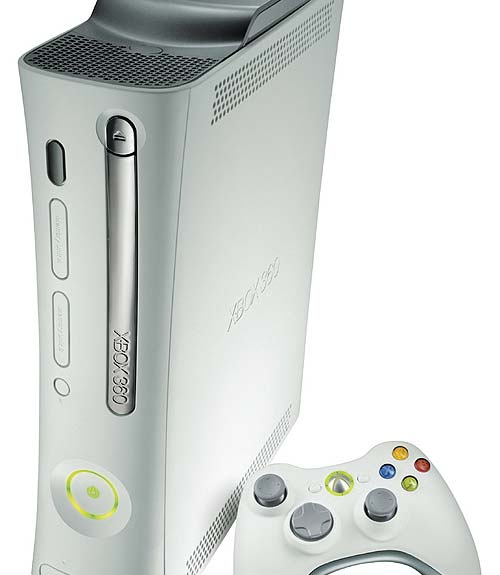 ***
2004: RoboSapiens (WowWee) 
The Big Deal: What's a RoboSapien, you ask? Why a remote-control, fourteen-inch-tall humanoid capable of performing sixty-seven preprogrammed actions and movements, including (but by no means limited to) break dancing, farting, and belching, of course! 
ADVERTISEMENT - CONTINUE READING BELOW
The Weird Part: Prior to the resurgence of human movement with the success of Dancing with the Stars, humanity faced a sedentary period consisting entirely of RoboSapiens shaking their mechanical groove thangs on YouTube. 
Where to Buy it Today: amazon.com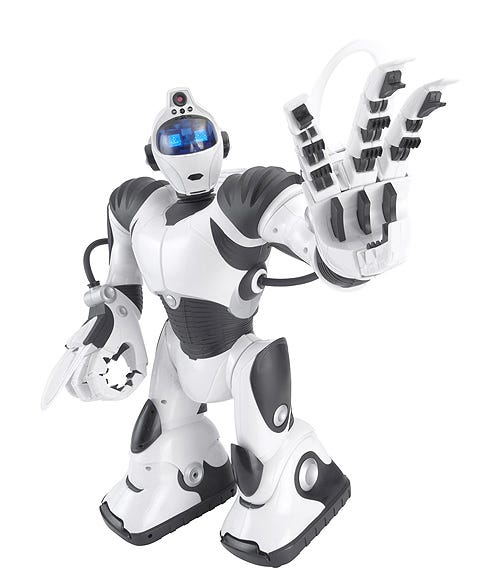 ***
2002-2003: Beyblades (Hasbro) 
The Big Deal: In a classic demonstration of the power of synergy, Hasbro released these customizable "fighting" spin-tops in Japan simultaneously with a hit cartoon. World domination followed soon thereafter. 
The Weird Part: Beyblade competitions quickly became a sensation, with the first one drawing eighteen thousand people. One need only YouTube the highlights of such an event to discover why this attracted more folk than the average heavyweight title fight. 
Where to Buy it Today: toywiz.com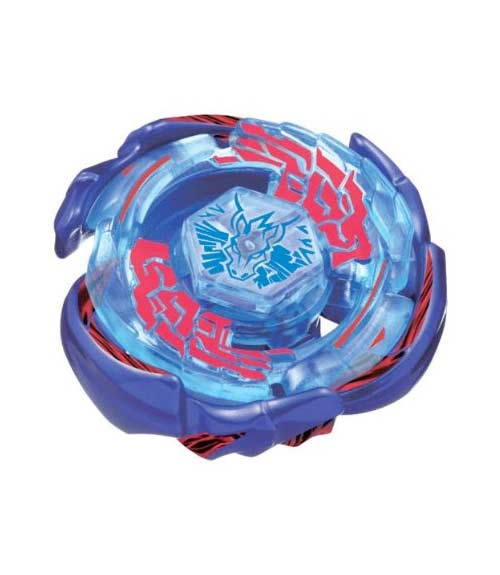 ***
2001: Bratz (MGA Entertainment) 
The Big Deal: Ah, Cloe, Jade, Sasha, and Yasmin. They're the original quartet of teninch "teenagers distinguished by large heads and skinny bodies." While their June 2001 launch proved disappointing, by Christmas they were well on their way to generating billions. 
The Weird Part: If the Bratz remind you of Barbie dolls, you're not the only one. Mattel won a $100 million copyright suit against MGA in 2008 (though it should be noted that Mattel requested $1.8 billion). 
Where to Buy it Today: amazon.com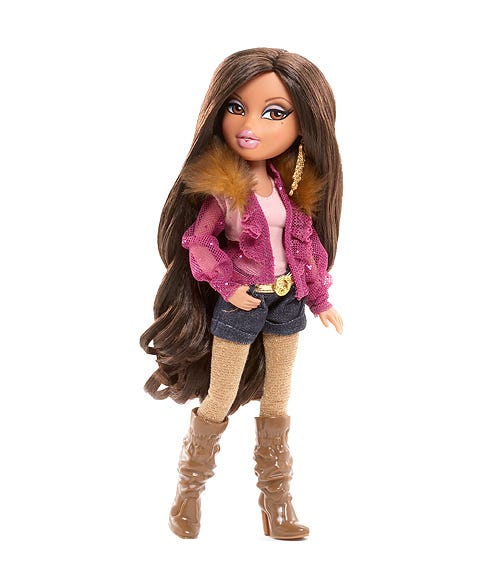 ***
2000: Razor Scooters (Razor USA) 
The Big Deal: This was the year we decided we didn't want to drive... or walk. What to do? Dodge children in the streets! The original Razor also won Toy of the Year for establishing itself as a "classic mode of transportation, like bikes and skateboards." 
The Weird Part: Only downside? Any grown man on a scooter looks like a total zero. John Mayer celebrated this in a short film about his songwriting process. 
Where to Buy it Today: toysrus.com 
***
1999: Pokemon (Nintendo) 
The Big Deal: With the Japanese cartoon a sensation, kids demanded more, and the video-game series came to rival even the Mario titles in popularity, inspiring South Park to parody the whole phenomenon (you know, the one where Japan wants to brainwash America's children into launching a second attack on Pearl Harbor). 
ADVERTISEMENT - CONTINUE READING BELOW
The Weird Part: An eight-second-or-so segment of a TV episode duplicated a strobelight effect so effectively that it triggered seizures in hundreds of fans, proving right mothers the world over: Cartoons are bad for you. 
Where to Buy it Today: toywiz.com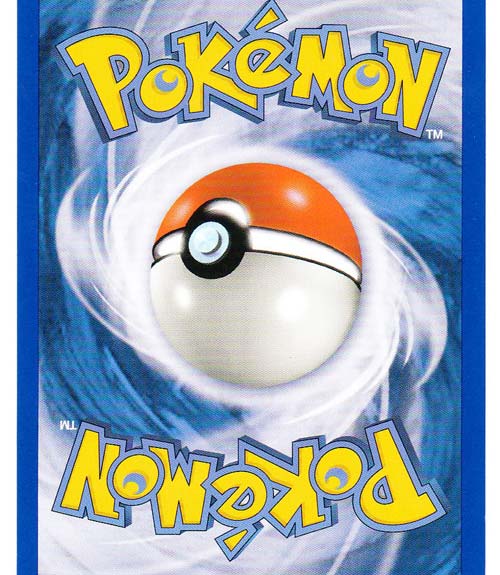 ***
1998: Furby (Tiger Electronics) 
The Big Deal: Who wouldn't want a furry robot that can talk and blink its eyes? Indeed, who wouldn't want one so badly that they'd be willing to pay a huge markup? After retailing for $35, Furbies skyrocketed to $100 a pop, not to mention "collector's items" like "tuxedo Furby" and "biker Furby." 
The Weird Part: Owners discovered Furbies were strikingly affected by magnets, inspiring a demonic-looking video craze.
Where to Buy it Today: ebay.com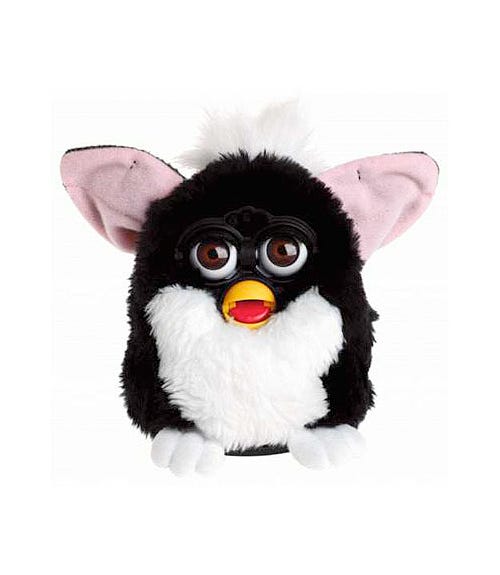 ***
1997: Tamagotchi (Bandai) 
The Big Deal: Housed in an egg-shaped computer, these digital pets required feeding and poo-cleaning, but the hard work paid off with the occasionally redeeming happiness monitor. Deeply creepy stuff, but apparently very popular: seventy million Tamagotchis have been sold to date. 
The Weird Part: When a Tamagotchi "dies," you can reset it and start again, but owners who truly cared for their pets found that heartless and instead had proper burials at (real) pet cemeteries, complete with gravesites and coffins. 
Where to Buy it Today: ebay.com
***
1996: Tickle Me Elmo (Tyco) 
The Big Deal: "When squeezed, Elmo would chortle. When squeezed three times in a row, Elmo would begin to shake and laugh hysterically." Needless to say, this was something Sesame Street watchers everywhere needed to have. And they needed to have it now. 
The Weird Part: Beloved puppeteer Jim Henson may be gone, but surely he'd be moved to know he inspired a toy that would be resold for up to eighty times its $30 list value and trigger at least one stampede of parents so crazed they left a store employee in the hospital. 
ADVERTISEMENT - CONTINUE READING BELOW
Where to Buy it Today: toysrus.com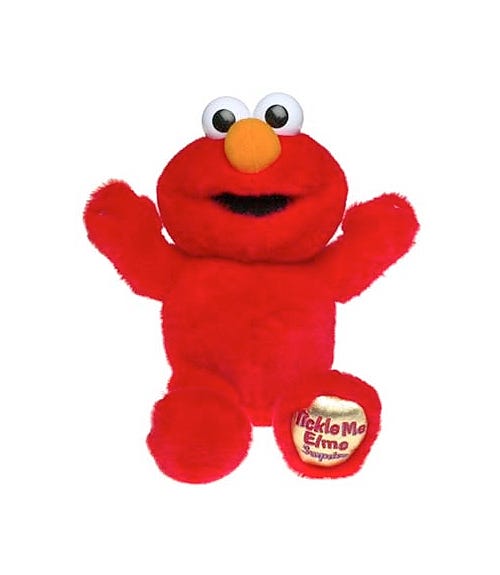 ***
1995: Beanie Babies (Ty Inc.) 
The Big Deal: First conquering Chicago and then spreading all over this plush nation, Legs the Frog, Squealer the Pig, Spot the Dog, Flash the Dolphin, Splash the Whale, Chocolate the Moose, Patti the Platypus, and dozens of other $5 bean-bag creatures with pun-tastic names devoured our hearts. 
The Weird Part: Recognizing the willingness of Americans to abandon any shred of dignity to get what their children want, an Atlanta radio station dumped eggs and beans on people in exchange for free Beanie Babies. 
Where to Buy it Today: bbtoystore.com
***
1993-1994: Mighty Morphin Power Rangers (Bandai) 
The Big Deal: Five racially diverse teenagers with superpowers fought evil aliens for a TV smash, and so came a line of toys featuring the Rangers and their "Zords"— you know, giant robotic dinosaurs they used to combat aforementioned evil aliens. Duh.
The Weird Part: The Power Rangers's catchphrase, "It's Morphin Time!" reportedly outraged authorities in Malaysia, who feared it encouraged children to become morphine addicts. 
Where to Buy it Today: collectorsconnection.com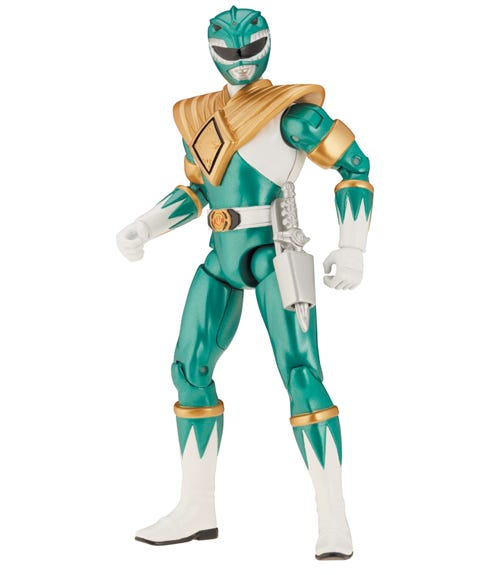 ***
1992: Barney Talking Doll (Playskool) 
The Big Deal: Barney & Friends was aimed at a younger crowd that somehow found it irresistible to watch a man in a dinosaur suit sing some of the most mawkish songs ever. This talking doll brought the tunes all day long. Needless to say, parents were thrilled. 
The Weird Part: Sesame Street and Mr. Rogers this show was not. From TV Guide's "Worst 50 Shows of All Time": "...his shows do not assist children...[T]he real danger from Barney is denial: the refusal to recognize the existence of unpleasant realities."
Where to Buy it Today: ebay.com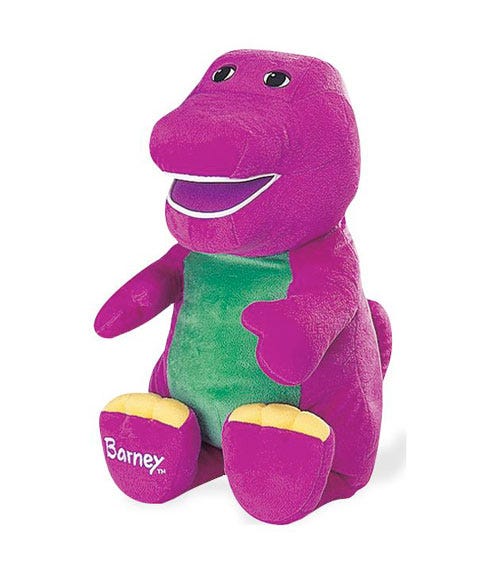 ***
1991: POG (World POG Federation, Others) 
The Big Deal: It may have the least likely origin of any Christmas-season smash: a milkcap game played during breaks by Hawaiian dairy workers. A two-person contest involving a flimsy discs and a slammer, POGs gave kids the chance to, well, take their friend's Christmas present supply away in minutes. 
ADVERTISEMENT - CONTINUE READING BELOW
The Weird Part: It goes without saying that a game played by Hawaiian dairy workers would threaten educators. They quickly deemed POGs a form of gambling and banned them from schools across the nation. 
Where to Buy it Today: ebay.com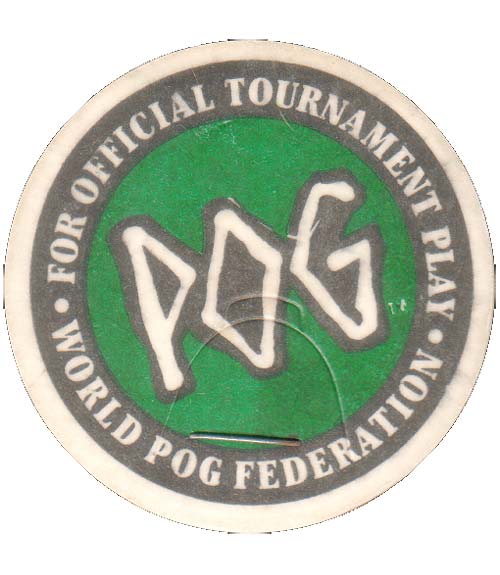 ***
1990: Teenage Mutant Ninja Turtles (Bandai) 
The Big Deal: The action figures and video games were so popular they got kids to learn about Renaissance painters — or learn their names, at least. Adolescent abnormal reptiles Leonardo, Raphael, Donatello, and Michelangelo discovered the ancient art of Ninjutsu from a giant talking rat to fight ninjas while eating pizza. Cowabunga, dude. 
The Weird Part: The toys made a bundle, but the turtles also cleaned up with 1990s live-action film earning over $200 million—at the time, the highest-grossing indie movie to date. 
Where to Buy it Today: toysrus.com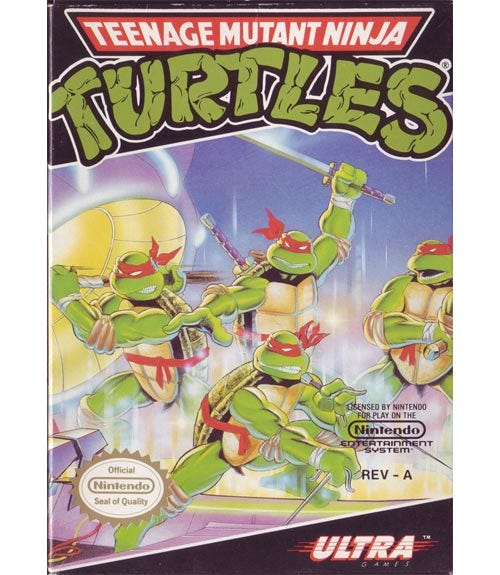 ***
1989: GameBoy (Nintendo) 
The Big Deal: The first eight-bit handheld videogame system to utilize cartridges, GameBoy went anywhere and didn't force you to play the same damn game over and over again. Goodbye, couch! Hellooooo...other couch. 
The Weird Part: Goodbye, Cold War! And thank you, USSR. A Soviet R&D center employed Alexey Pajitnov when he designed the puzzle game Tetris, which came bundled with the original GameBoy and to this day fills people of a certain age with an overwhelming desire to stack rectangles. 
Where to Buy it Today: ebay.com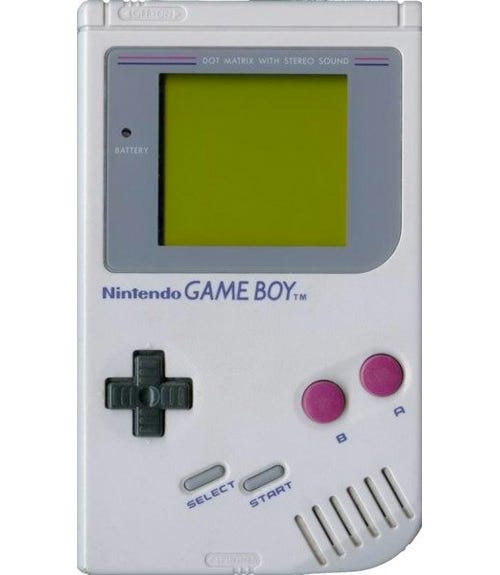 ***
1985: Care Bears (American Greetings/Kenner) 
The Big Deal: The rare successful line of toys inspired by greeting cards—really—these plush teddy bears didn't become a smash until their TV show offered children a glimpse of life in the Kingdom of Caring. 
The Weird Part: There are few things weirder than the intro to the Care Bears cartoon. (Note: All viewers should know that the theme song may lodge itself deep in your brain and make you hate yourself for being so darned insufficiently caring. You've been warned.) 
ADVERTISEMENT - CONTINUE READING BELOW
Where to Buy it Today: amazon.com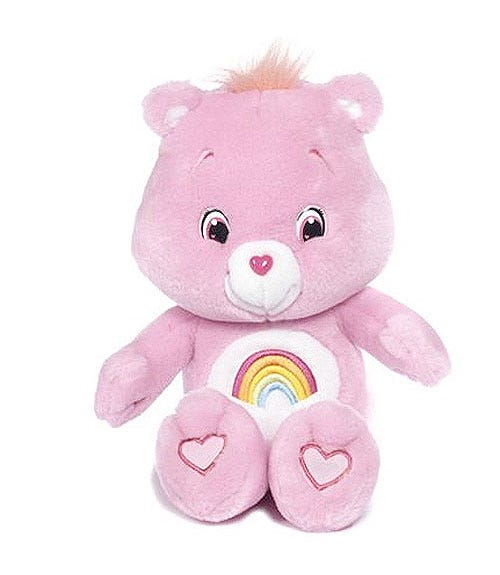 ***
1984: The Transformers (Hasbro)
The Big Deal: Without them, we might never have discovered Megan Fox. Or how to turn plastic robots into cars, planes, tape recorders, insects, and dinosaurs. Transformative, indeed. 
The Weird Part: Before this decade's Michael Bay calamities, there was the 1986 animated movie featuring the vocal talents of Orson Welles, who shrewdly died eightmonths before the movie premiered.
Where to Buy it Today: hasbrotoyshop.com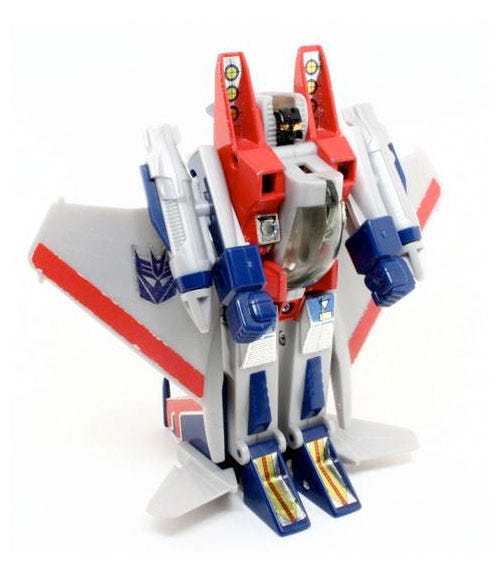 ***
1983: Cabbage Patch Kids (Caleco)
The Big Deal: Here's how their website puts it: "One day, a young boy named Xavier Roberts wandered into a magic cabbage patch hidden behind a beautiful waterfall. He discovered busy little Bunnybees sprinkling cabbages with magic crystals. Suddenly, all sorts of different kids and babies peeked out of the cabbages!"
The Weird Part: Few toys have inspired this kind of stampede. While the shoving has died down over the years, CPK continue to strong and are now one of America's longest running doll lines.
Where to Buy it Today: amazon.com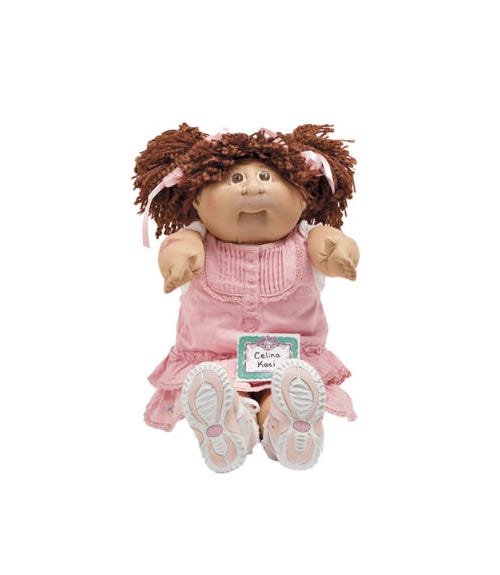 ***
1982: BMX Bikes (Schwinn Sting-Ray, Others)
The Big Deal: They didn't emerge out of nowhere, but with the establishment of the International BMX Federation in April 1981 and its first championships a year later, suddenly, every kid wanted to be D.D. Leone (what, don't you know your bike-racing icons?).
The Weird Part: There was another holiday hit in 1982, though Christmas had long passed but he time of its full impact. Michael Jackson's "Thriller" came out of November 30, 1982 and went on to spend 37 weeks at No. 1.
Where to Buy it Today: schwinnbike.com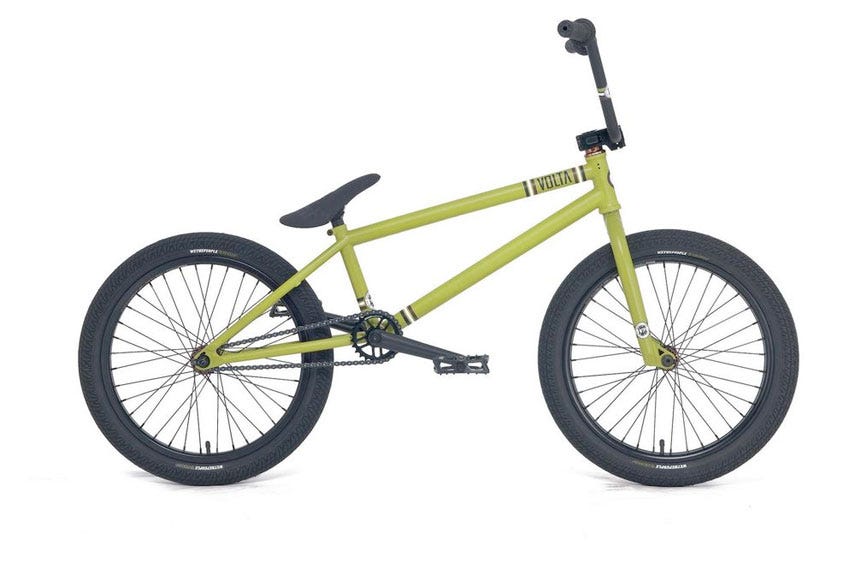 ***
1981: The Smurfs (Schleich)
The Big Deal: After 24 years in Belgium, Les Schtroumpfs didn't connect here until the syndicated Hanna-Barbera cartoon in 1981. And so America fell in love with blue creatures in white hats living in mushroom houses in the woods—the three-hundred-million-sold kind of love.
ADVERTISEMENT - CONTINUE READING BELOW
The Weird Part: Remains one of the trippiest pop culture sensations ever, with 543-year-old Papa Smurf battling the sorcerer Gargamel and his cat Azrael while apparently sharing the only of-age female, Smurfette. New strangeness ensues after the franchise's 50th anniversary.
Where to Buy it Today: amazon.com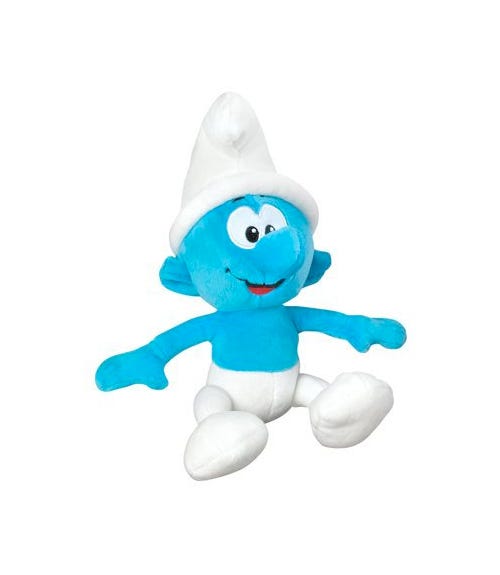 ***
1980: Rubik's Cube (Ideal Toys) 
The Big Deal: 'Twas another Christmas delight from the other side of the Iron Curtain. A professor at Budapest's Academy of Applied Arts and Design, Erno Rubik often built geometric models. One of them (a 27-piece cube) started being marketed in Hungary in 977 and by 1980 was frustrating millions of Americans. 
The Weird Part: It's been said there's one correct answer and "43 quintillion wrong ones" to this puzzle. So it was quite a feat when Northeastern University researchers ound a way to solve it in 26 moves in 2007, instead of the 27 previously believed necessary.
Where to Buy it Today: rubiks.com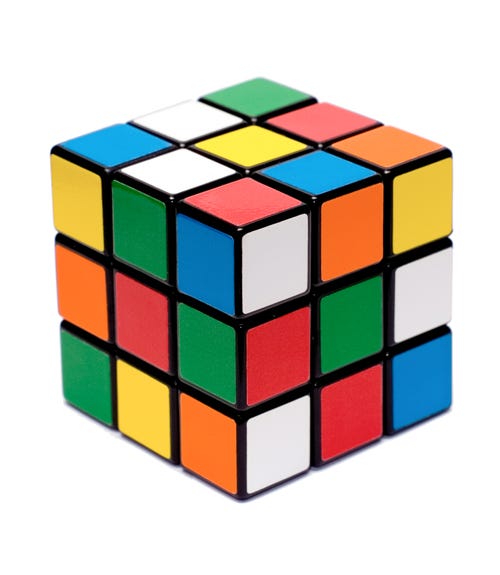 ***
1978: Hungry Hungry Hippos (Milton Bradley) 
The Big Deal: Lizzie Hippo (the purple one), Henry Hippo (orange), Homer Hippo green), and Harry Hippo (yellow) are all hungry for marbles! Four players face off to see whose hippo can eat the most marbles by such cunning strategies as...eh, just bang on he hippo handle. 
The Weird Part: The game's still around and continues to evolve. For instance, in the 980s Milton Bradley introduced that seriously catchy theme song. 
Where to Buy it Today: hasbrotoyshop.com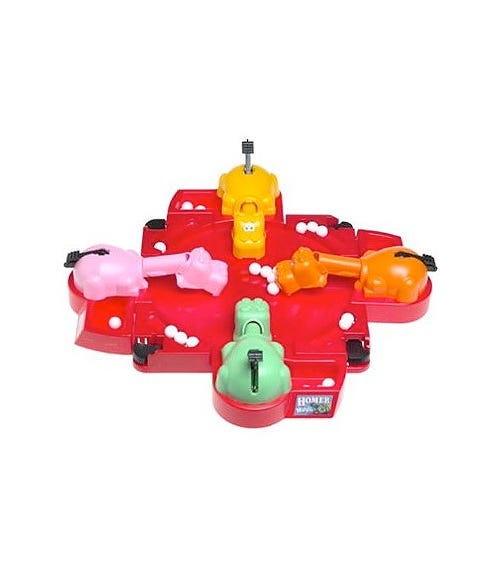 ***
1977: Slime (Mattel) 
The Big Deal: There's nothing kids (more specifically, boys) love more than something disgusting. And so slime was a surefire sensation—and continued to connect with Ghostbusters and, like, everything on Nickelodeon. 
The Weird Part: While originally created from guar gum (the ground endosperm of guar beans) and sold in plastic trashcans, over the years people have learned they can, in act, make slime themselves. Hunt down an online recipe and stick it to the man.
ADVERTISEMENT - CONTINUE READING BELOW
Where to Buy it Today: amazon.com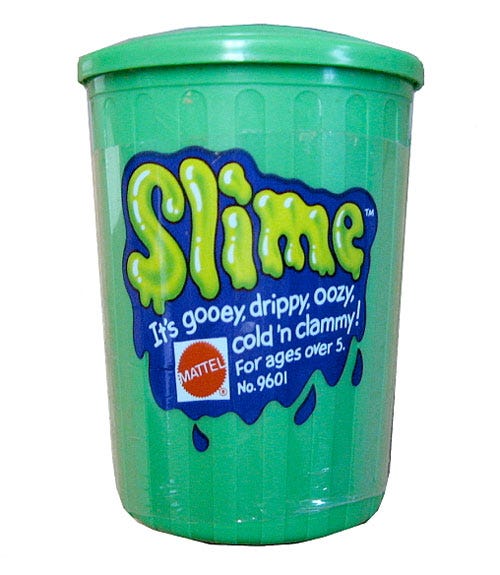 ***
1975: The Pet Rock (Rock Bottom Productions)
The Big Deal: During the '70s, adman Gary Dahl had two revelations: 1) people want pets that don't need to be fed, cleaned, or tended to; and 2) people are stupid. The Pet Rock was born. Though its popularity was short-lived, it lasted long enough to make Dahl a millionaire. 

The Weird Part: Think paying for a rock is absurd? At least the packaging included a cardboard pet carrier and thirty-two-page training manual, so consumers got their four dollars' worth. 
Where to Buy it Today: ebay.com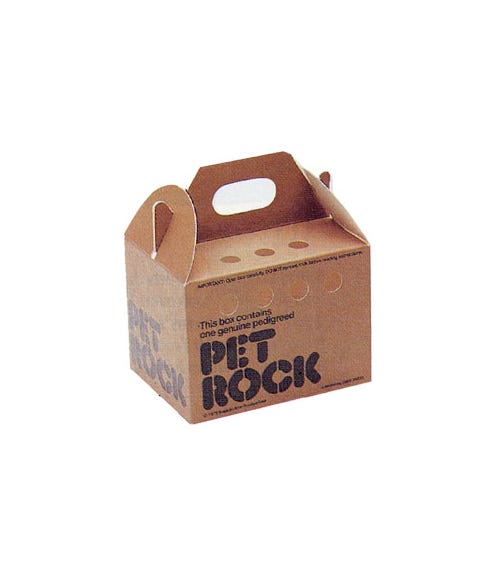 ***
1959: Barbie (Mattel) 
The Big Deal: Good ideas are one thing, but it helps if you're married to the co-founder of Mattel. Inspired by a doll she saw on a trip to Germany, Ruth Handler created Barbara Millicent Roberts. And with the help of ads aimed at kids instead of their parents, billions of dollars followed. 
The Weird Part: Some say that Barbies lead to girls seeking unrealistic bodies, but esearchers have calculated that if Barbie were an actual woman standing 5'6", her figure would be an in no way implausible 39-21-33. Sounds good to us. 
Where to Buy it Today: mattel.com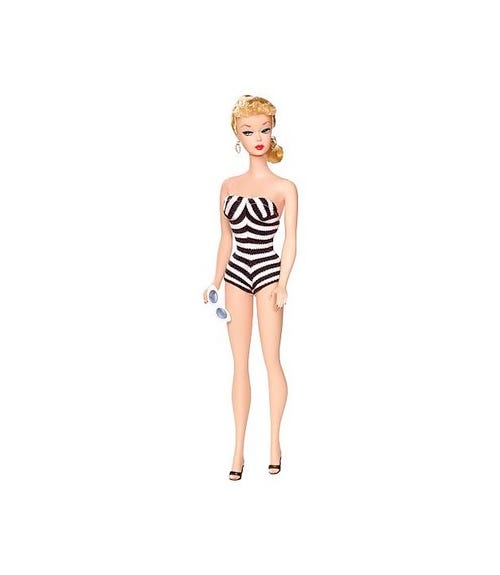 ***
1952: Mr. Potato Head (Hasbro) 
The Big Deal: If the Irish Hunger of 1847 soured the world on the potato, George Lerner edeemed it in a big way. His Mr. Potato Head was the first toy advertised on television and, not coincidentally, sold a million kits in a year. 
The Weird Part: The original toy cost 98 cents and came with hands, feet, ears, two mouths, two pairs of eyes, four noses, three hats, eyeglasses, a pipe, and pieces of felt esembling facial hair. You'll note this list does not include a body, as until 1964 kids were encouraged to use an actual potato. 
ADVERTISEMENT - CONTINUE READING BELOW
Where to Buy it Today: hasbrotoyshop.com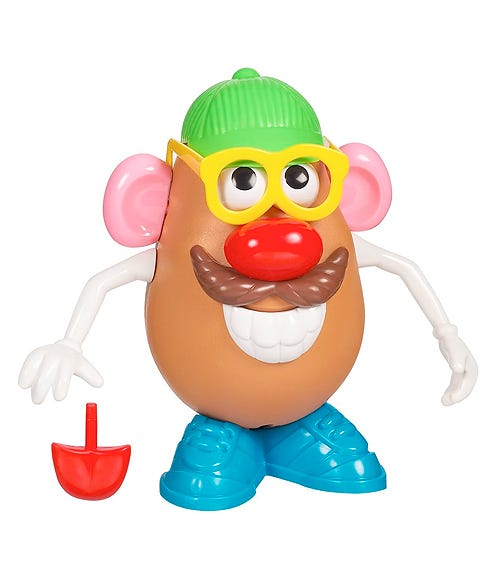 ***
1943: The Slinky (Poof-Slinky) 
The Big Deal: While marine engineer Richard James was devising a spring to hold hipboard marine torsion meters steady, one fell from his desk and proceeded to spring end over end across the floor. When stairs also proved no obstacle, toys stores came calling. 
The Weird Part: As if applications in the music, military, and space industries weren't enough, James had to go and take a fan's suggestion for the Slinky Dog in 1952. Hundreds of thousands of units later (including a 1995 Christmas craze based on the Toy Story character), and it's still making the Chia Pet look bad. 
Where to Buy it Today: poof-slinky.com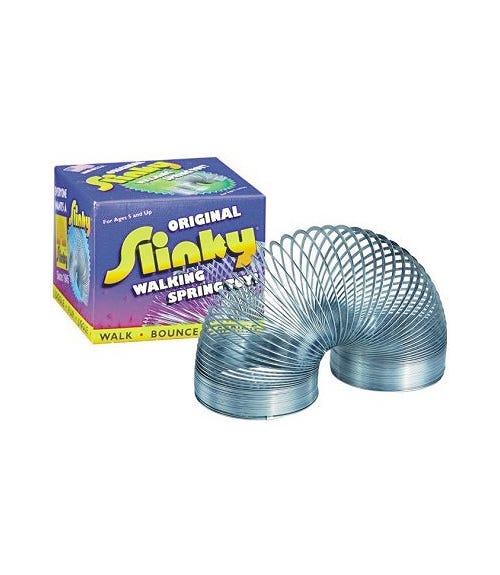 ***
1936: Monopoly (Parker Brothers) 
The Big Deal: Charles Darrow patented the real-estate adventure in 1935, and Hasbro claims that approximately 750 million people have partaken, making it the most played board game in the world—Guinness says so. 
The Weird Part: Once and for all, the little guy with the monocle is not Mr. Monopoly; he is named Rich Uncle Pennybags. Let's get it right, people. 
Where to Buy it Today: hasbrotoyshop.com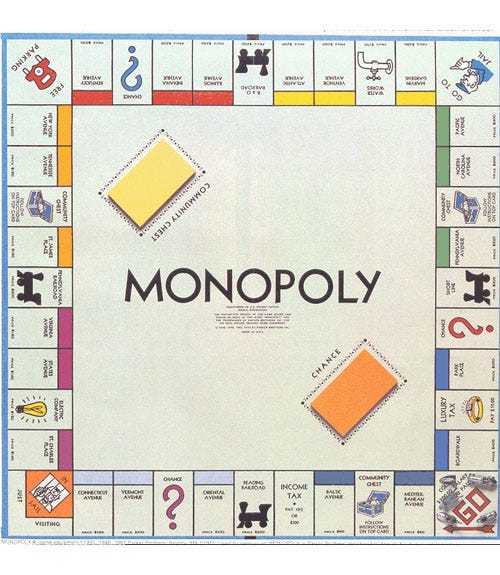 ***
1930: Mickey and Minnie Mouse Handkerchiefs (Waldburger, Tanner & Company) 
The Big Deal: The previous year had seen a Mickey writing tablet, but the handkerchiefs ensured that the mouse nearly named "Mortimer" would become so iconic hat "Mickey Mouse" was used as a password for the Invasion of Normandy in 1944. 
The Weird Part: Around this time Mickey's co-creator Ub Iwerks gave up ownership in 20 percent of Disney to start his own studio, which faded away by 1936. His descendants are not at all incredibly bitter about this. 
Where to Buy it Today: hakes.com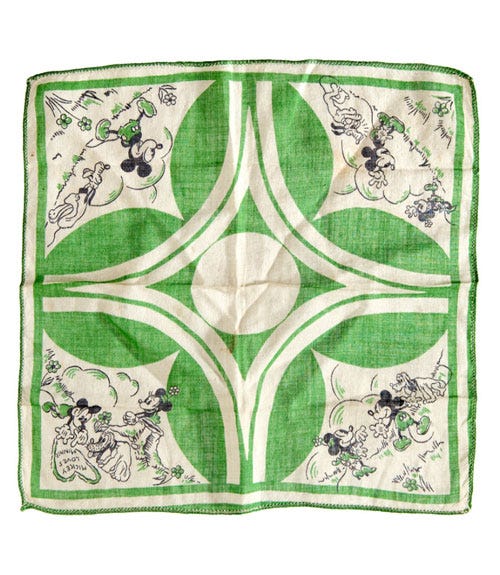 ***
1929: Yo-Yos (Duncan) 
The Big Deal: After hotel bellhop Pedro Flores attracted a crowd playing a traditional Filipino game with an object on a string during his lunch break, he started the Flores YoYo Company. (Incidentally, "yo-yo" means "come-come" or "come back.") 
ADVERTISEMENT - CONTINUE READING BELOW
The Weird Part: While the designed hasn't changed—two equal-sized pieces connected by an axle to loop the string—marketers have built in a five-year cycle to make yo-yos popular again when kids forget about it. Because toys, no matter how classic, can always be forgotten. 
Where to Buy it Today: yo-yo.com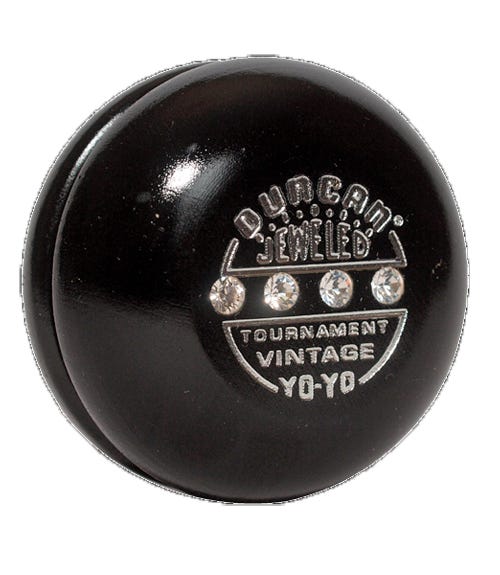 This story originally appeared on Esquire.com.
* Minor edits have been made by the Esquiremag.ph editors.
For the planner who doesn;t want to drink coffee
Next: Michael Jordan (32,292 points)
There were no eggs in sight at the La Chinesca x Singleton crossover.
Luxury and technical expertise come together in one of Switzerland's last true manufactures.
Tip your hat to Mickey Mouse in these birthday goods.
The Wolves, Nike, and the Prince Estate are bringing Purple Rain (back) to life.
A well-heeled Back to the Future superfan just snatched up a $45,000 hovercraft based on Doc Brown's famous wheels.
Thomas Pink is no more. Introducing Pink Shirtmaker London.
Did they really escape the Red Room?
In the 15 years since The Wire, Elba has starred in blockbusters and art house films, won a Golden Globe, released two albums, founded a production house, received an OBE, launched a clothing label and made his directing debut. He's only just getting started.
They rolled out the model in Malaysia.
This is some important evidence about The Prince That Was Promised.