The 15 Best TV Shows of 2017 (So Far)
The year is looking to be another banner one for new TV.
We had a lot of great TV last year, which helped mitigate what sometimes felt like a world gone mad (and about to burn). This year feels about the same, but luckily we still have great TV to watch (while it lasts anyway). While the year to come will bring some phenomenal new shows and the return of some of our favorite series, the first few months have delivered some incredible shows featuring breakout performances, genre twists and turns, and the return of some of our favorite characters. Here are the year's best TV shows (so far).
Mindhunter
On paper, the premise of David Fincher's cerebral, appealingly off-kilter Netflix show does not sound fresh: Two FBI agents investigate a series of notorious murderers and find their work taking a toll on their personal lives. So far, so CBS—except that the emphasis of Mindhunter is not on chasing killers, but rather interviewing them and trying genuinely to understand them. Light on action and heavy on psychology, the show plays like a small-screen spinoff of Fincher's masterful Zodiac, starring Jonathan Groff and Holt McCallany as fictionalized versions of the agents whose research gave birth to the term "serial killer." A rough first episode aside, Mindhunter is a meticulous, mesmerizing character-driven thriller which, thanks to its emphasis on real serial killers like Ed Kemper and Richard Speck, taps right into pop culture's current true crime obsession. —Emma Dibdin
ADVERTISEMENT - CONTINUE READING BELOW
***
The Good Place
Parks and Recreation co-creator Michael Schur built an incredible, wacky afterlife for his latest series, which fills the self-referential and absurdist void left open when Parks and Rec went off the air in 2015. When Eleanor (Kristen Bell) lands in the Good Place after her death, she immediately realizes there's been some bureaucratic mistake—but she intends to keep quiet in order to keep herself away from the Bad Place. Season One ended with a major twist that could have derailed the entire series, but the show's second season sees Schur and his writing staff brilliantly skewing the traditional sitcom format, delivering an impressively airtight and incredibly funny narrative each week. And alongside Bell, the show boasts a tremendous cast of talent including Ted Danson, William Jackson Harper, Jameela Jamil, Manny Jacinto, and breakout star D'Arcy Carden as Janet, the all-knowing concierge to the hereafter. —Tyler Coates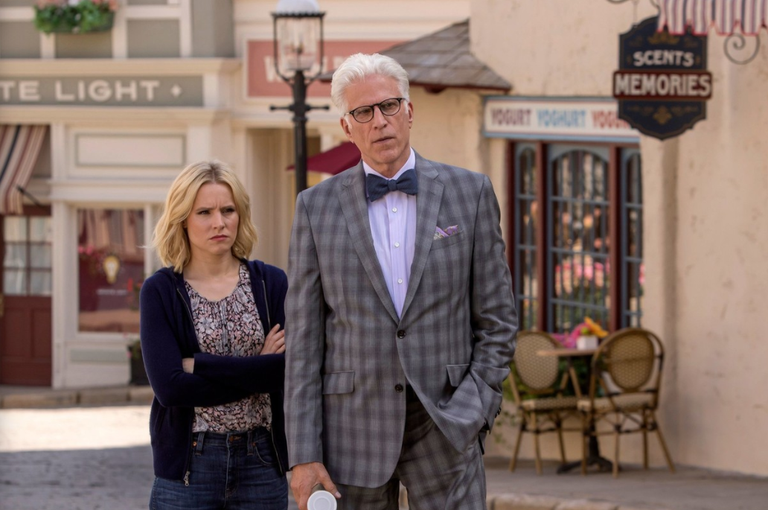 ***
The Deuce
David Simon brings his meticulous eye to the gritty, seedy Times Square of 1971. As he did with The Wire and Treme, The Deuce (co-created with George Pelacanos) brings a multi-layered approach to examine the many people whose lives were centered on a handful of New York City blocks: the nightlife entrepreneurs, the mob, the cops, the pimps, and the sex workers. Maggie Gyllenhaal brings a tour de force performance as a woman who has aspirations of leaving the streets and entering into the movie business (in the burgeoning porn industry), and James Franco plays a pair of twins whose morals—and personal bond—are tested as they become entranced with the Italian mob. With an obsession to detail and a lively, exuberant appreciation of Manhattan's very recent past, The Deuce is one of HBO's most exciting series in years. —Tyler Coates
ADVERTISEMENT - CONTINUE READING BELOW
Recommended Videos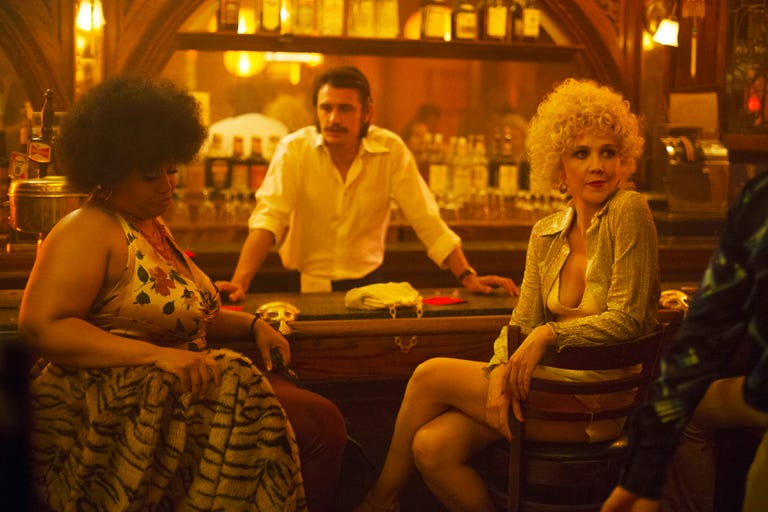 ***
GLOW
Shoved behind the formidable characters of male wrestling—the Iron Sheik, Rick Flair, Hulk Hogan, etc.—was GLOW, the Saturday morning show from the 80s about the Gorgeous Ladies of Wrestling. Netflix dug up their story for its new original dramedy (produced by Orange Is the New Black's Jenji Kohan) in which the origins of women's wrestling is portrayed as a shitshow of oddballs, washed-up movie men, and generally desperate humans. That being said, GLOW is a delight to watch. Alison Brie gives a perfectly irritating performance alongside scene-stealing Betty Gilpin and a growling Marc Maron. The rest of the women wrestlers are fairly unknown, but each gives you a reason to remember them once the show picks up steam (much like the newcomers on OITNB). You start to relish their moments of camaraderie in and out of the ring as they try to figure out how the hell to pull off a no-budget women's wrestling show. As for the wrestling: it's bad, but that's the point. —Sarah Rense
ADVERTISEMENT - CONTINUE READING BELOW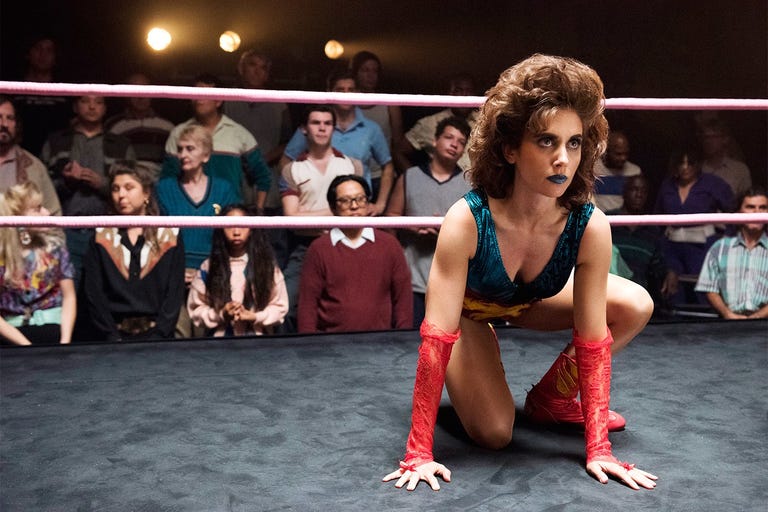 ***
Master of None
On paper, Master of None could be another woke comedy-drama set in New York City. But by exploring themes and characters often ignored in most series it tells some of the most groundbreaking stories on television, streaming, or elsewhere. What also sets it apart is the tasteful and never-pretentious way it handles each and every situation. Plus Aziz Ansari and Eric Wareheim are quickly becoming the best comedy duo in television. Ansari isn't trying to preach, he's just trying to make you laugh. —Matt Miller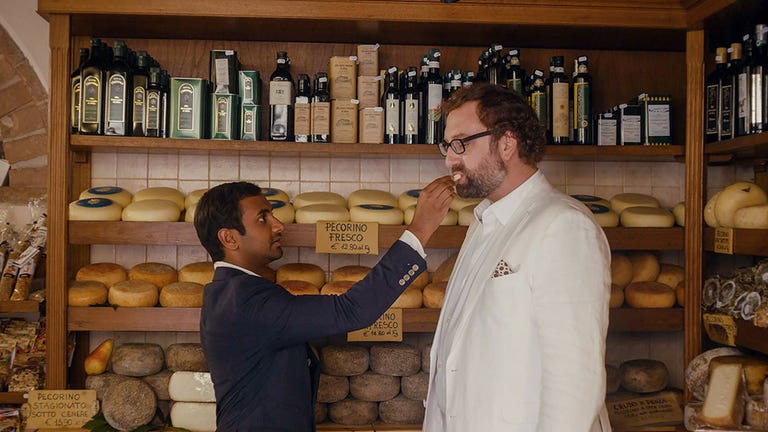 ADVERTISEMENT - CONTINUE READING BELOW
***
American Gods
Any show that depicts a man vanishing into the vagina of a goddess in the first 20 minutes of its plot is obviously not going to be your typical new series. If anything, American Gods continued to get weirder and more visually stunning from there. It's a dense show, but it's also vastly rewarding as long as you're willing to put in the effort to follow along. American Gods is at once a faithful adaptation of Neil Gaiman's 2001 masterpiece while providing a worthwhile update to the themes and content for 2017. The series' creators Bryan Fuller and Michael Green have an imagination to match Gaiman's while making what might be one of the most visually stunning shows of the year. —Matt Miller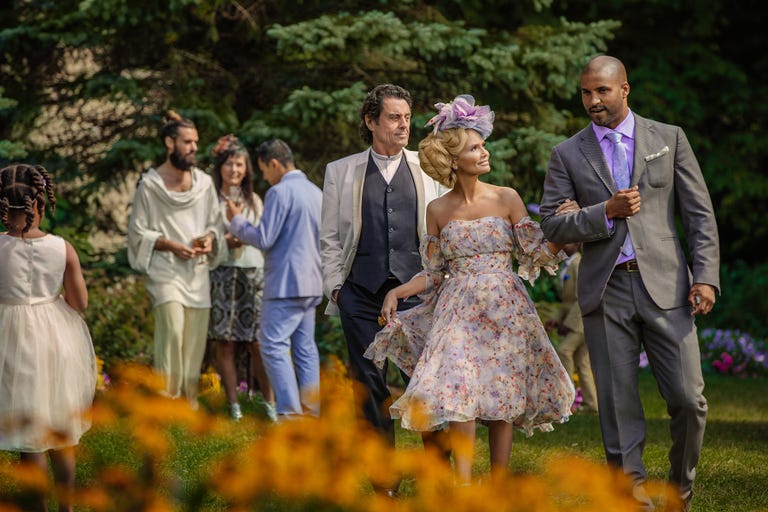 ***
The Leftovers
There was actually a pretty convincing Instagram campaign going on, which enticed Emmy voters to nominate The Leftovers cast by promising to show possible messiah and definite hunk Justin Theroux naked. It's a pretty good idea! But, it should also be telling that Theroux's abs were far from the best thing about this show. In three seasons, The Leftovers wove an elaborate, mysterious, and often confusing story, the likes of which hasn't been told on television since Lost. And its final season turned out to be its finest, juxtaposing the grandest existential human questions with these character's most intimate, beautiful moments. —Matt Miller
ADVERTISEMENT - CONTINUE READING BELOW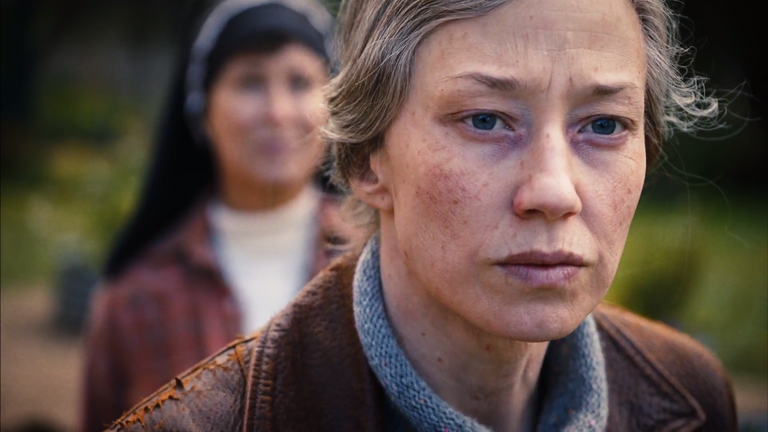 ***
Twin Peaks: The Return
One wonder what must have gone through the minds of Showtime executives every week as another hour-long edition of David Lynch's truly mind-melting revival of his cult-classic ABC series aired to the confusion—yet delight—of its viewers. While no one quite knew what to expect from Twin Peaks: The Return, it's possible that a completely disjointed narrative, surprise celebrity cameos, and a talking brain on a stick were not exactly what anyone hoped for. While the new Twin Peaks dove right back into the larger mystery of Laura Palmer's murder—and spun wildly away from the town of Twin Peaks, with settings ranging from Manhattan to the flyover states—one thing is for certain: It is a damn miracle that David Lynch got full rein to do whatever the hell he wants to for a blissful 18 episodes. —Tyler Coates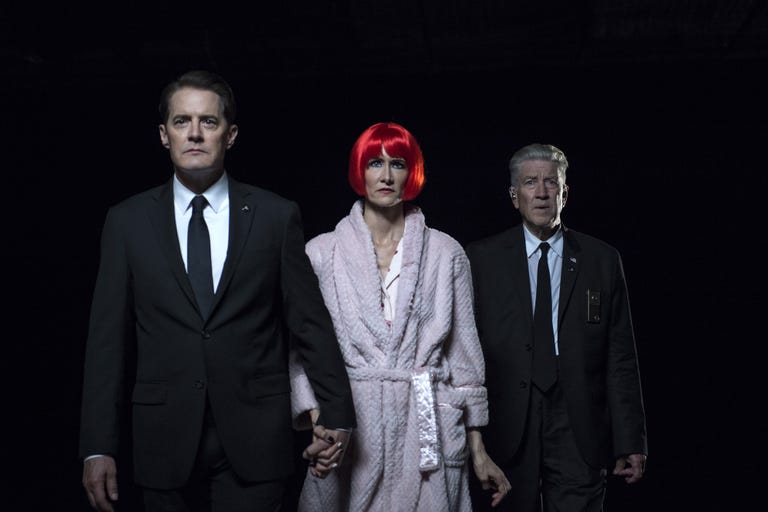 ADVERTISEMENT - CONTINUE READING BELOW
***
The Good Fight
The Good Wife ended its seven-season run last spring, leaving open a woeful absence of a smart, ripped-from-the-headlines legal procedural with a strong feminist slant. Luckily, less than a year later, The Good Wife co-creators Robert and Michelle King debuted their spin-off series The Good Fight, bringing back Christine Baranski in the leading role of Diane Lockhart (as well as the brilliant Cush Jumbo as Lucca Quinn). And if you're looking for urgent, of-the-moment storylines, look no further to the pilot, "Inauguration," which sees Diane watching with stunned fury as Donald Trump becomes the President of the United States. The show's airing on CBS All Access—the network's streaming-only option—allows the series to push more boundaries and resemble a prestige cable series (but on an impressive network budget). —Tyler Coates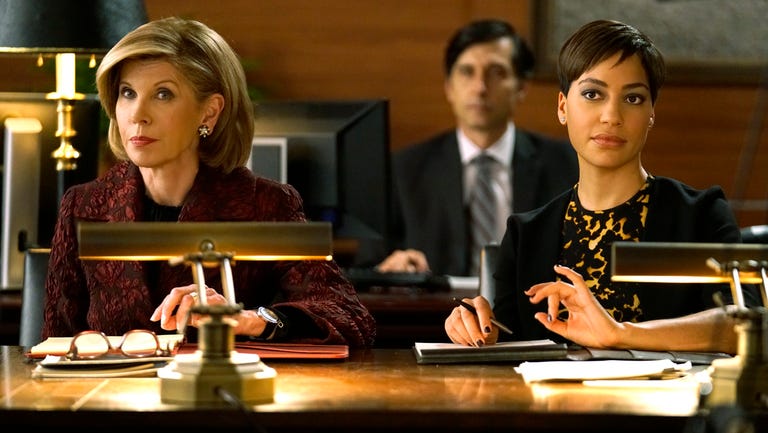 ***
The Handmaid's Tale
Hulu's serial adaptation of The Handmaid's Tale couldn't have come at a better time—even if it was in production well before the election results came in last November. While many have found many parallels between the American in which we live today and the fictional Republic of Gilead on the show, Margaret Atwood's dystopian tale of an ultra-patriarchal society—that has forced the few remaining fertile women into a form of slavery, serving as surrogates for wealthy couples following a global natural disaster that left most women unable to conceive—would have seemed relevant and deeply troubling had Hillary Clinton become president, too, as The Handmaid's Tale'sthemes are universal and, unfortunately, timeless. The disturbing nature of the show aside, at least we can welcome the return of Elisabeth Moss to the small screen, playing yet another feminist icon in the starring role of Offred. —Tyler Coates
ADVERTISEMENT - CONTINUE READING BELOW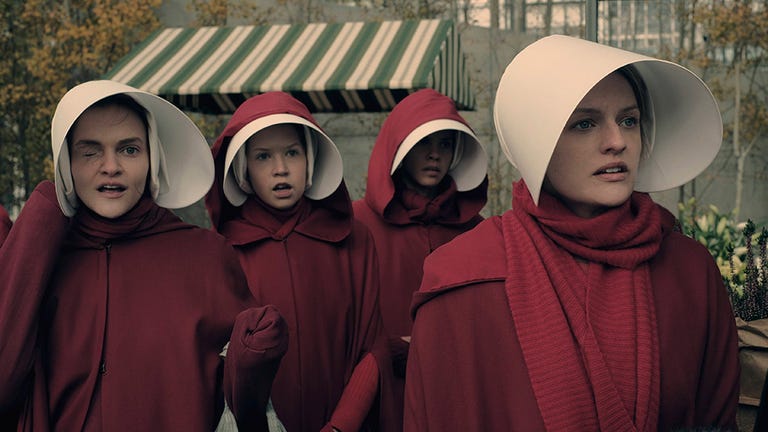 ***
Girls
For better or worse, Lena Dunham's caustic yet heartfelt millennial comedy Girls is often credited as the genesis of "think-piece culture," and the commentary around the show has sometimes threatened to overshadow its sharp, raw, often surreal portrayal of twenty-something soul-searching. But Girls has never felt more confident or bold than in this sixth and final season, which has paired rich and surprising character development with formal experimentation. Take the stellar two-hander in which Dunham's Hannah faces off with a famous writer accused of sexual assault, or the episode spotlighting Elijah (Andrew Rannells), who needs his own spinoff ASAP. After six polarizing yet entertaining years, Girls looks set to go out on a characteristically bittersweet high. —Emma Dibdin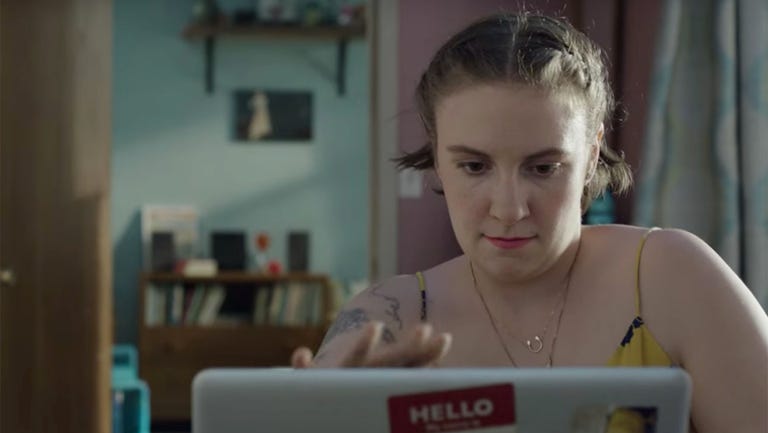 ADVERTISEMENT - CONTINUE READING BELOW
***
Riverdale
What would you get if you crossed Gossip Girl and Twin Peaks? The answer, somewhat surprisingly, is a teenage soap based on the Archie comic books. You don't need to be a fan of the source material to enjoy the CW's moody melodrama (although having some background knowledge of the original Riverdale characters certainly adds something to the ridiculous nature of the show). But you do have to have a taste for scheming cheerleaders, precocious fashionistas, and brooding adolescent sleuths trying to solve a murder mystery and uncover the dark truths of their sleepy little town. And in case you need it totally spelled out for you: This Archie fucks. —Tyler Coates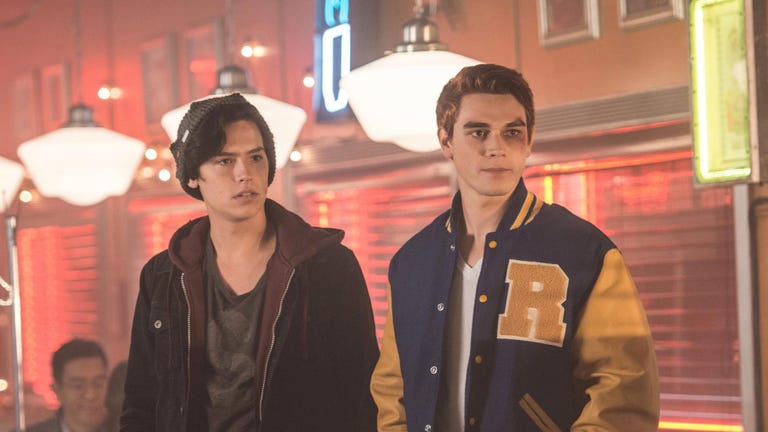 ***
Feud: Bette and Joan
Ryan Murphy's latest anthology series puts a focus on famous rivalries in modern history, and while it doesn't have the urgency of The People v. O. J. Simpson: American Crime Story or the campy batshit insanity any of the American Horror Story seasons, Feud: Bette and Joan does deliver on star wattage alone. As Bette Davis and Joan Crawford, respectively, Susan Sarandon and Jessica Lange deliver incredible performances with only a touch of impersonation. But the series' greatest achievement is how it elevates its one-note True Hollywood Story premise into a larger examination of sexism in Hollywood and how men often manipulate the women beneath them into battling each other for their attention. (Also, props to its impressive cast, including Stanley Tucci, Aflred Molina, Jackie Hoffman, Catherine Zeta-Jones, and Kathy Bates.) —Tyler Coates
ADVERTISEMENT - CONTINUE READING BELOW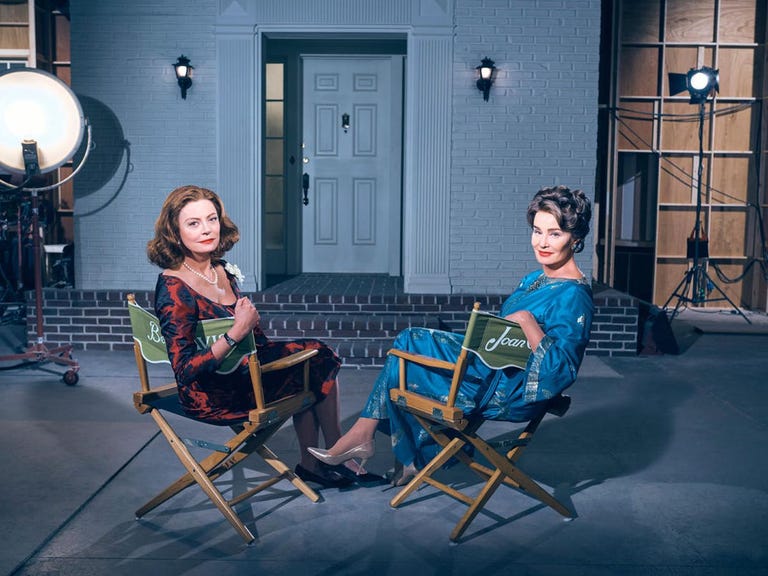 ***
Legion
In a time when television and movie theaters are saturated with superheroes, it's almost impossible—almost a death sentence—to mess with the game-winning formula. With Legion, FX could have produced the same Marvel comic book story that has been an easy money grab everywhere else. But, creator Noah Hawley didn't only make something different within the genre, he made a groundbreaking story altogether. Legion is a superhero origin story the likes of which has never been told in this medium before. It deals with mental health, vulnerability, failure, family, loyalty, substance abuse, and defeat in a nonlinear manner. It's challenging in meta ways that are usually better off in surrealist art projects rather than a popcorn X-Men-adjacent program. —Matt Miller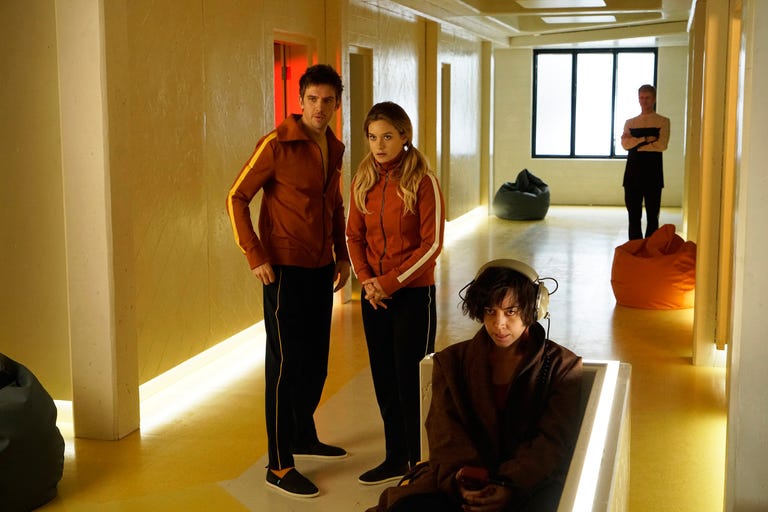 ADVERTISEMENT - CONTINUE READING BELOW
***
Big Little Lies
David E. Kelly's adaptation of Liane Moriarty's novel could have been a by-the-book miniseries adaptation of a popular novel about wealthy women and their catty schemes (which end in a shocking murder). Under the direction of Jean-Marc Vallée, however (and with the brilliant performances from Reese Witherspoon, Nicole Kidman, Shailene Woodley, and Laura Dern), the miniseries is less your typical whodunit and more a moody satire of modern parenting and a disturbing take on the lengths to which domestic violence can penetrate a family's psyche. But as dark as it can be, the show is ultimately hugely satisfying, balancing the somewhat bleak tone with a heightened, comedic take on the lengths at which adults can exhibit the most immature, childlike traits. —Tyler Coates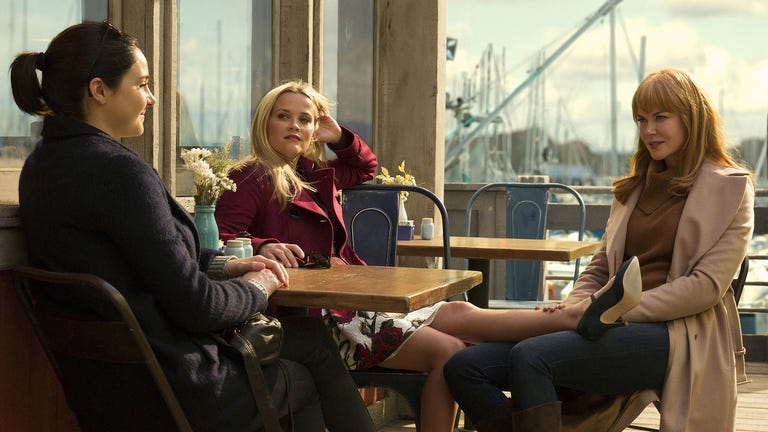 This story originally appeared on Esquire.com.
* Minor edits have been made by the Esquiremag.ph editors.
More Videos You Can Watch