Movies & TV
23 Game of Thrones Stars With Surprising Pasts
Pop hits, powerlifting, and hardcore porn
Peter Dinklage (Tyrion Lannister) was in Elf
Now a big-screen star in X-Men: Days of Future Past, Peter Dinklage's breakout role was undoubtedly that of Thrones fan favorite Tyrion Lannister. But in his pre-Imp days, Peter won plaudits for a stint on edgy cable drama Nip/Tuck and his performance in both the U.K. and U.S. variants of black comedy Death at A Funeral. And who can forget his hilarious turn as Miles Finch–the hot-tempered children's author who tussles with Will Ferrell's Buddy in festive favorite Elf?
Lena Headey (Cersei Lannister) was in Remains of the Day
Game of Thrones isn't the first time that Lena Headey has played a formidable matriarch. In 2008 to 2009's Terminator: The Sarah Connor Chronicles, she took on the formidable task of stepping into Linda Hamilton's shoes. Her acclaimed performance earned Lena a cult following long before Cersei was on the horizon. 1993's The Remains Of The Day–nominated for a total of eight Oscars–and 2007's visceral blockbuster 300 are among the star's notable big-screen credits.
ADVERTISEMENT - CONTINUE READING BELOW
Michiel Huisman (Daario Naharis) was a Dutch pop star
He may be one of the most dashing characters on Thrones as Daenerys's bodyguard and lover Daario Naharis, but Michiel Huisman wasn't always the pinnacle of effortless cool he is now. In the early '00s, Michiel fronted the band Fontane, releasing a number of hit singles, and later pursued a career as a solo artist–think of him as the Dutch Gary Barlow. You can watch the simply spectacular music video for Fontane's 2002 cut Slapeloos here. Trust us: you'll never look at dashing Daario the same way again.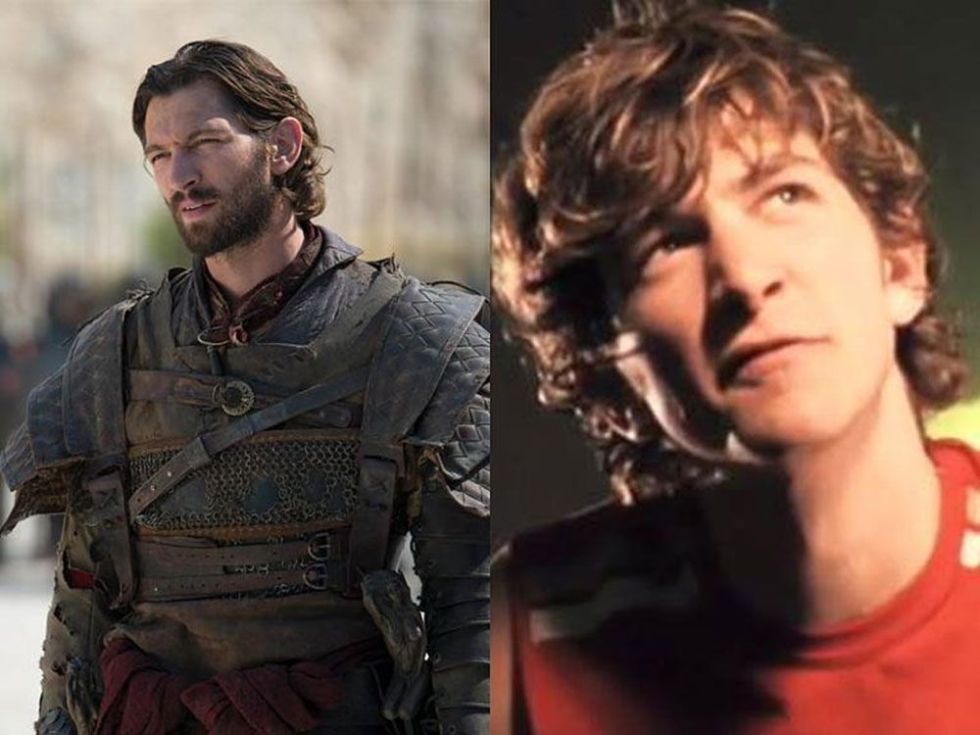 CONTINUE READING BELOW
Recommended Videos
Kristian Nairn (Hodor) is a DJ
He lets the music do the talking! Yes, actor Kristian Nairn has a second career spinning discs–in fact, when it was decided that loveable Hodor would skip a season, Kristian decided to spend his year off embarking on a GOT-inspired music tour of Australia. Promising "the deepest house [music] from all seven kingdoms", His tour was called–we kid you not–Rave of Thrones.
Nikolaj Coster-Waldau (Jaime Lannister) was in Wimbledon
In the days before HBO's fantasy hit, Nikolaj Coster-Waldau was busy racking up a long and rather surprising list of credits in the U.K., U.S., and his native Denmark.
His early appearances in the likes of 2004's Wimbledon and the following year's Kingdom Of Heaven are well documented, but who knew that the future Kingslayer appeared in two episodes of Channel 4's short-lived Lock, Stock...television series? Before Thrones, Nikolaj had little luck on the small screen–his paranormal Fox drama New Amsterdam was axed in 2008 after just eight episodes too.
ADVERTISEMENT - CONTINUE READING BELOW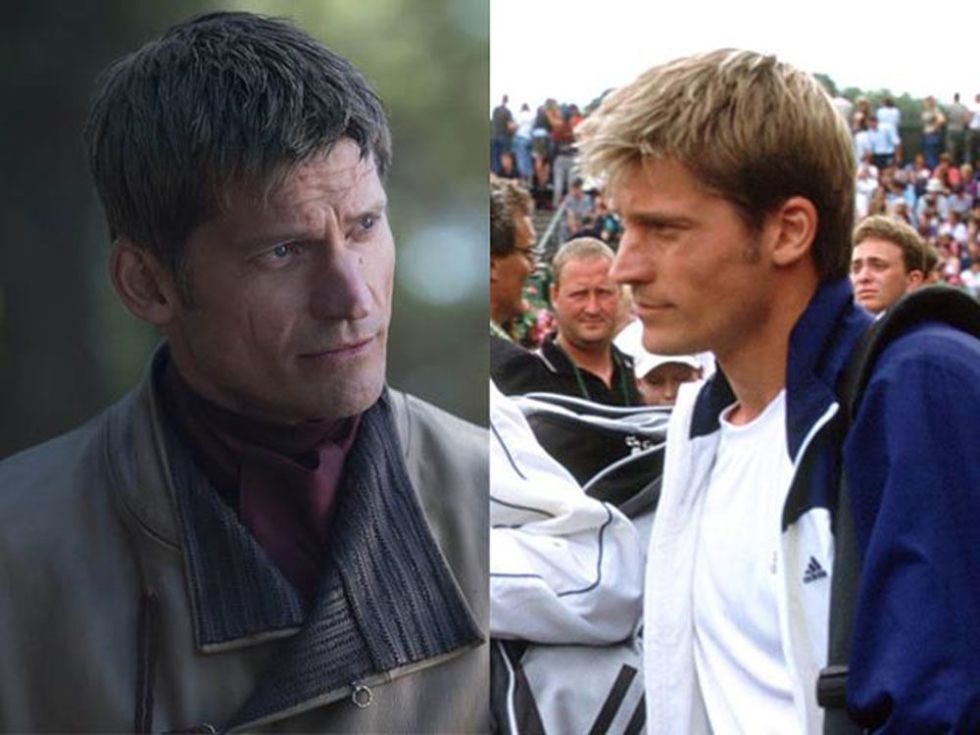 Alfie Allen (Theon Greyjoy) got starkers on stage
Before he lost his dignity–and much, much more–at the hands of the vicious Ramsay Bolton (Iwan Rheon), Theon Greyjoy (or rather his alter-ego Alfie Allen) got it all out on stage. Alfie replaced Daniel Radcliffe as the lead in Equus–yes, the one with the horses and the notorious nude scene. He was presumably unconcerned about embarrassment, having previously starred in Agent Cody Banks 2: Destination London in 2004. John Wick,after his Thrones debut, was a better pick.
ADVERTISEMENT - CONTINUE READING BELOW
Jack Gleeson (Joffrey) was in Batman Begins
He may have retired from acting after breathing his last as the horrid Joffrey, but Jack Gleeson packed a lot in to his comparatively short career. Not only did he terrorize the Seven Kingdoms, he also hung out with Batman not once but twice.
Three years after he appeared alongside Christian Bale in 2002's Reign of Fire, Jack popped up in Batman Begins playing the small but memorable role of a youth rescued by Katie Holmes' Rachel Dawes.
Sibel Kekilli (Shae) made porn
For four seasons, Shae was a comforting presence at Tyrion's side–until she betrayed her former lover at his trial.
But there's much more to actress Sibel Kekilli. She has won two Lola Awards, the equivalent of an Oscar, for her performances in German cinema. She also briefly starred in features of a more adult nature under the stage name Dilara. Be prepared for some NSFW images if you Google.
ADVERTISEMENT - CONTINUE READING BELOW
Aiden Gillen (Littlefinger) was Ireland's answer to Jools Holland
You probably know that Aiden Gillen, the actor behind GOT's Littlefinger and master of the wavering accent, once starred in HBO's acclaimed drama The Wire as savvy politician Tommy Carcetti. You might even be aware of his earlier role in Russell T. Davies's groundbreaking Channel 4 series Queer As Folk. But did you know that Aiden branched out from acting to present Ireland's alternative music show Other Voices–alongside co-host Huw Stephens? Littlefinger as TV host, teamed with an excitable DJ, sounds like an SNL sketch, but it's an actual thing that happened.
ADVERTISEMENT - CONTINUE READING BELOW
Michelle Fairley (Catelyn Stark) was Hermione Granger's mom
Before she was the ill-fated Catelyn Stark, Michelle Fairley played a part in that other fantasy epic, the Harry Potter series. Michelle appeared as Hermione's muggle mother in 2010's Harry Potter and the Deathly Hallows: Part 1–one year before she became the Stark family matriarch. She replaced Heather Bleasdale, who had played the part eight years earlier in Harry Potter and the Chamber of Secrets.
Natalie Dormer (Margaery Tyrell) once snogged Captain America's face
Natalie Dormer is one of our biggest rising stars, going from a standout turn on Thrones to nailing the part of Cressida in the Hunger Games: Mockingjay two-parter. But a few years back, she made a blink-and-you'll-miss it appearance in 2011's Captain America: The First Avenger–and looking back, the part of saucy Pvt. Lorraine (who took a fancy to Steve Rogers) seems like good prep work for the role of Margaery Tyrell.
ADVERTISEMENT - CONTINUE READING BELOW
Rory McCann (The Hound) was in Hot Fuzz
Yes, you probably know by now that the terrifying Hound previously played another formidable hulk–strapping supermarket attendant Michael "Lurch" Armstrong–in 2007 cop comedy Hot Fuzz.
But there's more to Rory McCann than just burly brutes. He played an altogether more gentle giant, Kenny McLeod, in Channel 4's BAFTA-winning comedy drama The Book Group (2002-2003).
He was also the face (and other things) of Scott's Porage Oats.
ADVERTISEMENT - CONTINUE READING BELOW
Richard Brake (The Night King) killed Batman's parents
As if it wasn't bad enough that the Night King led the devastating attack on Hardhome, he also murdered Thomas and Martha Wayne in cold blood. You'd be forgiven for not clocking that Richard Brake–unrecognizable as the leader of the White Walkers–is the same actor who played gunman Joe Chill in 2005's Batman Begins. Though perhaps his icy moniker should've been a clue?
Jerome Flynn (Bronn) was at No.1 in the pop charts for seven weeks
Even some hardcore Game of Thrones fans remain blissfully ignorant of the fact that the hard-as-nails Bronn has had two No.1 albums in the U.K. charts.
First teaming with Robson Green on ITV's military drama Soldier, Soldier, Jerome Flynn later launched a music career alongside his co-star, with none other than Simon Cowell guiding the pair to pop success.
Robson and Jerome's take on Unchained Melody was the U.K.'s best-selling single of 1995–holding on to the No.1 spot for seven weeks–and two more chart-topping singles followed. Impressive work for a sellsword.
ADVERTISEMENT - CONTINUE READING BELOW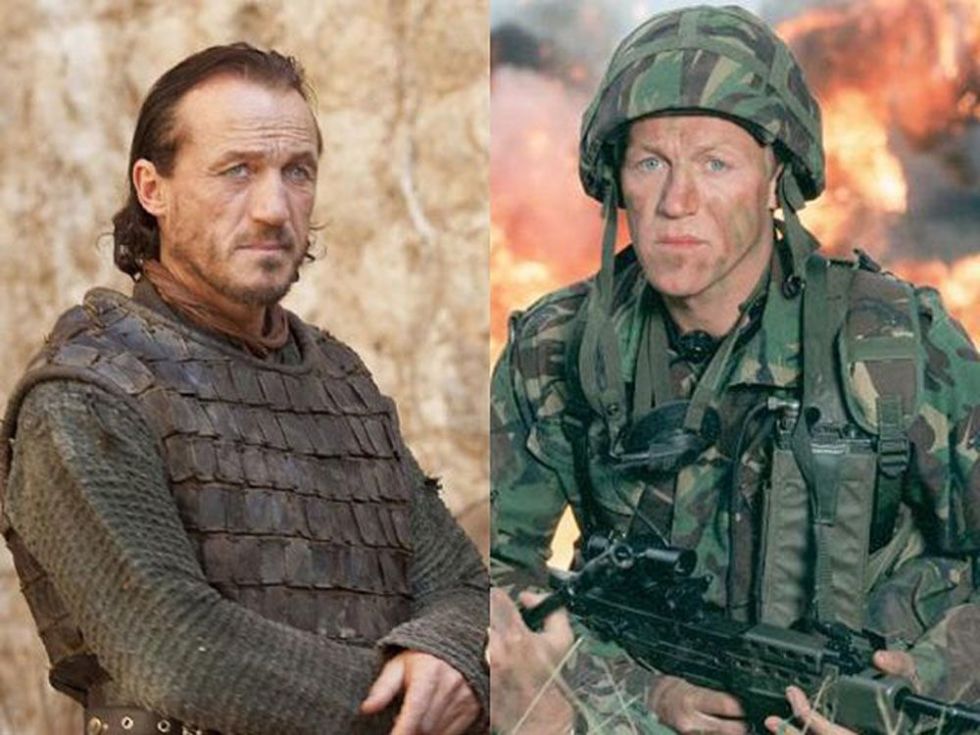 Finn Jones (Loras Tyrell) was in Doctor Who
Before he won a legion of admirers as Highgarden heir Loras Tyrell, Finn Jones had already secured himself a place in Doctor Who history–the young star played Santiago Jones, grandson of Katy Manning's beloved companion Jo Grant, in two episodes of The Sarah Jane Adventures in 2010. Nowadays he's Marvel's Iron Fist.
Liam Cunningham (Ser Davos) was in Cracker and A Little Princess
Ser Davos Seaworth the Onion Knight has graced screens both big and small; in addition to TV roles in the likes of Cracker and Outcasts, Liam played cut-glass-accented bastard Captain Ryan in 2002's paranormal horror flick Dog Soldiers and the dual role of Captain Crewe and Prince Rama in 1995 children's favorite A Little Princess.
ADVERTISEMENT - CONTINUE READING BELOW
Hafþór Júlíus Björnsson (The Mountain) really is one of the world's strongest men
Hafþór Júlíus Björnsson is certainly an intimidating screen presence as Gregor 'The Mountain' Clegane–but the 6'9", 400-pound star has actually been named Iceland's Strongest Man three years running and even came second in last year's World's Strongest Man competition. He also played professional basketball in Iceland until an injury cut his career short. We can't imagine many players wanting to tackle him on the court...
Bonus fact: Ian Whyte, who portrayed Clegane in season two and Wun Wun the giant in later seasons made his screen debut as Scar The Predator in 2004's AVP: Alien vs. Predator.
Nathalie Emmanuel (Missandei) fronted a teen-sex documentary
Famous for playing the handmaiden and trusted advisor of Daenerys, actress Nathalie Emmanuel was a mainstay of Hollyoaks between 2007 and 2010, appearing in almost 200 episodes as drug addict Sasha Valentine. Sasha was at the center of a number of high-profile storylines on the Channel 4 soap, involving violence, prostitution, and binge drinking. Almost sounds like a Game of Thrones episode. Emmanuel's diverse résumé has also seen her delve into teens' online sexual habits for BBC Three's Websex: What's the Harm? and–at the tender age of 10–play Young Nala in the West End production of The Lion King.
ADVERTISEMENT - CONTINUE READING BELOW
Keisha Castle-Hughes (Obara Sand) was a queen in Star Wars
Keisha Castle-Hughes–whose Obara was brilliantly dismissed as "Barbara" by Olenna Tyrell–played a small but pivotal role in the last of George Lucas' Star Wars prequels. Apailana was Padmé Amidala's successor as Queen of Naboo, serving during the final days of the Clone Wars. It's a far cry from Obara Sand, illegitimate daughter of the Red Viper.
ADVERTISEMENT - CONTINUE READING BELOW
Carice Van Houten (Melisandre) is a pop star too
Westeros is packed full of musical talent–not just Michiel Huisman and Jerome Flynn, but Carice van Houten too. The actress released pop-rock album See You on the Ice in 2012...and it's actually pretty good. What next? Peter Dinklage's jazz odyssey? Mark Addy plays the Blues? But our absolute favorite fact about Carice is that her younger sister is fellow actress Jelka van Houten, who played the eccentric Sabine in Channel 4's Fresh Meat. Do we smell an unlikely crossover?
Pedro Pascal (Prince Oberyn) was Buffy's college pal
The late Oberyn Martell was supremely confident–so much so that it ended up costing him his life. So it might come as rather a shock to realize that Pedro Pascal's appearance on Buffy the Vampire Slayer saw him play the sensitive and nervous Eddie in episode 4.01, The Freshman. The first friend that an uncertain Buffy makes on campus, poor Eddie is transformed into a vampire, but not before he espouses his passion for the novel Of Human Bondage. The lusty Prince Oberyn, we imagine, would've had a passion for bondage of a different sort.
ADVERTISEMENT - CONTINUE READING BELOW
This story originally appeared on Esquire.co.uk.
* Minor edits have been made by the Esquiremag.ph editors.
More Videos You Can Watch