In the Age of iTunes and Spotify, Ely Buendia Makes a Brave Bet on Vinyl
The musician founded and now runs an independent record label called Offshore Music
Ely Buendia is perhaps best-known as the frontman of seminal OPM band the Eraserheads, but these days, he's wearing a different hat. The fortysomething singer-songwriter-record producer is now a bona fide record executive after he and a few business partners set up indie label Offshore Music.
The label has actually been in existence for just a little over two years already, but Buendia and his cohorts, which include Derick Villarino, Philip Florendo and Patricia Sarabia, only officially launched it last month.
"It took a while for us to get going," he said. "We had very little resources at our disposal. But we felt this was the right time because we have a few things coming up."
At the launch, Buendia half-jokingly referenced the limited investment—which he says is less than Php1 million—the founders put into the startup.
"Who in their right minds would start a record company at the height of the music apocalypse?" he said. "We blew our capital on our first music video. We only had Php400,000, and it went down to Php350,000 after this presscon."
But Buendia said they had good reasons for going ahead with the plan.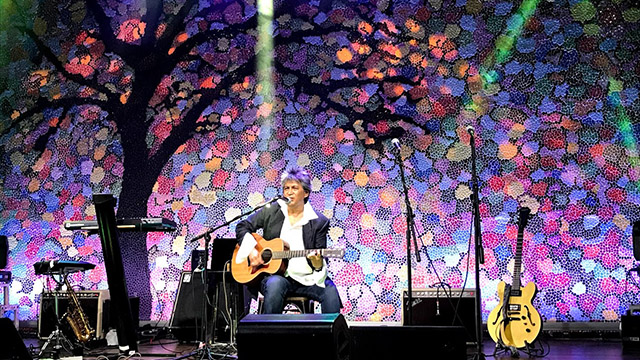 ADVERTISEMENT - CONTINUE READING BELOW
One of the talents signed under Offshore Music is veteran guitarist Jun Lopito
"We don't know anything about running a business, and we hardly know anything about supporting artists, except provide them help so they can be what they want to be without selling their souls," he said. "Our dream was just too beautiful to let go."
Two of Offshore Music's founding partners have already called it quits, according to Buendia, but they've since been replaced by new ones. Buendia, who sits as the label's chairman, named Dr. Eric Yapjuangco of Icon Clinic as one of them.
Offshore Music's lineup of artists currently includes guitarist Jun Lopito, bands The Late Isabel, Eyedress, One Click Straight and EB x IW, which is a collaboration between Buendia and the Itchyworms, and Apartel, Buendia's own soul and R&B project with Sarabia. Apartel is Offshore Music's flagship band.
The label also worked with indie folk group The Ransom Collective to release their debut album Traces on vinyl.
According to the founders, Offshore Music intends to make money through the records they produce for their stable of artists. Although current music trends dictate that artists release their music on digital and streaming services like iTunes and Spotify, the fledgling label is bucking the trend and plans to also release their albums on vinyl.
In fact, in addition to Traces, all of Offshore Music's releases so far have been on vinyl, which makes it one of the very few labels in the industry to do so. This includes the EB x IW singles "Pariwara" and "Lutang," Apartel's debut Inner Play and upcoming albums from Lopito and One Click Straight.
"I learned a lot in the past year," Buendia says. "I learned to be more conservative with money and make smarter business decisions. I'm also studying more to become a better businessman. I've been watching shows like Shark Tank.
"We're slowly gaining traction," he added. "I know it's about our love for music but you also have to use your brain. It has to be sustainable."
This story originally appeared on Entrepreneur.com.ph.
* Minor edits have been made by the Esquiremag.ph editors.
More Videos You Can Watch