Music
Spotify Is Now Worth More Than the Entire U.S. Music Industry
The streaming service is now valued at a cool $8.4 billion
Who buys music anymore these days? It's 2017! Record labels who previously relied on album sales now have to generate profits from touring and merchandise as a response to pirating of music and streaming services which have cornered the market.
Speaking of, music giant Spotify have just been valued at a cool $8.4 billion after a recent deal for an extra $400 million in funding which means they are valued more highly than the entire American music industry.
The Wall Street Journal reports that the funding means: "Spotify is now worth a total of $8.4 billion, which is double the value of their closest competitor Pandora."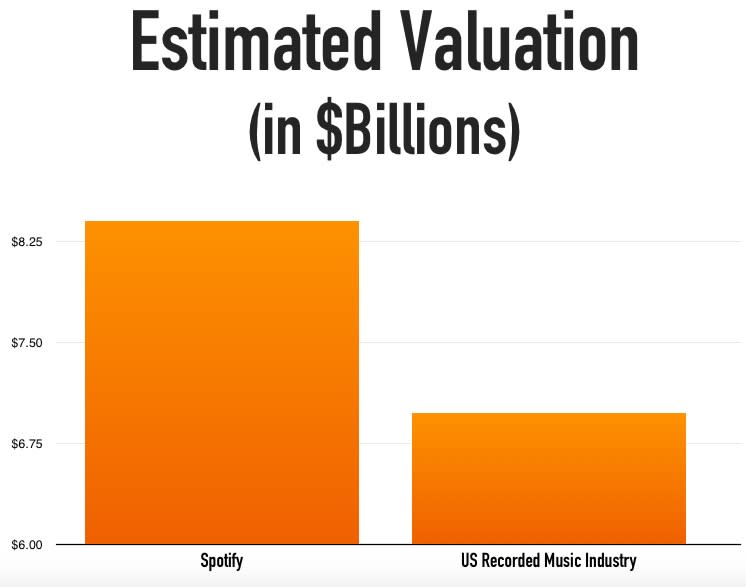 ADVERTISEMENT - CONTINUE READING BELOW
Comparatively, the U.S. music industry was valued in 2014 at $6.972bn by RIAA who also found earlier this year that for the first time, music streaming made more money than the sale of CDs.
Whilst Consequence of Sound point out that "The data is actually comparing two different things, in that one is value (Spotify's 8.4 billion) and the other is revenue (RIAA's $6.97 billion)," the valuation has shown that "the way things are trending, the US music industry's valuation could eventually equal its revenue, with Spotify being more valuable overall."
Time to buy some shares in Spotify?
This story originally appeared on Esquire.co.uk.
* Minor edits have been made by the Esquiremag.ph editors.
Ironically, elected officials are not required to pass the Civil Service Exam.
The Securities and Exchanges Commission has just approved the initial public offerings of both companies.
What began as a simple exploration of a prison took on greater purpose as filming began.
These bottles will have you smelling fresh and clean all day.
The movie may also be Tarantino's second to the last film.
The latest iteration of the German carmaker's mid-size luxury SUV is its best one yet.
His case sparked debate about the death penalty and went right up to the Supreme Court.
There's nothing like a big pot of soup to warm you up.
Only ten will be made. We'll take two, thanks.
"You can't please everybody, so you've got to please yourself."
The Hobbs and Shaw star has some seriously great looks.
The environmental activist and former yoga missionary passed away today, August 19.