Culture
A History of Prince Harry's Girlfriends
Before there was Meghan Markle, these were the women (both rumored and confirmed) who captured the Prince's eye
IMAGE Getty
Before there was Meghan Markle, these were the women (both rumored and confirmed) who captured the Prince's eye
Natalie Pinkham
Back in 2003, the young royal was rumored to have dated TV presenter Natalie Pinkham. While the two have never publicly confirmed a romantic relationship, they reportedly maintained a friendship years after being linked together. Pinkham is now married with two kids and is a reporter for Sky Sports F1.
Cassie Sumner
In 2004, Sumner shared a scandalous account of her night with Prince Harry when the two met at London's Chinawhite nightclub (Harry was 19 and she was 21). The fling, however, apparently only lasted that one night.
Chelsy Davy
Harry's longest relationship to date remains his romance with Chelsy Davy, which lasted on-and-off again from 2004 to 2011. The two first got together during Prince Harry's gap year in Cape Town and continued to date on and off for years. Davy was even Harry's date to the Duke and Duchess of Cambridge's wedding in 2011 after the two had rekindled following a 2009 breakup. Despite breaking up for good, Davy revealed the two will "always remain friends."
Astrid Harbord
In 2009, Harry was briefly linked to Kate Middleton's friend Astrid Harbord after the two were seen out in London together.
Caroline Flack
Harry was also linked to X Factor host Caroline Flack in June of 2009. Flack shared her story, revealing the two began dating after being set up by a mutual friend. As soon as the relationship went public, however, they called it quits. "Once the story got out, that was it. We had to stop seeing each other. I was no longer Caroline Flack, TV presenter, I was Caroline Flack, Prince Harry's bit of rough,'" Flack revealed.
Camila Romestrand
Following Harry's breakup with Chelsea Davy in 2010, he briefly dated Norwegian singer Camila Romestrand. According to CBS, Romestrand revealed to friends that she stayed over at the royal residence Clarence House, and was even served breakfast in bed by Harry. Romestrand's account, however, was never confirmed by Prince Harry.
ADVERTISEMENT - CONTINUE READING BELOW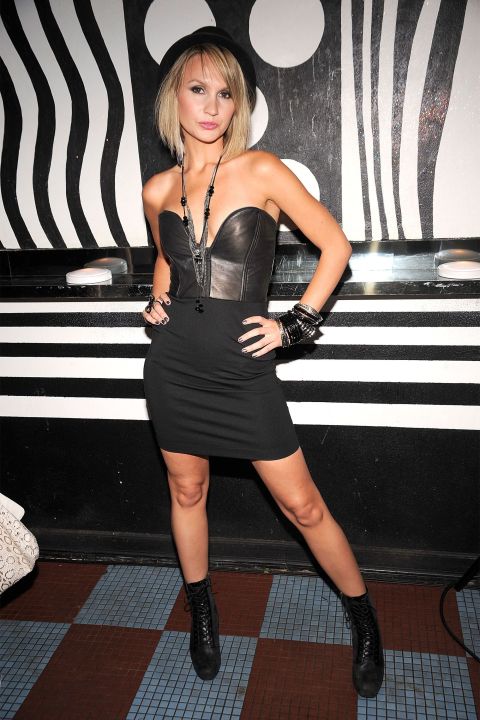 Florence Brudenell
According to reports from British tabloid the Sun,Harry dated actress/model Florence Brudenell in 2011. The two reportedly spent time at her London home in Notting Hill and had "secret trysts"—aka were keeping their dating on the low. When the Palace was asked about Prince Harry's new girlfriend, a spokesperson said, "We don't comment on the Prince's personal life."
Cressida Bonas
Actress Cressida Bonas dated Prince Harry from 2012 to 2014 after allegedly being introduced by Princess Eugenie. The relationship reportedly ended because Bonas couldn't stand the public scrutiny of being with Harry. She later opened up about the experience in an interview with BBC Radio.
Mollie King
The English singer and member of girl group The Saturdays admitted tobriefly dating Prince Harry back in 2012. The two were spotted at a London bar together but Harry reportedly cooled things off with the singer after she was too open about their relationship with the public.
Ellie Goulding
Though Prince Harry and pop star Ellie Goulding were never officially an item, the two sparked rumors after getting cozy at the polo in Bershire during the spring of 2016. According to reports, the two apparently spent a lot of time "sitting together under blankets" and were later spotted kissing (though no photo evidence of this exists). The two have reportedly been good acquaintances for years, after Goulding performed at Prince William and Kate Middleton's wedding in 2011 and then again at Prince Harry's Invictus Games in 2014.
Meghan Markle
Prince Harry and Meghan Markle began quietly dating in 2016, but the relationship quickly became serious. Months after dating, the royal released a rare public statement urging the public to stop harassing Markle and her family. Though the two continued to keep their relationship extremely low-key, they went on a weeks-long African safari holiday together, and Markle accompanied Harry to Pippa Middleton's wedding. After finally meeting the Queen, the couple announced their royal engagement.
ADVERTISEMENT - CONTINUE READING BELOW
This story originally appeared on Esquire.co.uk.
* Minor edits have been made by the Esquiremag.ph editors.
For the planner who doesn't want to drink coffee
Next: Michael Jordan (32,292 points)
There were no eggs in sight at the La Chinesca x Singleton crossover.
Luxury and technical expertise come together in one of Switzerland's last true manufactures.
Tip your hat to Mickey Mouse in these birthday goods.
The Wolves, Nike, and the Prince Estate are bringing Purple Rain (back) to life.
A well-heeled Back to the Future superfan just snatched up a $45,000 hovercraft based on Doc Brown's famous wheels.
Thomas Pink is no more. Introducing Pink Shirtmaker London.
Did they really escape the Red Room?
In the 15 years since The Wire, Elba has starred in blockbusters and art house films, won a Golden Globe, released two albums, founded a production house, received an OBE, launched a clothing label and made his directing debut. He's only just getting started.
They rolled out the model in Malaysia.
This is some important evidence about The Prince That Was Promised.