Sex
Turns Out the Hottest Movie Sex Scene of the Year Is Entirely Possible
You can recreate the peach scene from Call Me By Your Name.
IMAGE Sony Pictures
Luca Guadagnino's upcoming Call Me By Your Name is a gorgeous and tender-hearted love story, one of the most anticipated movies of the fall, and one of the year's best films (I was lucky enough to catch it at this year's Sundance Film Festival). Starring Timothée Chalamet and Armie Hammer, the film follows the summer romance between the teenage Elio (Chalamet) and an older college student named Oliver (Hammer). It's beautiful and sexy—and features one particular moment that will go down in film history as one of the hottest sex scenes ever.
Now, Call Me By Your Name is not the first movie to feature a character using a piece of fruit for personal pleasure (see: American Pie, obviously, and this year's Girls Trip, which praised "grapefruiting"). But Call Me By Your Name, based on the novel by Andre Aciman, features a pretty hot scene with a peach; the young Elio, um, has his way with one while fantasizing about Oliver just before they consummate their desire for one another.
ADVERTISEMENT - CONTINUE READING BELOW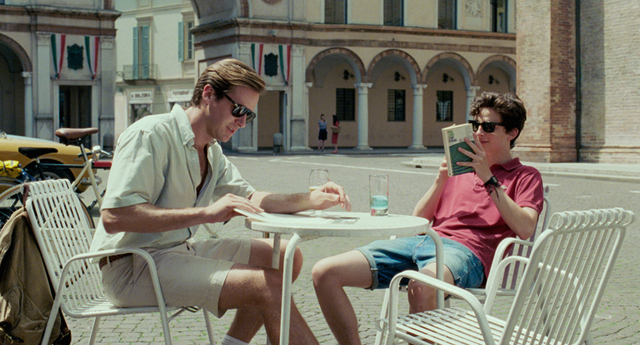 The scene is one of the most infamous moments in the book. In an interview with Out, director Guadagnino admits that he almost didn't put the scene in the film.
That scene, which plays out across several pages with potent intensity, almost didn't make it into the novel. Aciman thought about cutting it, then left it to his editor to decide. Something similar happened after Luca Guadagnino, best known for exquisite meditations on passions both thwarted and unbridled in movies like I Am Love, signed on to direct the movie. "I was tempted to remove it from the script," he confesses. "In the book, it is so strong and explicit that I thought it was a metaphor, something that couldn't exist in real life."
ADVERTISEMENT - CONTINUE READING BELOW
How did he ultimately decide to keep it in the story? Well, Guadagnino tried it out for himself.
Although he ultimately decided it would be coy to delete the scene, Guadagnino grappled with how to depict it. "I was struggling with the possibility that you can masturbate yourself with such a fruit," he explains. "So I grabbed a peach and I tried, and I have to say—it works."
On set, before Guadagnino decided to film the scene (thanks to his extensive peach research), he learned that his young star also came to a similar conclusion himself.
It wasn't only Guadagnino who needed to understand the mechanics of making love to a piece of fruit. "I went to Timothée [Chalamet, who plays Elio], and said, 'We shoot the scene, because I tried it and it worked.' And he said, 'I tried, too, and I already knew it worked.'"
ADVERTISEMENT - CONTINUE READING BELOW
So there you go. Go forth, have sex with a peach. The experts say it totally works.
This story originally appeared on Esquire.com.
* Minor edits have been made by the Esquiremag.ph editors.
Photos of Pepe and Pilar, the adorable twins of Mar and Korina Roxas, were posted on Facebook by Aika Robredo.
It just seemed like "really good narrative closure".
The actor "watched videos of people suffering from pathological laughter."
Socially conscious trainers from the likes of Good News and Stepney Workers Club.
Its purpose is part of an old Japanese tradition.
How do you dress formally in a relaxed office environment? Here's your answer.
A surprise return for Dr Octopus?
This is truly the algorithm at its finest.
In our new Style Archive series, we canonize the menswear heroes of yesteryear.
The streaming service is expected to come out in November.
When money is no object, here are a few ideas on how to spend it.
One of the biggest lingering MCU questions has been answered.