Culture
The Sys and Zobels Are Still Among Asia's 50 Richest Families
The 50 Asian families who made the list have a combined net worth of $700 billion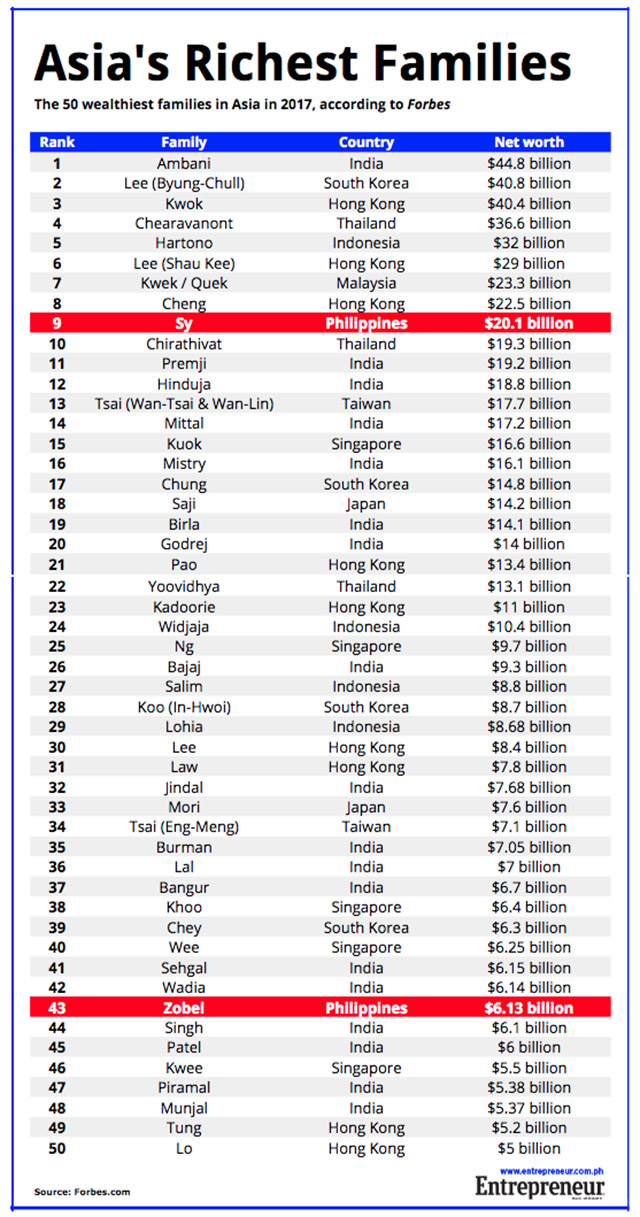 Two Filipino clans made it to the list of Asia's 50 Richest Families, which was released by business magazine Forbes earlier this week.
The Sys ranked ninth in the list with a net worth of $20.1 billion, a 63.4-percent increase from $12.3 billion in the previous list. Patriarch Henry Sy Sr. is the Philippines' richest man for the past 10 years and the chairman of SM Investments Corp., the country's most valuable holding firm which has stakes in the real estate, retail and banking industries.
Businesses of the SM group have been taken over by Sy's six children. His eldest child, Teresita Sy-Coson, is the chairperson of financial services firm BDO Unibank, while son Henry Sy Jr. is chairman of retail and real estate giant SM Prime Holdings. In its write-up of the family, Forbes also highlighted grandson Howard Sy and his new venture, self-storage company StorageMart.
One other Filipino family that made the list was the Zobels, who took the 43rd spot with a net worth of $6.13 billion. Tracing its origins back to 1834, the business is now overseen by sixth-generation tycoon Jaime Zobel de Ayala, the country's fifth richest person who serves as chairman emeritus of Ayala Corp. Operations are primarily run by his sons Jaime Augusto and Fernando, who head the company's businesses in the real estate, banking, water and telecommunications sectors, while several of his grandchildren also hold several positions across the conglomerate's many firms.
ADVERTISEMENT - CONTINUE READING BELOW
A significant portion of the Zobels' wealth is also credited to their stake in diversified conglomerate San Miguel Corp., which Forbes claims is "the largest publicly listed food, beverage, and packaging company in Southeast Asia." One of the companies' directors is Iñigo Zobel, Jaime Augusto and Fernando's cousin. Last September, Forbes listed Iñigo with sister Mercedes as the country's 13th wealthiest person.
While the Sys and Zobels were the only Filipino families that made the list, Forbes also brought up two of the country's clans who barely made the cut: the Aboitizes, which were included in last year's list, and the Consunjis, whose patriarch David Consunji passed away earlier this year.
India's Ambani family, who owns diversified conglomerate Reliance Industries, took the top spot this year with a net worth of $44.8 billion. They overtook the Lees, the South Korean clan behind Samsung who held the top spot in the past two lists. Altogether, the 50 families that made the list have a combined net worth of $700 billion.
Forbes began publishing its list of Asia's richest families in 2015, and it has released it annually since then. To qualify for the list, clans must have representatives from at least three generations active in their respective businesses.
This story originally appeared on Entrepreneur.com.ph.
* Minor edits have been made by the Esquiremag.ph editors.
CONTINUE READING BELOW
Recommended Videos
More Videos You Can Watch