Tech
Are Apple's New AirPods Max Worth the Wait, or Should You Go for an Affordable Alternative?
How do the new Apple over-head headphones measure up to Bose and Sony's efforts?
IMAGE Apple
After months of rumors, Apple's new over-ear AirPods Max headphones have been officially announced. They're slated for a 15 December release in the UK – though early signs are indicating that you may have to wait up to three months for delivery – so we're asking the big question: if you're in the market for new over-ear cans, should you shell out Apple's asking price of £549(!) or opt for one of the Max's highly regarded, but significantly cheaper, competitors, such as the Bose 700 or the Sony WH-1000XM4?
With two new features coming to the AirPods Max – adaptive equalizer (EQ) and spatial audio – and powerful active noise-canceling capabilities, it's time to examine the specs in more detail and compare them with rivals' features.
AirPods Max Spatial Audio
The big talking point on the new AirPods Max is the spatial audio feature. This is the same tech you'd find in the PlayStation 5's groundbreaking headphones, where the audio comes at you from different angles of a 3D sphere, just like your surround-sound does on TV.
Is this unique? No: Sony's WH-1000XM4 headphones (£349) also have the ability to drown you in sound. However, you won't find it elsewhere in Bose's 700 series (£349), or Apple's own Beats Studio 3 (£299).
ADVERTISEMENT - CONTINUE READING BELOW
If you're big into watching movies or shows on your iPhone or iPad, the AirPod Max will give you that cinematic experience, with audio surrounding you from all directions. Hopefully this means we can pop Tenet on and finally hear what The Protagonist is saying, though that might be wishful thinking. (Until we've got our hands on them, the jury's out as to whether they'll pip Sony's WHs to the post.)
To use this feature, Apple says you'll have to be running the latest software update, which is iOS 14.3. We know it's a ballache but we really do recommend you keep your devices updated so you can use all the new tech.
On to the other new feature: adaptive EQ. This recognises what kind of music you're playing and automatically adjust the levels to give you a better experience. Whack on some Travis Scott and the bass will be boosted, or mellow out to Fleetwood Mac and the vocals will be prioritised without you having to lift a finger.
Equalisers do exist on other devices, but none will automatically tune your music for you - which is a nice touch.
AirPods Max Noise Cancelling And Performance
Just like other top-end headphones like the Sony XM4s, the Max comes with active noise cancellation, which blocks out ambient sounds and totally immerses you in your podcast or Spotify playlist, even if you're battling against the drone of a plane – we can all dream of that 2021 summer holiday.
CONTINUE READING BELOW
Recommended Videos
AirPods Max Battery Life And Compatibility
The AirPods Max will last around 20 hours if you're not using the active noise cancellation, which is reduced significantly if you turn that bit of kit on.
This is a sticking point for many fans, as some of the best headphones on the market like the Bowers & Wilkins' PX7 will last around 30 hours, as will the Sony set. Both Bose and Beats will have around 20 hours too, so it's not that big a deal, but something to watch out for.
Still, that should see about two days-worth of use on a single charge and is still a damn-sight better than the AirPods Pro, which only lasted five hours during our tests.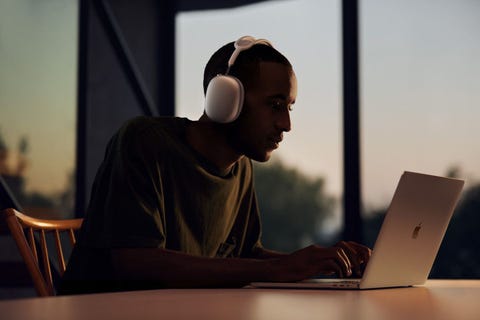 ADVERTISEMENT - CONTINUE READING BELOW
Another point for Apple: these headphones can share audio between other Apple AirPods or Beats headphones if you're listening on an Apple device, so you and your partner or mates can still enjoy stuff together without buying one of those headphone splitters.
If you're Team Android, these will still work with your devices, but we have no idea why you'd be buying the AirPods Max when you're rocking a Samsung Galaxy.
AirPods Max Design And Materials
So how do they look? In a word, slick. The aluminum outer shell on the rounded-off square cups, as well as the stainless steel mesh headband, are both padded for comfort as you'd expect (the earpieces have memory foam cushions). They come in a range of colors: silver, grey, blue, pink and green.
Controls are minimal, with a button to switch between noise cancellation and transparency mode, and a digital crown on one cup to adjust the volume or the track. If you've got an Apple Watch you'll be familiar with this small dial, which can be pressed to activate Siri or answer calls.
There's also a lightning cable port at the bottom of the other cup to charge the headphones in two hours. This port can be used to wire up the AirPods Max to your phone, iPad or MacBook, but you'll have to fork out another £35 to buy a jack from Apple themselves.
ADVERTISEMENT - CONTINUE READING BELOW
The design might split fans, as it doesn't take the usual oval or circular visuals of other headphones at this price. Apple's Beats series, for example, is much more circular with a thicker headband though it's basically down to personal preference.
They also come with a travel case which will help reduce battery usage when moving around. They are being mocked online for resembling a small purse or a bra, so that might put you off, but we doubt this will be a deal-breaker.
AirPods Max Verdict - So Which Should You Buy?
We haven't had a chance to use the headphones yet –we'll update you as soon as we have– so we can't speak on the audio quality, but we can talk about the features, and how they stack up against other top-end contenders.
The AirPods Max is the most expensive over-ear headphones on the market right now by quite a way. So, say you're pairing up this purchase with a new iPhone 12 Pro, you'll be spending more than £1,400 combined.
At £549, they are £200 more expensive than Sony's WH-1000XM4, which are the next most expensive. The Bose's 700 (£399) or Bowers & Wilkins' PX7 headphones (£349) are both well known for top audio quality and noise-canceling capabilities.
Apple's own Beats Studio 3 is only £299 and, for us, they are up there with some of the top choices. No one else has had their hands on these devices just yet, so it's hard to judge if these will be worth the cost.
ADVERTISEMENT - CONTINUE READING BELOW
In our own tests, we gave the Bose 700 the highest score (96 out of 100), with the Sony WH cans coming close behind with 92, so it might be hard to top what they can offer. Once we have our own set to review, we will be able to pitch them against each other properly.
So who are the AirPods Max for? If you're an Apple fan-boy, or you have the cash to float and feel the need to flex, you might want to wait for these. But if audio and noise-canceling are your priorities, we think the competitors in this article are just as good.
This story originally appeared on Esquire.co.uk. Minor edits have been made by the Esquiremag.ph editors.
More Videos You Can Watch