This Local Site Lets You Track Possible Hazards From Eruptions, Earthquakes, And More
HazardHunterPH uses data from the DOST and DENR, among others.
IMAGE SCREENSHOT FROM HAZARDHUNTERPH
Eruptions from Taal Volcano have had everybody on edge since January 12. Despite the constant updates and reports on the volcano, which remains on Alert Level 4 as of writing, the extent of the possible danger is still difficult for some to fully process—especially since today's kids did not go through the 1991 Mount Pinatubo eruption. For those who need a visual aid, website Hazard Hunter maps out the potential reach of hazards—eruptions from Taal Volcano included—in easy-to-understand graphics.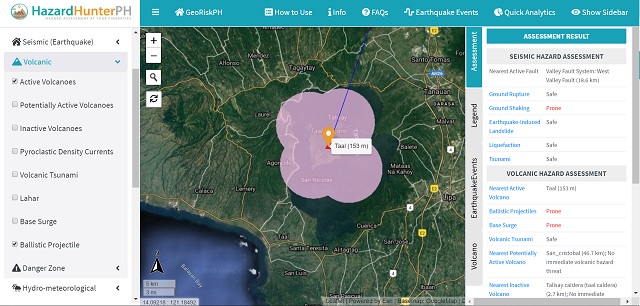 Launched by the Philippine Institute of Volcanology and Seismology in July 2019, the website lets you choose specific areas in the Philippines—whether your house or, in this case, an active volcano—and shows you the official assessment of multiple possible hazards. Other than the basic information, you can also check out more details for Seismic (Earthquake), Volcanic, or Hydro-meteorological hazards.
For Taal, and other active volcanoes, you can choose from the sidebar on the left which potential hazards you want to study. There's also the option to layer the maps to see how far each hazard can reach. BTW, a pyroclastic flow, according to the National Geographic, is a "dense, fast-moving flow of solidified lava pieces, volcanic ash, and hot gases." A base surge, meanwhile, is a type of pyroclastic surge that moves "outward at high velocity from the base of a vertical eruption column," according to the U.S. Geological Survey—this type of surge also caused most of the deaths of Taal's past eruptions.
ADVERTISEMENT - CONTINUE READING BELOW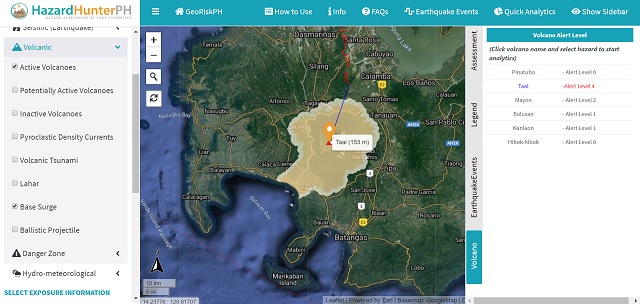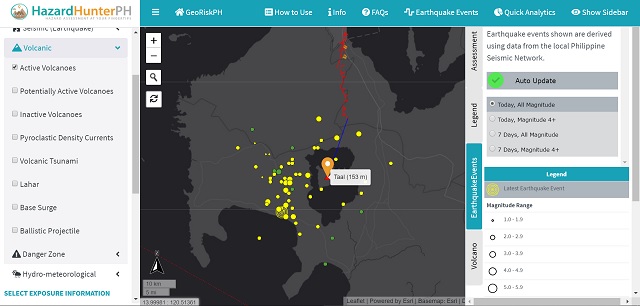 You can also keep tabs on earthquakes around your chosen area; the website updates a few minutes after each one and gives you info on location, magnitude and time. Just note that the website does have an alarm each time another earthquake occurs, so keep your nerves steady.
ADVERTISEMENT - CONTINUE READING BELOW
Recommended Videos
The interface is easy enough to understand; it works much like any other click-and-drag map online, but there are tabs for tutorials on the upper right. While it may feel simply like feeding your anxiety, Hazard Hunter was built to keep you aware—you can even use it to decide for your future home, businesses, and the like.
Hazard Hunter "aims to increase people's awareness to natural hazards and advocates the implementation of plans to prepare for and mitigate the effects of hazards," according to the site. It is the first project of its kind to use data from multiple agencies and is a product of the Department of Science and Technology, the Department of Environment and Natural Resources, Department of National Defense, and the Department of Education.
This story originally appeared on Spot.ph. Minor edits have been made by the Esquiremag.ph editors.
More Videos You Can Watch