Tech
The "Uber for Massages" Has Fulfilled 100,000 Requests and is Still Growing
Zennya wants the perception of spa services to move away from being a luxury experience to a regular ritual
IMAGE Zennya
When David Foote and Gregory Kittelson soft-launched on-demand spa services app Zennya at the start of 2016, they were entering a rather competitive industry.
Data from the Philippine Statistics Authority (PSA) in its Annual Survey of Philippine Business and Industry last 2015 show that there were 900 establishments engaged in the spa business employing at least 20 workers each. There could be thousands more if all spa enterprises, including those with just five or less workers, were counted.
At any rate, the relatively large establishments already employed over 11,000 people and grossed some Php4.9 billion in total income, making spas the fifth largest in the Other Service Activities Sector.
But according to Foote, one of the biggest obstacles hindering the industry's growth is its overall lack of quality.
"The way the massage industry is moving here, someone will have a masahista that they work with, and that's it," said Foote in a media interview. "But that's because the quality in general is not very good. So if you find someone that's not bad, you stick to that person."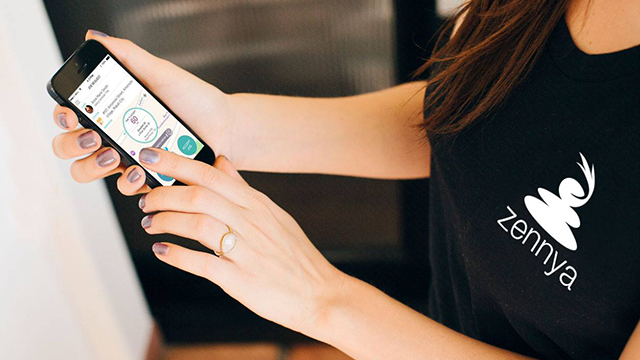 ADVERTISEMENT - CONTINUE READING BELOW
That's a pain point Foote and Kittelson are addressing with Zennya, which allows clients to book a physical therapist through its app who will then give them on-the-spot spa services ranging from Swedish massages to Thai foot massages. As of September 2017, the company handled over 100 therapists that have fulfilled around 100,000 on-demand requests for massages and spa sessions.
While all of these therapists are contractors (i.e., they are not full-time employees of the company), they all undergo intensive training provided by Zennya before they are able to fulfill any requests. These therapists are then evaluated through the app's rating system, where customers can leave ratings and feedback based on the services they've received.
Zennya is able to track how each of its therapists are doing and are able to re-train them—or otherwise let them go—should their ratings become too low. "Our system generates quality," said Foote. "We aim to actually have quality that's better than the best spas."
He added that the company's therapists have an average rating of 4.5 out of 5, and that around 90 percent of their "thousands" of clients rate their respective therapists.
Beyond higher and more consistent quality, Foote envisions Zennya as a way for people to change their view of spa services from a once-in-a-while luxury to a regular part of an individual's monthly schedule. He revealed that Zennya users book its services three-and-a-half times a month, which he said is the same average booking rate as Uber clients.
CONTINUE READING BELOW
Recommended Videos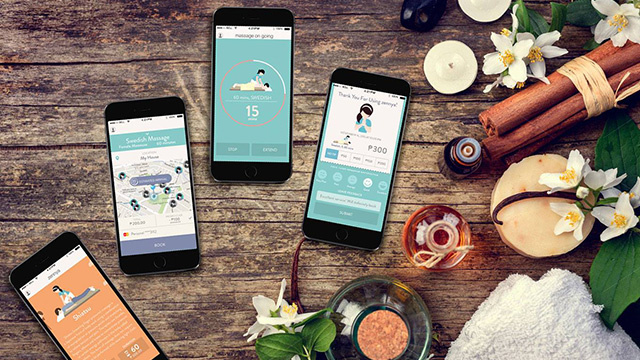 Of course, this frequent booking is made possible by the app's on-demand nature, similar to Uber. Instead of availing these services in expensive hotels or dedicated wellness centers, Zennya allows clients to have spa sessions in the comforts of their homes or even while in their work desks.
This is made possible by Zennya's extensive logistics network. On top of its own motorcycle fleet, the company has established partnerships with transportation companies such as Grab and Uber. This allows clients to avail of spa services within 30 minutes of booking.
"We have some celebrities here that book five personal Thai foot massages, and they all arrive within 20 minutes," shared Foote.
This unique setup and promise of high-quality services has attracted a lot of attention for the company, so much so that they have stopped advertising the app online because they aren't able to meet the high demand. He added that most of their current marketing is done through an in-app feature that incentivizes clients for referring the service to others.
ADVERTISEMENT - CONTINUE READING BELOW
As well, the on-demand service has garnered the company recognition from the startup scene. Last October, Zennya was the third runner-up in the Philippine leg of the Startup World Cup, a global startup pitching competition. While Zennya will not be competing for the $1-million grand prize, it will join its fellow finalists in an all-expense-paid trip to the grand finals in Silicon Valley.
The continued growth and recognition of Zennya only spells good news not only for Foote and the company but also for the contractual therapists. "Some of our top therapists make over Php50,000 to Php60,000 a month through the app," said Foote, adding that a majority of the commissions from each booking goes to the therapists.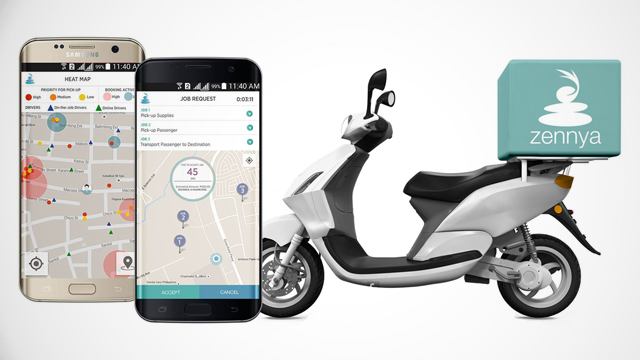 Beyond the pay, Foote also pointed out that the business model of the company has attracted a specific kind of demographic. "Eighty percent of therapists are female, and most of them are single mothers," he said. "It's a great job for them because they get to choose when they work. They can schedule around when they're dealing with their kids."
ADVERTISEMENT - CONTINUE READING BELOW
Zennya currently operates in Metro Manila, and it is focusing on expanding its network of therapists to better meet the growing demand. "We expect to hit thousands of therapists by the end of 2018, and that's just in Metro Manila," said Foote. And while the company has no plans of expanding to more cities in the near future, Foote revealed that the most likely direction after solidifying its Metro Manila operations is to take the service overseas.
*****
Lorenzo Kyle Subido is a staff writer of Entrepreneur PH
This story originally appeared on Entrepreneur.com.ph.
* Minor edits have been made by the Esquiremag.ph editors.
More Videos You Can Watch