Culture
This Coveted Shower-Toilet Is the Smart Toilet of Your Dreams
It can be controlled with an app, so you can experience comfort right at your fingertips.
A shower-toilet represents quality of life, comfort, and hygiene. It is not long since heated seats and electric windows in cars were considered luxuries, and nowadays both come as standard—and by no means just on top-end cars. Like heated seats in vehicles, shower-toilets are an integral feature of a modern bathroom.
Also known as the "Japanese toilet," a shower-toilet is a combination of a bidet and toilet: after a user has gone to the toilet, an extendible spray arm provides thorough and targeted cleaning with water. The spray arm cleans itself before and after use. Consequently, shower-toilets are hygienic and a pleasant solution for cleaning the body after going to the toilet. Case in point: Duravit's SensoWash® Starck f Plus and SensoWash® Starck f Lite.
Here's how Duravit's SensoWash® puts hygiene and ease of use at the forefront:
Customizable down to the smallest detail
Duravit equipped their shower-toilets with smart features that help improve the standard of personal hygiene while letting you experience comfort in a whole new way.
Many shower-toilet models can be individually configured using the associated SensoWash® app, or they can be optionally controlled in the standard way using a remote control. Users' individual user profiles can be loaded at any time—a thoughtful feature that's useful for those who share bathrooms with a partner or family members.
Hygienic cleaning made easy

Apart from ensuring a hands-free cleaning experience, the Duravit shower-toilets are also easy to clean and hygienic to clean. Thanks to the new Rimless® technology and an optimized basin and siphon geometry, SensoWash® Starck f provides improved water flow for great flushing results. The hygienic glaze HygieneGlaze®, which helps eliminate bacteria in a relatively short time, really helps improve the standard of hygiene. The integrated automatic descaling function further enhances cleanliness.
Diverse functions for comfort
The precise position of the spray arm can be configured and stored in advance and also adjusted during use. Similarly, the temperature of the water and the intensity of the shower flow can be fine-tuned to users' specific requirements, ensuring a gentle cleaning process.
Technical finishing touches such as the motion sensor for automatic cover opening through the user recognition in the seat up to a wide range of configuration options for seat heating, the shower flow, and the controllable hot air dryer further simplify operation and use of the shower-toilet. The illuminated inside bowl also makes the toilet easier to find at night.
Practical everyday aids help boost quality of life
Shower-toilets can help improve the quality of life for all generations. With shower-toilets like SensoWash®, people whose mobility is restricted in the short or long term and older people can look after their personal hygiene. They can clean their intimate area with no physical exertion required on their part. They also do not need to rely on other people, which helps them maintain their independence.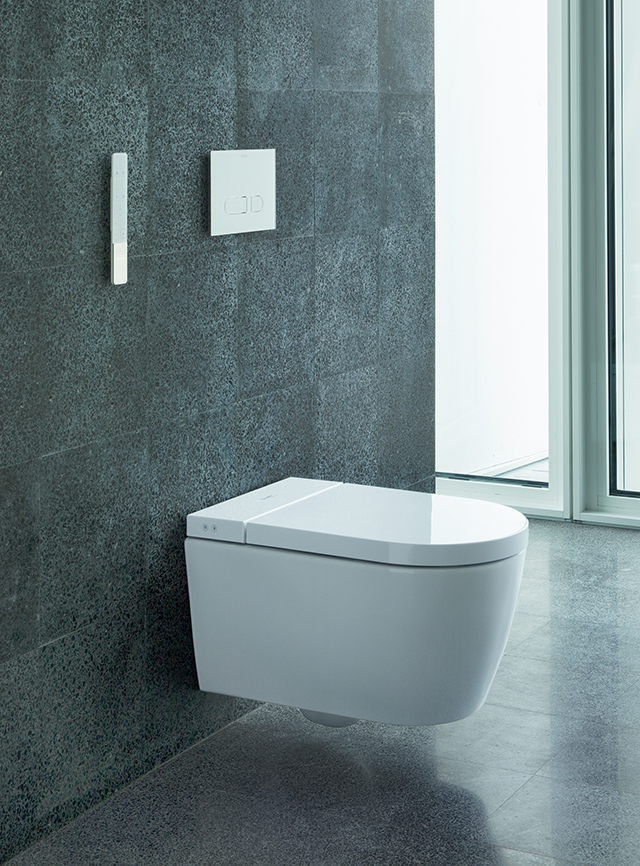 Minimalist design
Duravit shower-toilets not only represent the state of the art in technical terms, but their minimalist design also means that they can be integrated seamlessly and harmoniously into any bathroom interior. With minimalism comes ease of use, thanks to the Rearwash function integrated into the toilet—this means users no longer need to awkwardly reposition themselves onto the bidet for a refreshing shower.
The new shower-toilet generation from Duravit and Philippe Starck is available in two variants: SensoWash® Starck f Plus and SensoWash® Starck f Lite. The components have been arranged so that all the technology is housed within the ceramic body. The seat and the white cover located behind it form a unit for a sleek look.
SensoWash® Starck f Plus and SensoWash® Starck f Lite are available at Kuysen. Visit their Kuysen Design + Experience Center in Jupiter, Kuysen Headquarters in Quezon City or their online store: Kuysen Online Store for more details.
For more information, log on to Kuysen's Facebook page and Duravit's Facebook page.