10 Vintage Photos of Beverage Ads From the '60s
Before ads went digital, print was the only way to go.
The '60s were arguably the coming-of-age of advertising—think Mad Men—and a lot has happened for it to become the ubiquitous presence it is today. Before companies came up with the craziest content, they first pulled out all the stops for what was essentially a single page in between the stories of a magazine.
We looked through a couple of old-school ads from some of the biggest beverage brands out there. Think the '60s version of you would have bought them? Take a walk down memory lane with these nostalgic '60s drink ads.
San Miguel Beer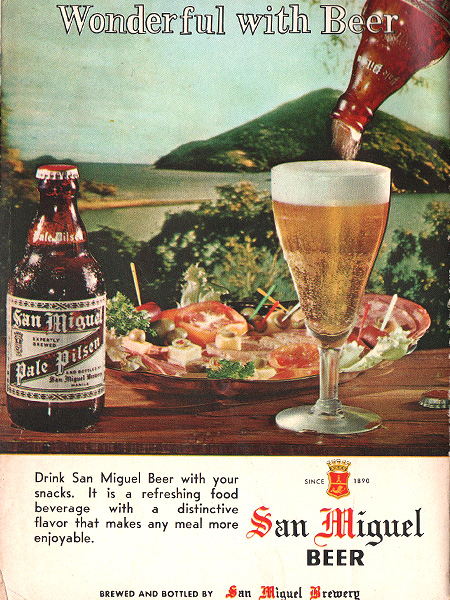 San Miguel beer was first brewed in Manila in the year 1890, so it's no surprise that their ad game more than half a century later is strong. This 1966 ad is simple and straight to the point: Good food is best enjoyed with cold beer. Who could argue with that?
ADVERTISEMENT - CONTINUE READING BELOW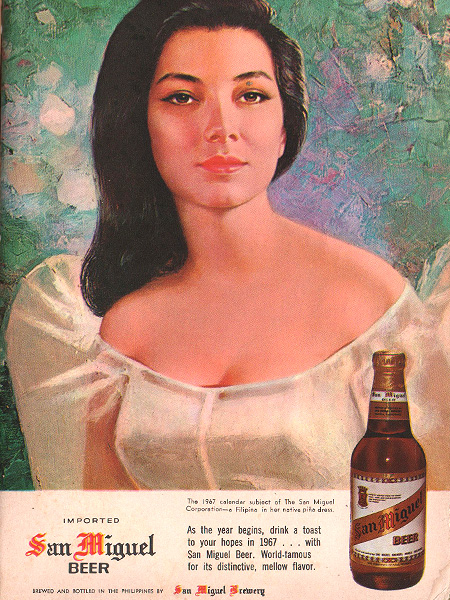 This San Miguel Beer ad ushered in the new year—1967, that is—on a nice note. Featuring a Filipina in a piña dress, the painting was one of the pieces in the San Miguel Corporation's calendar for that year.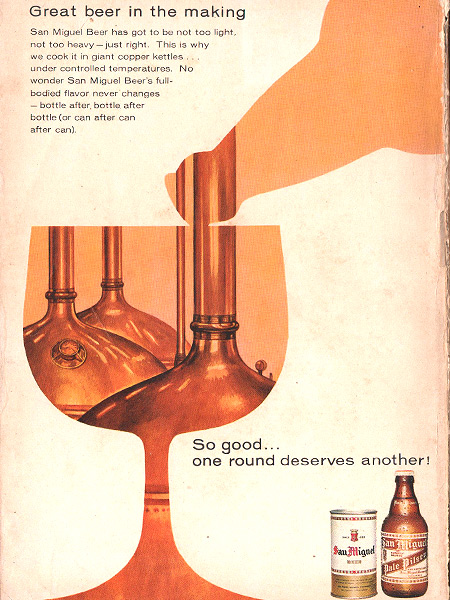 Making beer is an exact science, one that San Miguel has down pat. This ad focuses on the making of the perfect, thirst-quenching, amber-colored (alcoholic) nectar. It features a more minimalist illustration in line with the technique-based approach of the ad. Also, is anybody else finding out that that's what their old beer cans looked like just now?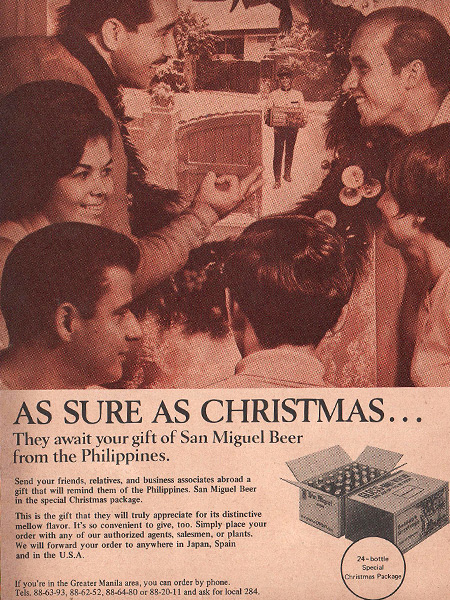 Look, we can definitely think of a few titos and titas abroad who would definitely appreciate this gift today. Can you imagine waking up to 24 bottles of cold beer on Christmas morning? This 1968 ad just gets it, we think. Plus, this ad just goes to show that Filipino companies were going global as early as the '60s.
7-Up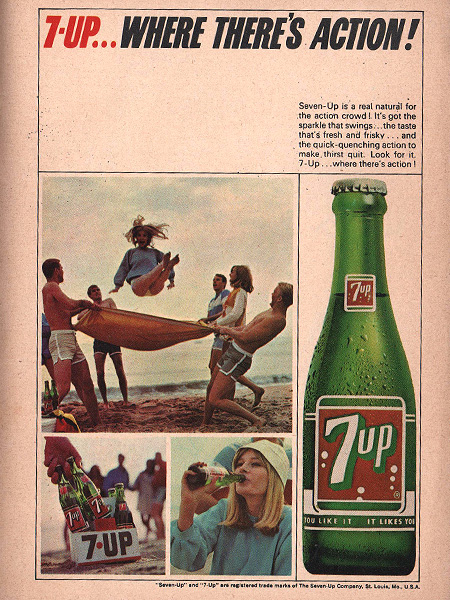 ADVERTISEMENT - CONTINUE READING BELOW
Remember playing this game with your friends out in the streets before? The Pinoy version of the 7-Up game had kids running around playing tag, which must mean they got their branding right. 7-Up's goal was to get you up and running, whether the actual drink or the game. Also, take a look at the bucket hat, oversized sweaters, and bright short-shorts that are all on-trend outfits again today.
Coke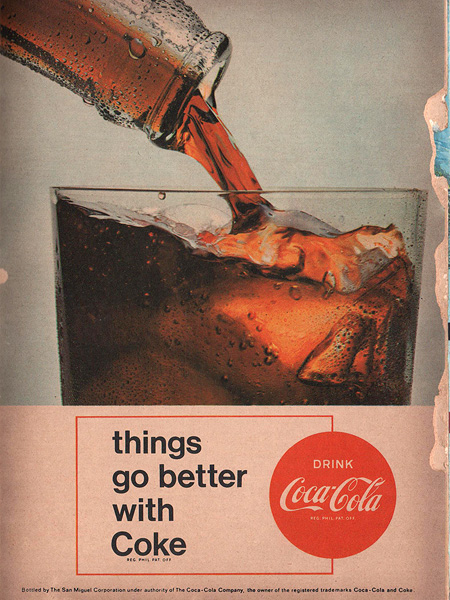 Before "Open Happiness" became Coca-Cola's global slogan in 2009, there was this 1966 ad. At a time when copy was king in an advert, the simple line proved very effective. And we can't lie: that cool glass looks really tempting that it doesn't matter it has been decades since this came out.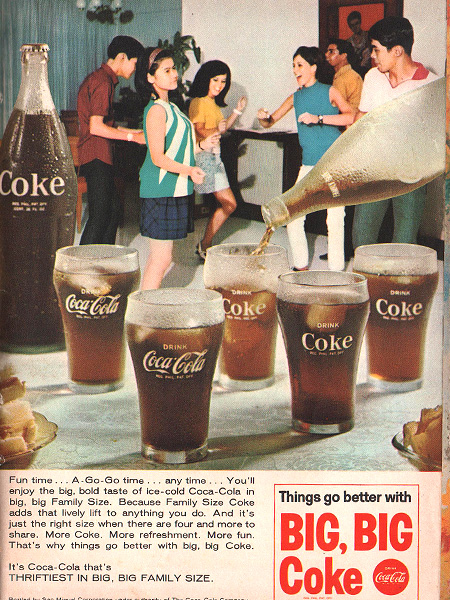 Pinoy parties sure looked different in the '60s. Check out this old-school ad of what was informally known as a Coke litro, still in the original glass bottle, with people boogying it up in the background. You just know this house had sliding doors leading to a patio somewhere, complete with parquet-floored salas, and muebles galore. Also, we can safely say Coke from a glass bottle tastes different from the plastic ones we have today.
Pepsi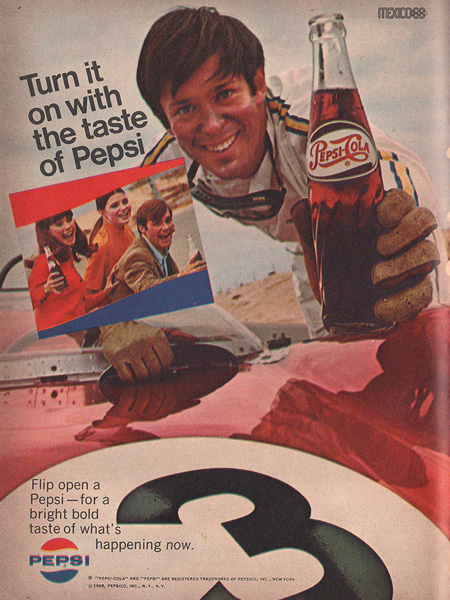 ADVERTISEMENT - CONTINUE READING BELOW
Take a look at this vintage Pepsi-Cola print ad from 1968, featuring what looks to be a race in Mexico (based on the tag at the upper-right corner). There are bright-colored outfits, fly-away hair and proper bangs, a shiny red speedster, plus cola in good ol' glass bottles; what could be more '60s than those things?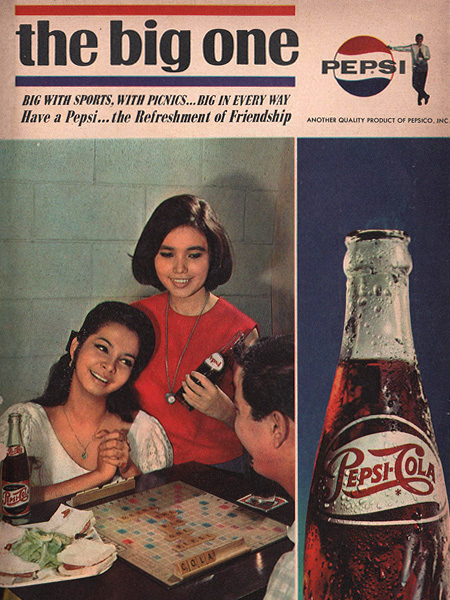 Pepsi anchored on the Pinoy love for tambay with this '60s ad. They touted the then-brand new Pepsi "swirl" bottle—which we remember fondly thanks to the one- or two-peso cashback (or a couple centavos, depending on your current age) you would get when you return them to the store. Plus points for the totally-not-scripted C,O,L, and A tiles on that dude's Scrabble rack.
Tanduay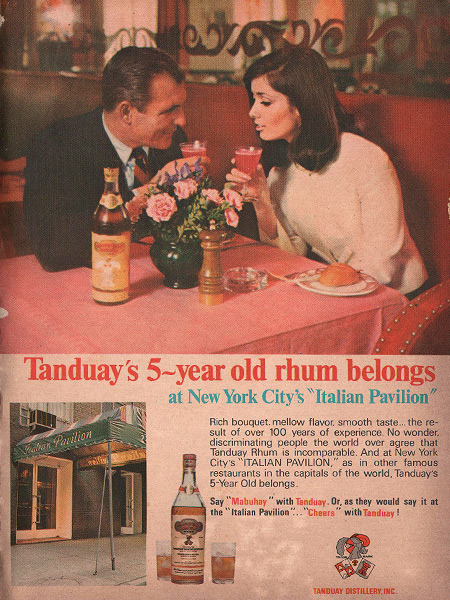 Corner booth? Check. Snazzy outfits? Double check. Apéritif? Oh, definitely. If you think Tanduay isn't classy, take a look at this 1966 ad. Would you believe this rhum was being served in New York at the time? We don't know for sure if it still is but, really, it doesn't seem too far-fetched. Now, if only dates everywhere looked this sophisticated all the time.
This story originally appeared on Spot.ph. Minor edits have been made by the Esquiremag.ph editors.
More Videos You Can Watch