Food & Drink
It's All About Milk: You Won't Be Able to Resist These Nespresso Bundle Offers
Score the Aeroccino 4 as a complimentary gift!
The days pass by so quickly with our never-ending personal to-do lists and work; thus, the need to carve out quiet alone time to give us the breather we need. And so, at this moment, it's best enjoyed with your favorite cup of creamy coffee in hand. Enter: Nespresso.
In a Milky Mood?
When opting for a cup beyond plain brews, Filipinos love to enjoy their milky coffee drinks like iced lattes, cappuccinos, macchiatos, and flat whites. It's about finding the best combination of high-quality coffee and delightfully milky froth that will enliven the senses. As a brand that offers a convenient way to enjoy every coffee moment at home with just a touch of a button, Nespresso has prepared bundles to perk up your usual coffee routine with creamy and velvety milk foam for an exceptional brewing experience, featuring the refreshed version of the new Aeroccino 4.
Transform any coffee into a foamy delight or the other way around, as the new version of the Aeroccino 4 milk frother helps you create a range of delectable coffee and milk drinks, like indulgent cappuccinos and latte macchiatos, with options for cold foam or hot milk. The device is built with a handle and pouring snout which makes it simpler to use and more ergonomic.
It's All About Milk
Jumpstart or carry on with your Nespresso journey. Running until October 31, 2022, enjoy the new Aeroccino 4 as a complimentary gift (worth P7,500) when you avail of Nespresso's All About Milk offers featuring its best-selling machines and well-loved coffee blends. Each machine purchase will go along with five coffee blends: Napoli and Kazaar Palermo from Ispirazione Italiana, a collection inspired by Italian roasting traditions, as well as Caramel Crème Brûlée, Cocoa Truffle, and Vanilla Éclair from Barista Creations, a range designed to recreate coffee and milk recipes.
Choose from the Essenza Mini bundle (P10,490), Inissia bundle (P11,490), Pixie bundle (P15,490), and the Citiz bundle (P18,490). Check it out: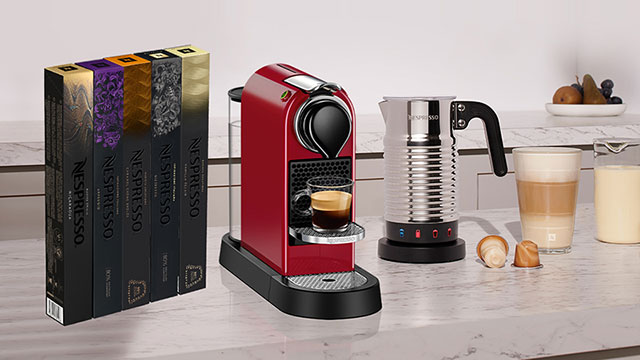 Want to elevate the coffee-making experience in your next coffee break? Savor creamy coffees and avail of the 10-sleeve All About Milk bundle where you will get a complimentary Nespresso apron, just for P3,920. The bundle, which makes for an easy coffee restock, includes Barista Creations Cocoa Truffle, Crème Brûlée, Chiaro, Corto, and Scuro; Ispirazione Italiana Arpeggio Firenze, Napoli, and Ristretto Italiano; World Explorations Buenos Aires Lungo; and Master Origin Nicaragua.
Visit Nespresso stores or shop through Nespresso's official website. For updates, log on to Nespresso's Facebook page and Instagram.
This article is sponsored by Nespresso.