Health and Fitness
How to Be Fit While Working in Food, According to Anthony Bourdain's Abs
That is one solid 61-year-old.
IMAGE MEGA
Of course Anthony Bourdain would have abs like this.
While celebrating Asia Argento's birthday in Italy, the couple was photographed in swim gear at a hotel pool. Unsurprisingly, Bourdain, whose many interests know no bounds, appears to be sticking to one pursuit in particular: jiu-jitsu. Jiu-jitsu is a combat sport that emphasizes core strength, flexibility, and endurance.
Last year, the chef/adventurer said he trains every day, no matter his location on the globe. In New York, he trains at Renzo Gracie Academy. "An hour private and then an hour and a half general population. That's basically Fight Club," he told Nuvo.
Bourdain doesn't use machines or weights, and he also competes. "I have had my ass kicked everywhere in the world. I am a 60-year-old blue belt who doesn't suspect he will ever make it to black belt in this lifetime," he told Men's Journal. (Bourdain is 61 years old now.)
ADVERTISEMENT - CONTINUE READING BELOW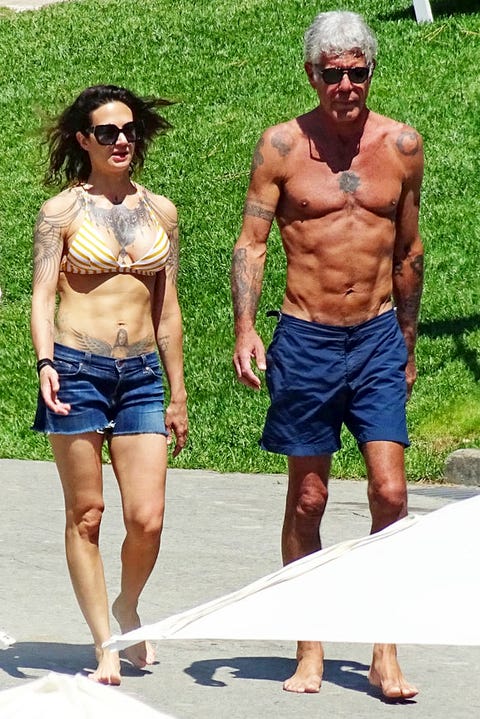 He has also said in 2015 he doesn't drink as much alcohol as he used to. Given that much of his time now is spent drinking on camera—and oftentimes, savoring whiskey—this is saying something.
Enjoying time with loved ones, traveling the world, and getting in a good workout every day—Bourdain's way is not a bad way to live.
ADVERTISEMENT - CONTINUE READING BELOW
This story originally appeared on Esquire.com.
* Minor edits have been made by the Esquiremag.ph editors.
"I'm a 28-year-old virgin."
A Chinese vessel rammed into a Filipino fishing boat, and then abandoned its 22 fishermen in their sinking boat at sea.
The track-inspired collecton drops June 27.
Is the new look all that it's cracked up to be?
Your favorite wrestling superstars will beat each other up in the Philippines in September.
The personalized and superior construction of custom-made shoes equal better wear and very happy feet.
In 1992 the Pearl Jam frontman connected with a woman after his concert. Last week he found her again.
From thick to thin, New York to Neapolitan, stuffed crust to Hawaiian, the options for the best pizza in Manila are aplenty.
Facts about our National Hero that may have been overlooked in the teaching of history in classrooms.
This idea has upset Piers Morgan for some reason.
The Shazam! star made a splash in some great looks for his biggest-ever night as master of ceremonies.
Google celebrates the 158th birth anniversary of Philippine National Hero Jose Rizal with a Doodle.