What Exactly Happens During a COVID-19 Test?
Here's a step-by-step guide.
ILLUSTRATOR WARREN ESPEJO
As positive COVID-19 cases continue to increase in the Philippines ever since the COVID-19 pandemic arrived on our shores (AKA the arrival of an infected Chinese national in the Metro in January), there was public clamor for mass testing. It is believed that by identifying the severity of the virus in local communities, we can contain the spread of the highly contagious disease.
On March 13, the Department of Health announced that mass testing was still unnecessary. That was a couple of months after patient zero was identified, and the numbers then were at 64 confirmed cases and five mortalities. "Sa ngayon po, hindi pa naman nakikitang kailangan nating gawin itong mass testing na ito pero nasa talaan, nasa mapa, nasa radar, na kung sakaling dumating 'yong panahon, and if we have enough resources and the government can do it, and it is already imperative for the government to do it, gagawin po natin 'yan kung saka-sakali," health undersecretary Dr. Maria Rosario Vergeire said in a statement on March 20.
On April 14—after more than 5,000 confirmed cases and over 300 deaths—the Philippine government rolled out "progressive" mass testing, in which high-risk patients are given priority. This includes people with severe flu-like symptoms; elderly and pregnant women with mild symptoms; and healthcare workers with respiratory symptoms. The next wave will include healthcare workers who are not showing symptoms, but are constantly exposed to COVID-19 patients. Fifteen subnational laboratories, plus the Research Institute for Tropical Medicine, are now approved to carry out the tests.
Local government units are also coming up with their own efforts to have more people tested. Valenzuela City on April 15 confirmed five more positive cases, which are all asymptomatic and had already finished their 14-day quarantine. They were persons under monitoring, who—under the new Department of Health (DOH) protocols—should not have been tested and remained "silent carriers." So, what exactly does a COVID-19 test entail? Here's a step-by-step guide.
ADVERTISEMENT - CONTINUE READING BELOW
What is a polymerase chain reaction-based test kit?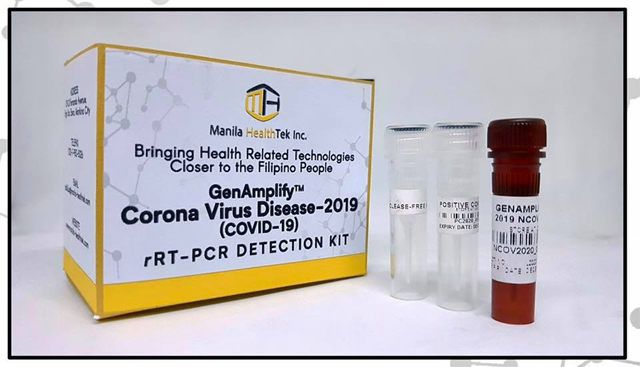 As of April 13, the Food and Drug Administration has approved 27 COVID-19 test kits using the reverse transcription-polymerase chain reaction (RT-PCR). This includes the GenAmplify detection kit developed by the University of the Philippines - National Institutes of Health and manufactured by The Manila HealthTek Inc. The locally-made kit contains three vials: one amber-colored vial, which has fluorescent-labeled primers; a vial for the master mix, which targets a specific gene region for identifying if the sample contains SARS-CoV-2 genes; and the third vial for PCR water, which serves as negative control.
Protocols per kit may vary, but all of them follow the major steps from sample collection to laboratory testing.
Step 1: The Dreaded Nose Swab
Since evidence shows that shedding of the COVID-19 virus is highest in the nose and throat, nasopharyngeal swab and an oropharyngeal swab are done to get a mucus sample for testing. But it's not as easy as poking a piece of cotton bud in your nose or mouth yourself.
The nasopharyngeal swab or nose swab requires inserting a dry swab horizontally into one nostril and all the way to the posterior wall of the nasopharynx—that's about two inches inside your nose (or the size of a pinky finger). People on Twitter have described it as "having a brain biopsy." It also feels like having pollen inserted directly into your brain, according to one Twitter user that will cause your eyes to water and your nose to bleed. The process takes about 30 seconds—and while you would probably want to immediately remove the swab from your nose or have a big sneeze as a knee-jerk reaction—you can't.
ADVERTISEMENT - CONTINUE READING BELOW
The oral swab is comparatively more forgiving. A collecting stick with a sponge or pad on one end is used to swab the inside of the cheek. Both samples, as per DOH guidelines, are placed in one viral transport medium (a properly labeled, screw-capped tube). Serum and a lower respiratory tract specimen are also collected if possible.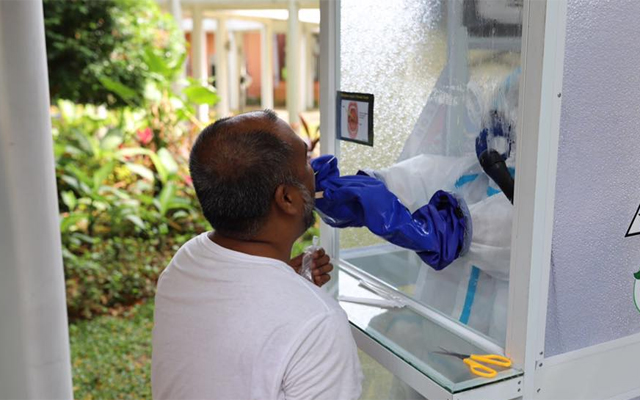 Local government units have taken extra precautions to ensure the safe collection of samples. Quezon City deployed swabbing booths, which are patterned after the ones used in South Korea. Each unit is covered with transparent walls and equipped with bio-chemical gloves where a healthcare worker can put his/her hand and take a nose and throat swab from a person standing outside the booth. Valenzuela City, on the other hand, conducts house-to-house testing among its residents.
In a Wall Street Journal interview with Dr. Sidney Yee of the Diagnostics Development Hub in Singapore, she said that this stage of the process is already prone to errors. A swab may test negative just because there aren't enough samples detected in the latter part of the testing. So yes, that dreadful swab may actually be done all over again.
Step 2: To the Lab!
The sample is brought to a DOH-accredited laboratory, which will be conducting a real-time RT-PCR. In a DOH video, molecular biologist Hannah Leah Morito of the Research Institute of Tropical Medicine (RITM) emphasized the importance of transporting the specimen as carefully as possible. It is, after all, a biohazard.
ADVERTISEMENT - CONTINUE READING BELOW
"Hindi po ito isang testing kit na pwedeng gamitin ng kahit sino o kahit saan. Isa po siyang proseso na nangangailangan din ng pasilidad at trained na tao at meron siyang kaakibat na quality control para ma-ensure na merong integridad at kredibilidad 'yong mga nakalabas na resulta," Morito added.
As of writing, the Philippines has a total of 17 certified laboratories for COVID-19 testing. This includes:
Research Institute of Tropical Medicine in Muntinlupa City
San Lazaro Hospital in Manila City
University of the Philippines - National Institutes of Health in Manila City
Chinese General Hospital in Manila City
Lung Center of the Philippines in Quezon City
St. Luke's Medical Center - Quezon City
St. Luke's Medical Center - Bonifacio Global City
The Medical City - Ortigas in Pasig City
Victoriano Luna Hospital in Quezon City
Makati Medical Center in Makati City
Detoxicare Molecular Diagnostics Laboratory in Mandaluyong City
Philippine Red Cross in Mandaluyong City
Baguio General Hospital in Baguio City
Vicente Sotto Memorial Medical Center in Cebu City
Western Visayas Medical Center in Iloilo City
Bicol Regional Diagnostic and Reference Laboratory in Legazpi City, Albay
Southern Philippines Medical Center in Davao City
Prior to the accreditation of the other facilities, it was only RITM doing all the processing of samples when COVID-19 hit the Philippines.
Step 3: Killing the Virus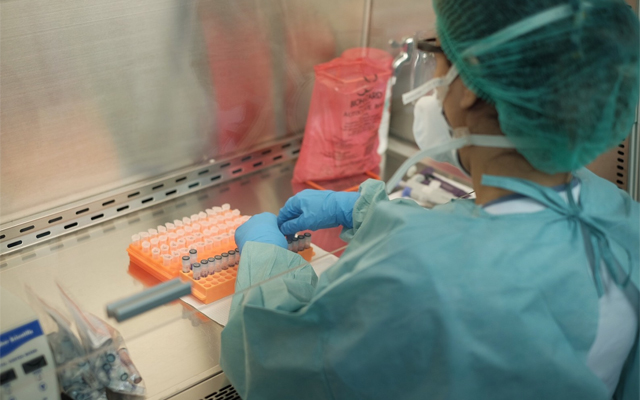 As soon as the sample arrives in the laboratory, it is placed in a biosafety cabinet where trained personnel kill the virus—but not with their bare hands, nor a gun or a knife. Technically called viral inactivation, this process makes the virus unable to infect by altering its lipid or protein coats. Imagine a pineapple fruit: as soon as you remove the outer layer with spikes, it can't hurt you anymore and you can enjoy eating what's inside. Weird analogy, but you get what we mean.
ADVERTISEMENT - CONTINUE READING BELOW
Step 4: Isolating the Virus
This is where the testing kits come in. The mucus sample is mixed with various reagents to separate the virus' ribonucleic acid from the rest of the specimen. Quick science review: Both the deoxyribonucleic acid and ribonucleic acid (RNA) contain the genetic information of humans and organisms; but RNA can also be found in a virus—which is sort of their ID card.
Step 5: Reverse Transcription Polymerase Chain Reaction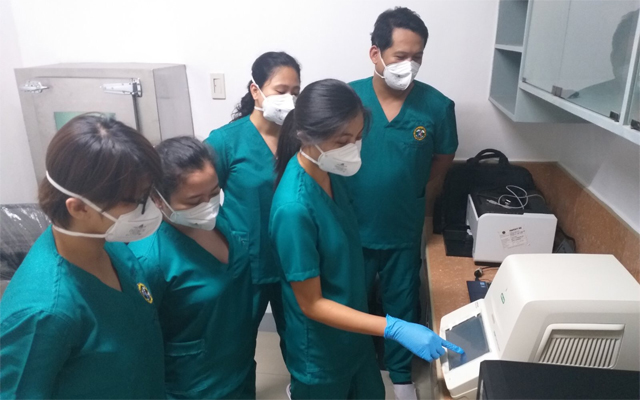 This laboratory technique is used to identify specific pathogens in a sample: whether to detect the nucleic acid of a human immunodeficiency virus or, in this case, that of SARS-CoV-2. But to do so, you need a huge load of the RNA that you're testing. This is almost invisible to the naked eye, and you want more of this so that the computer can easily detect that ID card. Now, it seems counterintuitive to multiply this virus that we all just wish to get rid of once and for all; but doing so—as carefully as possible—is important for the sake of science.
Certified laboratories have their own PCR machines, but the process is usually done by batch. "So even if [one PCR test] finishes in an hour and a half, if you do batch testing, it will probably take you a day to get the results," Dr. Raul Destura, who is behind the testing kits developed by the University of the Philippines - National Institutes of Health, told CNN Philippines.
If you wish to geek out on the whole process of RT-PCR, here's an informative video by University College London:
What is a rapid antibody test kit?
The rapid antibody test kit is, well, rapid. It only requires blood samples (no more dreadful nose swabs!), which can be acquired by pricking your finger. Laboratories don't have to prepare the sample, isolate and replicate the RNA, and put it in a PCR machine.
If you already have the virus inside your body, then you must already have antibodies trying to fight the pathogen. This is the antibody that can be detected by rapid antibody testing. The downside is that if you're still in the early stages of the infection, you may not have enough antibodies yet to be recognized. This is also why the DOH warned against using this kind of test kits for self-testing. Vergeire emphasized in a press briefing on April 14 that the PCR-based test remains the "gold standard" in testing for COVID-19.
ADVERTISEMENT - CONTINUE READING BELOW
Still, the Palace is requiring that all visitors take the antibody test kit before meeting with the president, according to presidential spokesperson Harry Roque. Department of Foreign Affairs Secretary Teddy Boy Locsin Jr. took the test before entering Malacañang.
The Food and Drug Administration has approved a total of 16 registered rapid antibody test kits as of April 16.
What happens now?
Well, no one knows for sure. The enhanced community quarantine in Luzon, as well as other provinces, was extended until April 30, with the national government hoping that keeping people indoors can stop the virus from infecting more. On March 18, Vergeire said that local and international health experts estimated that the disease may infect as much as 75,000 people in the Philippines in the next three months—which is until June. Almost a month later, the health undersecretary said that the worst-case scenario is that this pandemic can last all the way until January 2021 if no intervention is done.
As of writing, the Philippines has one of the highest numbers of COVID-19 cases in Southeast Asia with 6,259 total number of positive cases, 572 recoveries, and 409 deaths.
This story originally appeared on Spot.ph. Minor edits have been made by the Esquiremag.ph editors.
More Videos You Can Watch