Sex & Relationships
This Study Into Women's Porn Watching Habits May Surprise You
It's a daily fixture for 18% of women
IMAGE Esquire UK
Despite the rise of pornography that caters to female audiences and recent studies finding women out-watch men when it comes to porn on mobile devices, many still hold the outdated view that pornography is a male-only domain.
The jury might still be out on the exact long-term effects of pornography consumption, but that doesn't mean men and women aren't still watching a lot of it. A survey conducted by adult website YouPorn has looked into data around their female audience, which interestingly is roughly a quarter of their audience.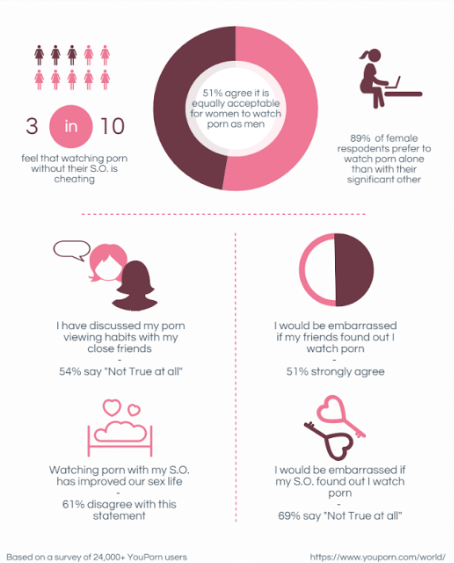 The study took data from 24,000 women and here's what they found:
The audience:
Millennials make up 76% of their audience
While 57% of their viewers label themselves as heterosexual
32% meanwhile identify as bisexual
Half of female YouPorn viewers are single, 27% are dating and 20% are married
How and how often they watch porn:
Porn is a daily fixture for 18% of women
And more than once a day for 9% of women
While 63% watch it weekly
An impressive 28% get fully naked before watching porn
Nine out of ten women would prefer to watch porn alone than with their partner
What they're watching:
ADVERTISEMENT - CONTINUE READING BELOW
Women are most likely to look at the categories "lesbian," "romantic" and "threesome"
They're more likely to watch lesbian porn than men are
Just over half of women have imagined themselves starring in a porn video
So now you know.
This story originally appeared on Esquire.com.
* Minor edits have been made by the Esquiremag.ph editors.
CONTINUE READING BELOW
Recommended Videos
More Videos You Can Watch