Life
Take a Virtual Tour of Forbes Estates Lipa, Robinsons Land's First Luxury Subdivision
This Southern sanctuary seamlessly brings together privacy, greenery, and space.
CREATED WITH FORBES ESTATES LIPA
Robinsons Land's has just launched a real estate gem. The developer of The Residences at the Westin Manila Sonata Place, the Aurelia Residences in Bonifacio Global City, and the Velaris Residences in Bridgetowne Destination Estate has started venturing into developing horizontal luxury properties, starting with Forbes Estates Lipa.
Knowing that most properties in prime locations have become crowded, Robinsons Land's designed a private and world-class enclave that seamlessly combines the sophistication of the city and the delights of provincial living.

Have the luxury of privacy, greenery, and space.

Garden Lane

Pine trees line the entrance that leads into a sprawling 21-hectare private sanctuary. Vast open spaces allow residents to freely jog, bike, muse around garden paths, picnic with friends, or even eat fruits plucked from trees at the Orchard. Thoughtful designs ensure that residents can enjoy unobstructed views of the southern skies. To ensure seclusion and privacy for residents, only 10 parcels of land are allocated per hectare.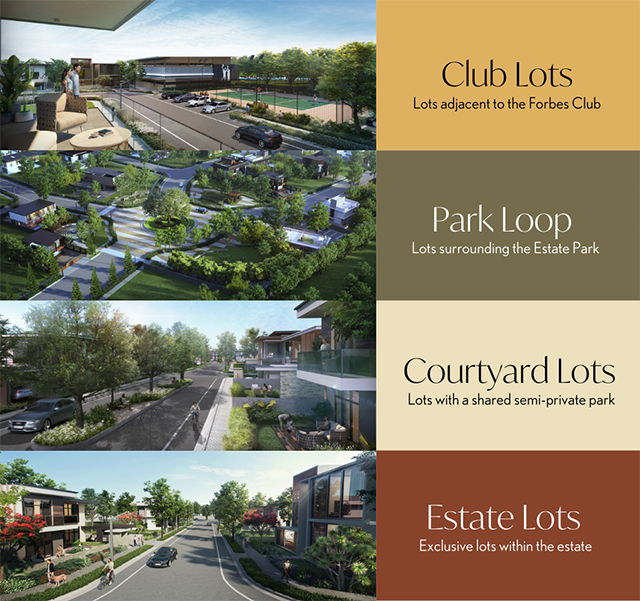 Forbes Estates Lipa Residential Offerings

There are also different lots to choose from that allow you to be closer to amenities of your choice. If you enjoy the luxury and beauty of open space, you can opt to live in the Park Loop that surrounds and has a great view of the beautiful Estate Park. For more private strolls you can choose to live at the Courtyards with the semi-private park. There are also exclusive lots within the estate.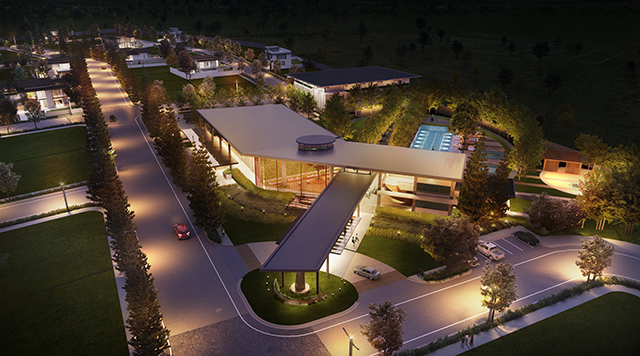 Forbes Club

You can also choose to live in one of the Club Lots, which are adjacent to the activity-filled Forbes Club. The Forbes Club hosts a diverse set of sports and fitness activities that help residents focus on their health and wellness through their premier sporting facilities such as swimming at the Pool Deck, practicing your swing at the Tennis Court, and playing casual games with friends at the Multi-Sport Covered Court. Kids can also enjoy playtime in the Children's Play Park.

But the Forbes Club doesn't only cater to sport enthusiasts; there are numerous places that you can relax and socialize with other members of the community in such as the Garden Lounge and Grand Ballroom.
Rejuvenate through amenities that promote a lifestyle of wellness.
Picnic Grove

The private community considers well-being as the ultimate wealth, and this reflects in its amenities. Those who delight in nature will appreciate the expansive Estate Park and its themed open spaces, such as the Tranquility Garden, Picnic Grove, Pet Park, and Wellness Park.
Live a peaceful life in the countryside.

Pool deck

Located in rural Lipa, the luxury estates' residents can bask in cool climes while enjoying the relaxing views of Mt. Makulot and Mt. Malarayat that surrounds the neighborhood. In this peaceful sanctuary, residents are free to savor provincial life.
Live holistically by visiting nearby craft, culture, commerce, and culinary establishments.

Garden Lounge at the Forbes Club

Minutes away are an array of world-class destinations. Taste, for instance, the gastronomic delights of Casa Marikit, a romantically-lit Italian restaurant just minutes away. For those who delight in a community ambiance, the outdoor market and food stalls of Mercado De Lipa are a welcome respite. On the weekends, rejuvenate at The Farm at San Benito or learn a new skill like horseback riding at Leviste Equestrian Park.
Have direct access to major thoroughfares and highways leading to Manila and South Luzon.

Estate Circle

For convenience, the estate's entrance is positioned along the national highway with several access points. Traveling to Manila or the greater expanse of South Luzon is also easy. Accessible to the estate are NLEX via Skyway, SLEX, CALAX, and CAVITEX. Accessible, too, is the NAIA airport.

With all these offerings, Robinsons Land's Forbes Estates Lipa aims to bring to you the luxury of space, time, and more importantly, a life well-lived.

If you want a more immersive experience, Forbes Estates Lipa has provided a full-360 virtual tour of the premises that was showcased during the launch of the property. Not only will you be able to view the estate from different perspectives in order to take in the luxurious sights, you may also take your time to learn about each facility and the amenities they hold thanks to the virtual voiceover guide that accompanies you during your tour. You may also watch a recording of the event which was hosted by Pinky Webb, news anchor, on YouTube.
To learn more about the property, you may also visit their website and follow them on Facebook and Instagram. You may also access the e-brochure here.
This article was created by Summit StoryLabs in partnership with FORBES ESTATES LIPA.