10 Countries with the Best Economies (In Case You Want to Work Abroad)
Headlines, hot news, and conversation starters on October 2, 2017!
IMAGE Wiki Commons
Planning to head out of the Philippines to look for greener pastures? If a major career and location shift is what you're looking for, then it's a must for you to consider whether or not the country you're planning to move to can support your goals. Aside from looking at your possible income and cost of living, you should check how stable its economy is—it's from there that you'll know if you can still thrive years down the road.
The World Economic Forum Global Competitiveness Index for 2017 has released ten countries that are said to have the best and most competitive economies to date.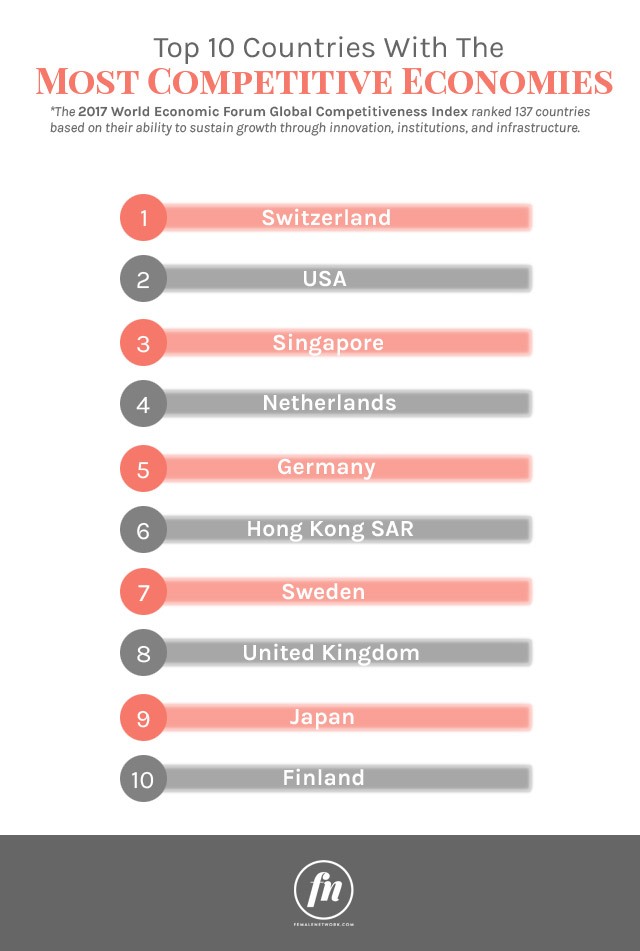 Topping the list is Switzerland, which has a stable and resilient economy and a highly-educated workforce that seamlessly integrates the best industry practices with technological innovations.
The U.S.A. comes in second despite its ongoing social and political turmoil. It scores high on innovation and efficiency but needs work on education and healthcare.
ADVERTISEMENT - CONTINUE READING BELOW
The third slot is taken by Singapore, which is known for economic efficiency due to its strong workforce and transport infrastructure. You may want to take note of the fact that it has a rising government debt, though.
The other countries included are the Netherlands, Germany, Hong Kong, Sweden, United Kingdom, Japan, and Finland.
Once you've confirmed which country best suits your needs and you've managed to find a job that fits you, then you'll need to prepare to make that huge leap. Here are tips on how to lessen the culture shock once you land on foreign soil:
Make sure to prep and bring all the necessary documents.
Everything should be signed, stamped, and secured. Whatever you need to confirm your identity and prove that you'll be legally staying in your country of choice should always be on hand in case questions arise.
Study the country you're flying to.
Brush up on the history of your destination, and make sure that you are well aware of traditions and laws. On a professional level, you'll need to understand not just your new company's rules, but also how locals deal with businesses and how businesses deal with the government. Which laws protect you as an expat? What are your perks as one? Knowing what you're getting into can possibly save you a great deal of stress and time.
Arrange your accommodations.
You may want to consider living in a shared dorm or getting a roommate during your first year of stay. Not only will this help defray your living costs, but having people around will also help stave away loneliness and homesickness.
ADVERTISEMENT - CONTINUE READING BELOW
Recommended Videos
Talk to your family.
You probably won't be going home anytime soon, so it's really important for you to manage your family's expectations. Questions about means of communication and timelines should be answered clearly so that both you and your loved ones are fully prepared for a long-term separation. Remember to give them important contact details and highlight the importance of what the Philippine Embassy can do for you in case of trouble.
Make sure that you have more than enough money to get you by.
Your bank account should contain enough cash to tide you over until your first paycheck. If you can set aside money in case something unforeseen happens, all the better.
Prepare your heart.
It may sound cheesy, but aside from having the right mindset, you also need to be emotionally ready for the highs and lows of working abroad. Make peace with the fact that you'll be leaving everything you're familiar with for quite some time, and view it as an adventure of a lifetime.
Source: World Economic Forum
This story originally appeared on Female Network.
* Minor edits have been made by the Esquiremag.ph editors.
More Videos You Can Watch