Travel
How Much It Costs to Stay at Sunlight Ecotourism Island Resort
SETIR has become the favorite vacation spot of celebrities, socialites, and more.
IMAGE COURTESY
While it may be nothing new to find Maldives-inspired resorts around the country, perhaps nothing comes close to the unparalleled luxury experience Sunlight Ecotourism Island Resort (SETIR) has to offer. SETIR has also become the favorite vacation spot of celebrities, socialites, and more. We mean, with their pristine water villas and picturesque sights, we can totally see why anyone would want to make this private resort their own personal holiday home.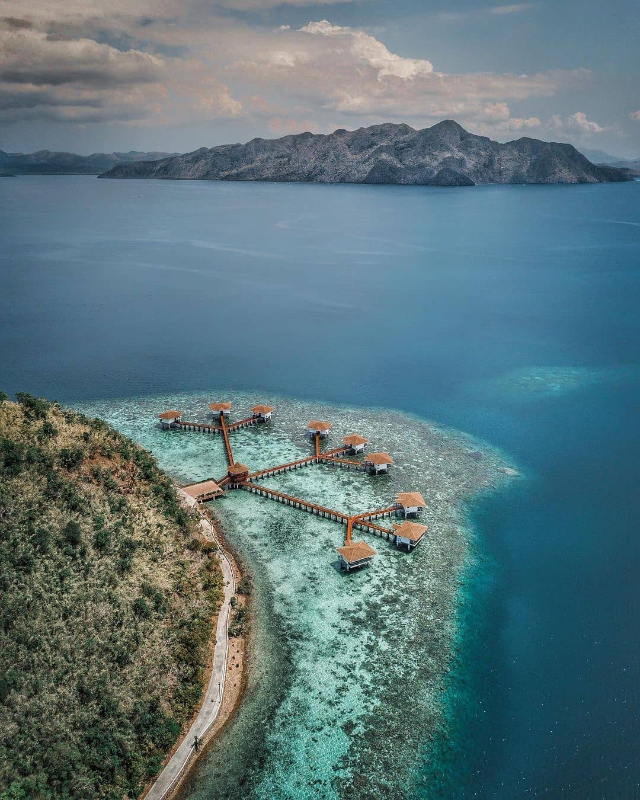 Where is Sunlight Ecotourism Island Resort located?
Nestled in Naglayan Island, SETIR's cluster of villas dot the waters of Culion, Palawan. The resort, which is 45 minutes away from the town of Coron, has vacation packages that include a roundtrip transfer, first by shuttle from the airport, and then by boat to the main property. According to their official website, "It is one of the biggest single privately-owned island resorts in the region with 18-hectares of lush hills, gently sloping contours of gardens and beaches, and an impressive array of services."
ADVERTISEMENT - CONTINUE READING BELOW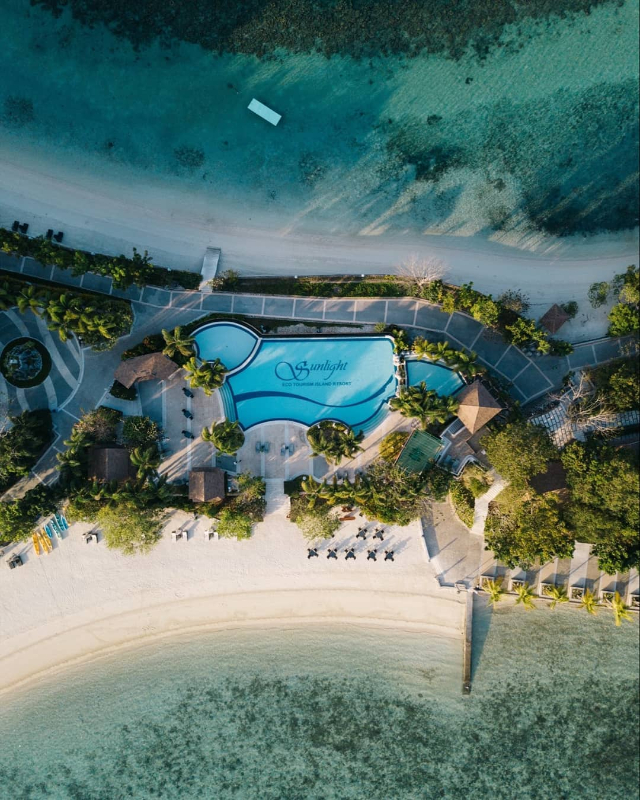 What are the services and amenities?
It's not a luxurious getaway without various unique amenities and facilities to leave you spoiled and pampered during your stay. Along with two accessible white sand beaches to the east and west sides of the island, fitness buffs watching their figure can also marvel at the scenic ocean views while working out at the gym, designed with floor-to-ceiling glass walls. SETIR also has a souvenir boutique, an infinity pool, a dive shop, a spa, and four KTV rooms if you want to sing the night away with your friends or family.
Lastly, we'd be remiss to forget the resort's most luxurious experience, the Luxury Sunset Cruise. Guests who book a ride can set sail on a 35m yacht as they hop around the islands of Palawan. To complete this special journey, those onboard will also be treated with welcome champagne, and a dinner event for six, with their own private butler, chef, and barista.
CONTINUE READING BELOW
Recommended Videos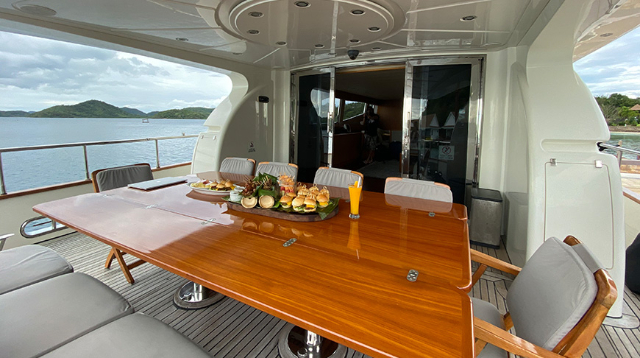 How much does it cost to stay?
SETIR boasts of 55 Maldivian villas each with their own irresistible charms. Your basic accommodation fee will vary depending on the villa of your choice, ranging from P15,000 to P35,000 a night. This, of course, is inclusive of your transfer to and from the airport, along with daily breakfasts. No matter what villa you choose, you won't have to worry about missing out because each vacation home is "architecturally designed to have the ocean view of either sunrise or sunset." Inside, guests can expect to bask in the beauty of furnished Filipino-themed interiors, wide windows, and balconies facing majestic waters teeming with marine life.
Here are the rooms at Sunlight Ecotourism Island Resort.
Sirakan Villa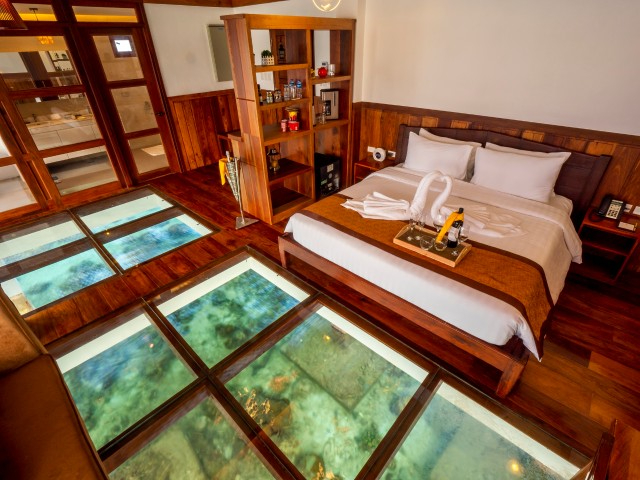 ADVERTISEMENT - CONTINUE READING BELOW
If you want to experience SETIR's Instagram-famous glass bottom floors, then the Sirakan Villa is the way to go. This 65sqm water villa also comes with a king-sized bed, your own indoor jacuzzi, and a sea-view balcony, all built for two to three people.
BOOK NOW Rates start at P35,000 per night
Two Bedroom Villa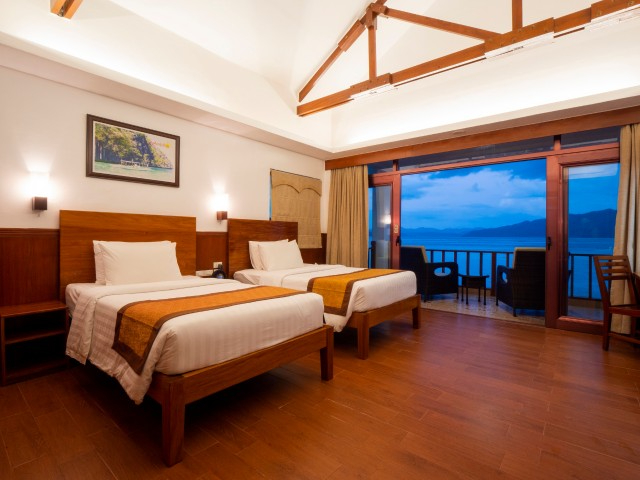 A larger homestay that can accommodate up to six guests, the Two Bedroom Villa houses one queen-sized bed, two single-sized beds, a lounge area, a kitchenette, and an ocean-view balcony.
BOOK NOW Rates start at P32,000 per night
Duplex Villa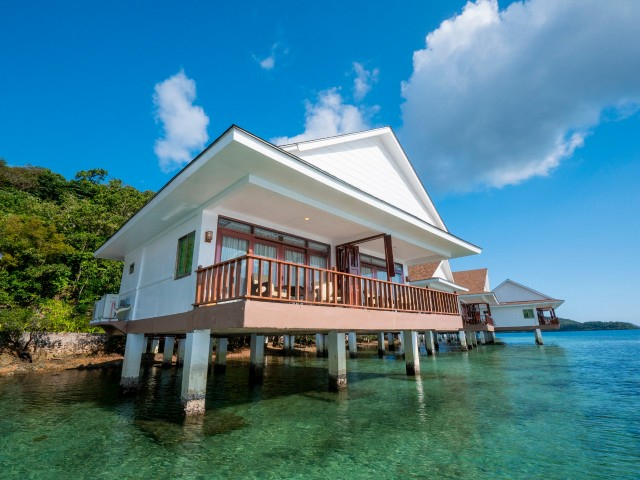 ADVERTISEMENT - CONTINUE READING BELOW
If you're a smaller group or family, the Duplex Villa can perfectly fit a maximum of four people. Equipped with parted rooms, it also hosts a queen-sized bed, and two single-sized beds.
BOOK NOW Rates start at P30,000 per night
Studio Single Villa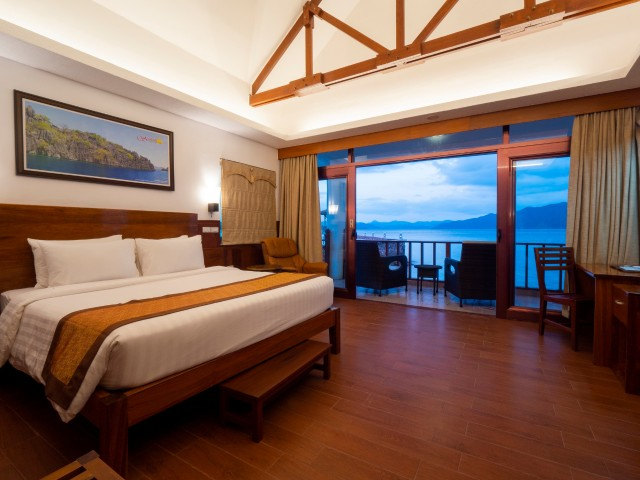 Built with one plush queen-sized bed, SETIR's Studio Single Villa is the desired choice for couples visiting the island for a romantic and intimate getaway.
BOOK NOW Rates start at P20,000 per night
Cluster Villa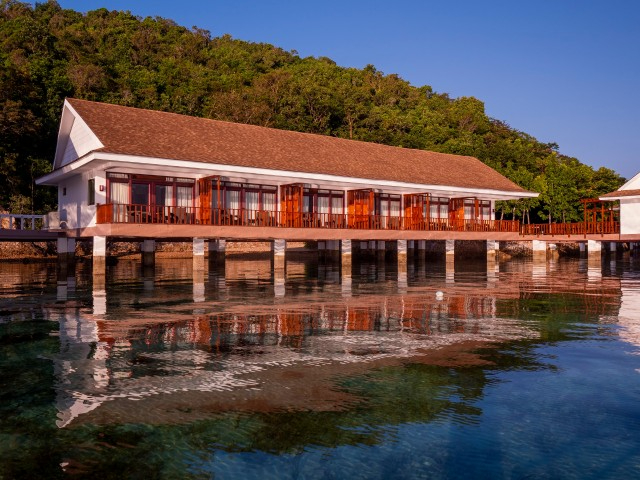 ADVERTISEMENT - CONTINUE READING BELOW
Meanwhile, around three to four guests can occupy the Cluster Villa. Spanning 88sqm, guests can opt for their room to have either a queen-sized bed or two single-sized beds. They can also expect a shared ocean-view balcony overlooking the picturesque Palawan Island.
BOOK NOW Rates start at P15,000 per night
From: Preview
Discover the best of culture, business, and style from Esquire Philippines. Visit Quento for more stories and subscribe to our YouTube channel for new videos.
More Videos You Can Watch