A quick search for things to do, places to go, and food to devour in South Korea will give you more than you can manage in a weeklong trip. Yes, you should visit Seoul Forest (and on the way there, do get some bread from the bakery Meal° - you'll recognize it by the queue blocking your way on the sidewalk), walk through the quaint alleys of Bukchon Hanok Village, squeeze yourself through a traditional market (Gwangjang is the oldest one), find and dine at a samgyeopsal place, and try all the street food you can see and wash it down with Cass, the best local beer this part of the world. But if you want a taste of how it is to actually live in Seoul, here is a glimpse from my family's ongoing six-month stay in this kid-loving, foreigner-friendly city. These are a few of the things that have made Seoul a home away from home.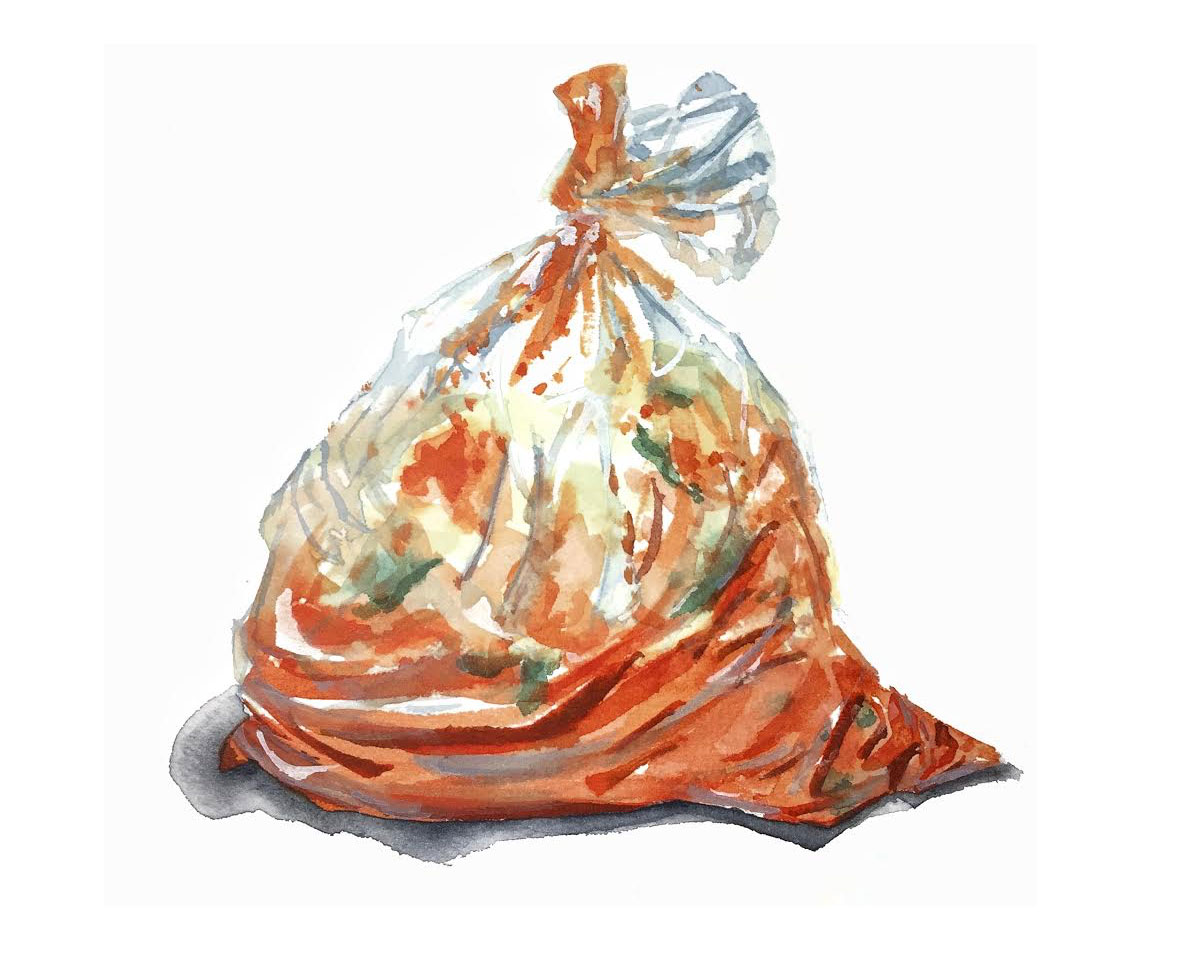 ADVERTISEMENT - CONTINUE READING BELOW
Industrial-grade Kimchi. The first week we settled in Seoul, we started eating kimchi almost every day. There is kimchi everywhere: it comes free with almost every dish we order, it has its own stall at the supermarket—with 30++ different kinds it seems—and you can get it in a box, packaged like this, sealed with a cable tie. "Industrial-grade kimchi" was what instantly came to mind as I unboxed our very first purchase. Kimchi every day, with everything. Sometimes, I even think about just having it with rice and nothing else—something I've never considered before coming here. How odd, but, being here in South Korea, how natural, too.
Relevant Details:
A box of 1.9kg of No Brand Mat Kimchi costs KRW8,480 or about Php400.
30+ Kinds of Kimchi at the Supermarket: Free (for tasting, if you figure out the time the nearest e-mart takes their samples out; in our experience, 3pm to 4 pm is a good time to go around and try stuff)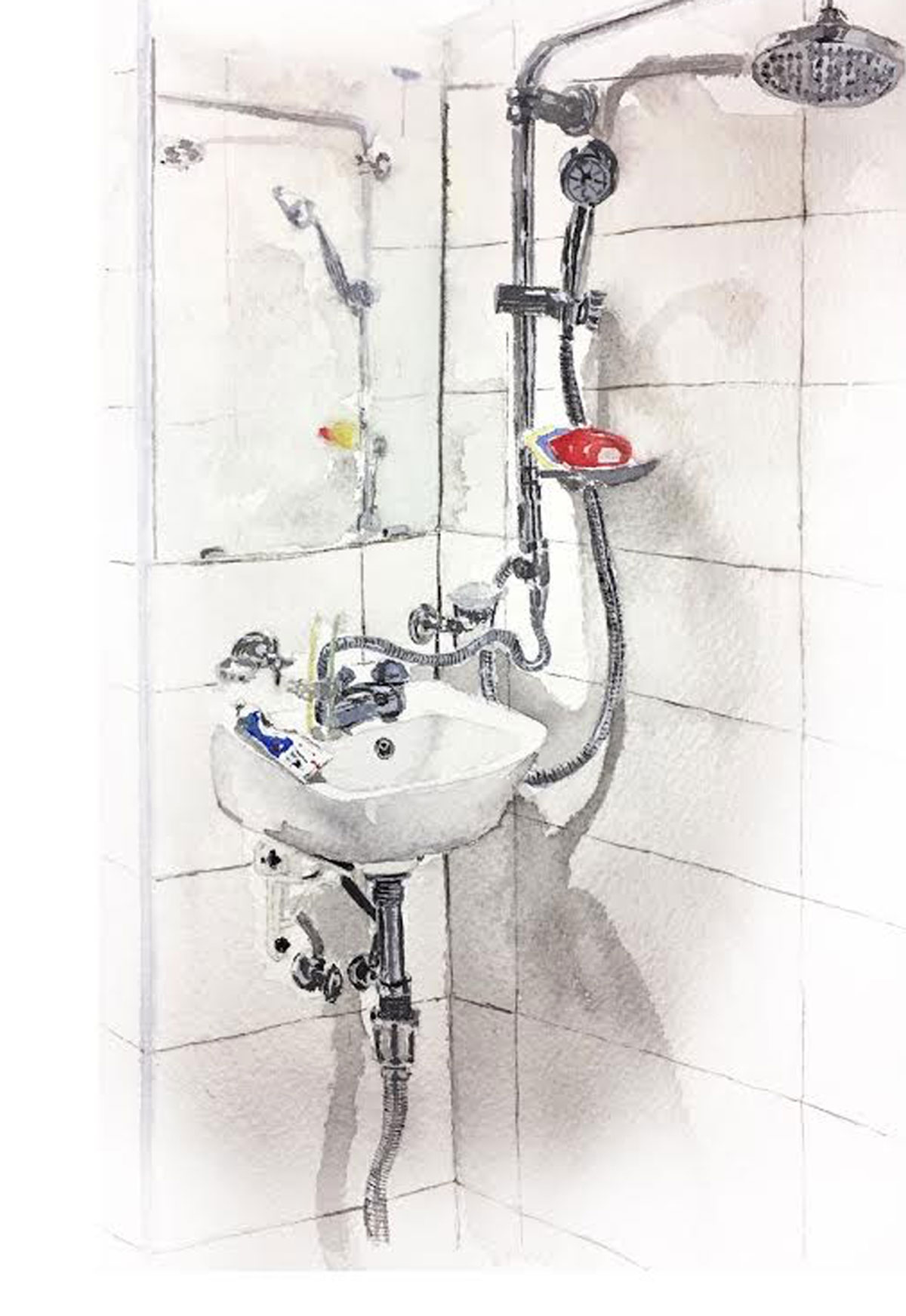 .
The Optimization of Space that is our Korean Bathroom. When I found our AirBnb in Seoul, I couldn't quite grasp the size of the bathroom. There was one review that mentioned how tiny it was, adding that it was the norm in Korea. So I was expecting a cramped space. But while the bathroom is indeed tiny, it doesn't actually feel tiny. It feels like there is just enough space for everything you need for a good shower. And then it makes you think about human needs and wants and the 4-foot vanity counter installed in between. Our Korean bathroom is the perfect example of the maximum utilization and optimization of space. I thought it would take some time to adjust to this, but I was pleasantly surprised at how we all quickly adapted to it. Perhaps it's just a matter of perspective—and my natural inclination to see the brighter side of things. And maybe that's what travel is all about: putting on different lenses to see beyond our own worlds, appreciating the unfamiliar, and learning from a different way of life.
Relevant Details:
A month's stay at an Airbnb: approx. KRW1,000,000 or Php50,000
(quite reasonable, given that it covers water, electricity, internet, and basic toiletries).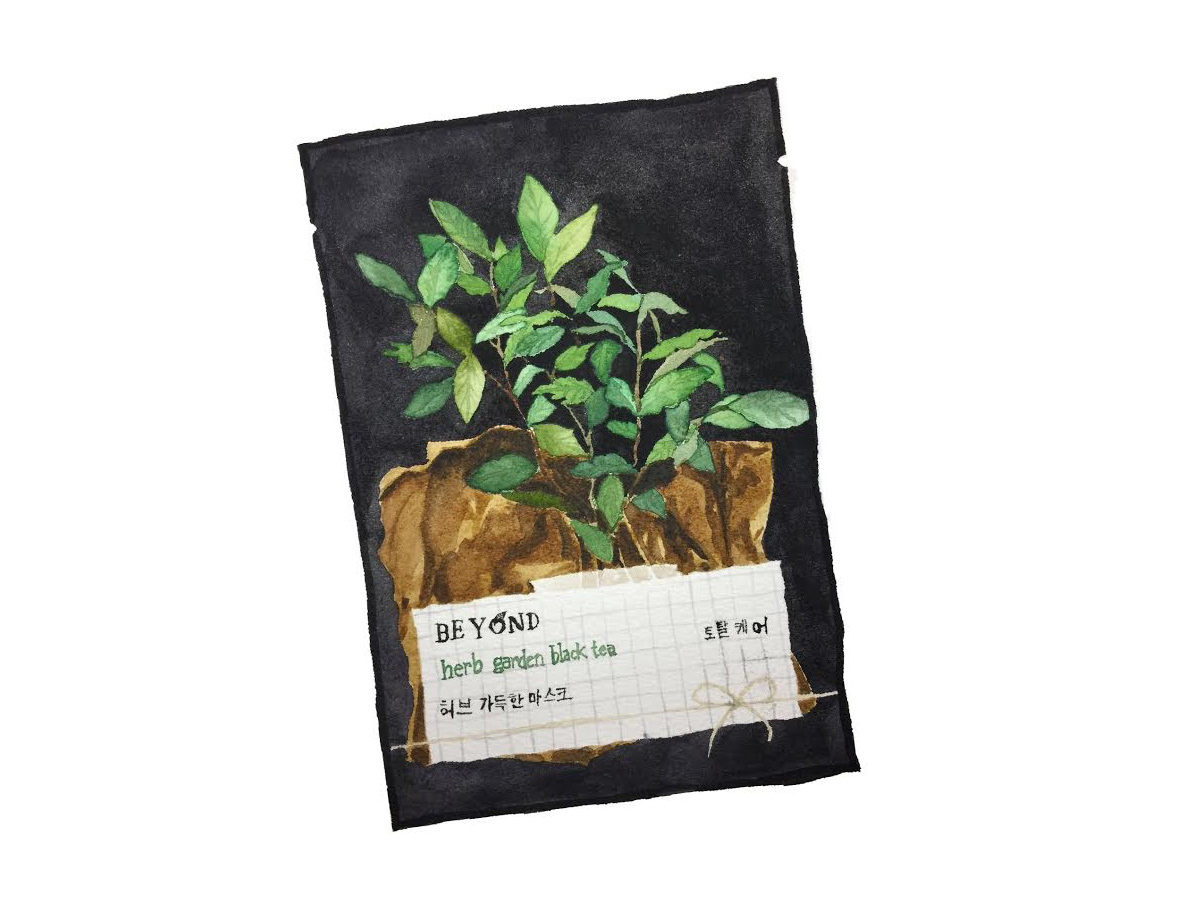 ADVERTISEMENT - CONTINUE READING BELOW
Not a Packet of Seeds. Of course I knew this when I bought this facial mask, my very first in South Korea. I do not have much patience for make-up (which is aplenty in this land), so I thought I'd survey facial masks instead. I picked this up at the local e-mart. My only criterion in choosing this one was how aesthetically pleasing the packaging was (and that there was no snail slime inside; I'm not quite ready for that yet). There are as many brands and 'flavors' of facial masks as there are kinds of kimchi.
Relevant Details:
These masks are cost-effective pasalubong for friends and family (male and female alike, because we all need to moisturize!). Look for 10+1 deals, 11 masks for KRW10,000 or roughly Php500.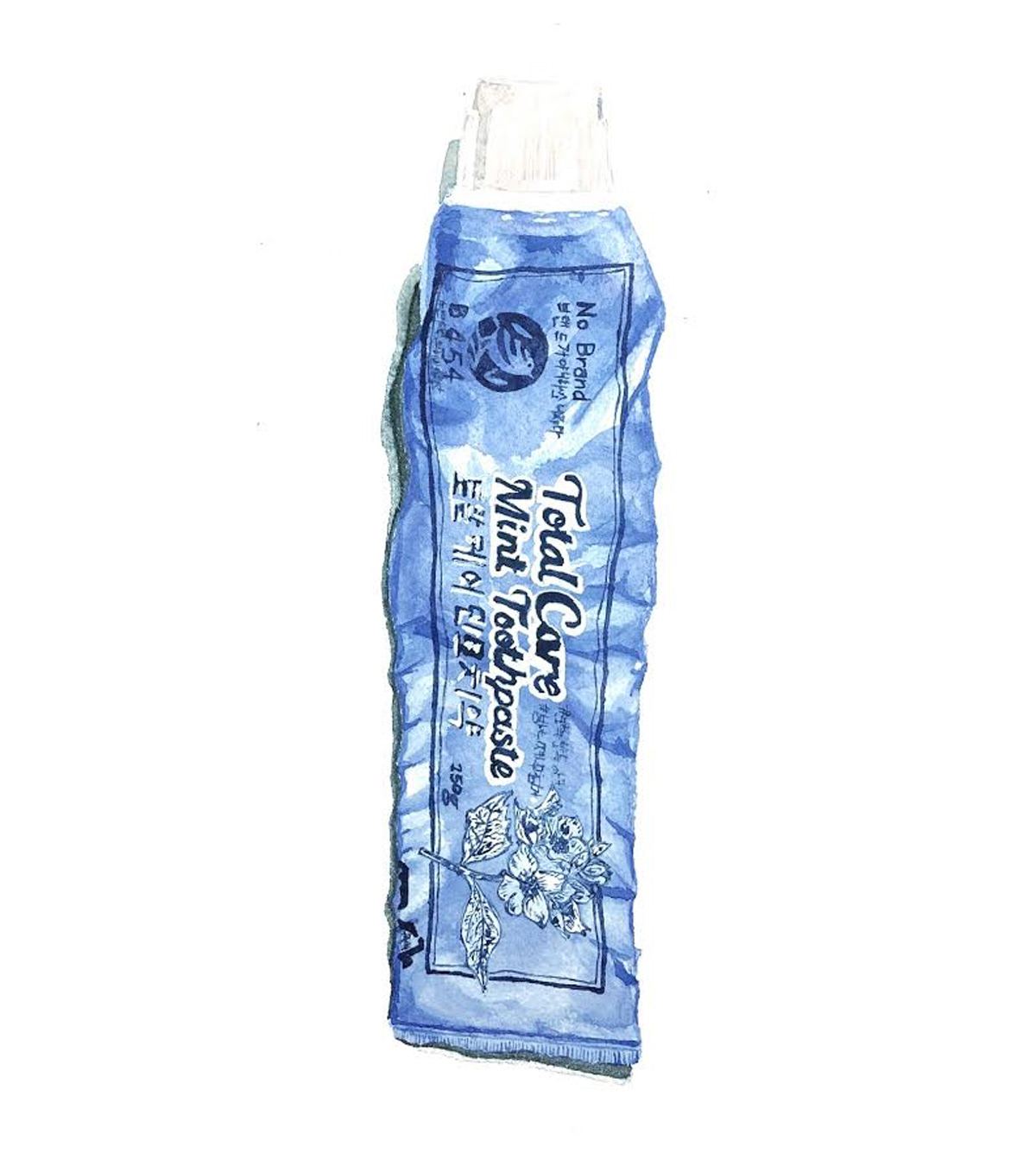 Sampaguita-flavored Mint Toothpaste. Living abroad where you don't speak the language naturally poses a few challenges, one of which is not knowing what exactly are in the things you buy at the supermarket. At the end of our first month here in Korea, we had to buy toothpaste. We had to choose between the familiar imported brands that were sold at exorbitant prices, or the more affordable local brands which were all in Korean. On a fixed budget, we decided to go for the latter. We were surprised with a strange floral taste foaming up inside our mouths while brushing our teeth. We then took a second look at the packaging and noticed the beautifully illustrated flowers in front. Aha. Well, we just finished the first tube of this toothpaste and I have to say that I've grown quite fond of it. I may just miss it when we have to revert back to a regular toothpaste back home. And that is part of the richness of experience that comes with travelling: exploring the unknown, taking risks, making discoveries, falling in love, and then when you've moved on to another place, yearning and remembering, and always looking back with fondness and gratitude for how life was, and how it led to what life has become.
Relevant Details:
You can get 3 tubes of this No Brand Total Care Mint Toothpaste for KRW3,580 or about PHP175.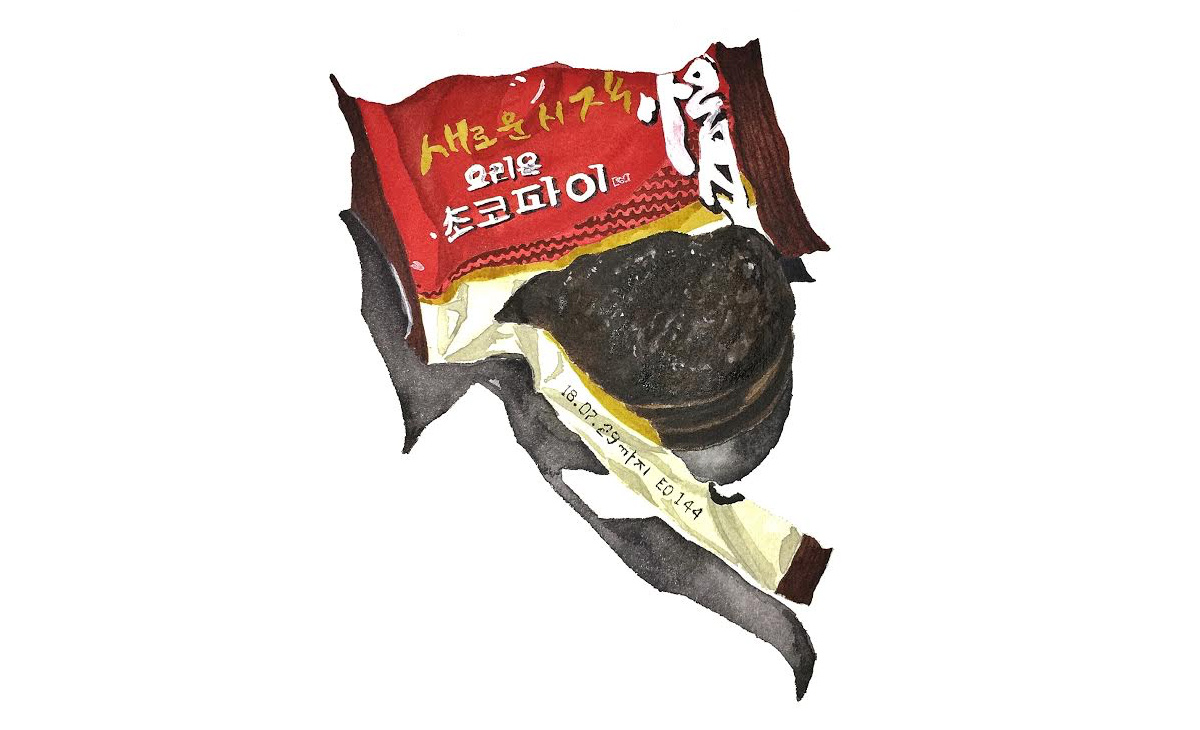 ADVERTISEMENT - CONTINUE READING BELOW
The Choco Pie. The news around this marshmallow-filled chocolate covered round pie preceded the snack itself, for me at least. There was the North Korean soldier who defected, and upon waking, the first thing he did was ask for a Choco Pie; and he then was promised a lifetime supply by one of the factories that make this snack. Then there's the report that one Choco Pie can sell up to KRW10,000 or Php500 in North Korea, where these pies are sold only in the black market. These accounts made me want to try this snack, so I did. And I can say that the Choco Pie is a comforting, chocolate-y treat at any time of the day; the kids love it. We buy ours in a box at e-mart, but you can get it at per piece at convenience stores everywhere in Seoul.
Relevant Details:
A box of 24 pieces (that usually comes with a free box of four pies) costs KRW7,680 or about Php350.
A Sense of Home. There is a street food vendor selling these delicious pancakes filled with red bean paste right before the last block on the way to our apartment. These soft, medallion-shaped goodies were the very first street food that we bought when we got here— we were on our way to catch the train, we hadn't had breakfast, and so we bought three pieces for one thousand won (roughly 50 Pesos). Only a month later and several more months to go in Seoul, I found myself telling my husband how I would miss these pancakes once we leave. And it's not just because of how they taste, but, so much more than that, it's what these treats have given us: a cozy welcome here in Korea, some warmth in the middle of the freezing winter, and, always at the sight of the stall, that feeling that we are almost home.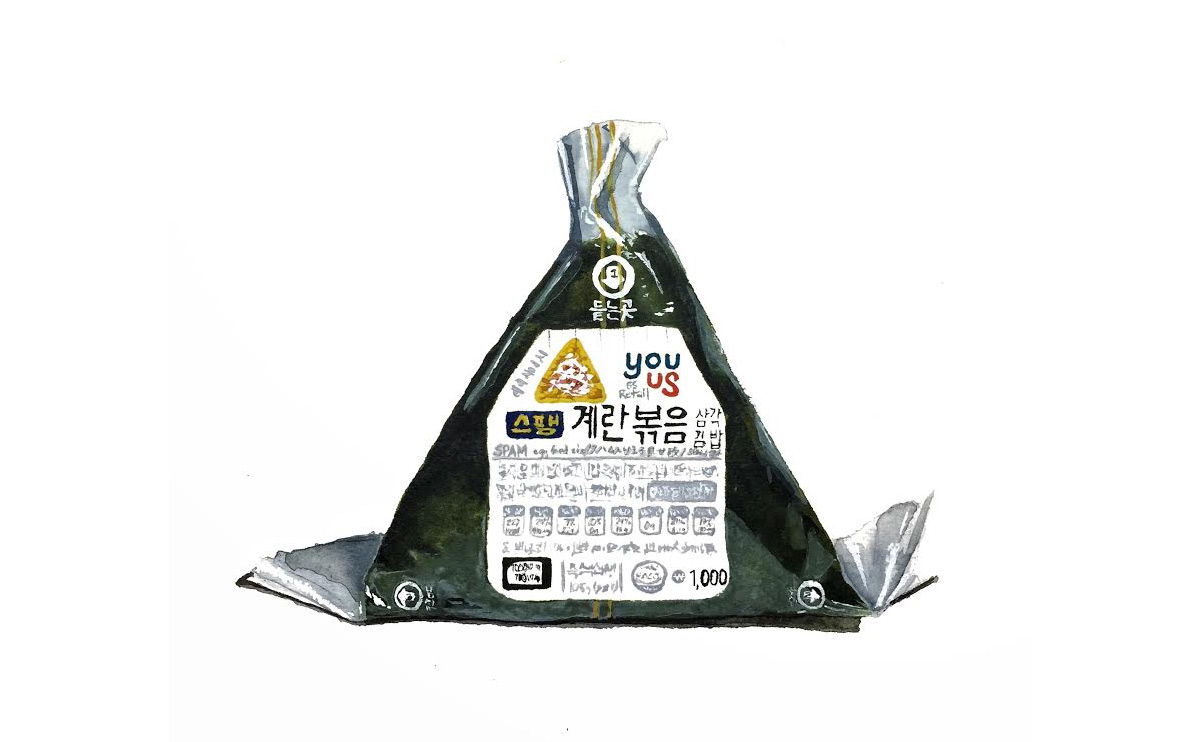 ADVERTISEMENT - CONTINUE READING BELOW
A 1,000 Korean Won/50 Peso snack. I've been calling this onigiri, but really, it's called samgak-gimbap: a seaweed-wrapped rice with filling creation (like sushi, but triangular). And I just described it as a snack, but really, it's a full meal. It works perfectly as a portable light lunch or dinner or even breakfast, and it's saved me from cooking almost every Saturday lunch. My two-year-old's favorite is this Spam egg fried rice, while my almost-seven-year-old prefers the Braised Pork Ribs filling. The tuna-and-bacon-mayo version is good, too. Go try them all! Plus it's quite fun to unwrap (although sadly, it uses a lot of plastic).
Relevant Details:
Our family usually gets these triangular gimbaps from GS25, but you can get these from other convenience stores and supermarkets everywhere (7-eleven, CU, e-mart, to name a few). These can really be a lifesaver when you're out and about and getting hangry.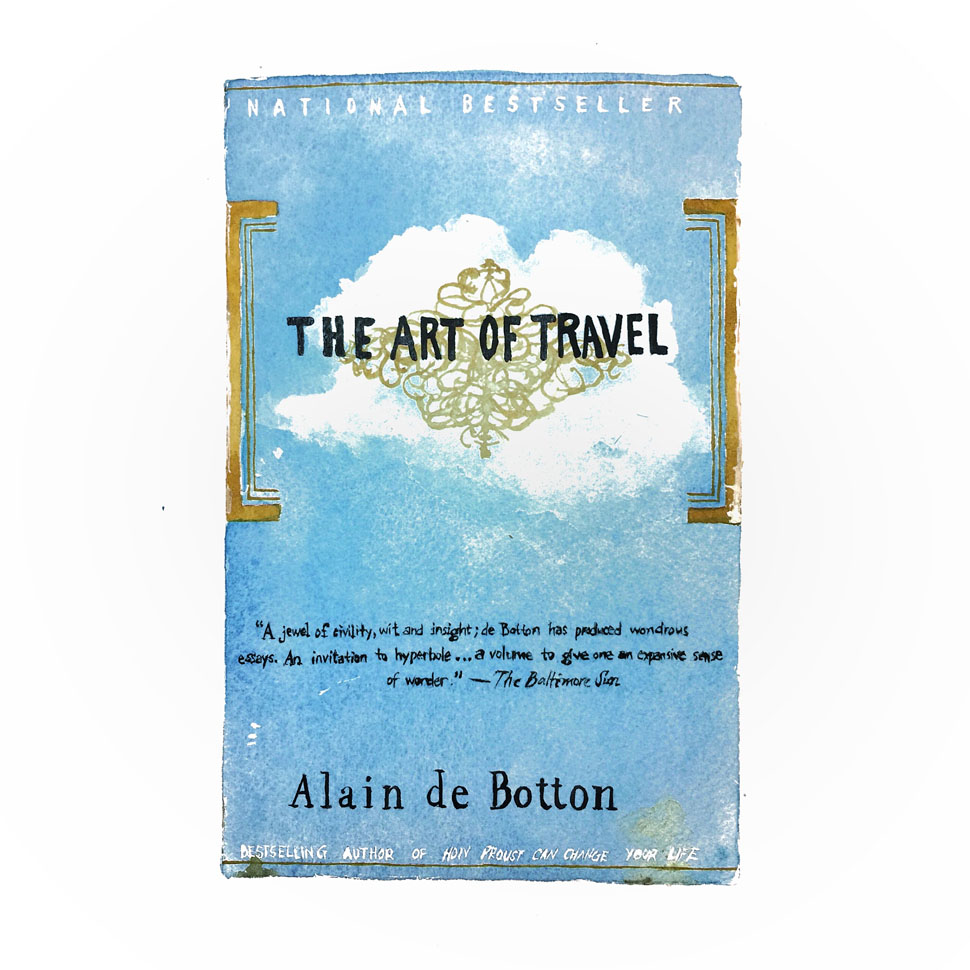 A used book from one of the coziest spaces in Seoul. There are several bookstores all around South Korea, but almost all of them only have books in Hangul, the Korean alphabet. Your kids can get by just looking at picture books in local bookstores, but for English books, I recommend that you go to Itaewon and visit What the Book. They have a thoughtfully curated collection of English picture books as well as fiction and non-fiction books for adults. New and used books are available.

I haven't finished reading this particular book, but here is a lovely passage from it:
"A travel book may tell us, for example, that the narrator journeyed through the afternoon to reach the hill town of X and after a night in its medieval monastery awoke to a misty dawn. But we never simply 'journey through an afternoon.' We sit in a train. Lunch digests awkwardly within us. The seat cloth is grey. ... A fly lands on the window. And still we may have reached the end only of the first minute of a comprehensive account of the events lurking within the deceptive sentence 'He journeyed through the afternoon.'"(page 14, The Art of Travel by Alain de Botton)
Relevant Details:
Get off at the Itaewon Station, turn onto the street where Dairy Queen is, walk down a lane of stores with beautiful displays of antiques, and right beside a motorcycle garage, you will find the building where What the Book is.
ADVERTISEMENT - CONTINUE READING BELOW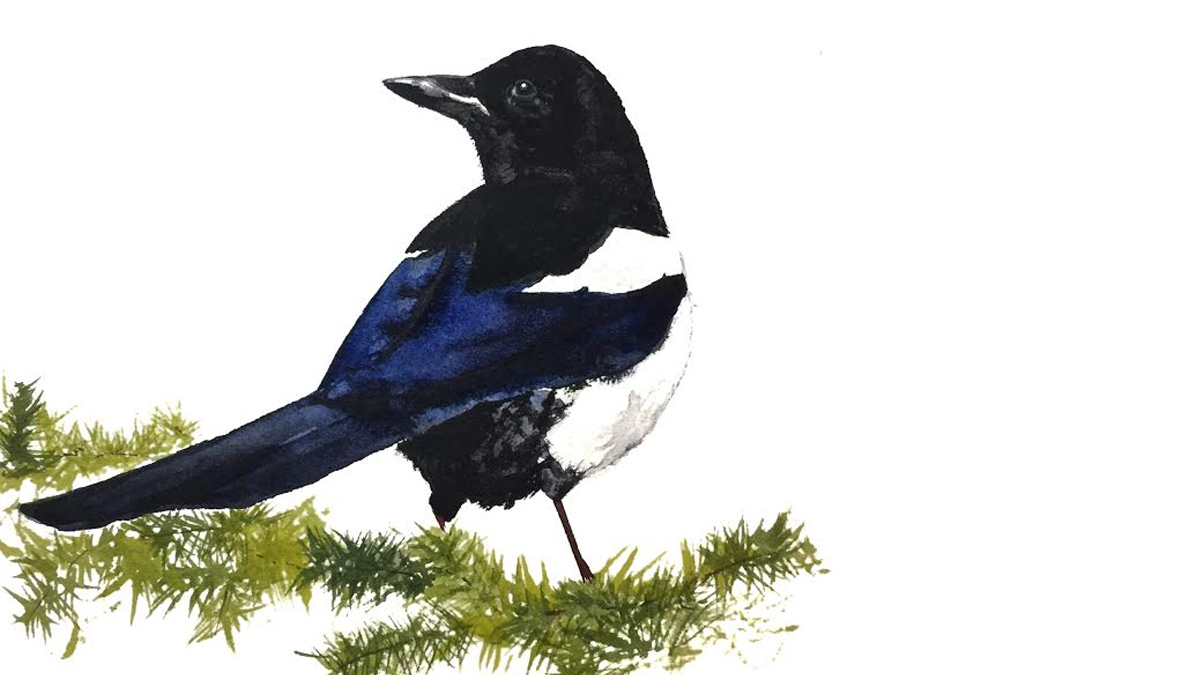 The Eurasian Magpie. Two things that welcomed us to South Korea last December were snow and the Eurasian magpie. More specifically, it was these magpies' huge nests that greeted and captivated us, prominently displayed in rows of dormant trees along the highway, from the airport to our apartment. My curiosity was further piqued after reading about their intelligence—their ability to recognize specific humans (especially ones that disturb or threaten their nest), as well as the claim that they are able to experience complex emotion such as grief, even holding "funerals" for a fallen fellow magpie. These birds are all over Seoul, and they are quite magnificent to behold, whether on land or perched on a branch or flying through the air. Their beautiful black-tipped white wings spread so gallantly, and their royal blue feathers opalesce in sunlight, adding to their charm.
Relevant Details:
If you go to Seoul Forest (Ttukseom Station, Line 2, Exit 8) or Children's
Grand Park (Children's Grand Park Station, Line 7, Exit 1), you can spot
other magnificent birds like herons and cranes. For magpies and their nests, just look up at trees and light posts whenever you are walking the streets of Seoul.
Whatever you decide to do or eat and wherever you decide to go in South Korea, I hope you remember to forget, once in a while, about all the travel tips and advice from people who've been or who live here. As with life, travelling is more interesting and infinitely more meaningful when you carve out your own path and make the journey truly yours. Get lost, be open to surprises, and slow down to fully embrace this place and make yourself feel a little bit at home.