10 Great Snorkeling Spots in the Philippines
The Philippines is located at the heart of the Coral Triangle, which is the geographical region recognized as the global center of marine biodiversity. You can find 76 percent of the world's coral species in the Coral Triangle, which is why it is also called the "Nursery of the Seas". Because of this, it doesn't come as a surprise the Philippines has a number of places that are perfect for exploring the reefs, whether you're into freediving, scuba diving, or snorkeling.
Twin Rocks (Anilao, Batangas)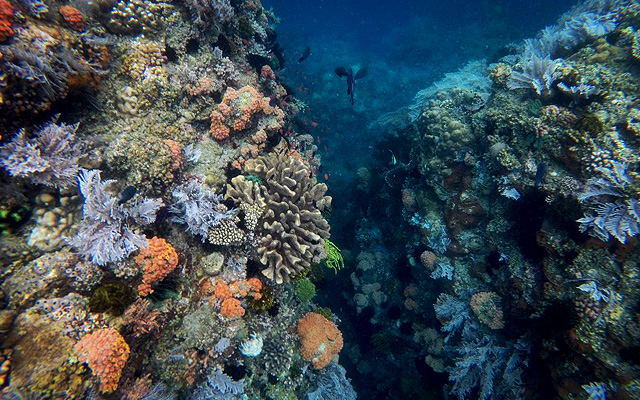 Twin Rocks is diver's favorite because of its shallow depth and clear visibility even when you're just snorkeling. You can see different colors of hard and soft corals on two massive rocks that are about a meter apart—hence the name Twin Rocks. Common sights at Twin Rocks are schools of clownfish (Nemo!), jacks, parrot fish, and numerous other species . If you're lucky, you might chance a glimpse at green sea turtles or pawikan passing by.
ADVERTISEMENT - CONTINUE READING BELOW
Panagsama Beach (Moalboal, Cebu)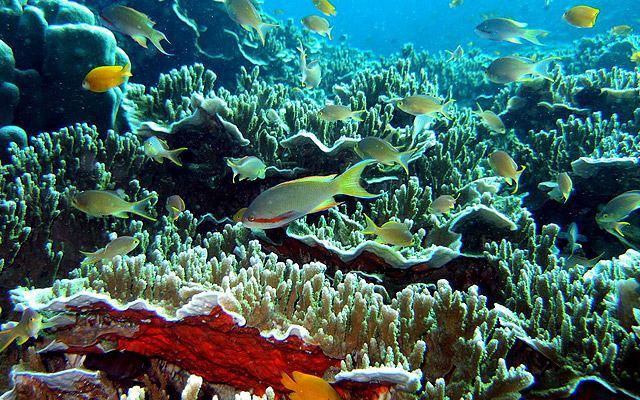 Panagsama Beach's house reef, being just a few meters from the shore, is highly recommended for travelers who want to do some snorkeling. You can see a variety of corals and different kinds of fish in the 10-kilometer steep wall within the peninsula. You also don't have to strap on a tank to witness Moalboal's famous sardine run—a breathtaking phenomenon in which millions of sardines swim and feed together, often for migration purposes.
Giant Clams Sanctuary (Guinsiliban, Camiguin)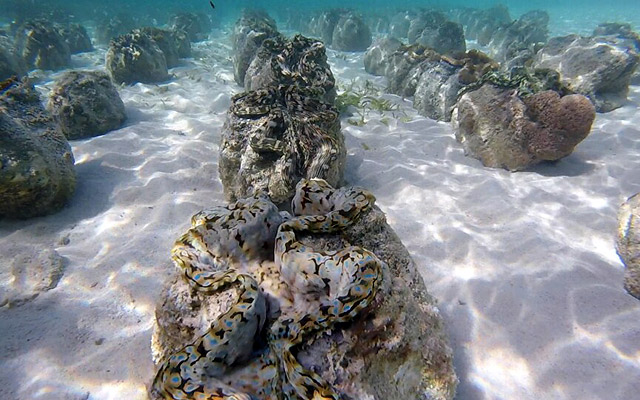 The Philippines is one of the leading countries that protects and promotes giant clam populations in various marine sanctuaries. Giant clams breed slowly, which is a factor in the dwindling number of giant clam populations. Kibila Giant Clam Sanctuary houses thousands of these bivalve mollusks, including the endangered Tridacna gigas that can grow up to four feet in length and weigh more than 400 pounds. The sanctuary conducts lectures on the significant role of their species in our ecosystem, while allowing travelers swim above meters above rows of giant clams for greater appreciation and environmental awareness.
Nalusuan Island (Cordova, Cebu)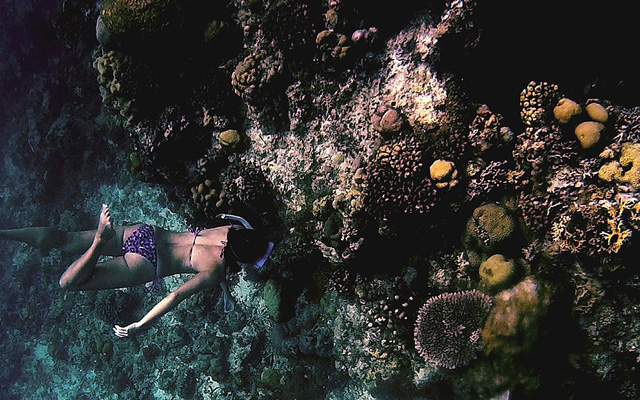 Another marine sanctuary, this island is situated in the picture-perfect Olonga Reef—which also houses the Gilutongan Marine Sanctuary. The best time to go snorkeling is at 10 a.m. when the tide is low and small fish abound near the surface of the water.
Coral Garden (Puerto Galera, Oriental Mindoro)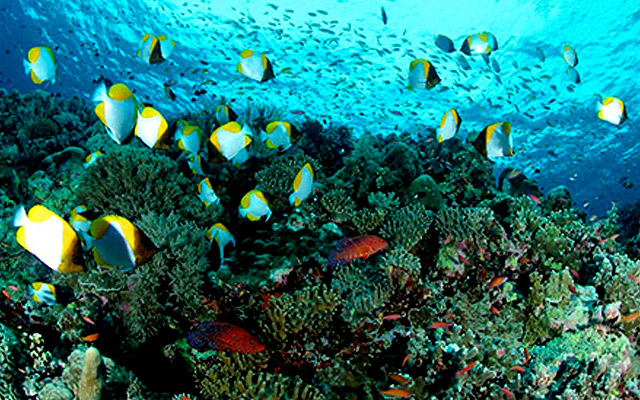 ADVERTISEMENT - CONTINUE READING BELOW
Puerto Galera, which was declared a biosphere reserve by the United Nations Educational, Scientific, and Cultural Organization or UNESCO in 1977, has one of the country's best coral reefs. Coral Garden, which is located between the islands of San Antonio and Boquete, is highly recommended for snorkeling because of its shallow depth—at only eight feet! Its proximity to Metro Manila makes it a convenient snoerkeling trip for people from the cities.
Siete Pecados (Coron, Palawan)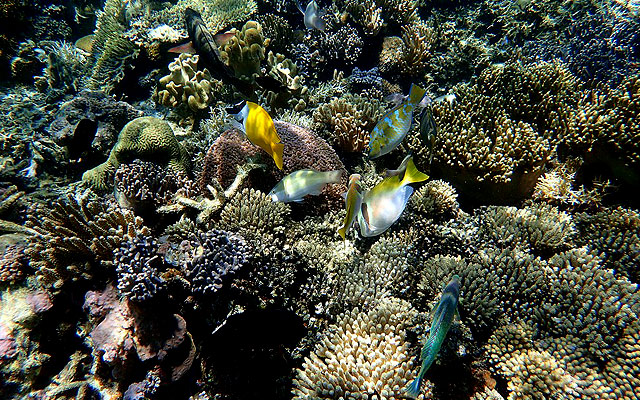 Coron is not only known for its limestone cliffs, turquoise-blue lagoons, and white-sand beaches. This group of islands and islets in Palawan is also popular for its snorkeling spots, including the waters of Siete Pecados Marine Park. Corals can be found less than 10 feet from the surface, so be careful not to step on them. Sea turtles are also often seen wandering around the expansive reef.
Miniloc Island (El Nido, Palawan)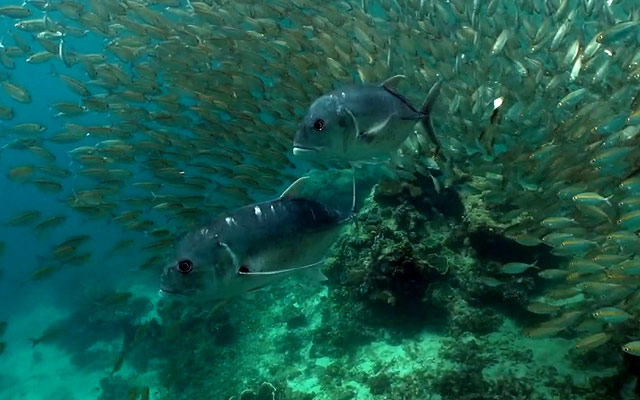 Snorkeling around Miniloc Island is exclusive to guests of El Nido Resorts, but it's definitely worth a look if you love snorkeling. The house reef is teeming with huge 1.5-meter jack fish, which the staff nurses and feeds on a regular basis; colorful hard and soft corals; damsel fish; and other species of tropical fish.
Balicasag Marine Sanctuary (Panglao, Bohol)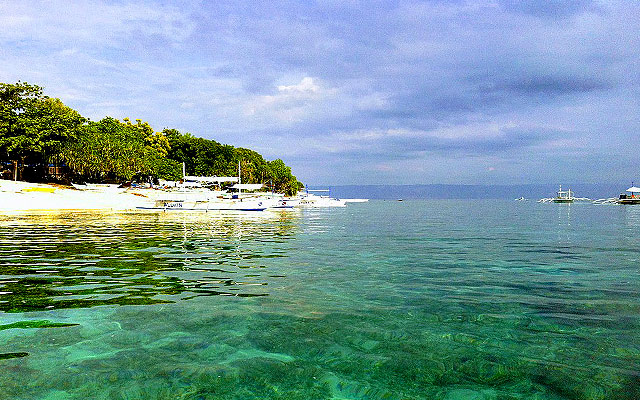 ADVERTISEMENT - CONTINUE READING BELOW
Balicasag Island has a 400-meter marine sanctuary where healthy corals and schools of fish thrive. Its crystal-clear waters allows you to spot huge sea turtles swimming near the ocean floor. Whale sharks can also be seen around the island from December to March.
Tubod Marine Sanctuary (San Juan, Siquijor)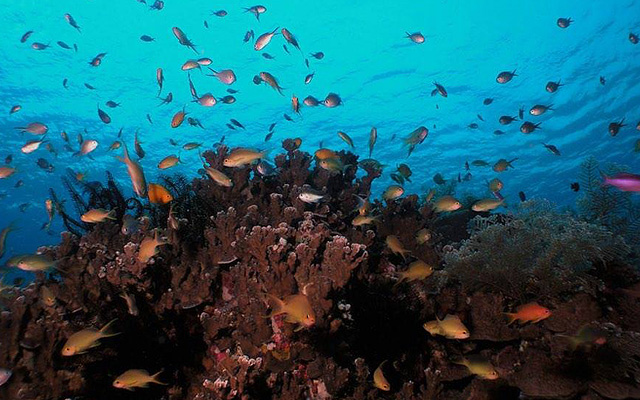 Tubod Marie Sanctuary is a 7.5-hectare protected area off the southwestern coast off Siquijor. Just swim about 20 meters away from the white-sand shore and you'll be treated to a view of barracudas, angel fish, clown fish, and a small but rich coral reef. There's no ocean current so you can have a relaxing snorkeling session.
Agutayan Island (Jasaan, Misamis Oriental)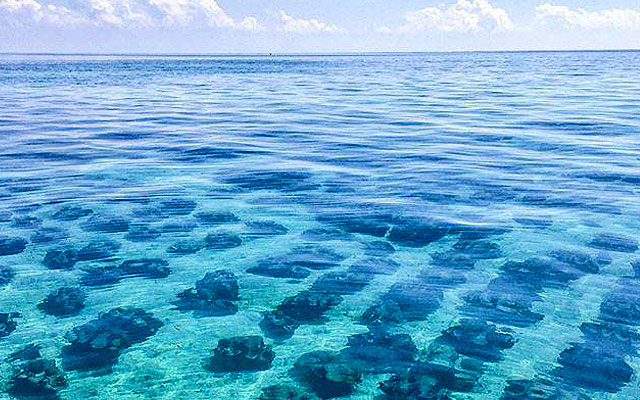 Located off the coast of Jasaan in Misamis Oriental, Agutayan Island boasts of a crescent-shaped sandbar surrounded by crystal-clear waters and rich marine life. It houses a three-hectare marine sanctuary where giant clams are bred by the local government and the University of the Philipines - Marine Science Institute. Its shallow waters also makes it an ideal spot for snorkeling and marveling at the various colors of starfish that rest on the vast expanse of seagrass.
This story originally appeared on Spot.ph.
* Minor edits have been made by the Esquiremag.ph editors.
More Videos You Can Watch