Every year, Esquire Philippines' Man at His Best (MAHB) honors extraordinary Filipinos who are reshaping society. These are the men and women who are raising the bar for Filipino creatives, athletes, public servants, and professionals.
This year, we're celebrating eight modern-day heroes and icons in film, music, sports, business, politics, and journalism. From music legends Eraserheads to award-winning journalist Atom Araullo, we present the 2022 honorees who exemplify what it means to be a Man at His Best.
Meet Esquire's Athlete of the Year, EJ Obiena.
---
Not everyone can show grace under pressure, but EJ Obiena, like many Filipino athletes before him, endured his baptism of fire and came out of it stronger than ever. Succeeding Hidilyn Diaz, Olympic gold medalist and Esquire's Athlete of the Year in 2021, EJ Obiena is this year's Athlete of the Year for his unwavering commitment to his sport in the face of multiple challenges.
At only 26 years old, EJ Obiena has broken countless records.He put our country on the map in a sport dominated by European and North American countries. He's the best pole vaulter in the Philippines—and all of Asia. He's currently ranked number three in the men's pole vault world rankings, but he's already defeated the world record-holder in at least one competition.
Obiena has all but cemented his legacy in Philippine sports, but the history books will remember him for more than just his records, medals, and trophies—they'll remember him for his grit and determination to overcome the struggles that were designed to drag him down.
ADVERTISEMENT - CONTINUE READING BELOW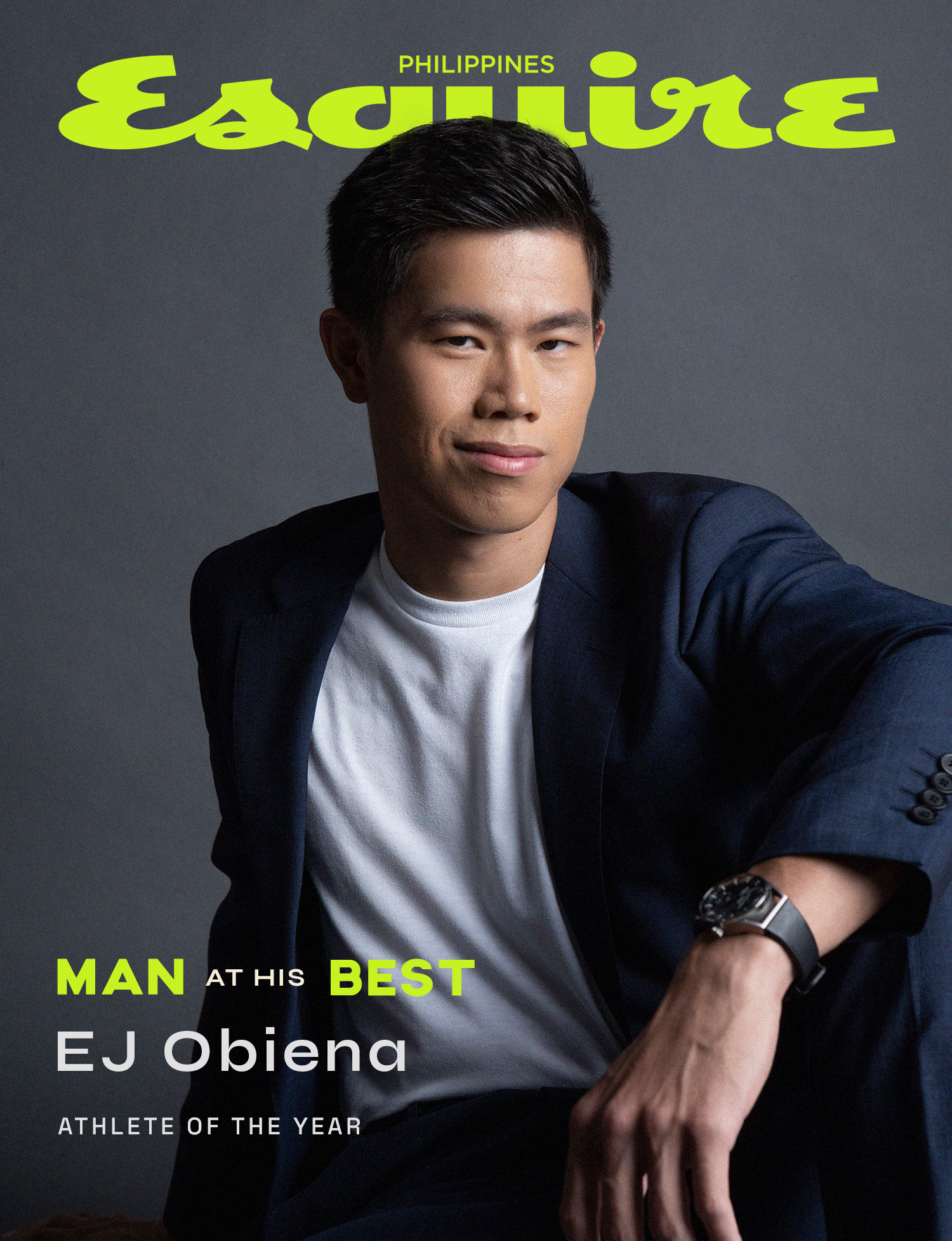 What defines a man?
A man is someone who protects and provides for his loved ones and his family.
Who has been the most important or influential figure in your life?
Vitaly Petrov has been the second father in my life.
He has been with me through the highs and lows of my career, and I've gained so much respect for him and everything he's done for us and the lives he has changed all throughout his coaching career.
Winning everything and still having that passion and that hunger to keep going to the track early for training, rain or shine—He's going to be there at the age of 77.
That's something admirable and [it's] the way he taught me to approach the game. How his craft of pole vaulting is… much more.
It's a representation, a mimicry, of what is actually out there.