This year marks the 10th anniversary of Esquire Philippines. What better way to celebrate than with our annual Man at His Best (MAHB) event. This year, we honor 10 heroes and mavericks from the worlds of film, music, business, art, sports, politics, and more. These are men and women who have inspired us through their work, achievements, and advocacies.  
We present Esquire's Creators of the Year, Roland Ros and Rexy Dorado.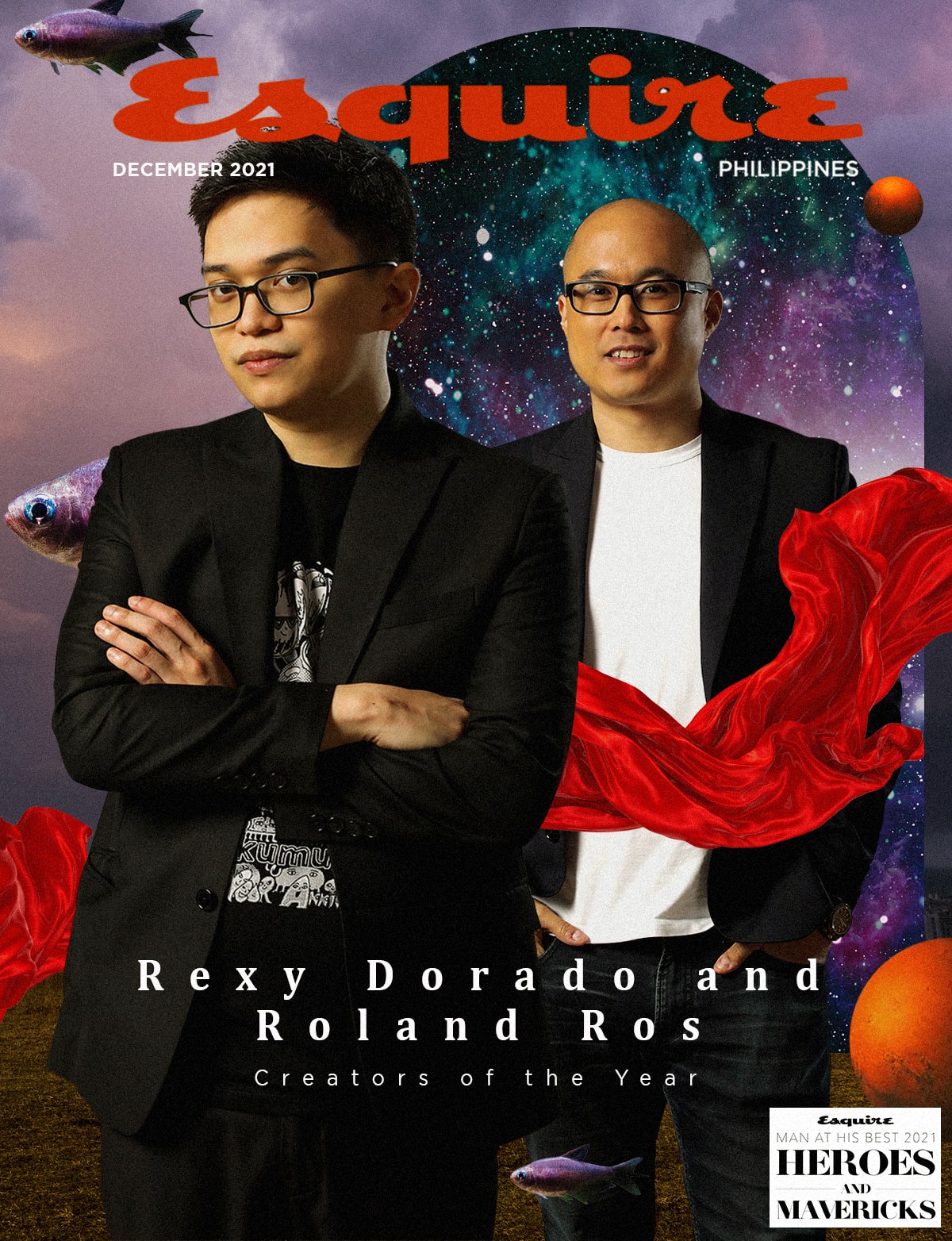 ---
Get ready to see Karlito, the smiling blue tarsier, everywhere because it's only a matter of time before Kumu becomes a social media giant.
"We're just getting started," Kumu co-founder and CEO Roland Ros declared. The Filipino social entertainment app—which you definitely should have heard of by now—was slowly gaining traction two years ago but surged in popularity during the pandemic as it rose to the top of the App Store rankings in late 2020. It's still going strong today as it's still the second top-grossing social app in the country, only behind Facebook.
Kumu prides itself in cultivating a positive and authentic place on the internet—which is in short supply these days—where users can be themselves and connect with like minded people. A place where people can build a positive community and be entertained at the same time is what definitely attracted its 10 million registered users (and counting) over 55 countries. But despite their recent success, Ros is not taking his eye off the ball and said that they are only one percent of the way there.
Kumu has lofty aspirations. In November, the company raised an undisclosed sum from a Series C funding round led by General Atlantic. According to reports, the Filipino startup has now raised over $100 million in total funding. 
The funding round proved to be groundbreaking for two reasons. One, it is the first Philippine investment of General Atlantic, which is a private equity company that has invested in global tech companies including Alibaba, and ByteDance (TikTok). Second, it is the "largest equity financing to date for a Filipino startup not founded as a subsidiary or spinoff of an established conglomerate." 
There are no other men capable of bringing Kumu into the promised land than Ros and co-founder and president Rexy Dorado. Their vision for Kumu is nothing short of global dominance, but with the uniquely Filipino heart and flair at its center. No doubt, the company is in safe hands.
The visionary duo spoke with Esquire Philippines to discuss their journey as one of our Mavericks in this year's MAHB. We picked their brains on what makes a startup successful, the direction they want to lead the company in, and—of course—what it means to be a man at his best.
ESQUIRE PHILIPPINES: Is it true, Rexy, that you messaged Roland on LinkedIn out of the blue and the two of you connected through that?
REXY DORADO: Yeah, I think it was in 2015. So at the time I was working on this nonprofit called Kaya Collaborative that brought Filipinos back from abroad to work with tech startups, nonprofits, and social enterprises in the Philippines. Roland was several years deep into the visual advertising space in Los Angeles at the time. 
Our paths crossed in late 2015 when I was building our formal board of directors for the first time for my nonprofit. I found Roland's profile as somebody who was an entrepreneur who had experience [in] growing things and at the same time had a big heart for the Filipino community. I think he had a family foundation he was working on at the time that had the same broader vision of connecting the local and global Filipino community. I just reached out—cold email.
ESQ: What made you reply to his message, Roland?
ROLAND ROS: It was so crazy when I remember getting that LinkedIn message. I went on the [Kaya Collaborative] website, it was very similar to that "Ratatouille" experience during the last scene where it reminded me of the life-changing experience that I went through when I was in college. I studied at UP Los Baños and had that life changing experience in the Philippines. I knew in my heart that's what I wanted to do—I wanted to do something in the Philippines. So when I got that LinkedIn message from Rexy, and saw what Kaya Collaborative was up to, I just knew that in my heart that this is something that resonated much more than another project where you're [providing] clean water or [building] a house.
Sometimes in the Filipino-American context, there seems to be kind of like a messianic flavor where you go in there and you're like "I'm saving the Philippines." The messaging could come off a little bit tone deaf. This design-centered thinking that Kaya Collaborative was doing, working side by side with communities, and really engaging communities was something that resonated with me very much. 
RD:  And then we got on a call and just just clicked. Actually he joined our board of directors on the first day I met him in person. It was two years between that and Kumu [where] it was just a lot of exchanging ideas on how we can accomplish this mission at a broader scale than just the few Filipinos [we were] bringing back to the Philippines at a time.
ESQ: Two years after your initial connection, you started Kumu originally as a messenger app. Can you talk us through that journey from Kaya Collaborative to Kumu?
RR: So Rexy and I used to always talk late at night about these dreams of engaging the Filipino diaspora to [serve] in the Philippines. We came into a lot of these discussions where [we asked,] "What would actually happen if we were able to do something beyond just nonprofit work, and do a business?" And one of our friends at the time had founded a real time communications platform that was having a huge impact globally. This company has two to three billion devices around the world and he powers a lot of consumer internet businesses that use real time communications. So talking to him [and other] folks like Dado Banatao and the Philippine ambassador to the US at the time, Jose Cuisia, [made us see] the importance of this new type of giving back. This whole idea that maybe doing something in an enterprise where if you create a technology company in the Philippines, and you create technology jobs in the Philippines, would be the best way that we could give back to the country. 
There's something happening in the Philippines and all over Southeast Asia through digital transformation—faster internet payments, logistics, all those sorts of things. So when we started crystallizing this whole idea, I just knew that if I was going to start this business I wouldn't want to do it without folks like Rexy. I couldn't do this alone and Rexy was one of the first people I thought of to do this with.
ESQ: Kumu is really gaining traction not just here in the Philippines but also globally. What do you think makes Kumu stand out in a pretty saturated market?
RD: I think a few different things. So one piece of it is [our] stance. It shouldn't be as unique as it is, but very early on, we took a "community first" approach. One of our biggest teams, outside of our product and tech team, is the community team of about 100 people. They were all hired from the power user base and they manage a group of like 20,000 power users who are in these self organized teams, kingdoms, [and] clans. All of that is directed towards upholding these values of positivity, authenticity, and acceptance. We're making sure that Kumu is a safe space for everybody in terms of taking down anything related to bullying or trolling. We take a hard stance on anything that could be exploitative, which a lot of other livestream platforms kind of veer in the direction of, and even things like politics. We know that it's very hard to have a productive conversation on social media about politics without one or both, or many sides, taking advantage of it. So we've just made a conscious decision to be a safe space and neutral space when it comes to that. Now these large social media platforms are starting to take it more seriously, but for us it has been there from the beginning. I think that's been one pretty significant differentiator. 
I think the second piece is we really focus on real-time connection and deep engagement in the form of live streams where you spend 30 to 60 minutes and not 15 to 30 second short videos or posts on your Facebook timeline. Some people turn Kumu on in the morning and keep it in the background for the entire day talking to their friends on an audio stream. It's really like a long form deep engagement format. That's something that other platforms can have as a feature, but are never going to emphasize on. At the end of the day, Facebook and TikTok depend on users scrolling through as many pieces of content so they can insert ads in between, whereas for us we're really powered by the generosity of our community and direct monetization between creators and their supporters. 
Lastly is being deeper into how we can be a more active and supportive partner to our creators. When you see Facebook, for example, doing a billion-dollar creator fund that spreads across so many people that don't even get a revenue share from the advertising that the company gets. For us, you can make a full time income from just a couple hundred very loyal fans. We have 1,500 people now who are on a full time income on Kumu and are continuing to grow. So [we support] that in a way that you can really earn a living by being a creator [which] can feel aspirational more often. If you're trying to do the same on YouTube or Facebook, you really have to be the top influencer to make anything significant.
ESQ: How crucial was your partnership with Pinoy Big Brother to your meteoric rise?
RR: I think it's really a combination of PBB and the pandemic. I think one of the things is [when] you create a platform built on safety, positivity, and acceptance, you build a platform built on authentic connection. Kumu is a platform where people genuinely go for mental health. These are all foundational things that were a part of Kumu before the pandemic. When you hear those words back in February 2020, it kind of sounds a little mumbo jumbo. But now, one and a half years in [the pandemic], these are the core struggles that we're dealing with.
ESQ: Mental health is really important these days, especially in social media. Kumu is really a breath of fresh air.
RR: I would say that a need for connectivity or connection is something that's sorely needed in society. It's just mind boggling to think that we built something prior to the pandemic with those particular core values. Now these are things that are widely quoted as central themes for the human experience. 
I would say that our partnership with Pinoy Big Brother, where we created 24/7 live streams inside the house for the first time ever and giving the opportunity for the audience to engage, mixed with the pandemic has helped Kumu a lot. It's like a digital version of building [Noah's] ark where a lot of people didn't understand what the heck we were building and then this thing happened, and now people get it. I think we still have to build the product tighter. We're only one percent of the way there. But I think, to a degree, people are starting to understand what makes Kumu so special.
ESQ: What's the best thing about working with Roland? 
RD: I think the dynamic works because we are super aligned on what we're trying to do in the long term. We're aligned in [our] values and what we feel is important. And then in terms of the strengths that we have, one just excels in a way that can complement the other. So Roland, for example, is just amazing at telling the story and getting people excited to kind of join the mission. Normally, I can take over in the closing of an investor or a new team member. So I think it's the complementary strengths anchored on the same vision and values. I think we spend a lot of our days with similar schedules and are in a lot of meetings together which might feel a bit redundant but we could cover more ground. But at the same time, it helps us by getting the same information and working off the same information to be able to make decisions and calls more quickly. 
ESQ: What about you, Roland?
RR: Yeah, there's so much trust there. You know Dragon Ball where they kind of [merge]? There's that kind of element. One of the things I love about Rexy is I can just jump out of an airplane knowing that I'm going to go right towards the goal and then realizing, "Oh, shit I need an apparatus." [But then] I realize it's okay because Rexy is attached to me and he will pull the parachute. There's that kind of trust where we could actually move forward building the team. If there's a particular part that needs some things, I know that Rexy is going to be there. And if there are some things that need to get filled out and Rexy needs help, I'll be there too. So I think to Rexy's point, my favorite part is the trust that things can get done in our own unique and special way. I'm just very grateful for that.
ESQ: You mentioned the trust that you have for each other but I am sure that it hasn't been a smooth ride. So how do you resolve conflicts?
RR: I think it's the frank talk. Right, Rexy? I mean to a fault though. Like, I'll say what's on my mind. But I've learned how to process more before it leaves my lips. I think what's really great is, with trust, you also need good communication. So I think that when it comes to the core leadership team, we communicate very frankly with each other. Beyond the trust is we want to take care of each other too. So part of that trust is we also need to take care of the leadership of the company that is taking care of the community. Beyond that trust is that genuine sense that we're helping each other out too. 
RD: If there's no trust, it can feel like you're being attacked or you feel like you're being second guessed. I think everybody wants to get to the right place and everybody cares about each other within the key leadership of Kumu. Ultimately as a startup, you have to make these hard decisions and do it as soon as possible. And I think being able to have frank discussions based on trust is a prerequisite to getting there.
ESQ: Do you consider Kumu as your greatest achievement?
RR: It's really funny that you say that because I actually have a kind of a weird definition of what achievement is. There was a point in my life where I stopped getting validation from achievements in general because I think that there are other things that are more important. For example, the self mastery of constantly chasing the best version of yourself. Here's the thing, you're always going to compare yourself to something. So if you're going to do that, you might as well compare yourself to the best version of yourself and chase that. There's something beautiful about having the maturity of understanding that I think just kind of beats everything. 
The other two core parts of my life which is maintaining deep interpersonal relationships with my friends and family, to the point that it crystallized into this adventure called Kumu where I'm working (with my) best friends. Nothing beats that. And then third is helping other people. You know, those are my three core values. And so when you're helping other people, that's the achievement.
RD: For me, it's hard to think of anything in the foreseeable future that can match [Kumu] in terms of how much it's helping me grow from an impact perspective. I think the challenge is where do I slot things that I want to do [personally] before I die? After Kumu I want to be able to make a Filipino Sci-Fi anime but then I realize the [life] after Kumu, if it continues to be this exciting opportunity, would be like 10, 20, 30 years from now. So how do I get those things sooner, and carve out time to be able to do the things that I want to be a part of my life. How I make sure that I've spent and invested the time I need [for] personal and creative things outside [Kumu] has been more top of mind.
RR: Rexy completely got that on the dot. We're known as the livestreaming company, but if Kumu could actually provide enough shareholder value and have a big enough community and a big enough impact size from an economic perspective, we could technically leverage Kumu to go into these things that we're so passionate about. So in a way, what I'm most proud of is Kumu can really be a high-impact company that actually springs a lot of ideas and adjacent adventures.
ESQ: That could be very promising. Since we're already talking about the future of Kumu, can you paint us a picture of what you envision the company to be in 10 years?
RR: So if it's 10 years, I would probably let Rexy kind of paint that picture. I know for sure that I'd be supporting whatever he wants to do. I'm seeing the largest participatory social platform in the world. This is one thing I'll share, and then I'll just give it to Rexy. 
In 2009, the top five market cap companies were Exxon, an energy company, and number two you had Walmart, the largest retailer in the US. 10 years after 2009, the top market cap companies in the US [were] Apple, Microsoft, Google—all tech companies. If you look at the top market cap companies in 2021 in the Philippines, it looks exactly like the US companies in 2009, right? Retailers, banks, telco, whatever. And if Kumu does what it's supposed to be doing, it would be a huge failure on our part if we are not at least one of the top five most valuable companies in the country in 10 years—similar to the way all those big companies continue to dominate. That's just from an ecosystem perspective. Rexy will paint the picture of how we'll get there.
RD: I think we'll figure out the "how" along the way. Roland pointed out these different strands in Kumu's DNA that we feel are going to move [us] into the future. The [first] piece of that is Kumu, the technology company. I think within the technology space, we're building this new beacon for what a positive and participatory social network can look like. That doesn't exist at scale, even outside the Philippines at this point. So I think to a degree, that's very unique and we're excited to scale. 
I think there's also Kumu, the entertainment company. In the sense of like, how do we support our creators in making content that's exciting. I think there's a lot we can [do] in a 10-year timeline that can cross the platform with movies, TV, and comics and things like that. There's a lot of creative energy in the Filipino community that we're in a prime position to be able to support. 
I think at a higher level than those two points is Kumu, the company. When you look at large, publicly listed companies in the world, they're defined by what they stand for—the culture and philosophy they have. What we already see at Kumu now, both from a platform and a team perspective, is something that's built on authenticity and love at the end of the day. It's [about] people who are very passionate, creative, and care a lot about each other and about the impact we're making in the world.  I think one thing that motivates me is that we have a responsibility in making Kumu a company that's large enough [in] scale while still retaining those values. Somebody needs to be a champion of those values at a global business level.
ESQ: That sounds like a lot of work but I'm very excited for Kumu. For my final question, what is a man at his best?
RR: I think a man is at his best when you're at your most mature, when you're able to have compassion, and mental strength to take on the crazy amounts of information that come to you. And being able to process that in a way so that by the time you're able to make a thought, and act on that thought, and speak on that thought, it comes with a lot of deep thinking, and a lot of understanding and maturity. Because if you don't, the type of actions we do, may end up hurting others in unintentional ways—or may end up not having a benefit to those people. So I think it does take a lot of maturity. So I don't know, maybe maturity is man at his best.
RD: I definitely agree with that. I think the other thing that I would add is just integrity, right? I think you can have a long conversation about values [and how] people see things in different ways. Maybe when we drill down deep, [we] kind of care about the same things. 
I think what really makes a difference is how those values translate. One [is how it affects] the decisions we make or the things that we say and then most crucially is from your words and intentions into action. 
I think the hardest thing—especially in this day and age—is that you get so much information. You have so many platforms to express yourself. But it's really taking that step into making the hard decisions, living with the hard decisions, doing the hard things [so] that your words and intentions [match]. Right? That is tough. I think the more we hold ourselves accountable to it, over time, the better our world becomes. It's holding ourselves to being able to narrow the gap between our values and our words and the things that we do in our day-to-day.
Watch our full interview with Kumu's Roland Ros and Rexy Dorado here:
In this story: Produced by MJ Pagaduan • Interview by MJ Pagaduan • Video edited by MJ Pagaduan, Patricia Villoria, and Aaron Martinez • Cover design by Warren Espejo
---
Man At His Best (MAHB) is Esquire's annual celebration that honors the life and work of inspiring men and women throughout the year.
Explore the Esquire Playhouse for the full immersive experience. Enter using the browser on your phone or laptop, and click the one-step log-in button to access all the exciting content hidden inside each room in the Playhouse: art, podcast, videos, and stories. 
To keep up with everything else happening for Esquire MAHB 2021, don't forget to follow us on Facebook, Twitter, Instagram, and YouTube, as well as the hashtags #EsquireMAHB2021 and #EsquireManatHisBest.
>
ADVERTISEMENT - CONTINUE READING BELOW