I came up to Baguio to devour some dog meat. To be more exact, I was sent to explore the food culture of the region, to scour the city for their best eats via a local who would lead the way—and since it is known that Baguio is home to one of the largest dog meat markets in the country, gnawing on the hound was just an obvious part of the itinerary.
Dao-es, dog rituals, are the highest form of animal sacrifice for some tribal groups in the northern region. For people of the Ibaloi tribe, dogs are sacrificed to greet the spirits of the dead; others practice it to drive away misfortune, or as a form of ritual healing. As the ways of the world change, though, so have the methods of consumption. In modern times, dog eating has become a delicacy, served as ulam or paired as pulutan to warm the body when it's cold. My brother had some caldereta dog once. He's been bitten three times by different pups since. "They can smell it in you," I told him.
I intend to completely immerse myself in the banquets of Baguio. So I prepped for weeks, ready to gobble the dog meat when the need arises. Only to be disappointed to find, once up in the mountains, that dog meat has been banned since 1998, when the government approved an Animal Welfare Act exhorted by animal rights groups—a move that the locals thought was undeserved, as the cultural practice has been long-standing. By the early 2000s, laws toughened even more, and any stall that served pooch was raided. Just like everything else unlawful though—drugs, corruption, and prostitution—dog meat can still be eaten if you really seek it. There are stories of elders who go out of their way to search for dog meat soup, yearning to taste the meat again before they completely lose the chance to in this earthly life—treating it as a delicate last meal of sorts.
ADVERTISEMENT - CONTINUE READING BELOW

Baguio showed itself to me through the eyes of local artists—one meal, one tête-àtête, and one bottle of beer at a time.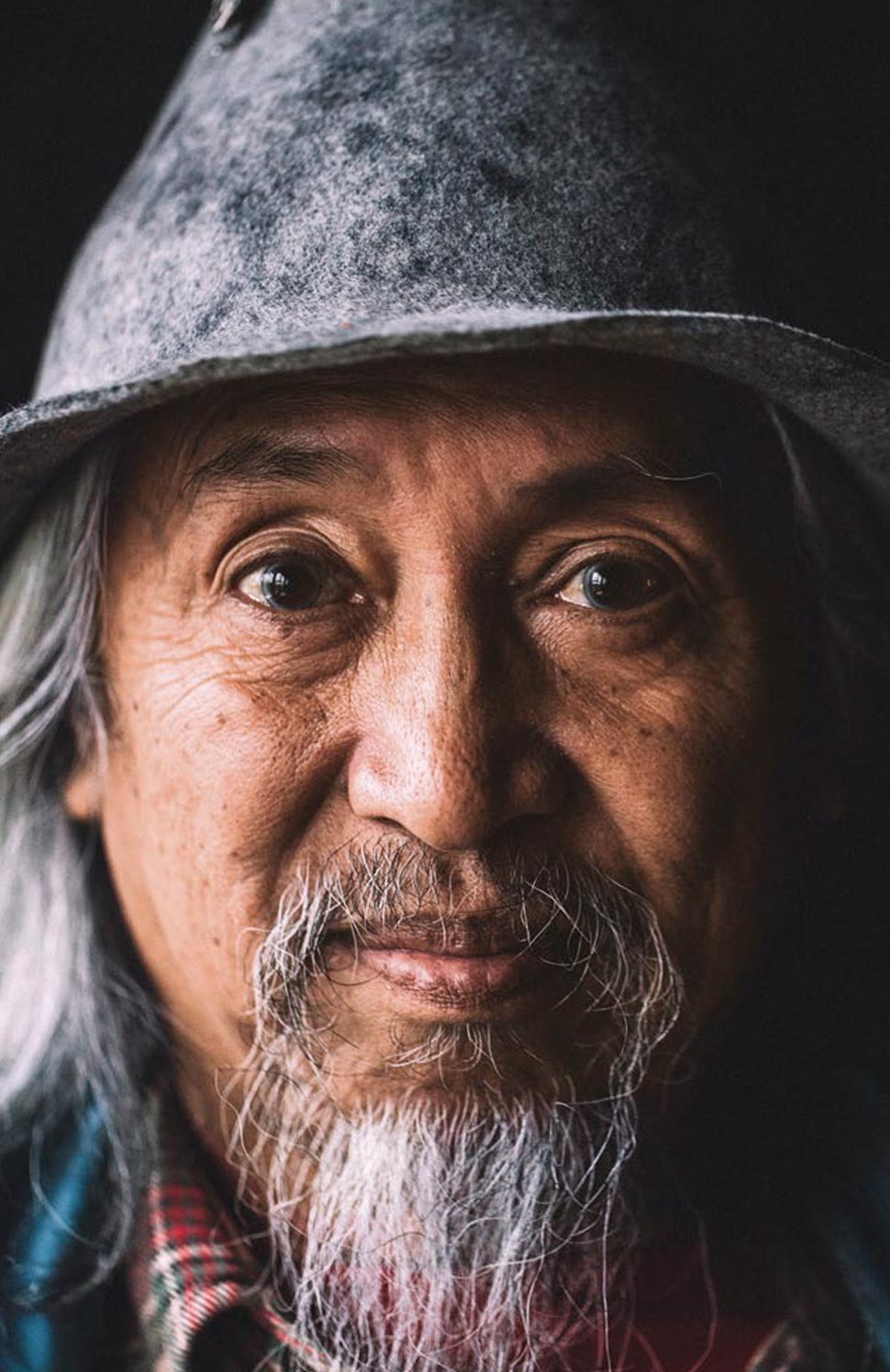 I meet the artist Kawayan De Guia on a rainy Wednesday afternoon. He was tapped (forced?) to be my guide for the trip, as this is the place where he was raised—having soaked up the raw energy of local artists, with an open mind to the sensitivities of neighboring indigenous cultures, and a spiritual closeness to nature. We trudge through the foggy city with his girlfriend, award-winning hyperrealist painter Nona Garcia, who relocated to these mountains two years ago. Nona just finished a show in Basel, Switzerland, in which she paints, in ravishing detail, objects delicately wrapped in cloth. Ironically one of those subjects is her beloved dog, Jacob. She recalls that, when Jacob passed, she had to clingwrap his corpse herself to preserve his body, distressed and in tears. Jacob, blanketed in baby blue fabric, is now a masterpiece, recently displayed in one of the biggest art fairs in the world. "Kumain ka na ng aso with me please," I prod her, just 20 minutes after our introductions. "Ano ka ba! Ayoko nga," she argues fervently. Nona doesn't even eat meat.
CONTINUE READING BELOW
Recommended Videos
Kawayan, on the other hand, has no qualms about it. "In 100 years, you can see how things changed here. From how you dress, to how you talk, to whom you pray to," says Kawayan. And now that the meat is banned, it is like the times are requiring the local people to change their palate as well. For the government to expect a culture that has been eating dog for ages to suddenly nod towards western proclivity, and expect them to savor a slab of steak or foie gras instead (as if force-feeding ducks were less ofensive), seems rather unfair. "In India, cows are sacred," Kawayan points out. By banning dog meat, "you're not just killing the taste of the people here, but you're also killing the vein of a major culture."
At first blush, Kawayan appears more formal than I had envisioned. I watched his father, independent filmmaker Kidlat Tahimik, receive an honorary award about six years ago from my college when I was a starry-eyed undergrad. Kidlat wore a bahag and played a gangsa, branding himself as the Third Cinema indie-genius (slash indigenous) artist, despite his Masters Degree from Wharton; so I kind of expected the same kind of projection. But I learned that just like this city, Kawayan unfolds by layer, one at a time. Checking to see if you, the visitor, will understand the aberrant nature of their life; if you, the conyo Manila-dweller, can handle the surreal nature of the Baguio he has known and loved. I would find out later on that I wasn't just going to sit pretty at restaurants and talk fancy about their food, but I was going to witness a more bizarre Baguio reveal itself to me, through the eyes of local artists, which unfurls intimately one meal, one tête-à-tête, and one bottle of beer at a time.
ADVERTISEMENT - CONTINUE READING BELOW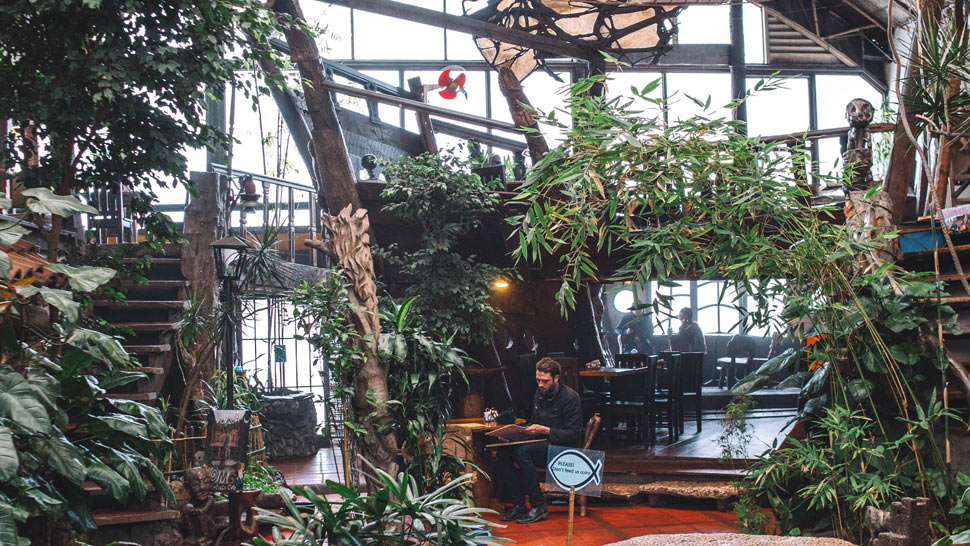 At a dingy backstreet behind the Dangwa Bus terminal, we saunter towards Katipunan Resto Art, located in an area which, since the '50s, was called an asuan or the dog meat market. Food stalls here were known for having aso on their menu regularly, consumed mostly by pocket miners and farmers, and then later on by professionals and students. It is tucked somewhere along beerhouses and carinderias, a wet market, and stalls selling fresh fruits, raw meat, or value packs of the traditional nganga—the ivy leaf, apog, and tobacco that the locals chew on until their teeth are stained crimson. This is where Kawayan's circle of creatives go to drink. The renegade space exhibits cenotaphs of the dog eating culture instead, immortalizing that facet of their life via installations. Cyan-colored wooden benches are vandalized with lyrics: "Who let the dogs out" or "How much is that doggie in the window?" Stickers of lovable canines are plastered everywhere: Goofy, Snoopy, Bolt, that golden retriever from the Pixar movie Up. They're obviously there to mock—a jeer at the colonial West that insists that dogs are man's best friends.
ADVERTISEMENT - CONTINUE READING BELOW
Kawayan has gathered his group of friends to join us for the night, each character perhaps just as eccentric as the next—(myself included)—the outsiders. There's a writer and native of the region, already drunk and talking about the mining cultures of the past—something about sex and drinking before entering the tunnels. There's a 26-yearold wood carver whom they call Dehon (an Ifugao version of his name Jason), who carries himself with an ethnic swagger, and has really nice biceps. There's a bone hunter named Santos, who has long, stringy hair that falls to his waist. Santos has spent 17 years of his life de-graving the bones of about 9,000 Japanese warriors. He says he can tell immediately when the skeletons belong to a woman, a man, or a child. He has nightmares sometimes, believing the ghosts haunt him. But he has been trained to pray over them. We're a group of about 12, with Kawayan and Nona leading the pack. Everyone in the group has had a taste of dog. The meat is gamey, they say. It is dark. It feels warm when it slides down your throat.
But I would never know now. So we have the next best things instead.
Immediately, plates of animal parts are served. We have some pig tongue or dila, some tinung, and ping-ping ng baka—all sautéed, seasoned, and topped with crunchy green scallions, meant to be dipped in a generous amount of fresh chili, toyo, and suka. We eat boiled nguso, or pig snout. The meat is extra fatty, and the skin crunchy like soft cartilage. We drink hot bulalo soup from plastic cups. I scoop the marrow out and let it melt like delicate butter in my mouth, soft and warm and milky.
ADVERTISEMENT - CONTINUE READING BELOW
Soon enough, dirty shot glasses are whipped out, and so is a bottle of tapuy (local rice wine). It is packaged in a recycled bottle of GSM, and produced from fermented rice, organic yeast, and molasses. It's strong, but tastes super sweet, like a poor man's Pisco Sour. But before the first sip, you must ofer the first shot to the gods or atang. Every bottle of alcohol opened is always offered to the gods first. They pour a small amount onto the cap of the bottle, and leave it to the side. Or discard the first shot to the cosmos. Atang.
By 8 p.m., with tapuy warming my body, everyone takes their turn at the karaoke. Nona belts out to "No Rain." Someone else sings Radiohead. And at 10 p.m., with the Katipunan Resto closing down, we decide to move to Magsaysay Ave, an area popular for their brothel houses. We're going to go clubbing—Baguio style.
In between Katipunan Resto and Magsaysay Ave., someone manages to nick a bouquet of fresh red roses. We head to a sprawling bar called Baguio Country Sounds with security guards as bouncers frisking you down and confiscating anything they deem threatening: a ball pen, your umbrella. But inside, the bar gives no real sense of danger. There's a disco ball and a live band on stage. The music is very show band, the setup is very variety show. In the men's bathroom, a drunk man is getting a massage from a blind masseuse. The place is dead on a Wednesday night, so we move across the street to a folk bar called Liwliwa, lit by stark, red neon lights, with paper hearts adorning the walls, as if Valentine's Day were only months ago—or maybe in Liwliwa, there is always a time for romancing.
ADVERTISEMENT - CONTINUE READING BELOW
The bouquet of roses follows us there, where Santos the bone hunter has started to distribute them to the people of Liwliwa—one rose for the chubby waitress with a beanie; one for the man trying to sell us cigarettes; one for the guitarist from the live band on stage; one for a random drunk guy sitting behind us, who in turn, gives the rose to me. "This is for you," he slurs. "That is for you because I love you," he says, with a toothless, tobacco-stained grin.
As soon as I'm seated at our long table, I realize I've never seen so many drunk old men passed out in a bar, ever. It's not just one table of men who had one too many, but five or six tables of men with their heads nestled on their arms.

I meet the artist Kawayan De Guia on a rainy Wednesday afternoon..."In 100 years, you can see how things changed here. From how you dress, to how you talk, to whom you pray to," says Kawayan.
In between bottles of overflowing Red Horse Grandes, a few bags of Chippy, and three plates of apple slices as pulutan—a fight ensues on the side. Drunk boys challenge each other face to face. A girl falls on her ass to the floor. Someone steals a pack of cigarettes from our table, and Rocky Cajigan, a local artist with the most amazing set of tattoos, yanks the pack back with flair. Kawayan calls me over, "if someone here asks you to dance, you can't say no," he warns. "I won't," I exclaim, maybe a little too overeager for one old man to courteously ask me for a dance. But like, who wouldn't want that?
ADVERTISEMENT - CONTINUE READING BELOW
Later on, as some intoxicated senior seems to be set on asking me for a dance, a man from our group whom they call Barangay Captain, reaches his hand out to me first. He is a few inches shorter than me, has grey hair down to his shoulders, and a low raspy voice. He leads me to the front of the bar, and we slow dance, his hands on my hips, me twirling to his groove. Five minutes later: "Let's go back. I was just saving you," he tries to say. He's not really a kapitan. It's just another of his monikers—the group's inside joke.
By 2 a.m., most of us are on the floor dancing. Even Kawayan, in his towering mestizo authority and poster boy good looks, takes to the floor, swaying and performing to the ballad. His name is often whispered about the city. In Manila, he is recognized as one of the finest artists of the day, building sculptures of irridescent rockets, or Lady Liberty with her face on the floor. But in Baguio, he seems as much a local as everyone else, even when he sticks out like a sore thumb. "I'm fucking Robin Hood," he'll tell me, about the cautionary line between his art selling for loads of money—and his more virtuous anti-capitalist art sentiments in the mountains.
On the dance floor, our small group gathers into a circle, hands clinging over each other's shoulders, happily springing around an imaginary bonfire. It's not really the gyrating I am more accustomed to, but it feels like a communal celebration, with people I had literally just met five hours before.
ADVERTISEMENT - CONTINUE READING BELOW
And then I need to pee. But this is the kind of place where, if you're peeing in one cubicle, a couple could be banging on the other, shares Kawayan. Apparently, bathrooms in Baguio country bars are where the action's at. I really have to pee though, and it was nearing 3 a.m. anyway, so we decide to call it a night.
As soon as I'm seated at our long table, I realize I've never seen so many drunk old men passed out in a bar, ever.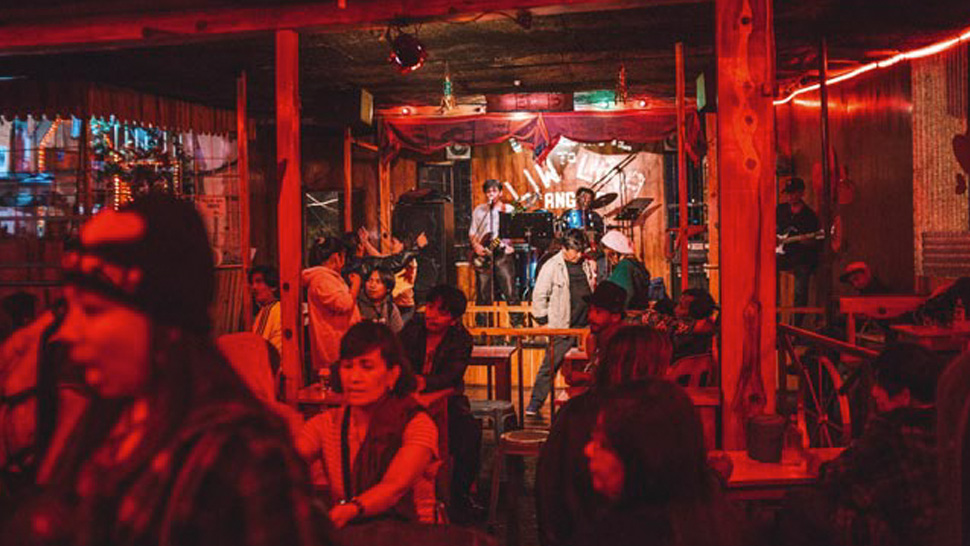 ADVERTISEMENT - CONTINUE READING BELOW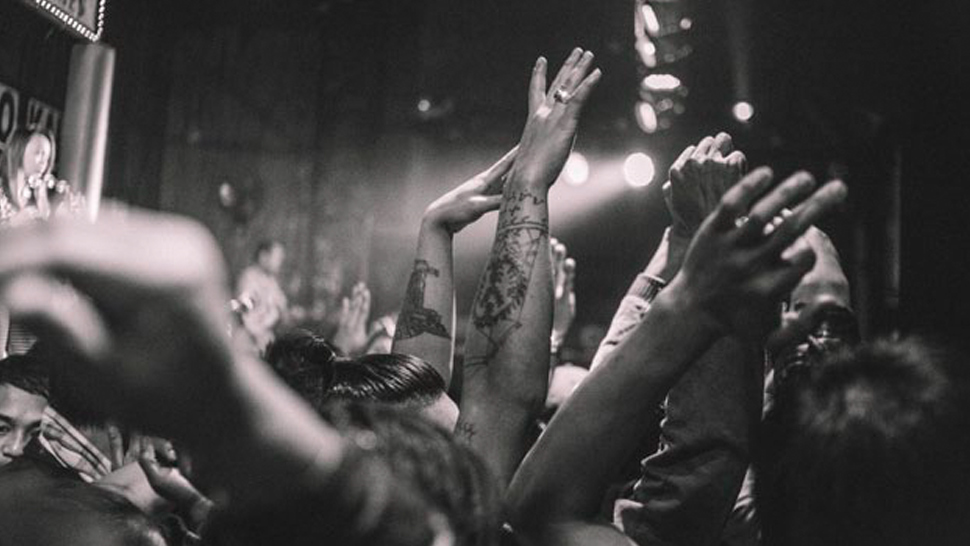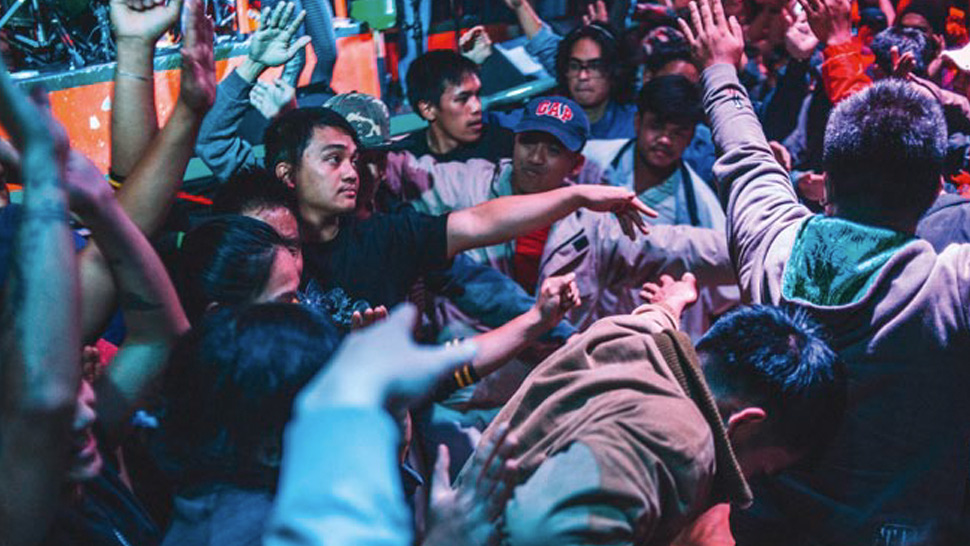 For whatever oddities the nightlife of Baguio brings, the mornings unfold in the most exquisite of ways. I watch the drizzling rain as it patters on the rooftops from my room, a misty fog wispily enveloping pine trees. I'd prefer to snuggle in my bed instead, but my tummy is grumbling. And I have yet to see what Baguio has to ofer when the sun is out.
ADVERTISEMENT - CONTINUE READING BELOW
Because of the high-altitude, the cofee from the mountains is superb. At Café Yagam, they have locally grown, handpicked, and freshly roasted single-origin cofee—the premium Arabica beans are French-pressed and served with authentic Cordilleran dishes. "What makes it distinctly Cordilleran is that geographically, we cook based on whatever ingredients are available in the mountains. Some of the ingredients that we have come from Tabuk or Ifugao, so that is always the center of the food," says Carla Rosito, owner of the café.
Here, recipes are borrowed from nearby regions. Their pinuneg, a Cordilleran blood sausage, is made traditionally by the Kankanaey people of Benguet for special occasions, and served usually to the elders first. From the root word uneg (inside), the pinuneg was a resourceful way to make use of the innards of a pig. A butchered pig, like many other butchered animals in this region, is a form of sacrifice. Pinuneg is delicious dipped in their native vinegar and chili sauce. Eaten with a siding of fresh greens, and balatinaw or violet mountain rice, it is the perfect hearty meal to soothe a night out of binge-drinking.
Then there is their native chicken soup pinikpikan: a smokey chicken broth or kiniig, with sun-dried and salted cured meat or etag. In this process, the chicken is bruised (pikpik) to clot the blood, so that the meat becomes tastier. And then a process of burning follows it. "An essential part of the preparation is the burning of the feathers because it emanates smoke, which symbolizes a calling." The preservation of the meat is natural. And when it's done, a dash of tapuy completes the soup.
ADVERTISEMENT - CONTINUE READING BELOW
Yagam feels like home: fresh flowers atop large wooden vases, an open-air hallway to read a book or pass time. And after lunch, a long, slow drag from a cigarette. This is our flow in the city: slow moving, almost melancholic and gray, in a peaceful sort of lonesome way.

It's this odd mix of religious devotion and ingenious Asian gustation that paints a beautiful and anomalous picture of what Baguio has become.
And then there is the delectable part of Baguio, formed by some homegrown chefs and inspired by international cuisine. On the quieter Outlook Drive, we find Chef's Home—a small restaurant serving the most excellent Asian fusion food on melamine plates, tacky floral tablecloths, and incongruent tiled floors. Christian worship music blasts from the speakers. A psalm is scrawled somewhere on their walls. There's a bit of a disconnect actually—to have delicious Peranakan food served in a place like this, which was originally just a kainan behind a sari-sari store five years ago. But it's this odd mix of religious devotion and ingenious Asian gustation that paints a beautiful and anomalous picture of what Baguio has become. They cook up a feast: Crispy Papaya Salad (fresh papaya deep-fried in their special batter, and served traditional Thai style with fish sauce, coriander, chili, and tomatoes); a spicy tom yum soup (sometimes served with salmon belly instead of prawns, depending on what's fresh in the market); and a fried tilapia slathered in two diferent sauces: tamarind or chili with basil, both finger-licking good. I wash the entire meal down with a glass of lime juice. "This is a fusion restaurant. So I like to fuse foods, to confuse people," says the chef.
ADVERTISEMENT - CONTINUE READING BELOW
If it isn't Asian fusion that's surprisingly exceptional in Baguio, it's woodfire brick oven pizza, served at a shabby hotel you would never take a first date to. Amare sits unobtrusively across an office full of computers and ugly fluorescent lighting. But the waft of freshly baked pizza, and the heat from their large brick oven will lure you in. We have the foie gras pizza, doused with a generous amount of trufe oil, melted mozzarella and foie gras. It's so decadent that in its outlandish attempt, you feel so fucking proud you just savored brick oven pizza topped with duck liver…in Baguio.
Good food can also always be found in the corners of the city. If it isn't the slow-cooked balbacua at Kidlat Tahimik's Ili-likha Artist's Village, or the steaming Anak ng Puttanesca pasta spiced with cayenne at VOCAS, toothsome dishes are situated in the historic architecture left behind by the Americans. The Miele Guide-listed Hill Station at Casa Vallejo never fails to impress with their upscale Sri Lankan-inspired fine dining. While Chaya, an authentic Japanese restaurant, is set in a homey cottage with hand-sewn quilts embellishing their cobblestone walls. Here, I warm myself with tender beef sukiyaki soup, and a flute of jelly peach-flavored sake.
The rain never stops. And during this season, they say most people decide to stay in. It's a low season for restaurants, but I realize, this is the best time for any visitor to come up to the mountains—because at this time, simple things like a warm meal and a quiet moment ofer an incredible sense of comfort.
ADVERTISEMENT - CONTINUE READING BELOW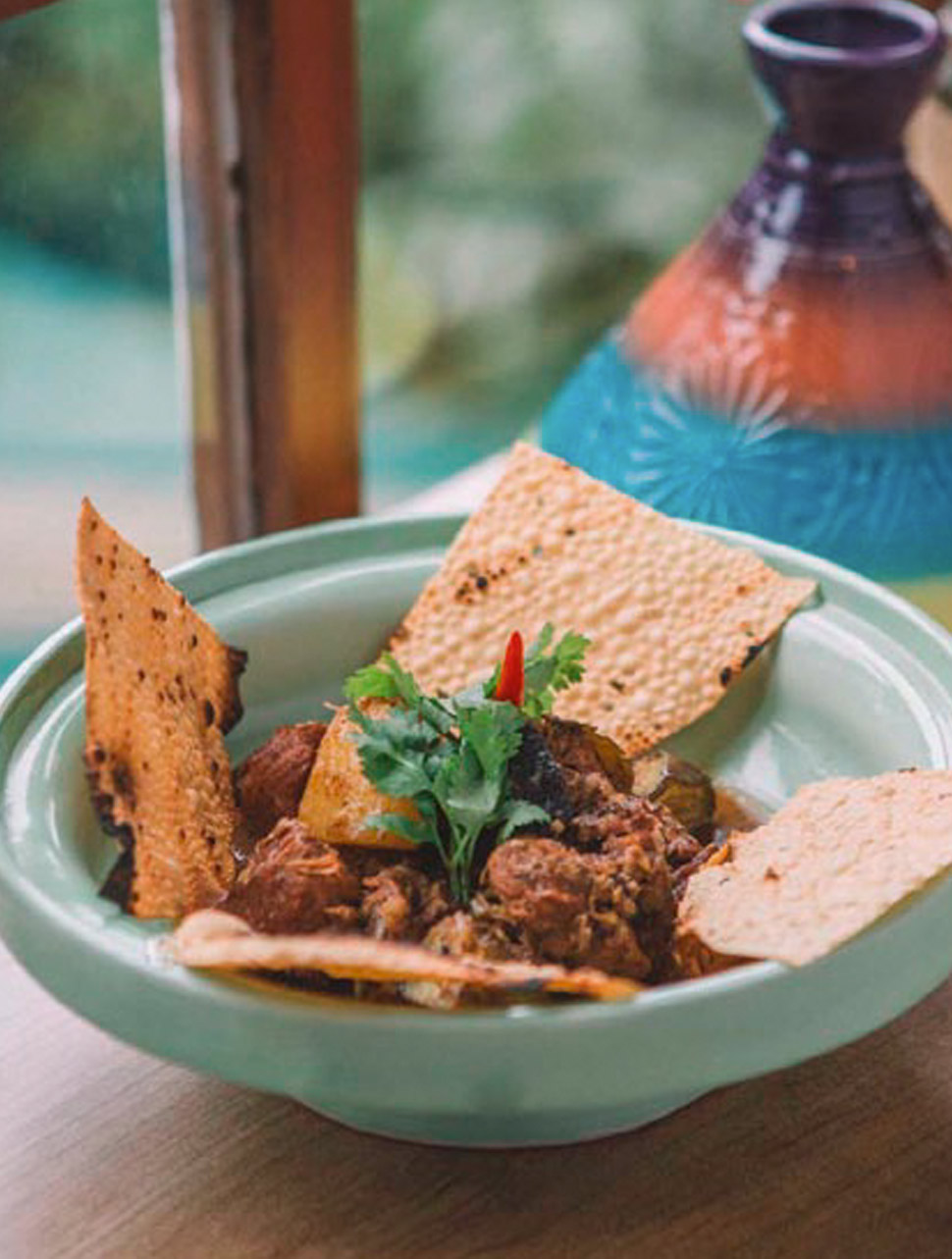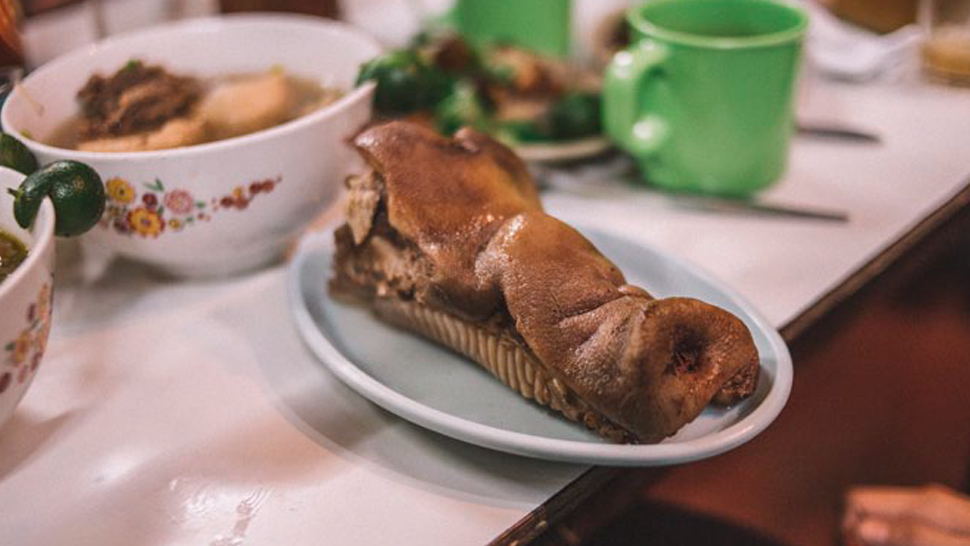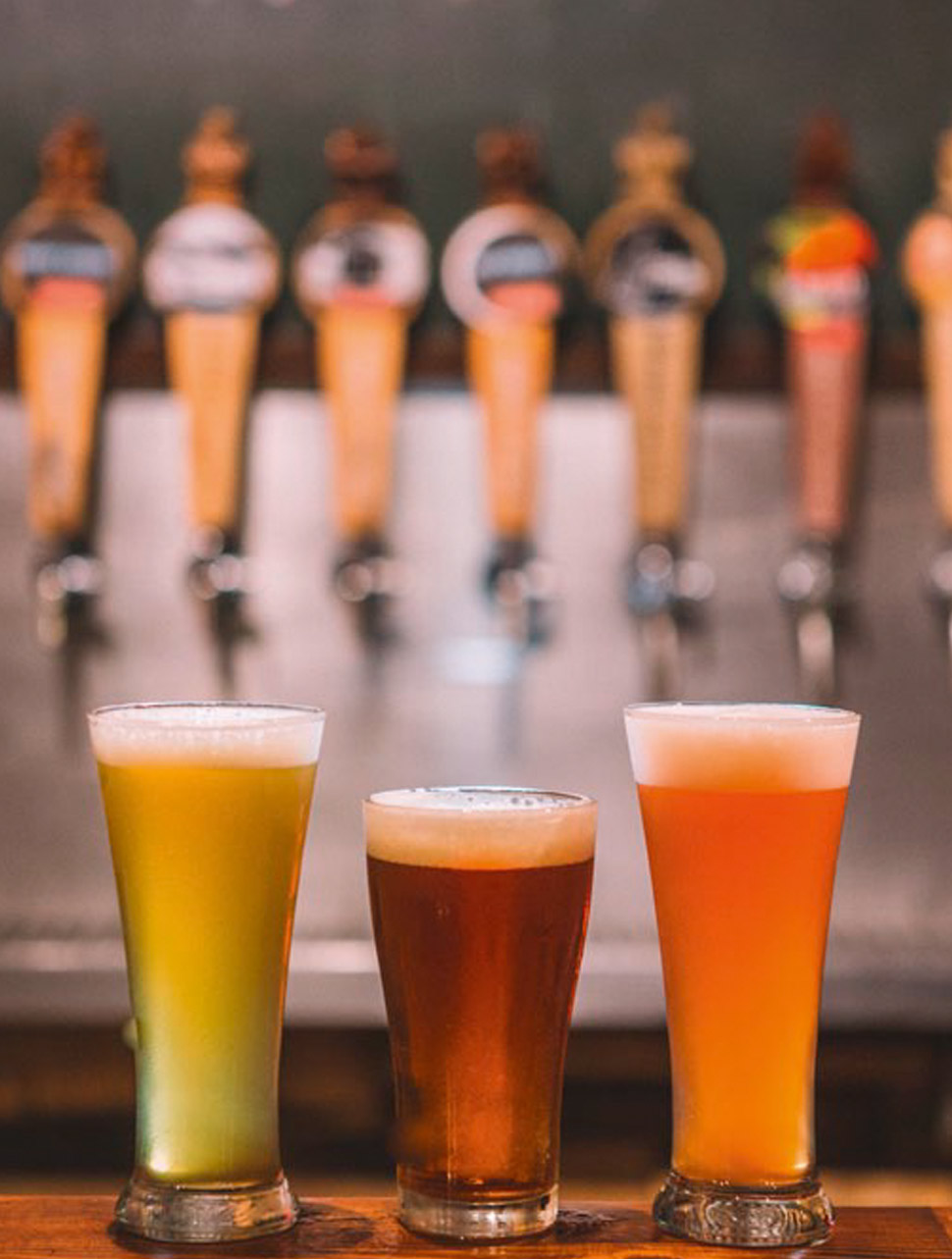 ADVERTISEMENT - CONTINUE READING BELOW
On my second night out with Kawayan and the crew, we sit perched on a wooden bench outside Baguio Craft Brewery, located on a nondescript building along a major highway. I'm nursing an IPA called Zigzagger: a 10 percent alcohol content, triple-hopped beer brewed with natural oranges from Sagada.
In the Brewery, there is a selection of about 15 flavors—all concocted by owner Chris Ordas. Chris is a genius at the craft, a sensei of beer, or just a "raging alcoholic," as he would say. He's made kiwi-strawberry-passion fruit-flavored wheat beers for the ladies; and successfully pulled of a chocolate-flavored stout and a Mexican lager. All are made with natural ingredients—no chemicals or extenders—so that you wake up the next day with no hangover. A far cry from the pretentious craft beer joints in Manila, which serve pints that are too sweet, too bitter, too tasteless, or too boring, and always, always, overpriced.
Chris used to homebrew from his garage in Canada before moving back to the Philippines, blending foreign ingredients and experimenting with local ones. Once, he was able to craft a beer from a local ube base—something that has never been done before. It was called Falling Rocks, a white stab beer. And though he, with business partner Francis Blanco have to pay P30.28 of taxes per liter (versus the P19.00 tax that San Miguel Beer shells out), they are willing to fight the big fight.
The artisans of food here seem to respect the craft more than they do the brand. There is a sincerity to every dish served— a deference to their practice. I came here to discover their regional chow in a way I hoped Anthony Bourdain would be proud of, but found that what is best is not to overanalyze the food, but to feel the sincerity put into it. To acknowledge that stripped down, it is really just damn good food.
ADVERTISEMENT - CONTINUE READING BELOW
Two pints of pale ale, one pint of wheat beer, a sip of Yamazaki whiskey from Kawayan's flask, and a few puffs of weed later—I find myself slowly falling in love with this queer city, and even more so with the idiosyncratic group of locals I've enjoyed being around.
After an intimate conversation with Nona about how the city allowed her more time for herself and her craft—Kawayan tumbles outside to join us, and notices the artificial slits on my jeans. He picks up his pocketknife, kneels in front of me, and begins to slice through the cloth of my pants himself, ripping it apart and cutting holes in places that Topshop originally didn't. He takes a marker and draws an eye on my left knee. Nona is coerced to scribble on my right. Kawayan resumes ripping more holes on my pants until he cuts himself, blood dripping from his middle finger onto the gray pavement, onto the bar table, all over my knees. He smears his bloody finger over my exposed skin, where it quickly turns into clotty streaks. It's past midnight—the fog grows thicker outside, and beyond the faint orange lights from the houses in the distance—darkness.
We're already drunk. There are faint traces of blood everywhere. The discourse is beautiful and flowing. Kawayan shares a story about how his father Kidlat had to deal with getting the best compliment of his life, and then dealing with the death of his mother, both on the same day, like a symbolic rebirth—I almost cry. There is warmth in the company. A personal playlist is plugged to the speaker system. We warble loudly and argue about life and love and art and farts. We toast relentlessly. The Brewery is already closed, chairs placed on top of the tables making way for the staf to sweep the floors. This is it, I think to myself. It's ending. I came up here to get a peek of an underground Baguio as an outsider, led by an insider; to eat and drink in places that someone might not find on Lonely Planet, only to discover a more kaleidoscopic Baguio I could never have imagined.
ADVERTISEMENT - CONTINUE READING BELOW
Kawayan De Guia squats on the floor of the hallway, looking up at us with an inebriated glow. It's nearing 3 a.m. And in a romantic surrender, the artist professes, "you know what… we're fucked," he says, the rest of us responding only with a still silence and reverence. The rain continues to pour. We happy few are the last-standing oddballs of the night. "But the only thing you can do about that," he says, "is just to enjoy it."
This article originally appeared in the August 2015 issue of Esquire Philippines. Minor edits have been made by Esquiremag.ph editors.