This year marks the 10th anniversary of Esquire Philippines. What better way to celebrate than with our annual Man at His Best (MAHB) event. This year, we honor 10 heroes and mavericks from the worlds of film, music, business, art, sports, politics, and more. These are men and women who have inspired us through their work, achievements, and advocacies.
We present this year's Artists of the Year, Ben&Ben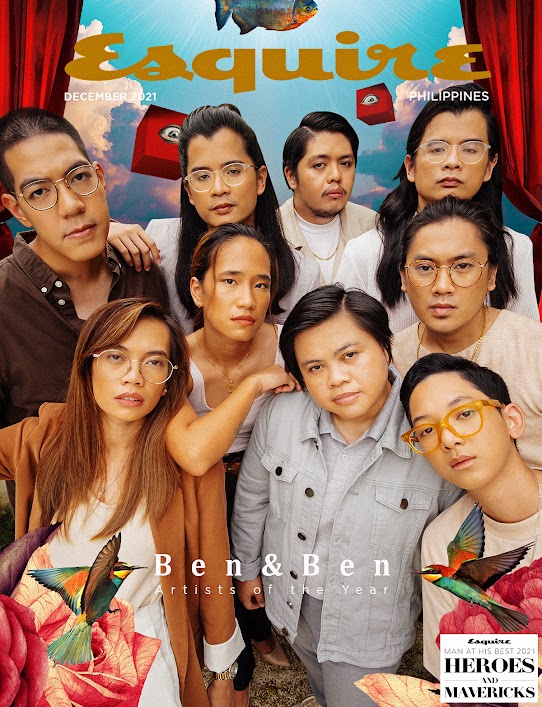 There are those who insist that the golden age of Filipino pop music was in the '90s: when almost every other song on the radio was from an explosive new local act, or up-and-comer riding the OPM wave.
But ask music stalwarts themselves and they'll tell you that OPM has never been as vibrant and as exciting as it is now.
"I think it's the golden age of Philippine music," Raymund Marasigan told Esquire Philippines' Sarge Lacuesta in the premiere episode of the platform's Lonely Hearts podcast. "It's getting bigger, and it's getting wider. In fact, even, kahit pandemic, there are a few bands as we speak that are playing international shows."
ADVERTISEMENT - CONTINUE READING BELOW
"Golden age talaga ngayon, promise," Chito Miranda agreed. "(N)gayon talaga yung napaka-galing lahat ng artists, everybody doing their own shit, everybody's brilliant. Yun yung difference. Kasi ngayon, for you to stand out, you really have to be brilliant and spectacular talaga. Because everybody can now come out with an album. Gawa akong album ngayon, next week may album ka na. Yun yung term: Golden age, tama, perfect."
And while both offered names of different artists leading the charge in this renaissance-of-sorts of local music, one is a clear stand out.
"I think Ben&Ben is in a bubble, and they're producing shows," Marasigan said. "Ang galing nun, because they don't have kids yet, puede silang magsama-sama sa isang bahay. Pag tumawag yung Ben&Ben, kailangan niyo ng tambourine? Nandiyan ako."
When you have rock royalty like Marasigan volunteering his services, you know you're doing something right.
As it turned out, it was Miranda who ended up working with Ben&Ben first, lending his vocals and songwriting chops to a track in the nine-piece band's sophomore album Pebble House Volume 1: Kuwaderno. In our review of the album, we highlighted how the band members "dug deep" and "swept their insides" for an album rich in maturity and meaning. Living together under one roof, the band worked together even more closely than they normally would and chose to overlook the demands of commercial viability. Instead they opted to tackle heavier themes like mental health, social justice and inequality, and embracing the Filipino identity. The result is a diverse yet surprisingly compact record that expands the Ben&Ben sound and further establishes the band as the pre-eminent artist of their generation.
And this is exactly why we are honoring them as this year's Artist of the Year.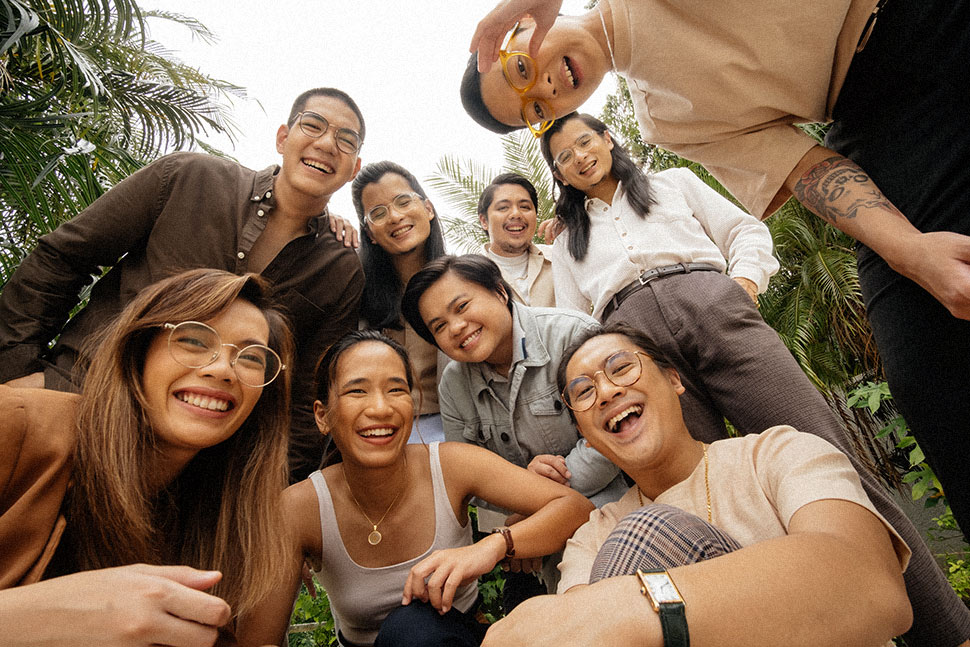 Being The Benjamins and Ben&Ben
The story of the band is well-known to most music fans, particularly to Liwanag, or the moniker the fandom has chosen to identify themselves (think Bey Hive, or Swifties, or ARMY). But the story of Ben&Ben is the story of nine individuals coming together to become one unit. Of course, it starts with the twins, Paolo and Miguel Benjamin Guico, who previously played as a duo called The Benjamins. There are not a lot of twins actively involved in the music business, and having both part of the same group is even rarer.
"The best thing about being twins is it's like having your own best friend," Paolo says. "Kaya wala kaming kalaro sa village namin (laughs). We would just play indoors with our Legos and Gundams. There was a time when Migs and I were quarreling, and Dad locked us out in the hallway until we made up. So after 15 seconds, bati na kaagad kami!
ADVERTISEMENT - CONTINUE READING BELOW
"We also played a lot of computer games back then. Kaso, since isa lang yung laptop and tinitipid yung dial-up na internet, we were only allowed to play 30 minutes each, taking turns. Until we figured out that we could play unlimited if we did games na two players."
The brothers acknowledge occasional fights, which is a universal experience for most siblings, but are quick to add that, after over two decades, they've already figured out how to be open to and respectful of one another.
"I think being twins taught us to find out all the awesome things that we could pull off because we're two, which eventually led to us doing all sorts of random stuff growing up," Paolo adds. "Knowing that I have Migs' back always and he has mine. Eventually, the random stuff ended up with doing music and being in a band."
After the brothers got into music, they began to show off their skills as The Benjamins, most famously winning second runner-up at the Philpop Music Festival in 2016. One year later, after playing gigs with session musicians, the duo expanded the lineup and formally welcomed seven other members into the group: Poch Barretto, Jam Villanueva, Agnes Reoma, Patricia Lasaten, Toni Muñoz, Andrew de Pano, and Keifer Cabugao.
Six of the members—Andrew, Toni, Jam, Poch, Pat, Agnes—attended college for music, but the band says that "most, if not all" of them are self-taught when it comes to their instruments. Clearly, a nine-piece band isn't something you see every day—with Slipknot, perhaps, being the most famous—but it seems to work for Ben&Ben.
"Whenever we think about it, we realize it all came down to a mutual feeling of the group being 'some good kind of different,' and mutually braving through the risks and hardships of being such a big group," Paolo, who often speaks for the group, says. "There were definitely a lot of doubts along the way, but being a musician really teaches you to roll with the punches and look doubt in the eyes to choose to move forward anyway. What kept it working time after time was the eventual bond and friendship that formed from being such a close-knit group of nine."
While nine people can mean nine different musical tastes and sensibilities, there are certain styles and artists where most of the members' own preferences converge and intersect. There's John Mayer and Coldplay at the top of the list, and artists like Earth Wind & Fire, Paramore, Jacob Collier, Sammy Rae & The Friends, Alicia Keys, Vulfpeck, and many others. Of course, each member has their own unique musical corner where they sometimes play in.
"Andrew has a specifically esoteric playlist, quickly jumping between video game music to anime music to Kpop to jazz fusion to neo soul to world to funk to OPM and back to kpop, all within a single chaotic playlist," Paolo says.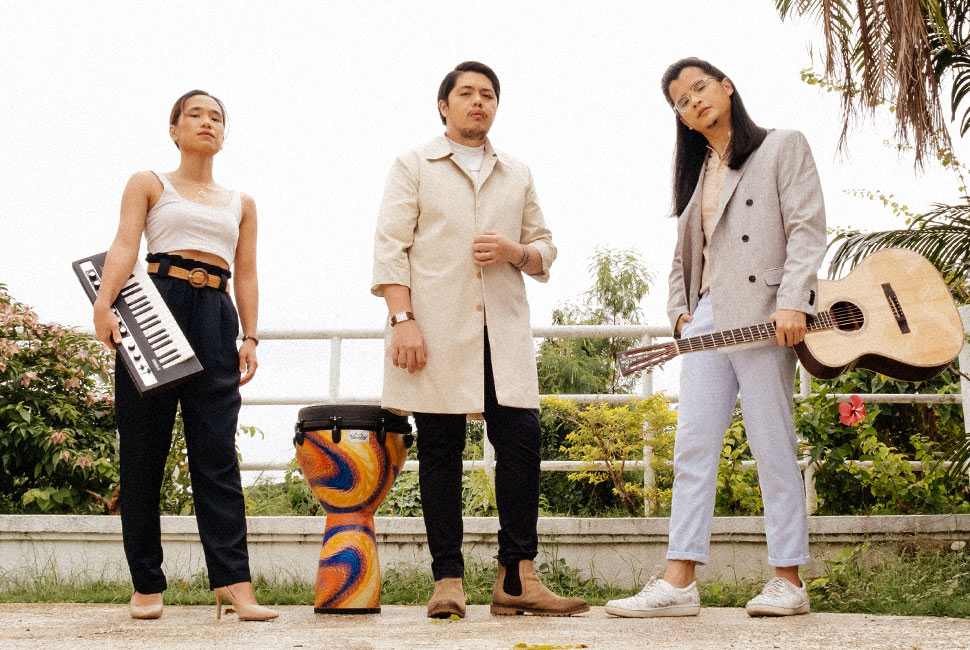 ADVERTISEMENT - CONTINUE READING BELOW
Major label, indie spirit
Another challenge of a group that's slightly bigger than most of us are used to is getting everybody together to play during rehearsals or actual gigs, especially during before the pandemic. It's hard enough to get three, four or five people together, but nine must present its own logistical challenges.
But Ben&Ben seems to have worked out a system. It helps that all the members are committed to the band full time and have developed a professional approach to getting the job done, whatever it is. "The distance portion of that equation was a different story though, as it was almost always a tough choice deciding where we would come together to rehearse or meet up," Paolo admits.
After slowly gaining traction with listeners through songs included in various movie soundtracks, Ben&Ben signed with Sony Music in 2018 and made their entry into the big leagues with debut album Limasawa Street. While many artists are taking the DIY approach these days—choosing to write, produce, release, and promote their material independently and online—the appeal of signing with a major label remains not just for the prestige, but for the obvious benefits that only a big company can provide. For Ben&Ben, it was a delicate balance between keeping their independent, DIY spirit, but also working toward getting signed when the time came.
"We wanted to make sure we knew how to maneuver the industry and make our own decisions as well, but we also knew we could use the kind of support a major label can provide," they say. "We kept ourselves busy at the start by continuously honing our craft, making more music, and learning more and more about what we value as a band."
Limasawa Street heralded the arrival of a confident new group with a strong point of view. In our review of the album, which we included in our top albums of 2019, we noted its fresh and innovative sound while still sounding comforting and familiar. That they managed to snag ace producer Steve Lillywhite to work on the title track was a bonus, but clearly the message was that Ben&Ben were a major new talent that demanded repeat listens.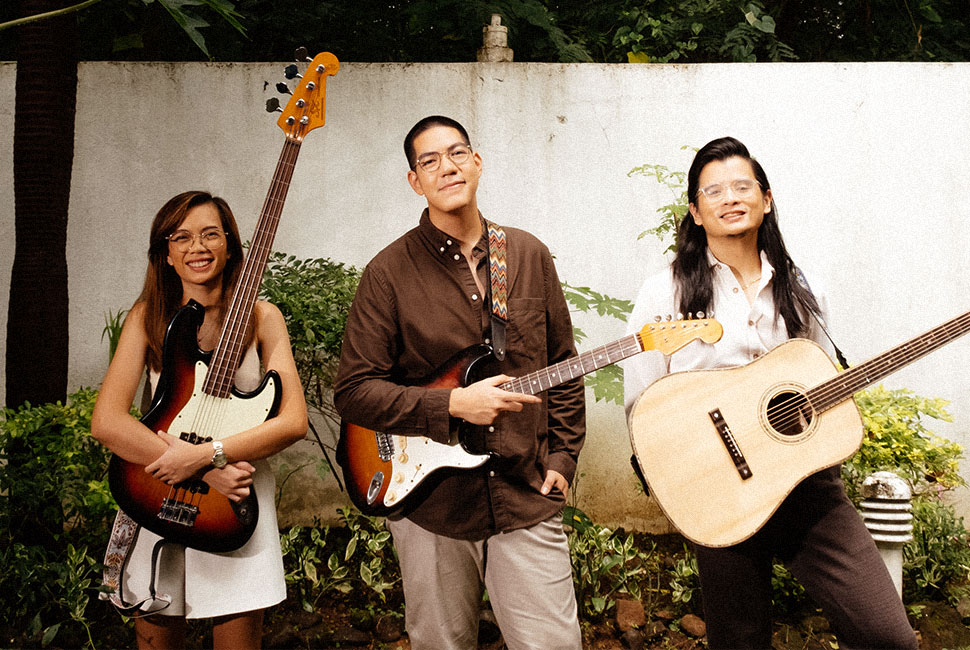 Under one roof
Awards, overseas gigs, more movies (acting in them, even) followed the band for the rest of 2019. Ben&Ben worked with international artists and released the single "Doors," which was released overseas. But then COVID-19 happened. Schedules came to a halt and plans were put on hold, particularly a much-awaited set on the South by Southwest Music Festival in the U.S.
ADVERTISEMENT - CONTINUE READING BELOW
"Those were definitely some of the most difficult weeks for all of us," Paolo says about the early weeks of the pandemic. "We tried to stay creative and make the most of our individual situations, but we were still definitely overwhelmed and saddened by what was happening. We tried recording from home and making our videos individually but as you'd expect, file transfer and online workflow for a band of nine wasn't exactly the easiest hurdle to overcome. Though we did try our best, and we were still able to come up with some new music and even held our first-ever online fundraising concert for the initial COVID relief efforts."
A few months into the lockdown, an idea was proposed: why not try living together?
"It was an old joke we had for each other, with how often we used to gig and fly out and travel together," the band says. "Around June last year though, after trying for months to 'work from home' and meet up in a separate venue to shoot our performances, Paolo brought it up for real in hoping it would help us work a lot safer and avoid endangering all of our family members in our respective households."
The band members say they originally planned to move in together for a month, "just to try it out and make some content." But over a year later, the group is still living under one roof.
"It was a difficult and very gradual process to leave our homes, but we all knew it was for the best and for everyone's safety, and that was all the convincing many of us needed," they say.
It's one thing to work together as a band and to see each other occasionally during performances and events. But to cohabitate as a nine-person group is an entirely different beast. The band says adjustments definitely had to be made and compares the experience to a romantic relationship where one never stops learning how to adjust and change.
"One of the most constant struggles we still haven't been able to resolve however is organizing and properly maintaining our refrigerator," they say. "It's always cramped, messy, and many things usually get left a lot longer than intended, so it's a funny and very domestic challenge that we've yet to fully master."
But if anybody needs proof that the decision to live together was the right one, they need only listen to Pebble House Volume 1: Kuwaderno. Perhaps the most important OPM record created in the midst of the pandemic, the album is equal parts reassuring and thought-provoking.
Read our review of Pebble House Volume 1: Kuwaderno here.
"We understand our listeners are going through a breadth of difficult experiences and challenges, with many of us dealing with all different kinds of loss," Paolo says. "We wanted our album to serve as a companion to our listeners, to perhaps be with them in the multitude of emotions they're going through in these times, and to help them find the voice to those different emotions."
ADVERTISEMENT - CONTINUE READING BELOW
If anything, the album is also concrete evidence of what the band can do cooped up and living together and being in each other's faces 24/7.
"(W)hereas before the focus was almost always solely on the tasks at hand, living together has really blurred the boundaries between rest and work," the band says. "It's something we eventually learned to deal with a lot better, however, and living together has definitely helped us achieve something totally new with our creative process."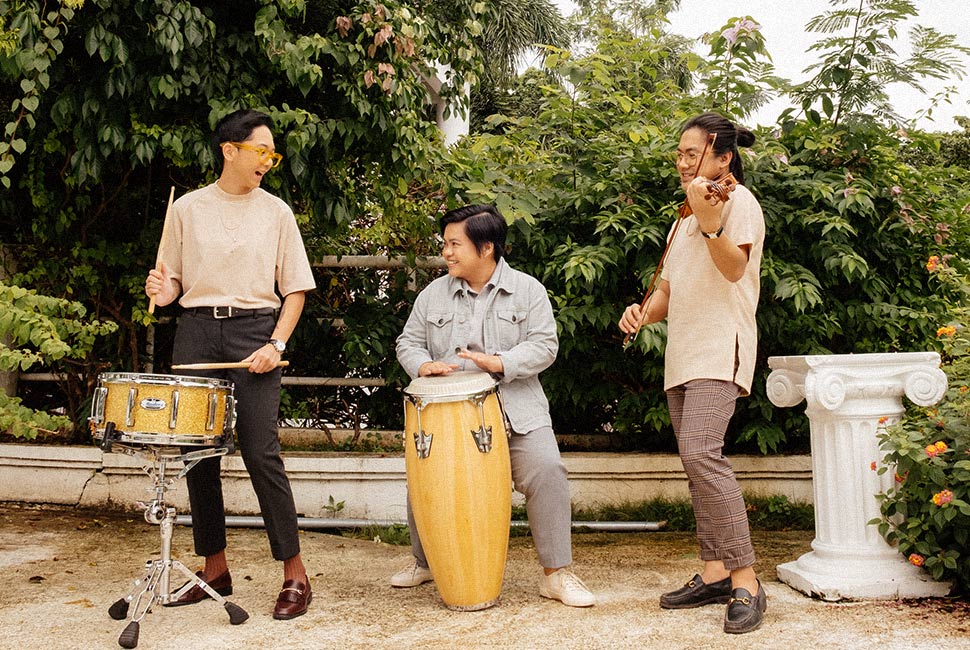 Weaving stories, making magic
As for songwriting, the process is different per song, although the band reveals that it usually starts with a song idea from a single songwriter.
"It could be as bare as a single line, or a fully written piece when the songwriter decides to share it with the rest of the members. After everyone hears it, if the songwriter doesn't really have any specific ideas for how it'll be arranged, each person brings in their own ideas to the table, and it could take anywhere from a few hours to over a year till the song reaches its final form."
In the case of this second album, the band says that, as the songs got written, there were more and more opportunities to find ways to deliberately tie everything together. The result is a record that is thematically heavy but doesn't sound forced or overbearing.
Clearly we're living in strange times. If COVID-19 wasn't a thing, Ben&Ben would've perhaps already staged a massive concert at a venue like the Araneta Coliseum of Mall of Asia Arena. They would've made us proud at South by Southwest, and likely would have spread the gospel of good OPM to other festivals here and abroad. But, as it stands, even without all of that, Ben&Ben are still, arguably, the biggest thing in Filipino music today. And even the band members themselves are aware of the rarified air they're currently breathing.
"There is a constant stream of things that happen that we never in our wildest dreams imagined could happen," Paolo says. "One of the most solid recent ones was seeing our Pebble House Vol. 1: Kuwaderno billboard up along EDSA in all its size and realness. It just hits differently seeing ourselves up on a billboard along a road we've probably spent a good chunk of our lives, seeing many other billboards up with usually only the biggest celebrities and artists."
ADVERTISEMENT - CONTINUE READING BELOW
We hate to be the one to break it to them, but Ben&Ben, in this golden age of OPM, that's exactly who you are.
Man At His Best (MAHB) is Esquire's annual celebration that honors the life and work of inspiring men and women throughout the year.
Explore the Esquire Playhouse for the full immersive experience. Enter using the browser on your phone or laptop, and click the one-step log-in button to unlock all the exciting content hidden inside each room in the Playhouse: art, podcast, videos, and stories.
To keep up with everything else happening for Esquire MAHB 2021, don't forget to follow us on Facebook, Twitter, Instagram, and YouTube, as well as the hashtags #EsquireMAHB2021 and #EsquireManatHisBest.