Every year, Esquire Philippines' Man at His Best (MAHB) honors extraordinary Filipinos who are reshaping society. These are the men and women who are raising the bar for Filipino creatives, athletes, public servants, and professionals.
This year, we're celebrating eight modern-day heroes and icons in film, music, sports, business, politics, and journalism. From music legends Eraserheads to award-winning journalist Atom Araullo, we present the 2022 awardees who exemplify what it means to be a Man at His Best.
Meet Esquire's Businessman of the Year, Cezar Consing.
---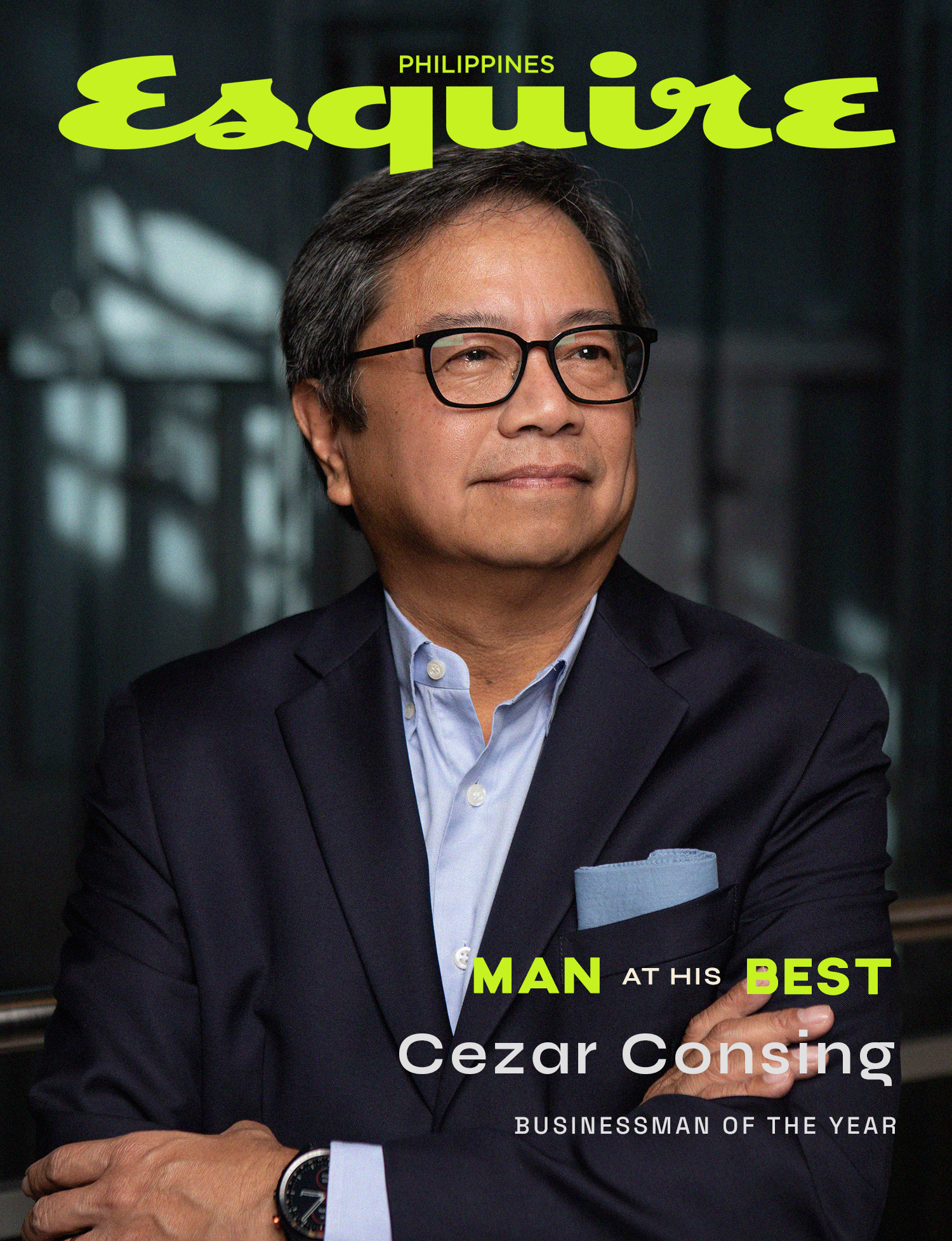 No company, big or small, is immune to change, and the best, most resilient ones know how to pivot and adjust when the unexpected happens.
Ayala Corporation (AC), the country's oldest continually existing company, has been a stalwart of the Philippine economy for nearly 200 years. Founded during a time when national hero Jose Rizal was still alive, today it has a diverse portfolio of business interests, many of which touch the lives of ordinary Filipinos on a daily business.
ADVERTISEMENT - CONTINUE READING BELOW
After relatively smooth leadership transitions over the decades within the Zobel De Ayala family, the company faced an unusual situation in August this year when then-president and CEO Fernando Zobel De Ayala announced that he was stepping down from his position because of health concerns. That propelled the company's board of directors—which includes Fernando's immediate predecessor, his brother, Ayala Corp. Chairman Jaime Augusto Zobel De Ayala—to name a successor.
That person ended up being Cezar "Bong" Consing. A career official and a member of the board of several publicly listed Ayala companies, Consing was a logical choice to take on the challenge of running the vast conglomerate. He is also the first person who is not a member of the Zobel De Ayala family to become the company's president and CEO in its history.
For the first time since his appointment, Consing, who had announced his retirement after serving as president and CEO of Ayala-owned Bank of the Philippine Islands (BPI) in 2021, sits down to talk about his unexpected return to corporate life. In this wide-ranging interview, he discusses why he thought he was wrong for the job of being the head honcho of AC, what he brings to the table as the first non-Ayala to head the family business, and what he thinks the company's secret is for lasting as long as it has.
Esquire Philippines: Where were you and how did you find out you were appointed president and CEO of Ayala Corporation? What was your immediate reaction?
Cezar Consing: This was on an early Sunday afternoon in mid-August. I had played a round at Manila Golf earlier that day and had lay down on my favorite couch. I get a call from the chairman, Jaime, who tells me that Fernando, the CEO, has taken ill and cannot continue in an executive role. Jaime asks me to take on the CEO role immediately since Ayala, as a publicly listed company, can't afford to be without one, even temporarily.
Jaime tells me that I would be the first non-family member CEO, and that it's a big deal for his family and the company. I am completely shocked. President and CEO of Ayala has never been an aspiration. I give Jaime three reasons why I am wrong for the job: first, I had already been retired for a year; second, I was an avid golfer and wanted to continue to work on lowering my handicap; and third, my wife and I were scheduled to holiday in Europe in September. Jaime responded by saying that first, I was already a board director of most of Ayala's larger companies so there was familiarity on all sides; second, that I should organize the job so that I can play all the golf I want; and third, to go ahead and take the holiday and he will make sure that he is in Manila when I am out of the country.
With that rejoinder, how could I say "no"? Jaime convened the Ayala board that evening, where my role was formalized, and I was at work at 7:00 o'clock the following morning.