When he was four years old, Carlos "Charlie" Cojuangco almost died. He was riding in one of the family cars—a 1962 Bentley Continental S2—from Sta. Mesa to Pasay City, when he felt faint and almost passed out.
He would find out later that it wasn't just simply carsickness. Apparently, there was a leak in the vehicle's muffler (tambutso) and carbon monoxide had seeped inside the car. Even the driver got dizzy, but Cojuangco got the worst of it.
ALSO READ: PROFILES
Aga Muhlach at 50: The Hidden Side of the Former Teen Heartthrob
Viva's Vic del Rosario: 'The Industry Will Keep on Booming as Long as We Have Strong Creative People Telling Their Stories'
Thankfully, he survived, and surprisingly, so did the car. That Continental S2, a Grand Tourer, is just one of a pretty mind-boggling collection of cars Cojuangco keeps in his garage adjacent to his house in New Manila, Quezon City.
There are over 100 cars in the Cojuangco garage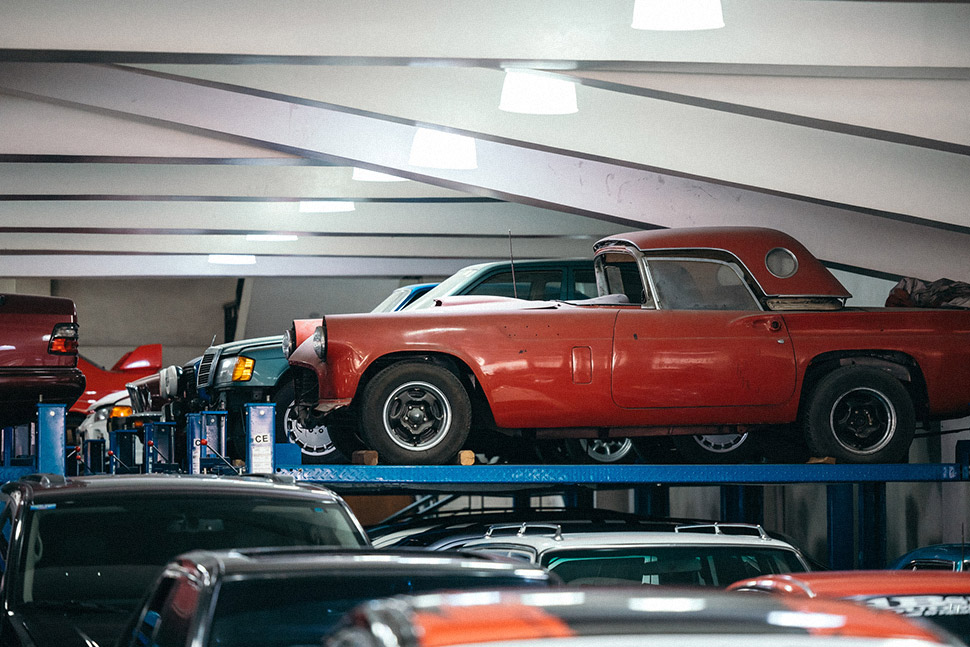 ADVERTISEMENT - CONTINUE READING BELOW
Calling it a garage, however, may be a bit of an understatement. Housing over 100 vehicles, the two-story building is bigger than many car showrooms in the city. It's so big you need a few minutes to walk from one end to the other. And it'll probably take hours to see everything since you'd probably keep stopping to admire the assortment of vehicles—from classic pre-war automobiles to the latest luxury sports cars.
Most of the cars were owned by Charlie's father, Eduardo "Danding" Cojuangco, who passed away in June this year. By his estimate, Cojuangco figures his dad had "about 80 to 100 cars." Apart from the Continental S2, he takes us to another special car elsewhere on the second floor.
The collection includes vehicles Charlie's father, Danding, amassed through the years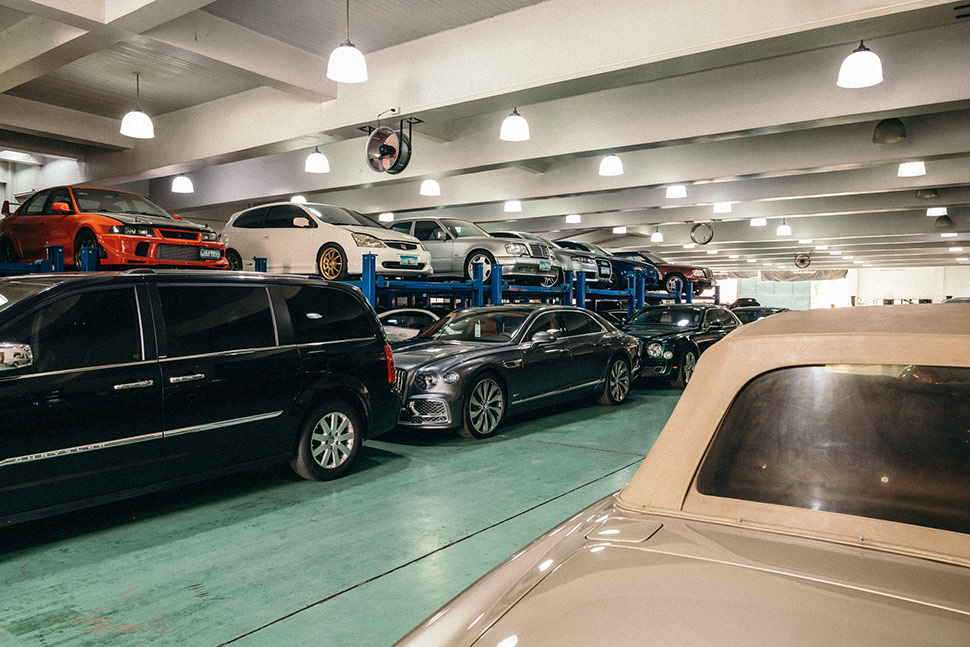 "This seems to be the most collectible here," he says, pointing to a silver BMW Z8. "This model came out in one of the James Bond movies. I believe BMW only made this for a few years, so there's not many around." (A quick Google search later would prove him right: the Z8 came out in the Bond film The World is Not Enough in 1999. Production of the roadster was discontinued in 2003).
A rare BMW Z8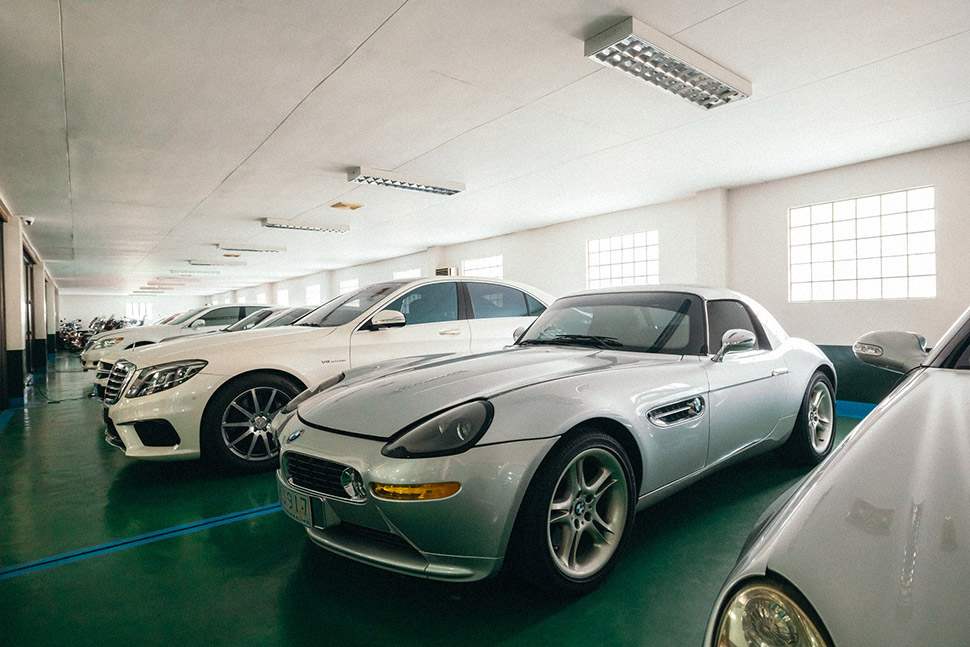 Asked how many he has in his own personal collection, Cojuangco takes a few seconds to answer. "Around 40," he says. "Some are in Bacolod, some in Tarlac. Most are here."
So where did this passion and fascination for cars come from? He says it's genetic. Even before his father, he remembers stories about his great-grandparents who lived during a time when automobiles in the Philippines were exceedingly rare.
"We didn't have expressways then," he says. "It was just McArthur Highway. So pag uuwi from Manila to Tarlac, 'pag dinaanan sila ng kotse, tatanungin daw kaagad ng lola yung driver, 'Anong kotse yan? (So when they were en route from Manila to Tarlac and a car passed them, they would immediately ask the driver, 'What car is that?)
Cojuangco poses with his Ferrari F12, which he acquired earlier this year, and which he has yet to actually take out and drive
ADVERTISEMENT - CONTINUE READING BELOW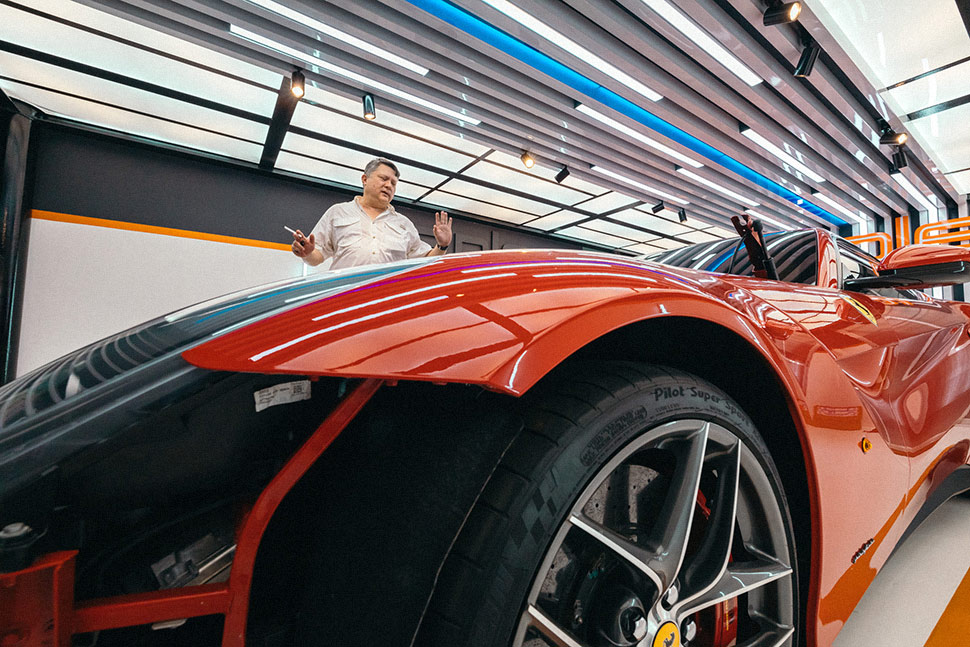 The F12's hood is being repainted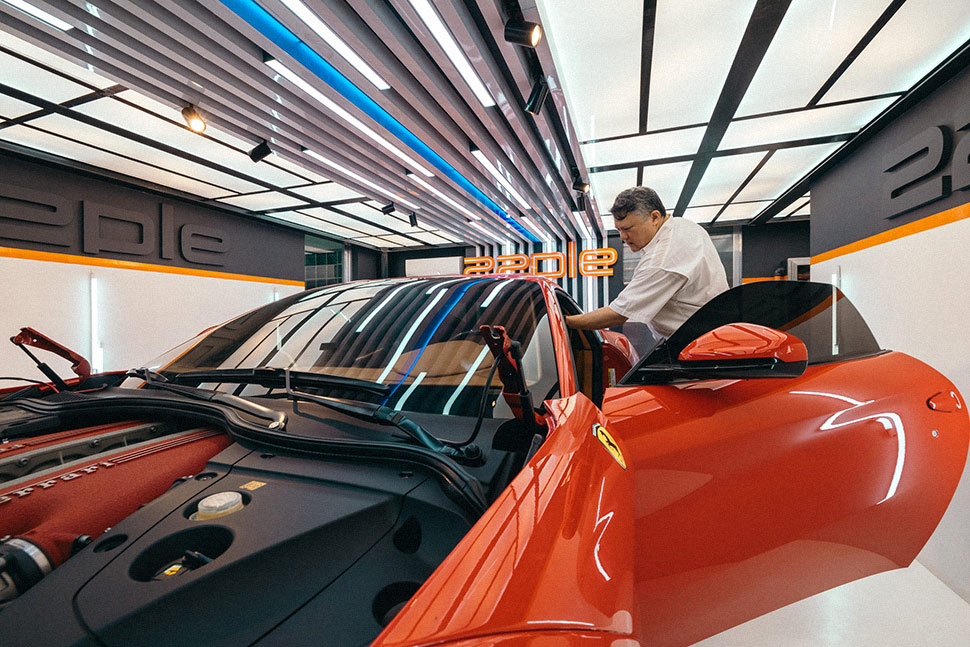 Cojuangco says acquiring cars secondhand is more practical, as long as they are well-maintained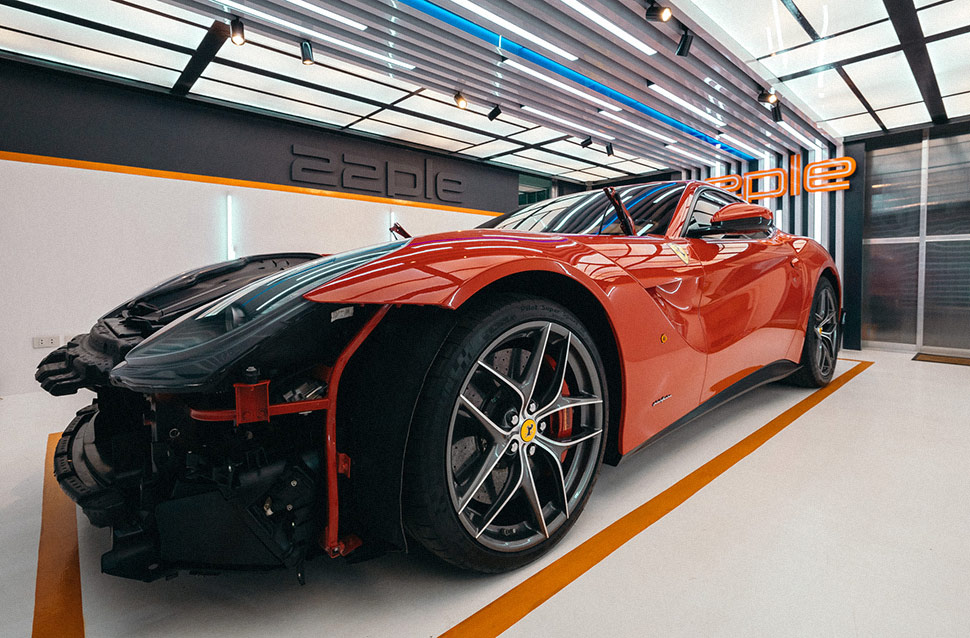 "So pagkatapos sabihin ng driver kung ano yung kotse, pagdating sa bahay, sasabihin daw niya, 'Um-order kayo nyan!' So obviously, mahilig din sila sa car (After the driver replies, as soon as they get home, she would loudly proclaim, 'Order one of those! So yeah, obviously, they really loved cars).
Cojuangco then leads the way to one car that is in its own individual garage space on the ground floor. It's a 2013 Ferrari F12 with its hood missing.
"They were detailing, rubbing and everything, and when they took out, maybe the foil or wrapper, sumama yung pintura (the paint came off, too). So I had to take the whole hood out to get it repainted." He points to the front bumper and adds, "Sinama ko na yung dito. May tama ng bato (I included this part, where there was a dent from a stone).
"That's the thing. I haven't taken it out yet," he says when asked where he's driven it. "I just drove it from the car dealer to here."
ADVERTISEMENT - CONTINUE READING BELOW
Right beside the Ferrari, also in its own bay, is a yellow Lamborghini Huracan Performante. Racing stripes that go all the way front to back in the middle look black at first glance but are actually dark green when you take a closer look.
A Lamborghini Huracan Performante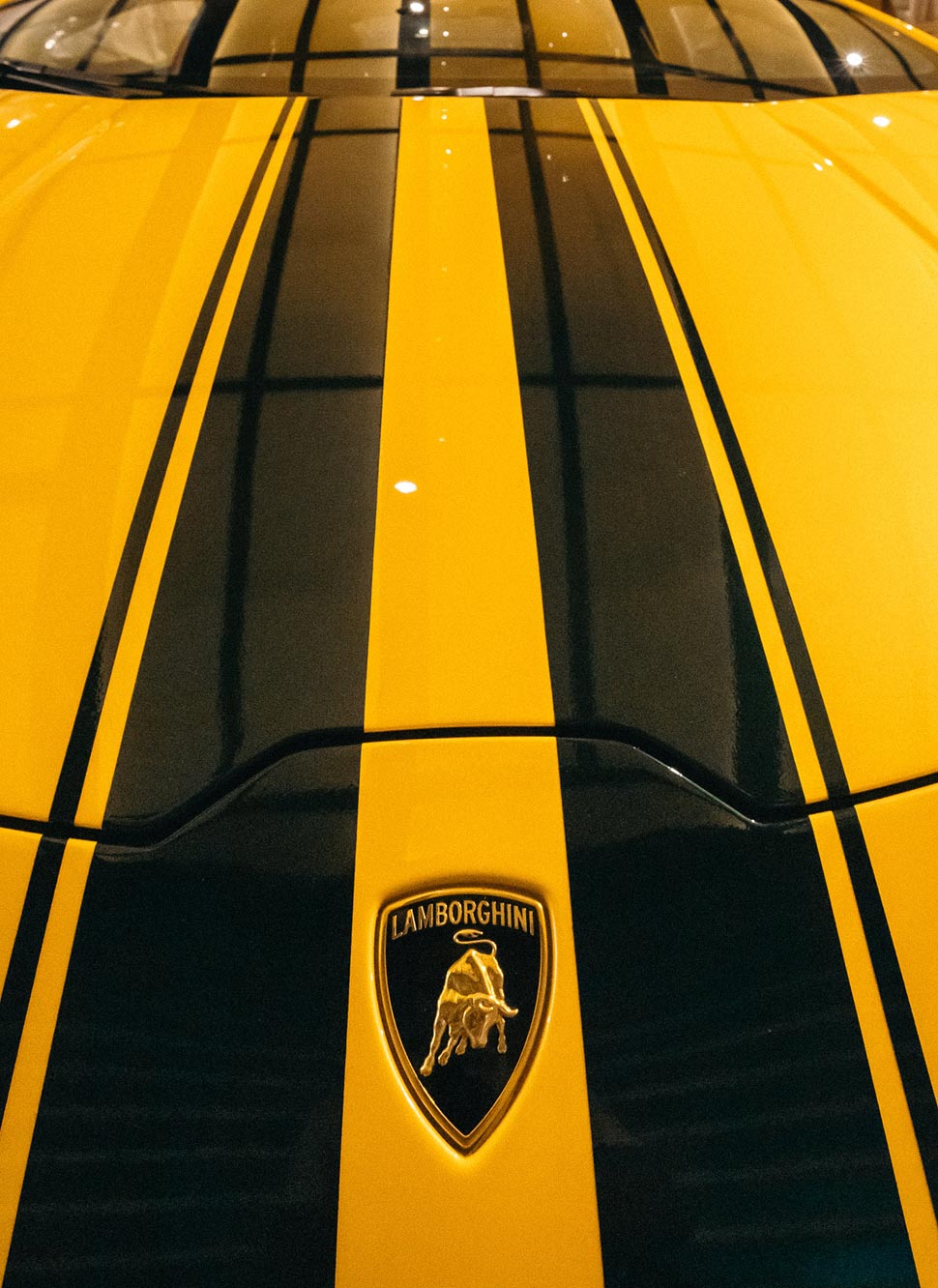 The Lamborghini has been driven, Cojuangco says, "just around the block"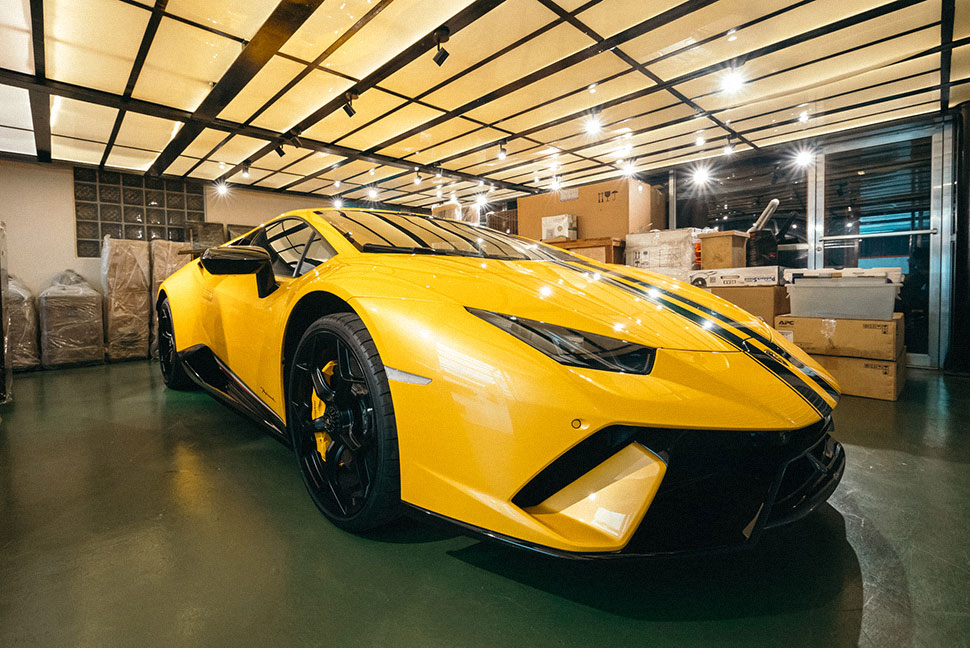 Cojuangco poses with the Huracan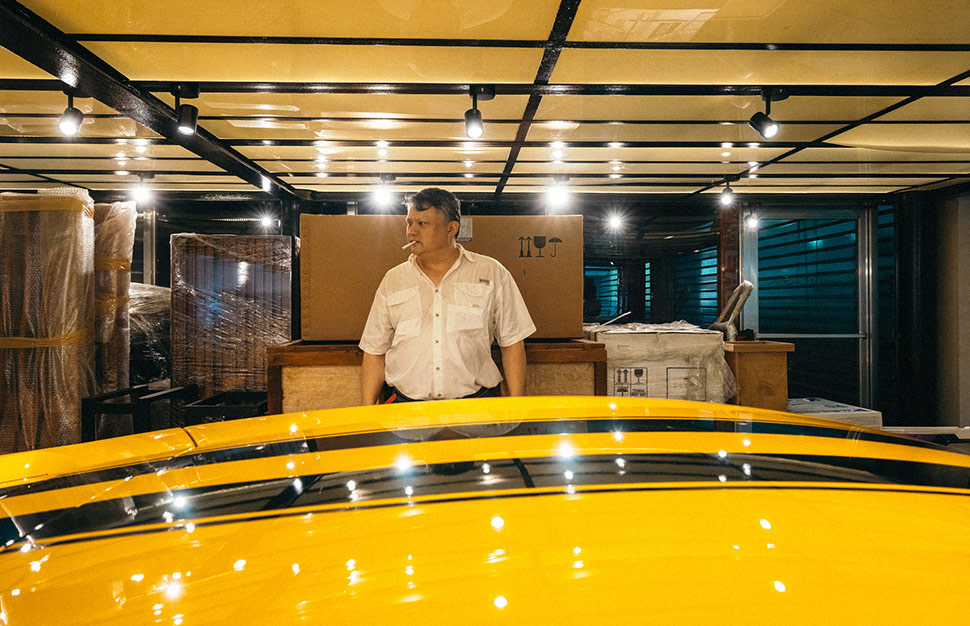 He points to the rear spoiler and explains how it works. "It sucks air through here. And then it has vents, so that's supposed to smooth out the air that's coming over the wing. There's a thin sheet of air coming from underneath the wing. When the air goes over, it doesn't tumble down. It just goes straight. So that helps the wing and pushes (the car) down evenly. Makes it more stable at high speeds."
Clearly Cojuangco knows his cars, but owning at least two luxury sports cars (and dozens of other "regular" cars) doesn't mean he's not practical. For one, he says he rarely ever buys them brand new.
"I'm fine with a well taken care of secondhand model," he says. "These Ferraris and other exotic cars, yeah, maganda tingnan, maganda sakyan, malaki value, et cetera. But the downside is, magastos, ma-konsumo, tsaka kung minsan, temperemantal (These exotic cars, yeah, they're beautiful, they're nice to ride, they're valuable. But the downside is, they're expensive to maintain, and sometimes, they're temperemental)."
ADVERTISEMENT - CONTINUE READING BELOW
From Bacolod, Tarlac and Manila
Carlos Cojuangco is the youngest of Danding Cojuangco and Soledad "Gretchen" Oppen-Cojuangco's four children. Born in 1963, Charlie grew up in the New Manila house, which he says is just about as old as he is. Up until he was 10 years old, he spent summers in Tarlac and Pangasinan, and then afterward, there were trips to his mother's home province of Negros. The family had a house near the foot of Mount Kanlaon.
After the fall of the Marcos regime in 1986, the family was forced into what Cojuangco terms as "involuntary exile" in the United States. Much has been written and said about his father's political leanings, particularly during this tumultuous period in Philippine history. He waves it off with a simple question.
"If you're running away from the law and you're abroad, why would you want to come back? You won't, right? Let's do the flipside. We wanted to come back. Whatever accusations they threw at us, we were ready to answer. But the government didn't want us back."
Cojuangco grew up in the house in New Manila, which he says is only a couple of years older than he is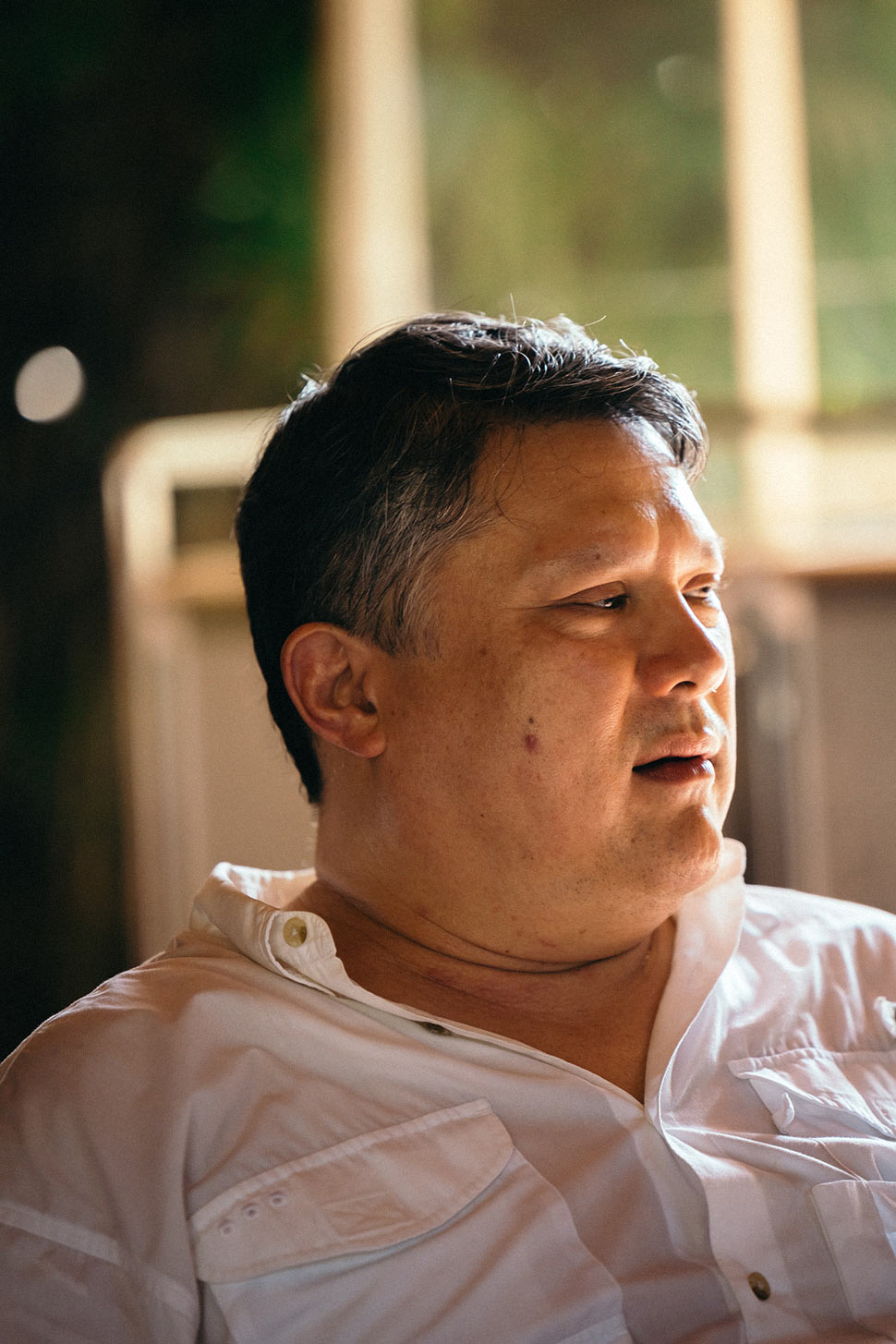 In 1992, the year before he turned 30, Cojuangco was thrust into the world his father inhabited. Danding, of course, ran for president that year, and so did an aunt and uncle in Tarlac. Cojuangco was living in Bacolod and would fly back to Manila from time to time.
On one of those visits, his father was entertaining some guests at the downstairs dining room.
"As soon as I walked in the door, they go, "O, you're here. By the way, you want to try your hand in politics? You want want to run for mayor?' I thought about it for what seemed like a minute, and then I said, okay, I'll give it a shot."
Danding lost to Fidel Ramos, and both aunt and uncle also faltered against their opponents. That year, the neophyte politician was the only one in the family to win his race. It was the beginning of what would become a career in politics: two terms as mayor, and three terms as congressman.
"I liked it enough that even the stuff that you didn't like or need, (you just accepted that) it comes as a package," he says about his time as a politician in Negros. "You take the whole or don't take it at all."
ADVERTISEMENT - CONTINUE READING BELOW
After finishing his last term in 2007, he stepped down, and, for the first time in years, didn't have a plan. He says he got into farming and spent time with his kids (Jaime and Claudia, with his wife Rio Diaz, who died of cancer in 2004). At this point, he says returning to politics was the furthest thing from his mind. Or so he thought.
In 2015, his uncle Enrique "Henry" Cojuangco, who was the representative of the first district of Tarlac, died of an aneurysm. There was a realignment of politics in the province, leading to Danding asking his son to run again.
A view of the Cojuangco garage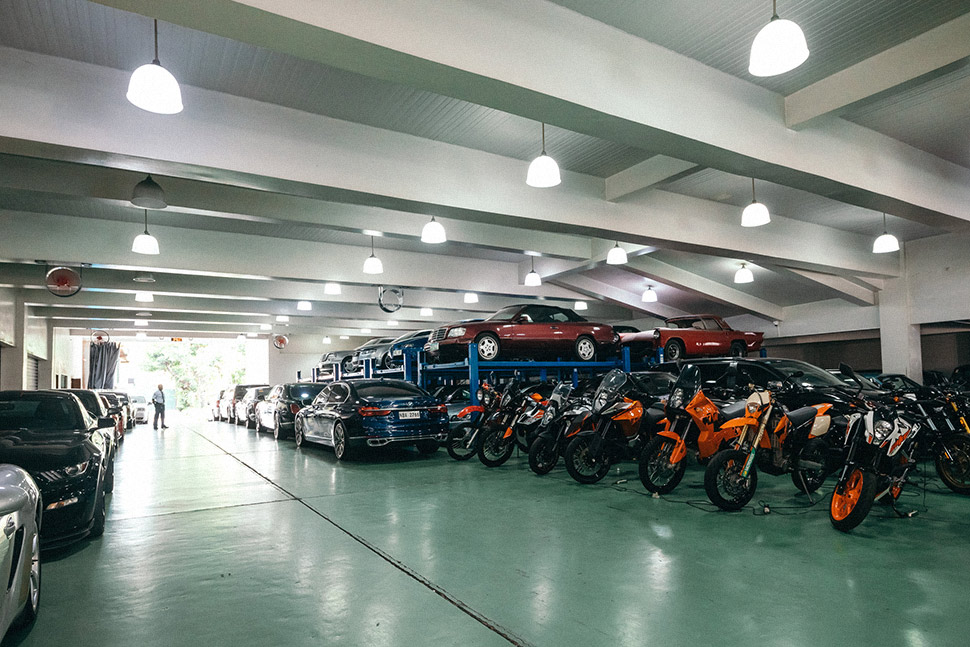 Initially, Cojuangco declined his father's offer and said he was more than happy to help in a non-elective capacity.
"Ayun, sumimangot. Galit (He gave me a frown, He was upset). That's how my dad was. If he asked you something and (you declined) politely, sisimangutan ka."
In the week after he said no, Cojuangco kept getting calls from his father's emissaries. They all sang the same tune: "Pagbigyan mo na ang tatay mo (Give your father what he wants)."
"At that point, marami na syang sakit (My dad was suffering from multiple ailments). So I said, sige na. Kahit na against tayo diyan, just to make his last quarter happy. Para wala na siyang masabi. I gave in.
"After a week, I made an appointment to see (my dad). Galit pa rin siya. 'O, p*** i**, anong ginagawa mo? Anong kailangan mo?' I told him, 'I gave it some thought, what you offered me last time. And my decision is to try it, if your offer is still on the table.' Right away I saw him smile.
Cojuangco ran again, and won again. Today he is serving his second term as congressman of the first district of Tarlac.
Toy cars and sound systems
Cojuangco is a collector, and not just of cars you can actually drive. Up a short flight of steps and inside a room just above the Ferrari F12 is his prized collection of toy cars. Glass shelves reflect bright fluorescent lights that bounce off the miniature automobiles, all of which are still in their boxes.
Cojuangco is in the process of displaying his toy car collection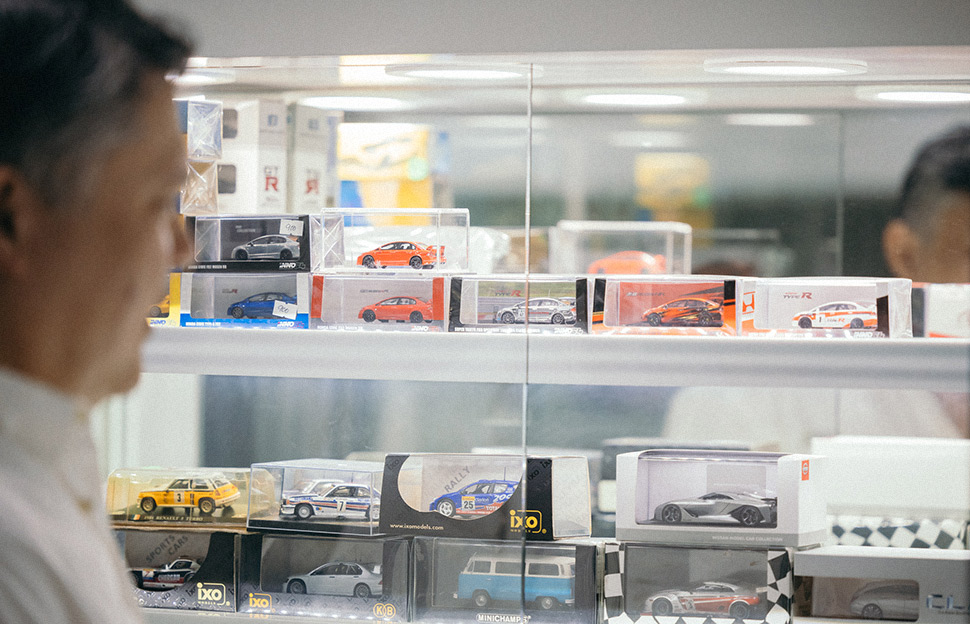 ADVERTISEMENT - CONTINUE READING BELOW
There's a whole range of Honda Type Rs on one side, a Toyota Land Cruiser FJ40, a model that Cojuangco says is the "lolo (grandfather)" of the Nissan Skyline, a bunch of trucks and rally cars, and an entire set of motorcycles.
Not all are displayed on the shelves. Many of the toy cars are still in their boxes inside plastic bags lined up neatly on the floor.
"When you collect these cars, you shouldn't throw away the box, because the value in the model is the whole thing, not just the car," he says.
Suppliers call Cojuangco when there are new items in stock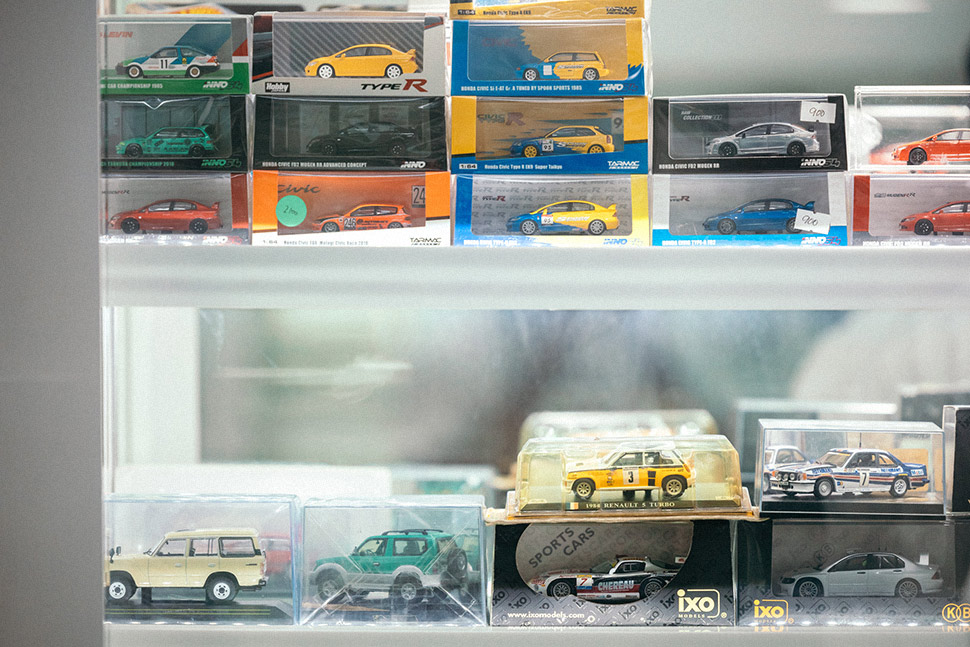 Their owner's best estimate is that he has about 200 of these model cars. He started collecting about 20 years ago, and gets them from different suppliers. Often he'd get calls from sellers who will tell him that there's a new item in stock. They range in price from P300 all the way up to P15,000.
"I'm just looking for cars that I either liked growing up, or racing cars that somehow I became aware of," he answers when asked about his car model preferences. "So maybe a famous brand or famous model, or driven by a famous driver. The rest are cars that were significant, either for the brand or for the automotive industry, at the time of their release."
Cojuangco has been collecting toy cars for about 20 years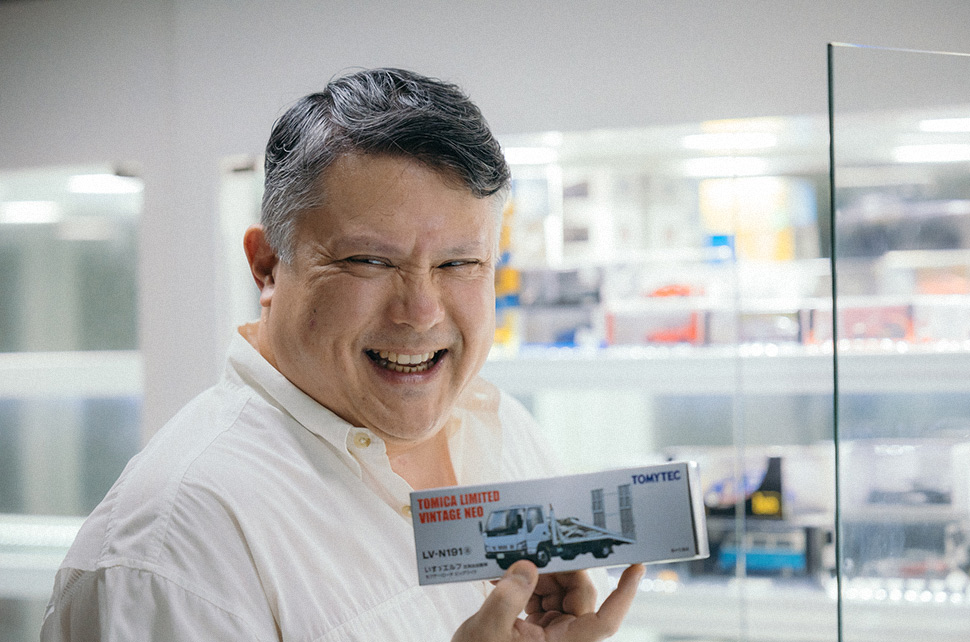 Over in another room (right above the Lamborghini Huracan), is Cojuangco's collection of vintage speakers and sound systems. If collecting cars and toy cars is niche, then this one is even more so. Cojuangco says it's an old interest he has nurtured since the 1980s, although he says he's only recently picked it up again, thanks to a cousin and some friends who are hardcore audiophiles.
ADVERTISEMENT - CONTINUE READING BELOW
He points to a speaker that carries the Pioneer brand but which he says is actually made by a Japanese company called TAD. "They don't make that design anymore and they revamped their speakers, but what they're known for are the components they manufacture," he says. "They make components that other brands purchase so that they can put them on their own sound systems."
What will soon be a music room, which is filled with his collection of streos and sound systems, was designed by Cojuangco himself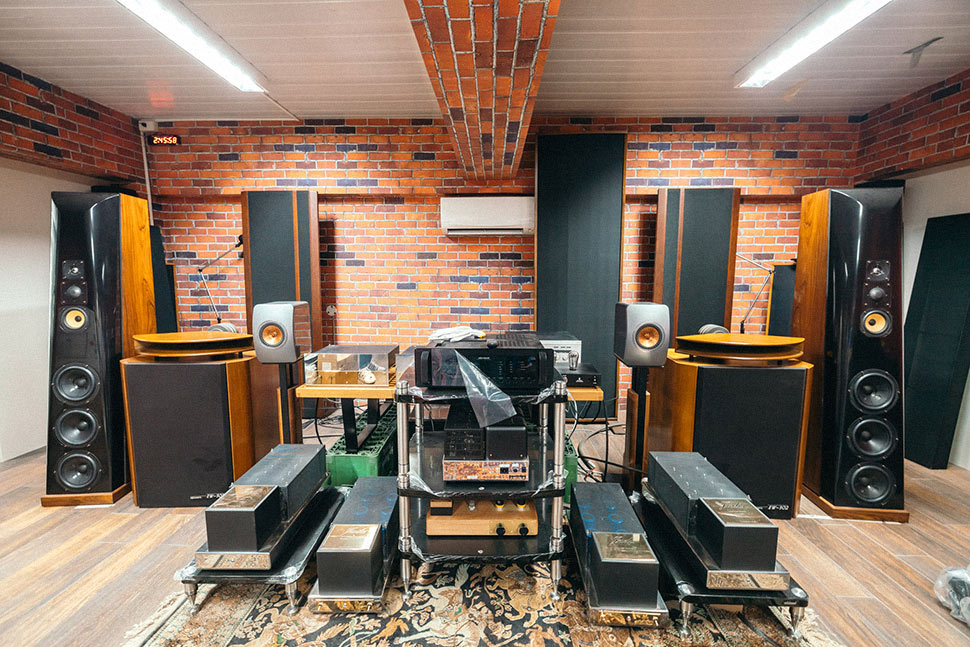 Cojuangco also collects vintage speakers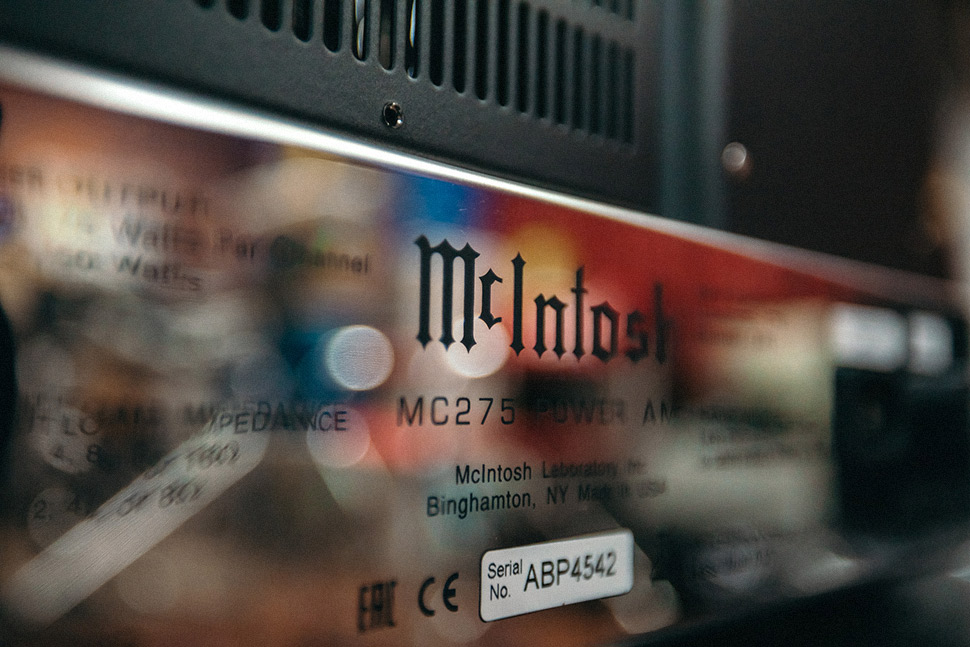 There are all sorts of audio equipment strewn about the room so it's not an exactly an ideal place to put your feet up, kick back and relax with a drink in hand, but Cojuangco says he's in the process of refurbishing it. "This loft we're in, I'm the architect here," he says. "It's messy, but it's in transition. Eventually it will be a full time music room."
Finally, Cojuangco brings out three paintings that are part of his art collection. One is by a Bacolod artist named Charlie Co; another is by Steve Santos; and the last one he can't even remember the name of the artist. The signature is indecipherable.
By his count, Cojuangco estimates that he has about 1,500 to 2,000 art pieces. He is quick to add that it's only that many because he has been collecting since 1991.
Cojuangco shows off three paintings in his vast collection of paintings and other artworks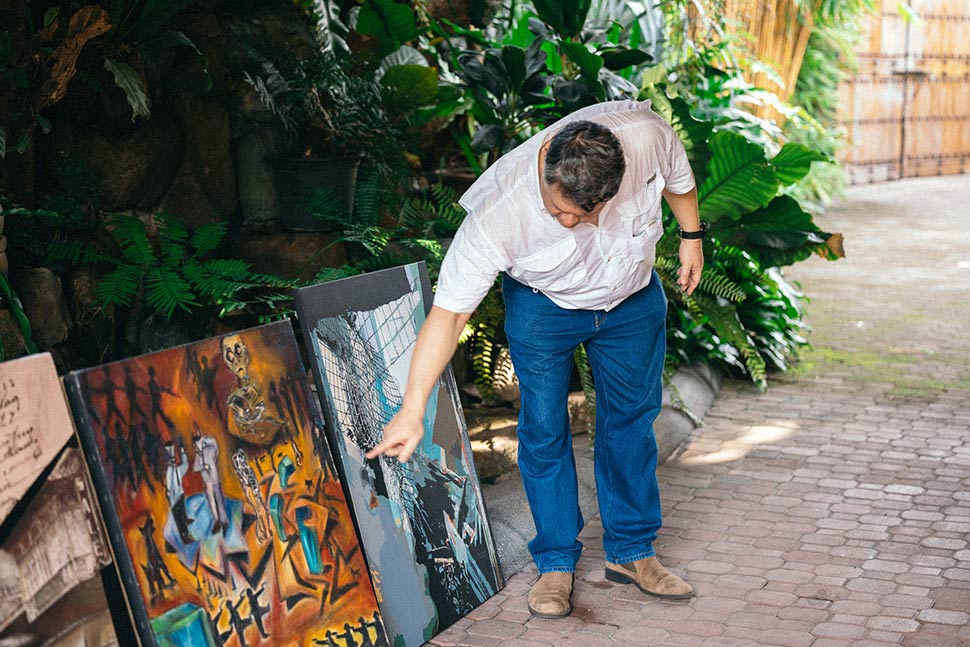 ADVERTISEMENT - CONTINUE READING BELOW
"The first painting I bought was by (Norma) Belleza," he says. "Very Filipino yung subject. That's how I started. I read books, talked to other collectors.
"I don't have any more a particular favorite," he adds. "Most of my pieces are all over the place. I even have video art; pictures, installation pieces. The early ones were all flowers, barrio scene. Then I got heavily into social realism. Mga protest art.
The plan is to eventually gather all the artworks in one place. He says he already started to turn an old house in Bacolod into a gallery.
Cojuangco cools off in the garden of his New Manila home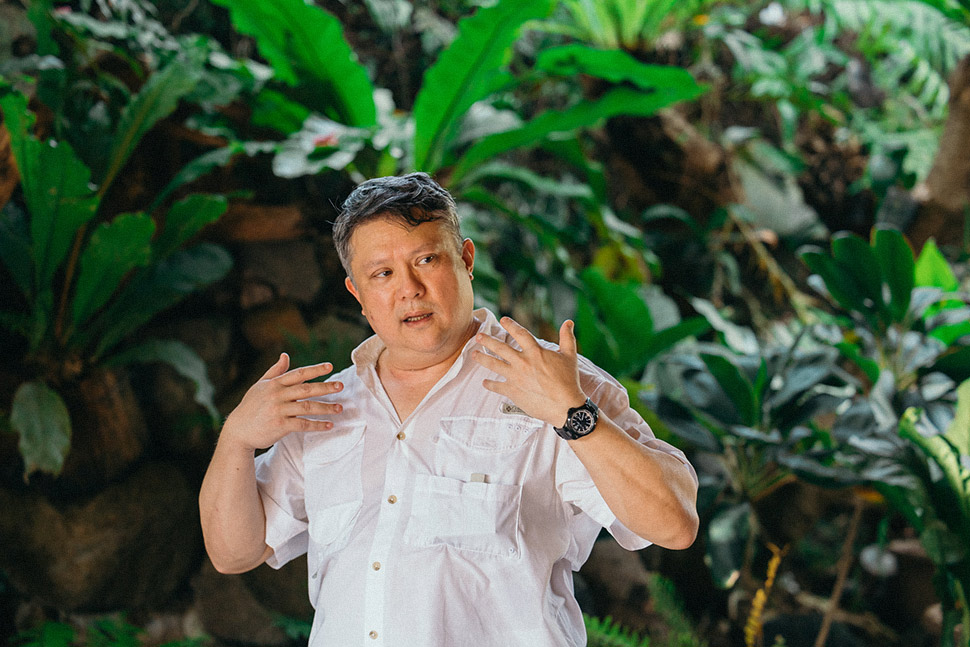 "A lot of my art is not nice to hang in the house," he says. "Baka pagpunta mo to get water at night, baka magulat ka. They're disturbing. Powerful images."
Genuine reconciliation
Cojuangco is acutely aware of the ability of art to express dissent and visualize the ills that plague society. It's perhaps unexpected for an elected government official not only to appreciate but embrace so-called protest art, but the collector offers up an expansive view on the subject.
"I get asked why I collect art that's anti-government, but I think it's also good to know what other people are thinking," he says. "Some of their concerns are valid. Some are not. But by being aware about their thoughts, you can try and interpret those that are valid, and those that aren't."
Clearly some things are the furthest from being valid in his mind. His family's fight against the decades-old ill-gotten wealth cases, for one. Sitting in a pleasant garden in front of the house that's just slight older than he is, Cojuangco reveals that the property is actually still technically sequestered by the government.
"The lot was given to my father by his mother," he says. "So this was obviously before the house was built. How can this house be ill-gotten? The house was built hindi pa presidente si Marcos (Marcos wasn't even president yet).
His current favorite drive is this red Alfa Romeo Stelvio Quadrifoglio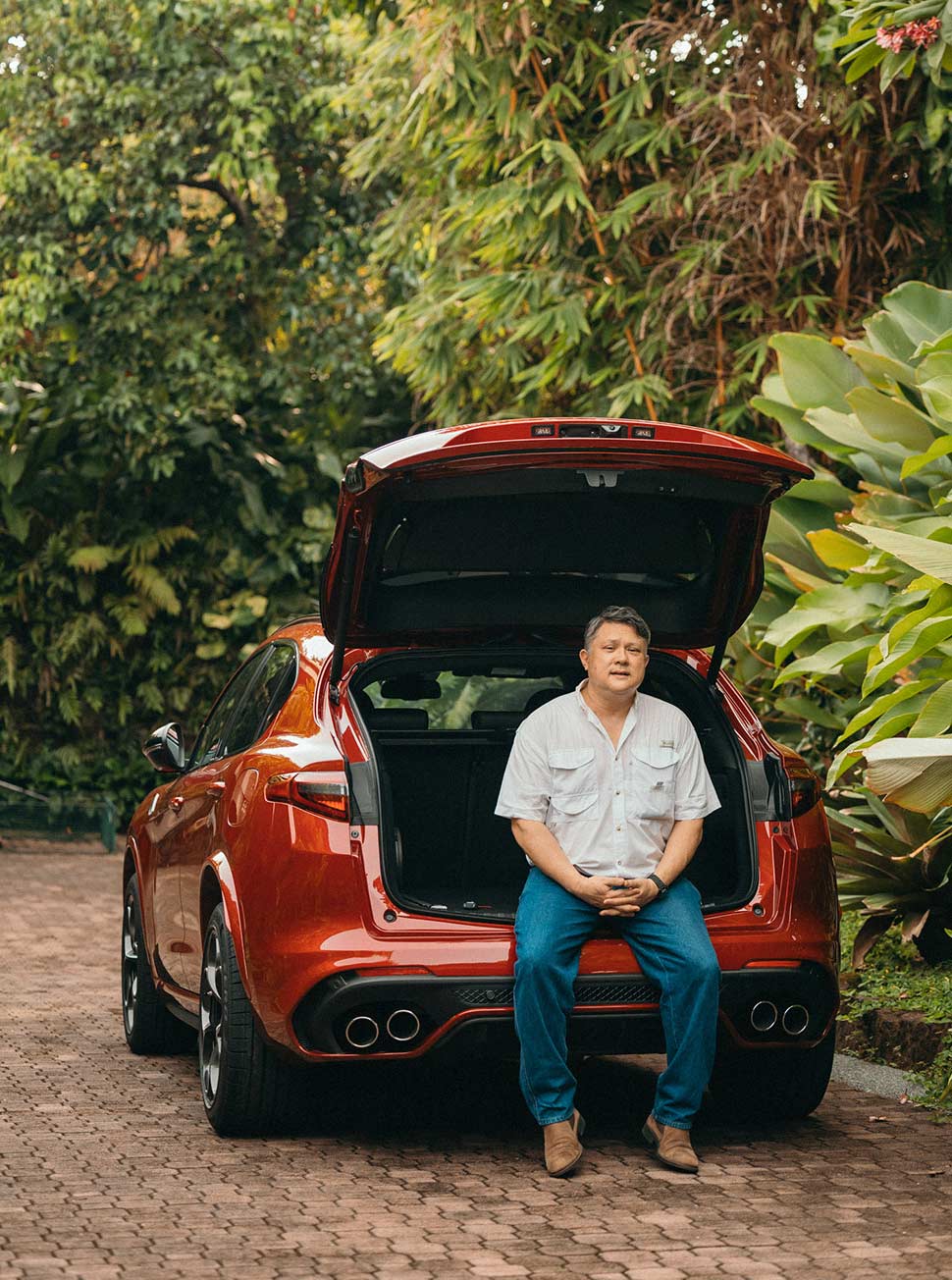 ADVERTISEMENT - CONTINUE READING BELOW
"Yan ang tanong ko," he adds. "Patay na yung tatay ko. Siya yung defendant. Hindi pa ba tapos yung kaso? (That's my question. My father is already dead. He was the defendant. Isn't the case done yet?) They should prove it's ill-gotten. Why should we prove it's not ill-gotten? It does not follow Western legal doctrine."
He also has some choice words against certain political parties.
"During the Martial Law years, they would say, 'Masama itong rehimen na diktadurya, kasi lahat corrupt, lahat ng gusto nilang kunin, kinukuha.' Nung sila yung naka-upo, ano bang ginawa nila sa amin? Ganun din e (People kept saying, 'the dictatorship was evil, everyone was corrupt, everything they wanted for themselves they would seize.' But when they were in power, they did the exact same thing to us').
"Did we bitch about it? No. We just tried to work around it. Or tried to cope with it."
The town plaza of Paniqui, Tarlac features a curious collection of four statues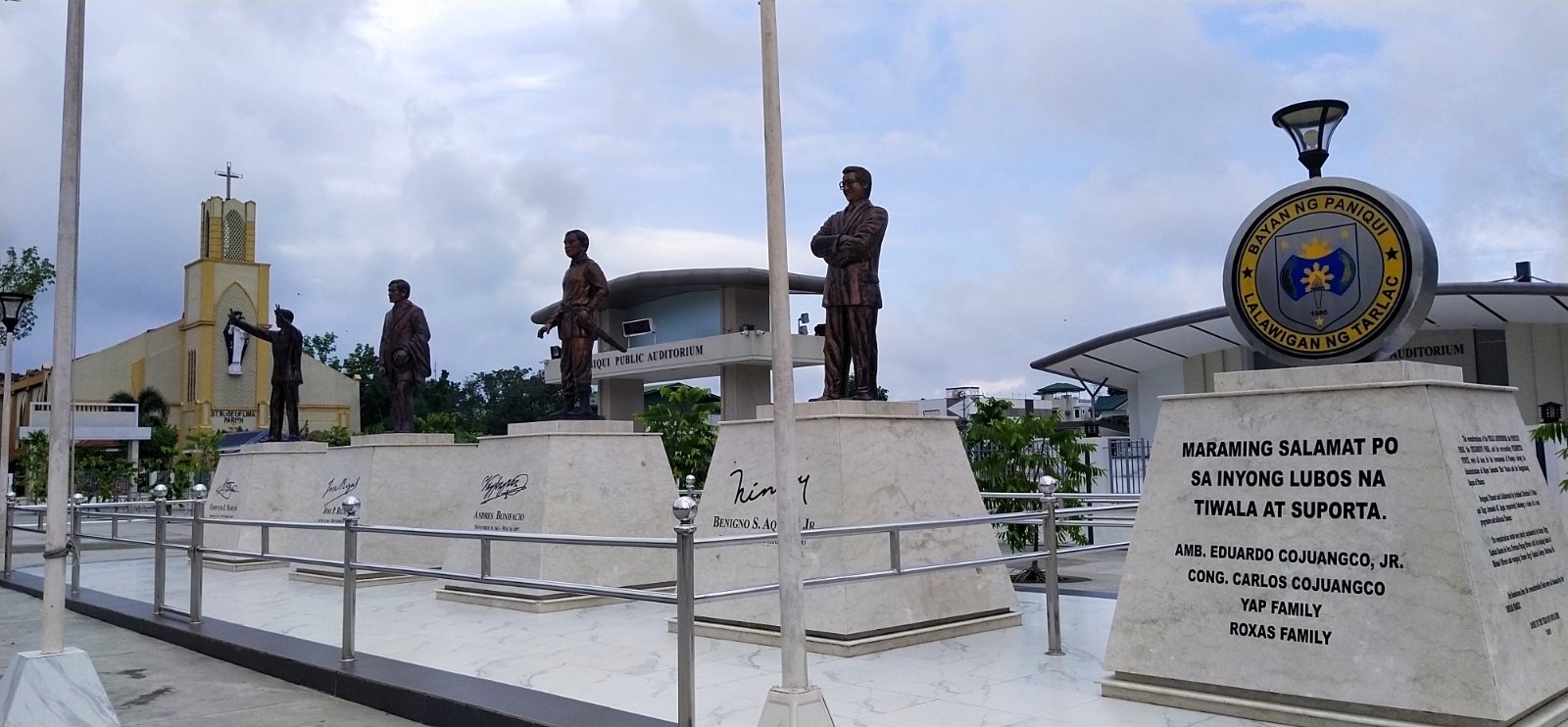 At least one way Cojuangco is trying to cope with the situation is the attempt at genuine reconciliation between two of the most contentious names in Philippine history. Earlier this year, he initiated a plan to erect a statue of Ferdinand Marcos right beside one of Benigno "Ninoy" Aquino in the town plaza of Paniqui, Tarlac. The statues also share space with two other historic figures whose status as heroes is far less disputed: Jose Rizal and Andres Bonifacio.
Cojuangco initiated the addition of a statue of former President Ferdinand Marcos earlier this year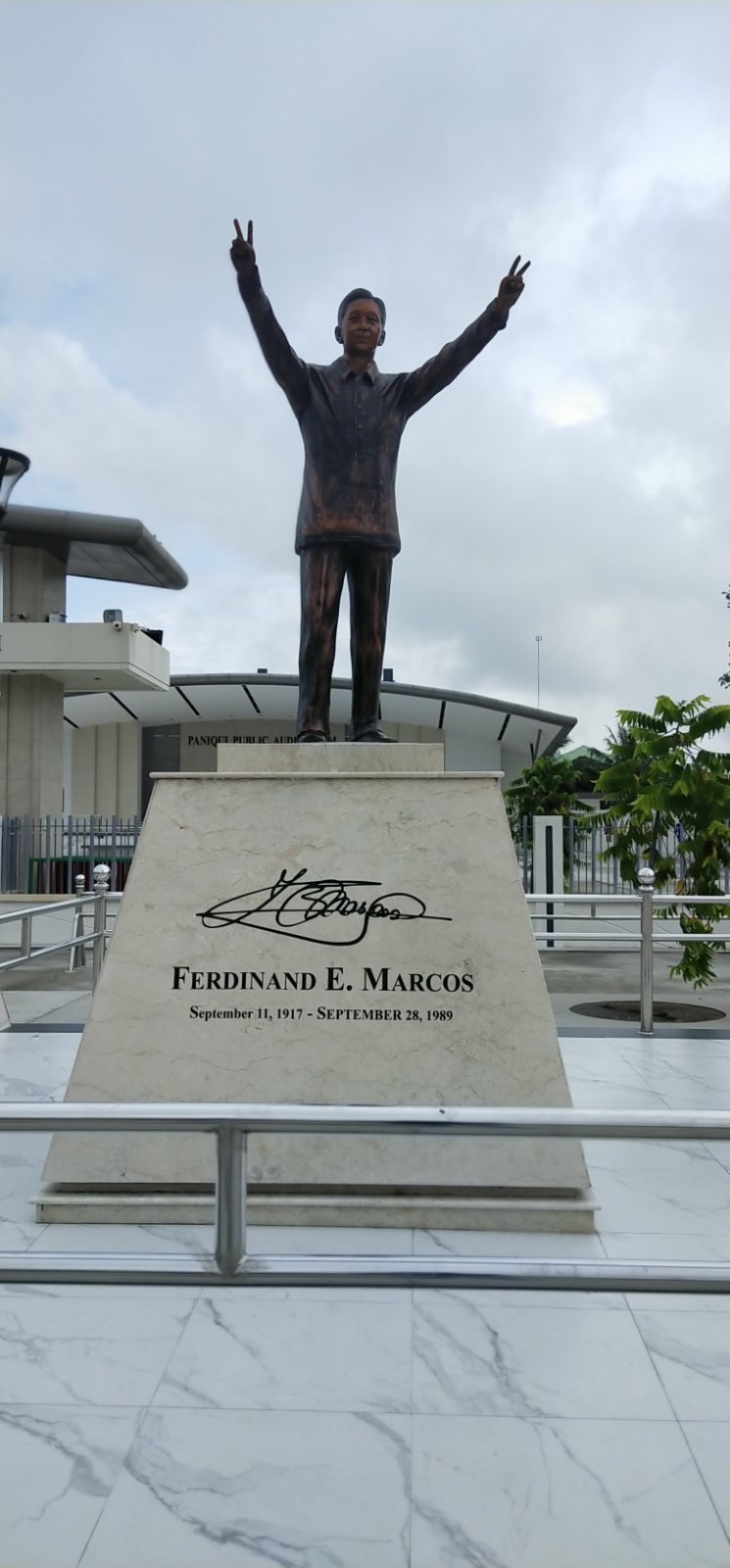 The Marcos statue stands right next to one of Benigno "Ninoy" Aquino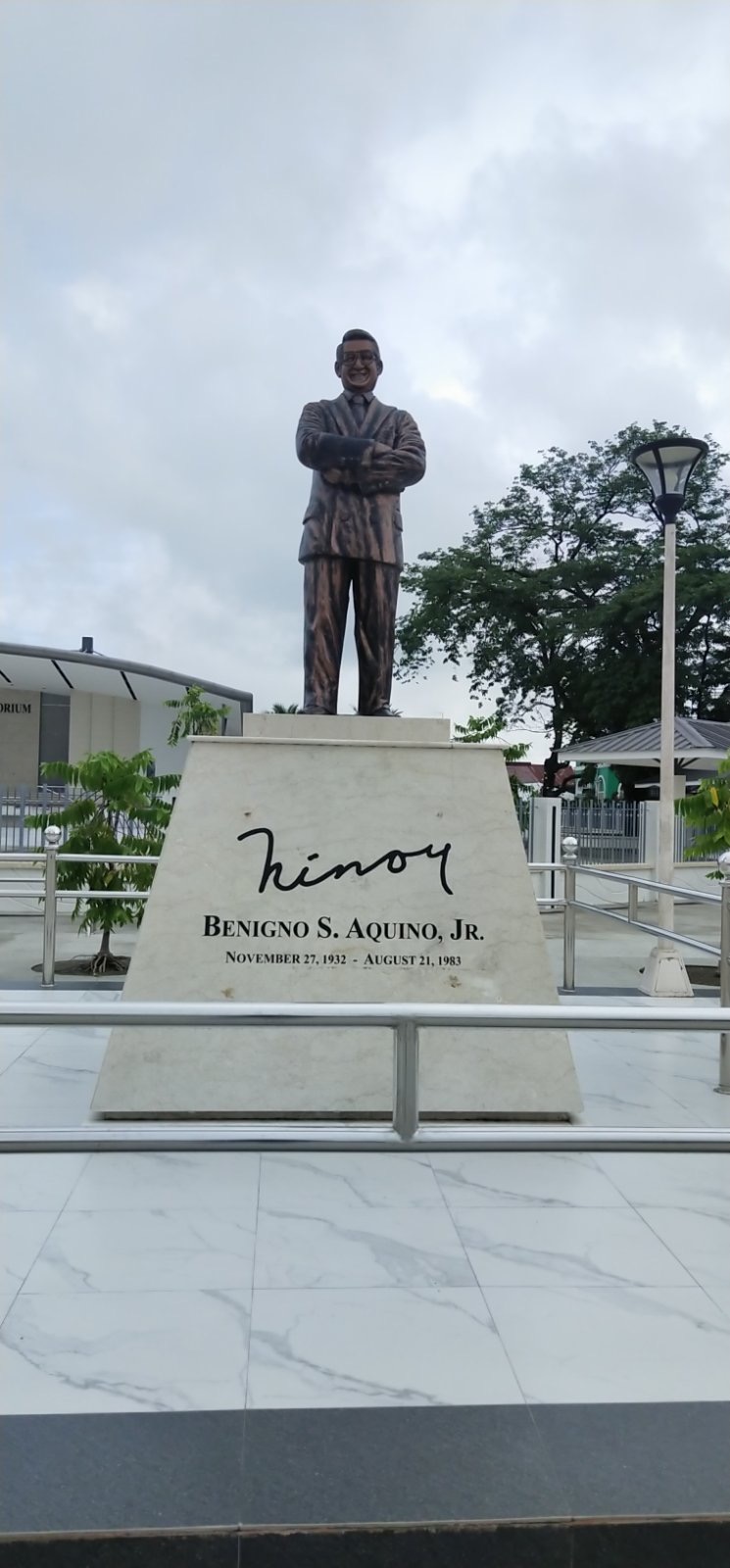 ADVERTISEMENT - CONTINUE READING BELOW
In previous interviews, Cojuangco said the initiative was a "visual representation" of the town's attempt to put an end to the bitter feud between the two families. Suprisingly, he says there was hardly any negative reaction to the statues.
"Filipinos respond to a lot of symbolism," he says. "If you see both of them there, kunyari nag-uusap sila, it's a visual clue. 'Oy, wag na tayo mag-away. Move on na (It's like they're talking to each other. 'Let's not fight. Let's move on)."
Museum of cars
I ask what Cojuangco's daily ride is these days, and he points to a Chrysler Town and Country. That's if he has a driver. But when he drives himself, his current favorite ride is a bright red Alfa Romeo Stelvio Quadrifoglio. Word on the street is that he's the only person with that specific model here in the country.
The Cojuangco car collection includes rare classic cars, including this Rolls Royce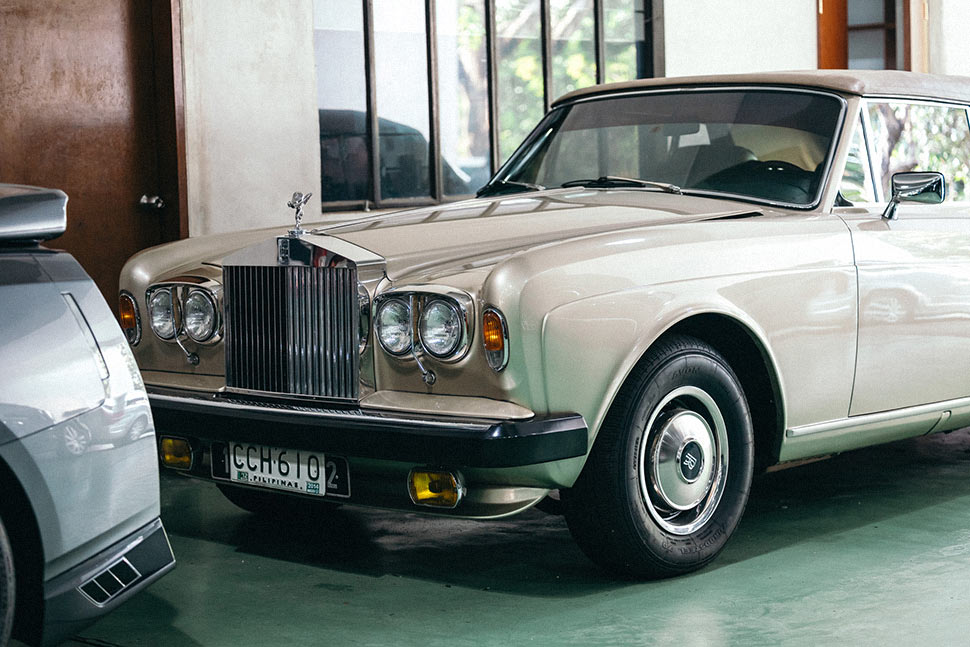 This is a 1953 Cadillac, although Cojuangco is not sure and it might actually be pre-war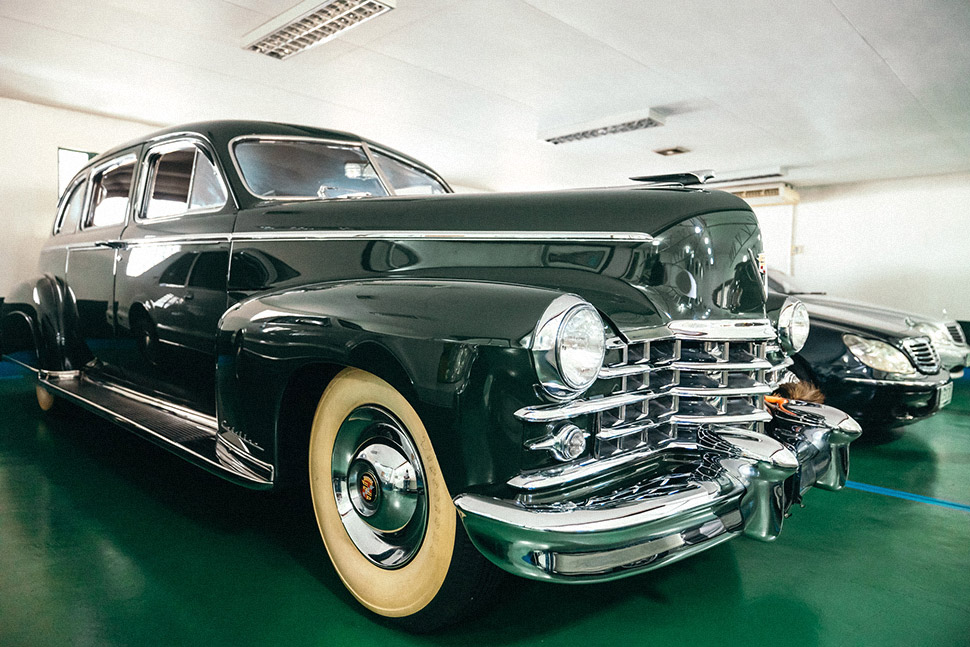 Just like his art, Cojuangco reveals that there are plans to share his father's automobile collection with others through a museum. In fact, he says his father "intimated" his wishes just before he died.
"We'll do that first in Tarlac. And then, if and when the airport terminal in Bulacan opens, we've already made arrangements that there will be a space allocated (for the museum), but it will be run as a commercial attraction." The idea is similar to the attractions in Singapore's Changi airport. Cojuangco has crunched the numbers and calculated that, if the new airport's annual capacity is 30 million passengers, getting even just one percent of that—or about 300,000—to pay to visit the museum is already a significant number.
ADVERTISEMENT - CONTINUE READING BELOW
If plans push through, the cars will hopefully be seen by the public in a museum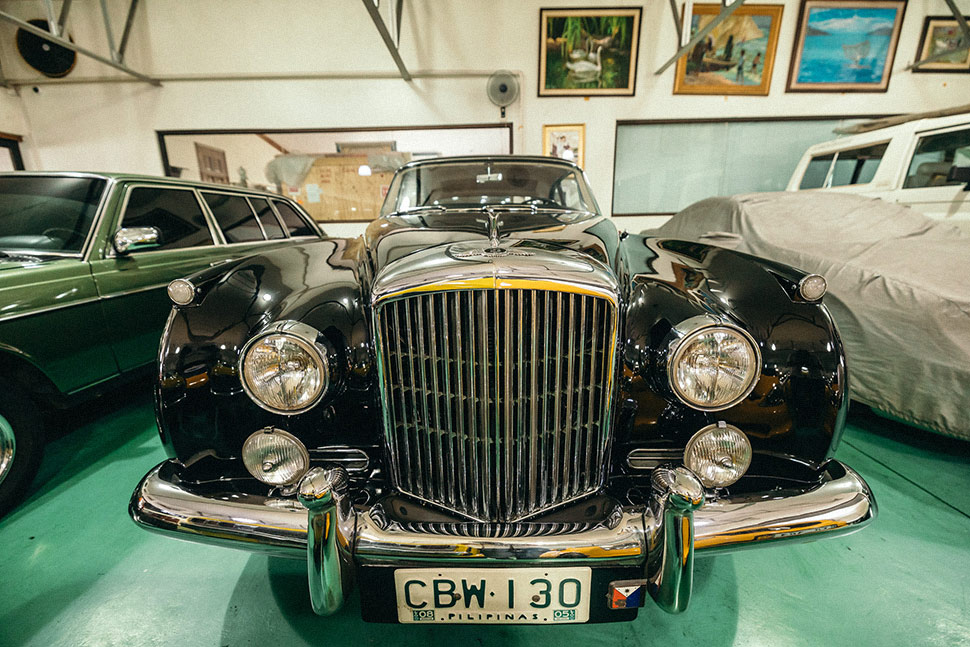 A Porsche 911 Turbo S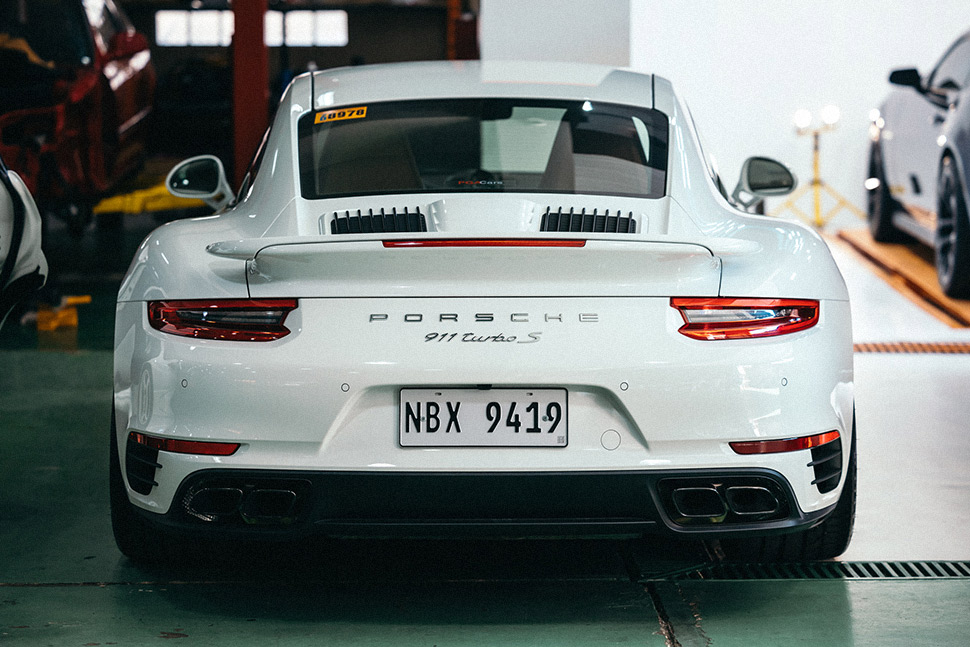 A Mercedes Benz 300 SL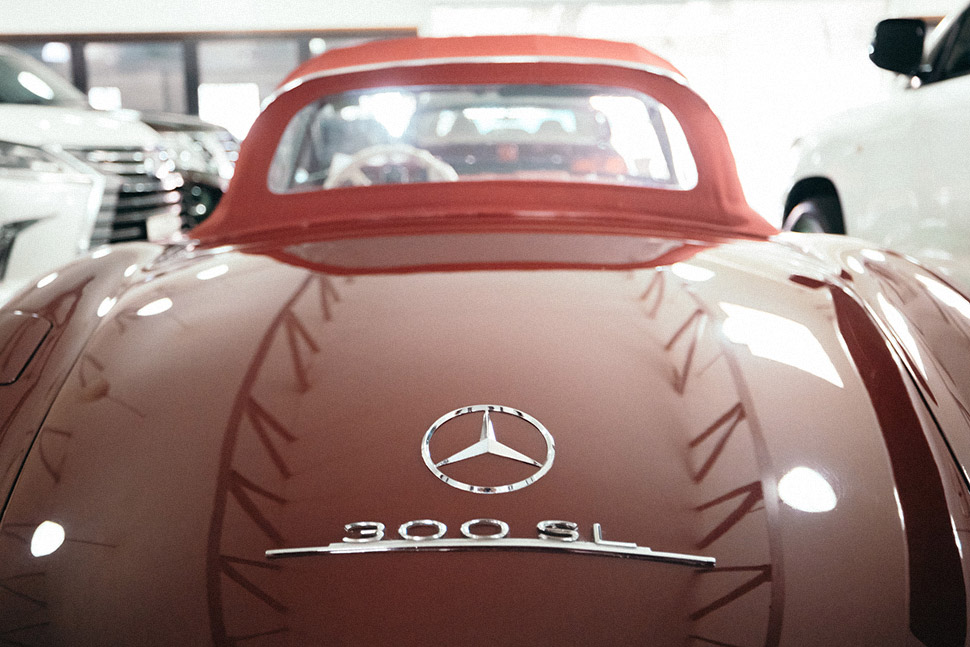 "That should be enough to operate the museum," he says. "Even not at a profit, but at least, not as a loss. It's sustainable."
Politics, cars, sound systems, art, and more politics—all of this is enough to overwhelm anybody. But there's at least one more question that needs to be asked about Cojuangco's life right now. What is his current relationship status?
"Well, I'm a widower, the 57-year-old says. "That's a fact. But as of now, I'll say, yes, I'm in a relationship with her." The "her" is named China Jocson. "I can say that I'm happy with her ." He adds that, at this point in his life, he's not concerned anymore about the opinions of other people.
"I think that, at my age, I think I already know what I want to focus on and what I don't give two shits about."
>