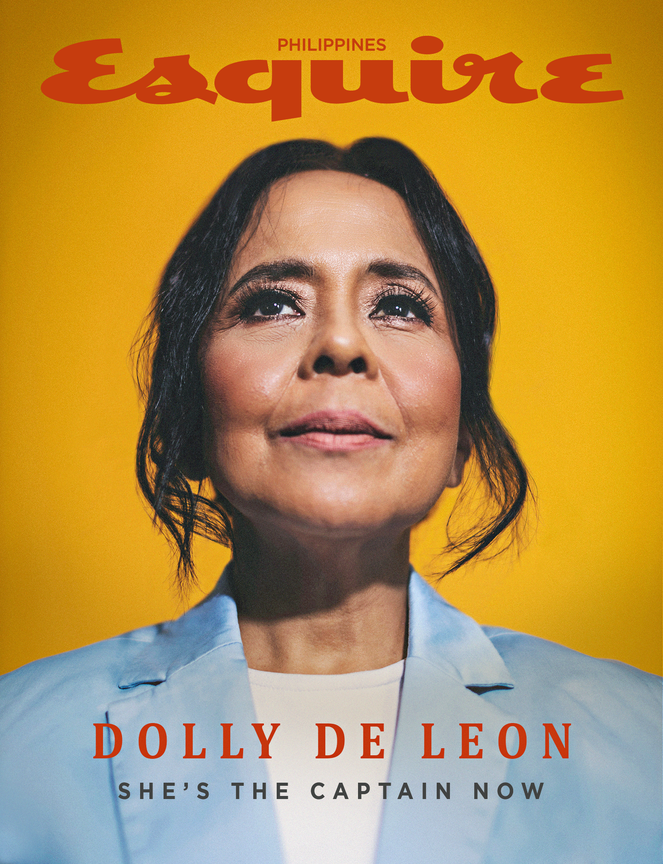 It may be hard to believe, but things haven't sunk in for Dolly de Leon just yet. That's what all the hotshots say, but she means it, she promises. The ebb and flow of life is nothing new to her, and she's learned to ride its waves out in the most graceful of ways. She's lived a life of constant movement: before she was an actress, she was a woman of the theater. Before she lived in Cubao, she was in Cainta and before Cainta was Mandaluyong and a myriad other stops in between. In between those transitions, she's been a waitress, mascot, financial advisor, etc., you name it. Before she became a "mover" herself, she loved the idea of the movers of Generation Z who, like her, dreamed of a better world. Before she became showstopping toilet manager (and peddler of the flesh) Abigail in the Palme d'Or-winning black comedy Triangle of Sadness, she was living in a black comedy of her own, trapped by the worn-down tropes and the shortsightedness of a local film industry that has a habit of failing its lesser-heralded talents. She's unsinkable that way, and now the view atop the deck looks stunning.
ADVERTISEMENT - CONTINUE READING BELOW
"For me, walang permanent," she says.
Most evidently in superstardom. The tides of international celebrity have inevitably come in for her. But De Leon is the captain this time, and the ship's sail is taking her to previously uncharted territory for any Filipino. She's the first-ever Filipino performer to bag a nomination at the Golden Globes. With her in the Best Supporting Actress in a Motion Picture category is Hollywood giants Angela Bassett for Black Panther: Wakanda Forever, Kerry Condon for The Banshees of Inisherin, Jamie Lee Curtis for Everything Everywhere All At Once, and Carey Mulligan for She Said. She had already received the award for Best Supporting Performance at the Los Angeles Film Critics Association Awards, along with Ke Huy Quan for his role in Everything Everywhere All At Once.
Still, she scoffs at the notion of this newfound notoriety. "Teka muna," she pauses. "Hindi ko nararamdaman 'yung fame na sinasabi mo." The tidal waves haven't fazed her one bit, it seems. "Nagtataka nga ako na gusto niyo ko interviewihin e. Hindi talaga nagsi-sink in, promise... Parang bola pero hindi."
De Leon thinks of this crazy cycle of interviews, covers, features, soundbites, and more as just another part of the job. She's been asked every damn question in the media textbook. It's the same job she's had for more or less 30 years at this point.
"It's not because I'm famous. Hindi talaga e. Kasi hanggang ngayon nangungupahan pa rin ako ng bahay, wala akong sasakyan. Alam mo 'yung ganoon? Simple lang ako." Her career, interestingly, is anything but.