Gillian Anderson is bidialectical: Having spent significant parts of her life in both the USA and the UK, she speaks both Her Majesty's English and American English fluently. She switches accents depending on her location and role: see Gillian Anderson in The X-Files or American Gods; see Gillian Anderson in The Fall.
But there's more to it than that: Meeting Gillian Anderson in London—where she's lived since 2002, after decades of transcontinental living—also shows that the star has a different sort of, well, star power over in the United Kingdom. Tabloids report on her moving to a new neighborhood. Her Instagram feed shows a near-daily schedule of guestings on charity events and talk shows. She has her own clothing line. She's been conferred an OBE by the Queen.
There's something lost in translation between UK Edition Gillian and International Edition Gillian. As she walks into the room in a hotel in Soho, there is a deferential hush that precedes her. She probably tips the scales at barely 45kg (that's 100 lbs. to the Americans) and 160cm. (5 feet, 2 inches), which might be what a British grandmother might have called "a slip of a girl." Her voice is soft, but she speaks rapidly and in a way where you can hear the italics.
British Gillian is formidable. British Gillian is hot. British Gillian is a star in a way that International Edition Gillian could only have dreamed of, back when she was playing FBI Agent Dana Scully.
ADVERTISEMENT - CONTINUE READING BELOW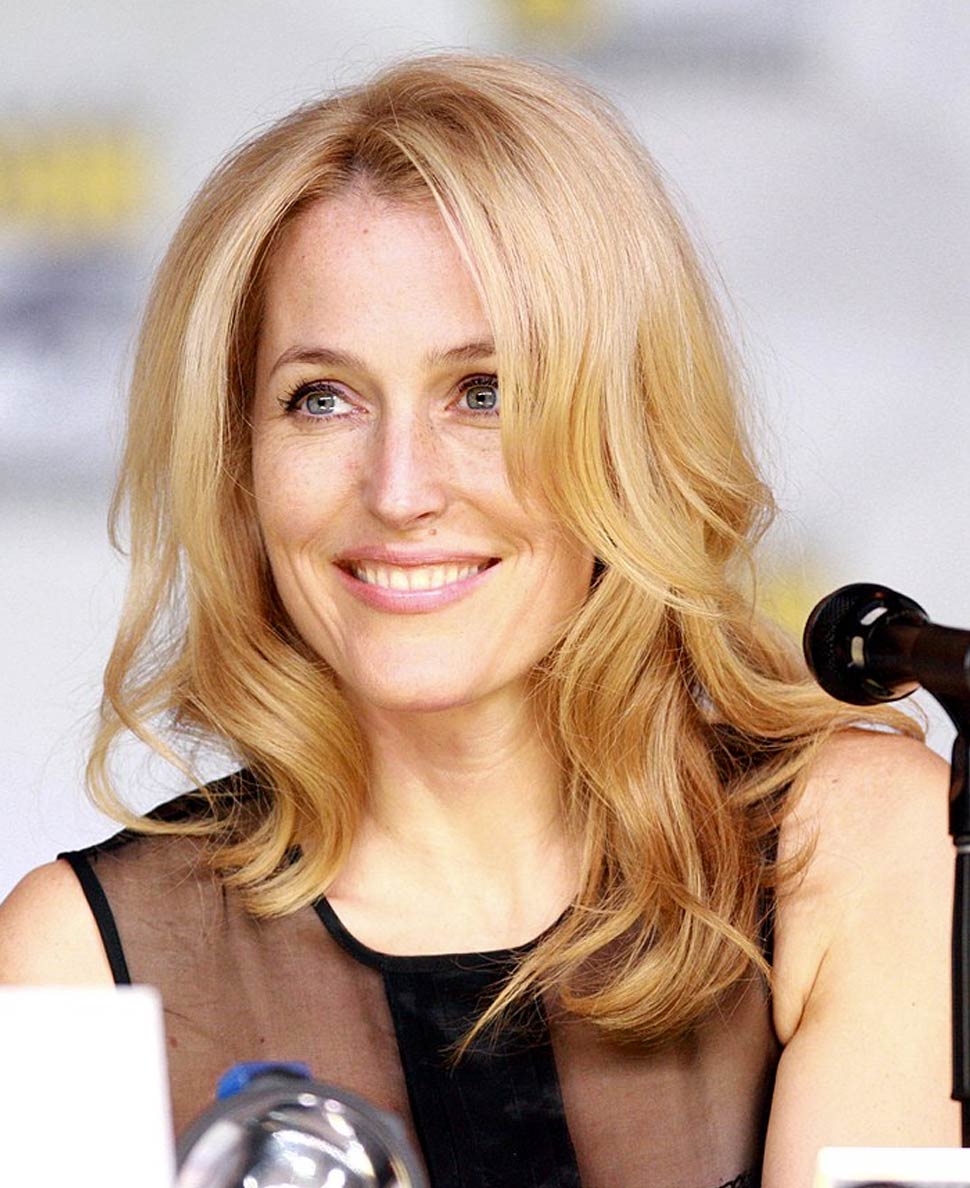 And so Gillian Anderson is perfectly cast for the new role she's here to talk about, as a British, er, MILF on Netflix's new teen comedy Sex Education. Playing quirky midlifer sex therapist and mother-to-a-teenage-boy Jean Milburn in a British series that pays homage to the classic John Hughes-ey teen romps of the 80s, she needs to be both identifiably British and…not British at the same time.
It's not the only balance she needs to manage on the show. She's both the most overtly comedic character on a show full of comedic characters and the straight foil to the rest of the cast. She's a capable, independent, and accomplished doctor, and also a flighty mother.
Together with Asa Butterfield, who plays her son Otis, Anderson speaks about Sex Education, about navigating the "weird" but perhaps inevitable talk with one's children, and about the differences betwen American and British attitudes towards sex.
CONTINUE READING BELOW
Recommended Videos
Q: Tell us a little about your Jean Milburn, your character on the show.
Gillian Anderson: I think she's quite a good therapist, and renowned, and has a good practice and keeps within good boundaries in her office. But where her son is concerned she has a blind spot. She just…yes, she's all over the place.
Asa Butterfield: I think Otis is, when we find him in the show at the start, it's been long enough now, and he's put up these boundaries…at this point, going through puberty that he doesn't want his mom involved in that way.
GA: I think she thinks it's just a matter of him, you know, his shyness and whatever, and all he needs to do is break through it, and once he breaks through it, once he's brave enough, he'll be able to talk about all this stuff again, as opposed to the thought that it might be her who needs to back up a little bit and calm things down and not be quite so open.
Q: Do you think it's important and easy to talk to your kids about sex?
GA: NO.
AB: It's not easy for either party. It's not a conversation that comes naturally and in my experience it's not really conversation you want to have with your parents. It's a part of your life that they're not involved in…It's weird!
GA: It is weird. I think a lot of parents think that actually they'll be able to handle that, you know, the bird and the bees conversation, and that they'll be able to normalize it and make it cool in some way. But it's hard (chuckles) and when you're actually face to face with that as opposed to thinking of that as a huge thing that you might do, when it's that moment, it's really easy to either one, skirt, as a parent, entirely, or to become tongue-tied and realize that [difficult] how to make this thing sound that this is actually then um you know it's not either a bad thing, or a dangerous thing or something to be afraid of.
ADVERTISEMENT - CONTINUE READING BELOW
Q: Do you think there was a shift between parents and children of your generation and now? Has it become really that much less awkward?
GA: I think it was more taboo. I don't think it was any harder than it is today. I think it's equally as hard today as it ever was, even though what we're being fed in magazines and the types of stuff that is out there on social media, et cetera, that doesn't mean that that very intimate conversation [gets easier].…It's very very different when you're in your own house with your own child than it is watching something on television, or watching other people have that experience, or even shows where there's kissing. It's very different when it's your own kids.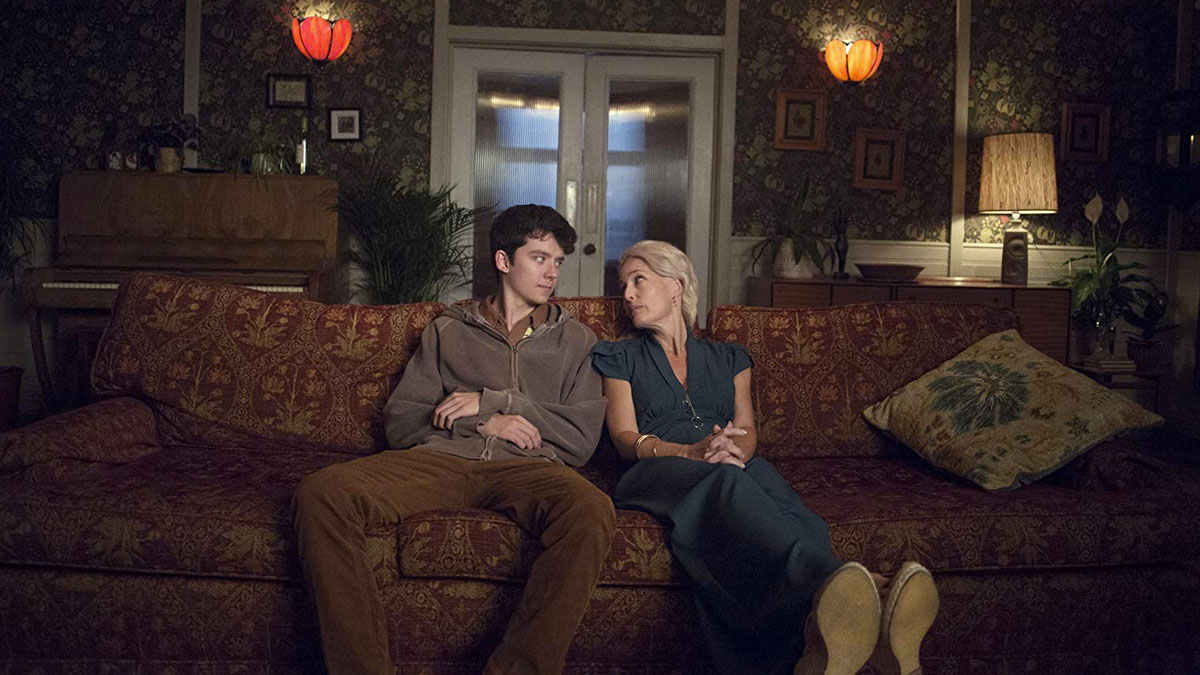 Q:What do you bring to the role? Was there any kind of research involved?
ADVERTISEMENT - CONTINUE READING BELOW
GA: I've seen multiple therapists over the years. I feel like I've had firsthand experience. Not sex therapists per se, but therapists, and so I feel like I've had firsthand experience with it.
But I think for Jean, it was important for me that she was suitably neurotic and potentially hormonal for this stage in her life that may not have been necessarily on the page…or if it was on the page for a particular reason, it became about you know this time in her life. And…also just having fun with the comedic character. I haven't played a lot of comedic characters before, and so you know, exploring that and making the most of that.
Q: Earlier we were noticing how you can't really tell whether the show is set in the UK or in the US—quite a bit of the show translates so well across cultures. Having lived and worked in both countries, do you think there are significant differences in attitudes towards sex?
GA: The Brits are kind of historically known for being uptight and restrained and potentially repressed. And so what part of what is interesting in any kind of sexual humor within that realm has a whole other element to it because there's that juxtaposition between something which is innately relaxed and released and open and not repressed hopefully [and that uptightness]…whereas the Americans for a longer period of time have been raunchier. Although we have Benny Hill, for crying out loud. (laughs) I don't know.
ADVERTISEMENT - CONTINUE READING BELOW
But you're right: there's a bit of both worlds, decidedly, in this series, and the aim and the hope is that the Americans won't notice. Like, for instance, the Brits may notice that they're throwing American footballs, whereas the Americans won't notice that it might be strange for people with British accents to be throwing American footballs. I think that the rules are shifting all the time in terms of how an audience receives the shows that they're watching and what they're willing to accept and what realms and worlds they're willing to step into to suspend their disbelief. I think Netflix believes quite strongly that they've hit on something with this kind of amalgamation.
Q: Are you an embarrassing mom? Have you had The Talk?
GA: I'm sure I'm an embarrassing mom. I probably think I'm a much cooler mom than my kids think that I am. My kids probably think I'm an embarrassing mom. (laughs)
I haven't really had The Talk with my two young boys yet. I do remember having that talk with my daughter, but it was more of like a long drive discussing all the horror things that could happen if she didn't use proper protection—strategically we had that conversation in the car. (laughs) And this can happen! And this can happen!