This year marks the 10th anniversary of Esquire Philippines. What better way to celebrate than with our annual Man at His Best (MAHB) event. This year, we honor 10 heroes and mavericks from the worlds of film, music, business, art, sports, politics, and more. These are men and women who have inspired us through their work, achievements, and advocacies.
We present Esquire's Athlete of the Year, Hidilyn Diaz.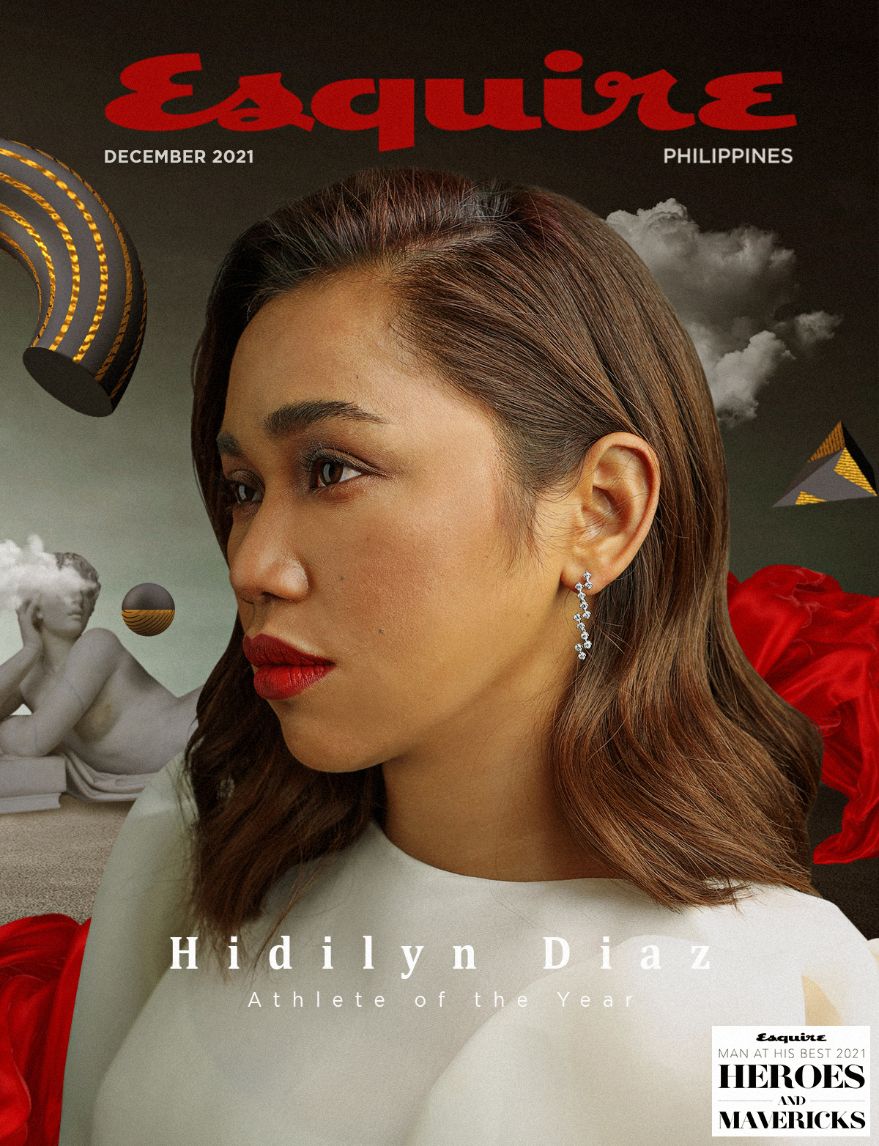 ---
What were you doing when Hidilyn Diaz won the Philippines' first-ever gold medal at the Olympics? This is a question almost everyone has an answer to. In an era plagued by bad and worse news, it's almost only the most tragic moments that make us remember our exact place in time and space when the world shifted—9/11, the start of lockdown, Kobe's crash.
But for a moment in 2021, the country collectively paused not in grief or shock but in total joy as millions witnessed a Filipino—a woman at that—symbolically lift the weight of an entire nation's pandemic-induced anguish. Sports fan or not, every Filipino had their eyes glued to their TV and phone screens the moment weightlifter Hidilyn Diaz beat all of her opponents to win the gold medal.
ADVERTISEMENT - CONTINUE READING BELOW
Goosebumps, tears, shrieks of joy—never had a moment ever united a divided country so strongly. It was a win for everyone, regardless of political colors or economic background. A symbol that the Filipino can. A moment of true Pinoy pride that no one can scoff at or relegate. And in the middle of the parade was a woman who unexpectedly shot to heights that went beyond fame but just short of hero status.
Hidilyn Diaz, who had already won the silver medal in Rio De Janeiro in 2016, was only partially prepared for the praise and fanfare—until she realized it just kept coming. Countless endorsement deals, millions in incentives, and even a Presidential Medal of Merit have landed in her lap, and there's no sign of it stopping anytime soon. Despite it all, Diaz, who hails from a small town in Zamboanga, has managed to keep her head above water and her feet firmly anchored on the ground. Humble is almost an insufficient word to describe the weightlifter, who's accepted her success with a sense of gravity.
"Mas kailangan natin ng inspiration, lalong lalo na ngayong pandemic. Hindi ako susuko dahil sa mga bata at gagawin ko ''to," Diaz tells Esquire Philippines on her pre-Olympics mentality. "Gagamitin ako ni God kasi gagamitin niya ako as inspiration sa mga Pilipino, sa mga kabataan na 'wag sumuko. Kaya nung tinanong mo na kung na-overwhelm ako, hindi. Kasi tinanggap ko na ganito, e. Ito yung responsibilidad na alam kong binigay sa akin ni God. Kailangan lang tanggapin ko [at] mag-adapt."
Diaz's grit caught international attention at the Games—as did the reactions of Filipinos on social media. She was one of the most talked about athletes in Tokyo; an underdog who beat China's heavyweights to win the gold. At the Games, it's always the Olympic powerhouses—the U.S., China, Japan—that sweep all the medals, and some achieve it so easily that there's barely any fanfare. But the glory in Hidilyn's win was the struggle to get there. As they say, the harder the battle, the sweeter the victory, which is precisely why Diaz's gold medal got the attention it deserved.
"I win not only for myself. I win for weightlifting. I win because of Team HD. I win for the Philippines. And I win for all the athletes."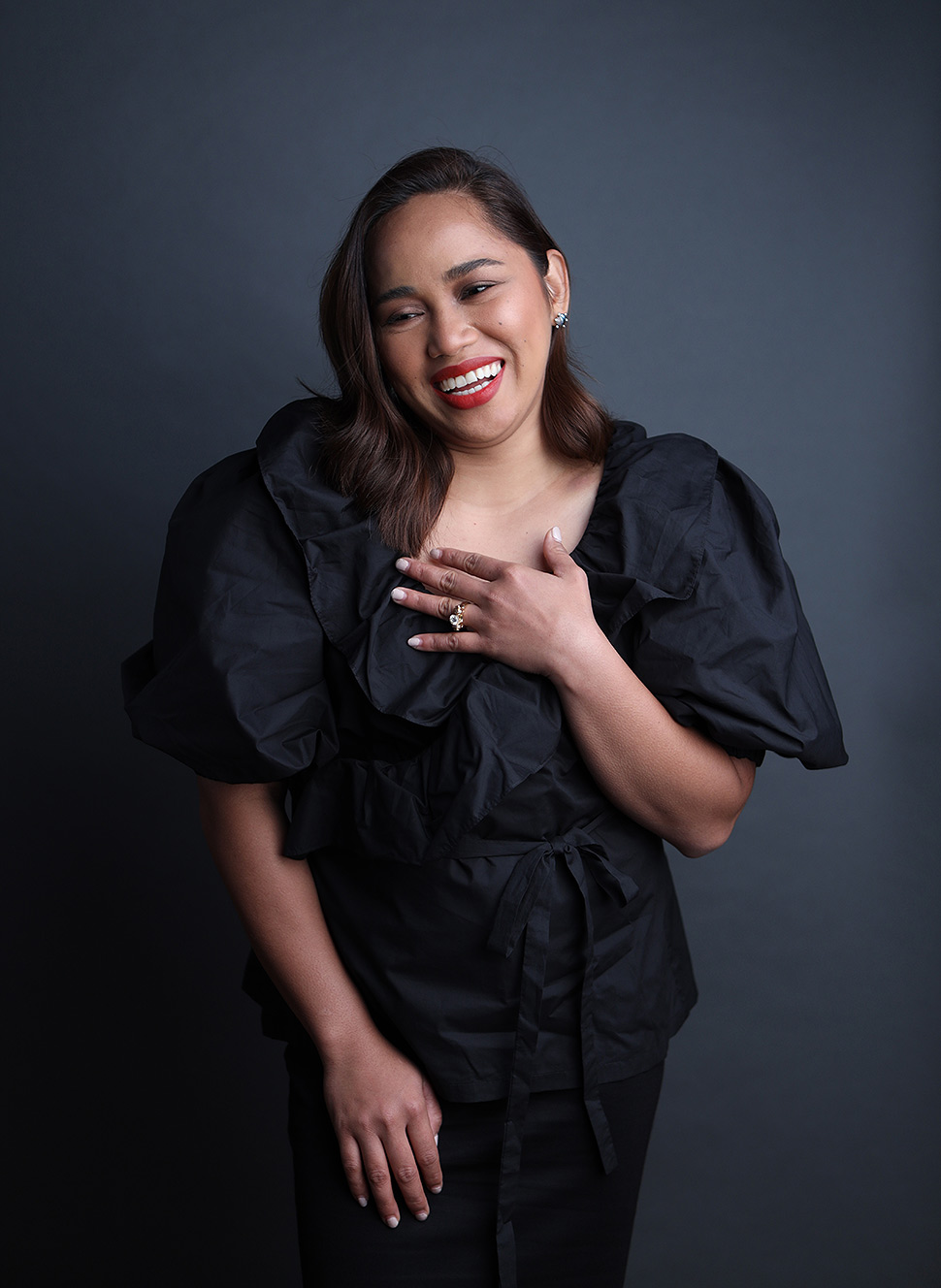 The Harder the Battle
By now, Diaz's struggles are well known. A child in rural Zamboanga, Diaz, like many adolescents in her situation, used weightlifting to raise her family out of poverty. Fast forward to two years before the Olympics, the athlete posted on social media, timidly asking for financial aid to fund her journey to win the gold. Her plea was met with clamor for stronger support for our athletes, but it was also met with derision from naysayers who told her to be grateful for what she was already receiving.
ADVERTISEMENT - CONTINUE READING BELOW
A year later, she was red-tagged in the administration's notorious matrix that claimed to reveal the names of people involved in an ouster plot against the President. At first, it was laughable, like the crazy board meme come to life. But then reality set in and the truth was less amusing.
"Talagang (gumuho) mundo ko," says Diaz on the accusations that put her and her family in potential danger.
As if that wasn't enough, a year later, the pandemic hit. It was in the early days of the health crisis when Team HD was searching for places to train. Taiwan wasn't possible, Mainland China was closed off. Their last option, Malaysia, graciously let them train at the Malaya Sports Negara with the national team. Things were finally looking up—until Malaysia announced that it would be implementing lockdown, thereby canceling Team HD's flight to Colombia the day before takeoff. Like many OFWs at the time, Team HD was scrambling to figure out what to do next while they were stranded far from home.
"San kami magsa-stay? San kami matutulog? San kami magte-training? San kami? Ang gulo na," recounts Diaz.
From a cushy setup, the team moved into an AirBnb and resorted to training in the condo just to keep the athlete in prime condition. Hidilyn would jog in the parking lot, sneak into state training centers, and message colleagues, "Pwede bang maghiram ng plates and barbells?"
Then, lockdown lifted, then reinstated, leaving Team HD scrambling once more for locations and equipment to train. Eventually, Ahmad Janius, deputy president of the Malaysian Weightlifting Federation, offered the team his house in the state of Malacca to train for a year. With the same diskarte that got them through the first lockdown, Team HD transformed a former house parking lot into a training area that would hone a world champion. For a moment, the stars weren't aligning for Diaz, but sheer grit got her through every challenge the universe threw in her direction.