Features
How to Become a Doctor in the Philippines
Here's a basic rundown.
IMAGE SHUTTERSTOCK
The #RoadtoMD takes years of dedication, discipline, hard work, and sleepless nights. But just what do aspiring doctors do in those years? Here's a basic rundown of what you'll need to do to officially become a doctor in the Philippines:
Pursuing a pre-med course
Your journey to becoming a doctor starts as early as senior high school when you choose your strand. While you're not required to take the STEM strand to apply for med school, its subjects are more closely related to what you'll take up in a pre-med course, such as biology, chemistry, and physics.
There are many med schools that also require a certain number of units for select subjects such as biology, chemistry, physics, and sometimes even mathematics and social sciences. Although anyone who is a holder of any bachelor's degree is eligible to apply for med school, aspiring students begin by taking a pre-med course so that the curriculum is already aligned with the requirements for med school.
Taking the physician licensure examinations
In order to become a practicing physician, you must take and pass the physician licensure examinations, administered by the Professional Regulation Commission. While your school has no official bearing on your exam results, there are institutions that employ specialized programs and curricula to help their students pass the exams. Below are some of the top performing med schools in the Philippines, in no specific order, based on results in the last five years:
CONTINUE READING BELOW
Recommended Videos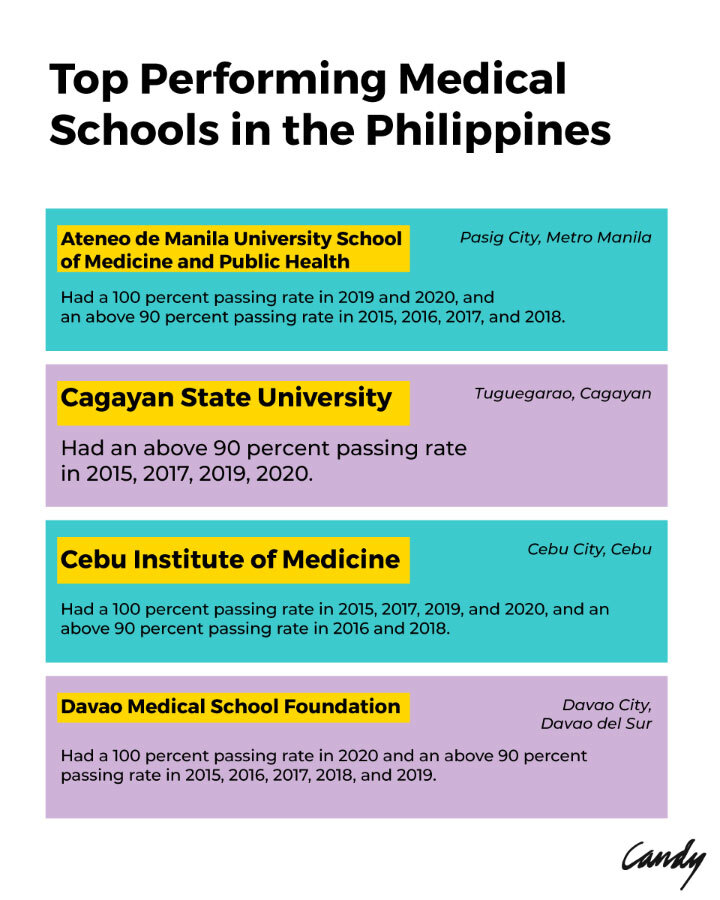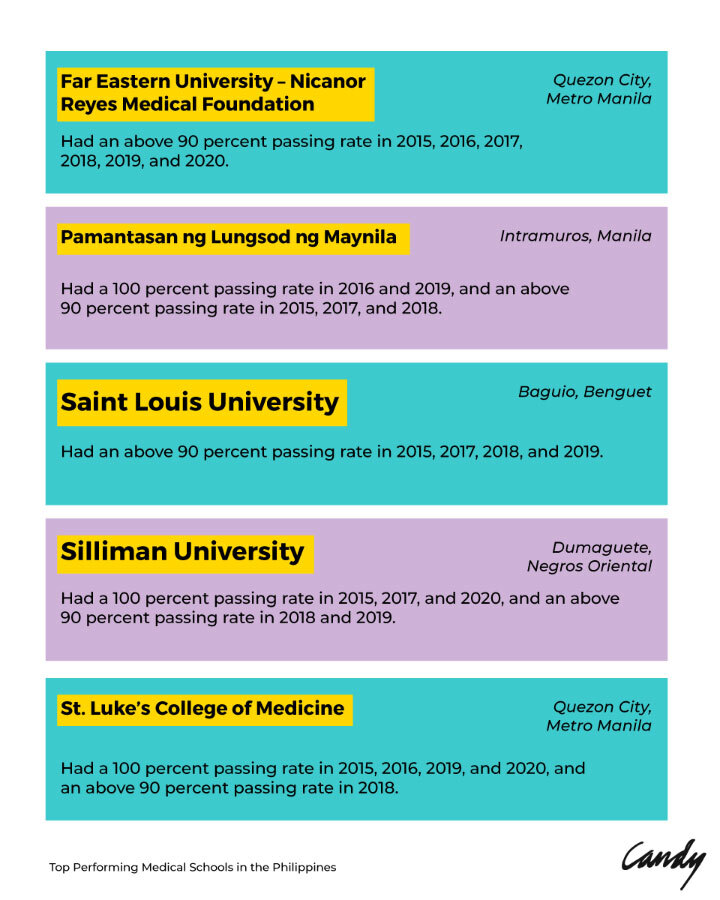 ADVERTISEMENT - CONTINUE READING BELOW
Once you've passed the PLE, you can now officially and legally practice medicine in the Philippines as a general practicioner. But if you want to go for a certain specialization, you may opt to pursue residency training.
Medical residency
Residency training is when doctors decide to focus on a certain specialization. Examples are pediatricians, cardiologists, oncologists, neurologists, psychiatrists, dermatologists, and anesthesiologists. Becoming a resident is like a full-time job. You get your training by spending time in the hospital to as a practicing physician while learning more about your chosen specialty. You also get a salary. To officially specialize in your chosen field, you must take their respective board exams and pass it. For instance, you must pass the Pediatrics Board Exams if that is your chosen specialization.
This story originally appeared on Candymag.com. Minor edits have been made by the Esquiremag.ph editors.
More Videos You Can Watch