On June 9, Leon Gallery is auctioning off items that have been created by heroes of the Philippine-Spanish revolution. Among them are such unique pieces as a Katipunero's double-edged dagger, and documents from Teodora Alonso Rizal, Jose Rizal's mother.
There are two items of particular interest not just to collectors, but to anyone who has an abiding interest in Philippine revolutionary history: a sculpture by Jose Rizal, and a handwritten letter by Gregoria de Jesus, Andres Bonifacio's wife.
JOSE RIZAL'S WORK IN EXILE
Every Filipino schoolchild knows about Jose Rizal's exile in Dapitan. For four years, he was sent away to live in this remote city in Zamboanga del Norte, which is to this day a third-class city with less than 100,000 people. It was in this southern province where he met Josephine Bracken, the woman he would make his wife. His stay in Dapitan, some would argue, are also some of his most fruitful years. He practiced his medicine, he taught children, and he was involved in civic works. Exile didn't stop him from his work—he wrote, he taught geography and history, and he worked on his art.
(Some of his work, in fact, is still on display in the city of his exile. In the town plaza, there is a landscaped map of Mindanao that Rizal made in 1892, based on the famous and invaluable Murillo Map, which is now significant for wholly other reasons.)
One of the obras Rizal produced was a wooden bas relief sculpture of a Filipino man that breaks the archetypes propagated by the colonial Spanish about the indios. The sculpture is made out of wood native to the Philippines, and is 6 centimeters in height, 99 centimeters in length, and 47 centimeters in width. The Filipino depicted in the untitled bas relief is holding a dumbbell, raised over his head. He is half-naked, wearing only drawstring pantaloons, similar to the outfits worn by contemporary Europeans when working out. The Filipino is virile and muscular, engaged in an activity that Europeans considered as a display of strength. This is the strong and hardworking Filipino, a stark contrast to the image of the "indolent" indio. This was how Jose Rizal wanted to introduce Filipinos to the rest of the world.
ADVERTISEMENT - CONTINUE READING BELOW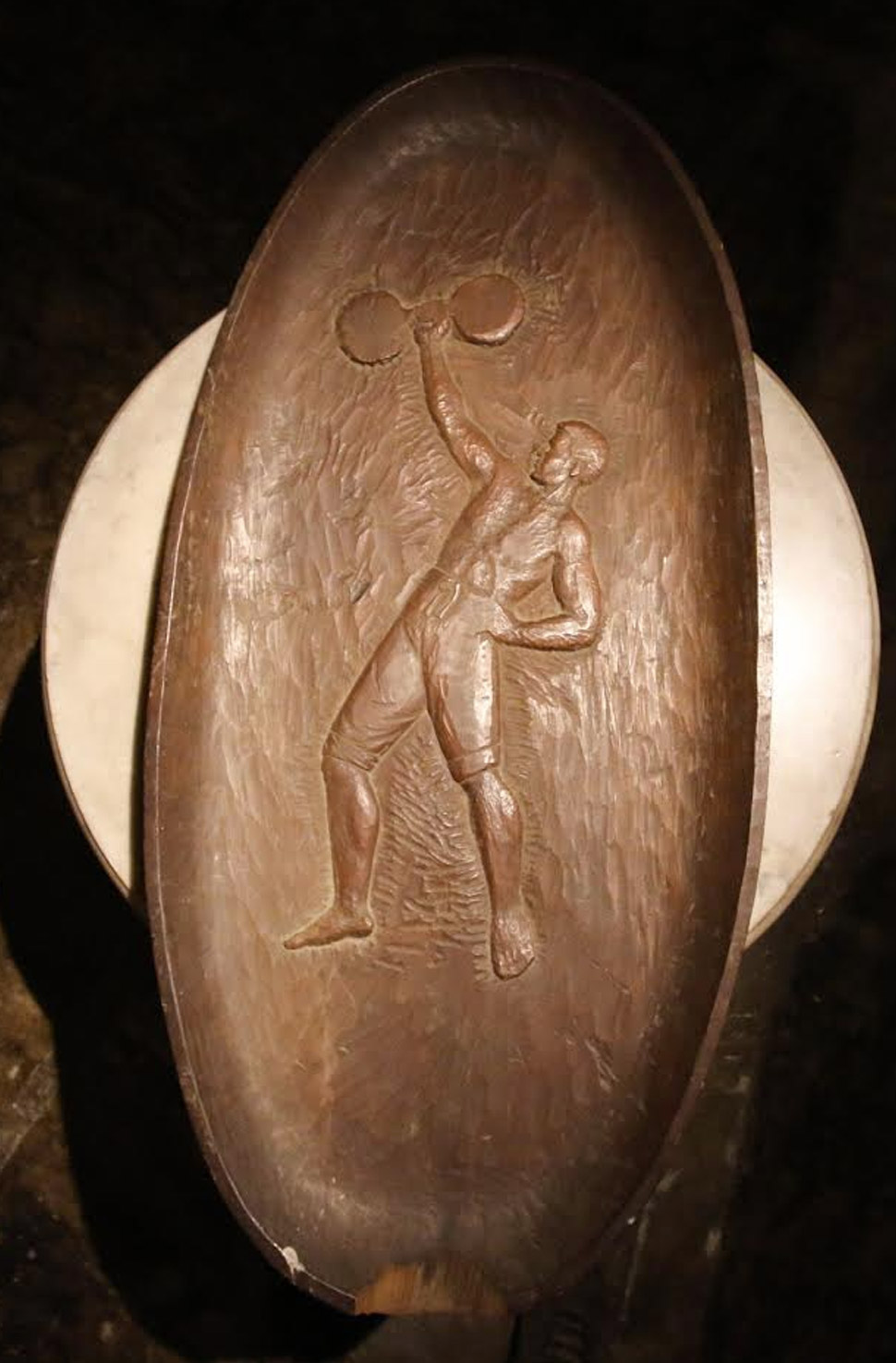 Prior to this, Filipinos were only depicted in extremes, says Lizza Guerrero-Nakpil, consultant of Leon Gallery. They were either natives, wearing bahag and living in the mountains, or "prettified, emasculated townsfolk."
"It was the antithesis of everything Jose Rizal—or for that matter, Juan Luna and Felix Resurreccion Hidalgo—stood for: a proud Filipino, equal to anybody in the world," she wrote in an article.
Ironically, this was also one of the reasons why Rizal was exiled in Dapitan. Apart from his subversive novels, his essay "On the Indolence of the Filipinos," published in La Solidaridad, was an affront to Spain. In the essay, Rizal said that Filipinos were not lazy by nature—the indolence of the indios arose from the Spaniards, from the abuse the people suffered from them, from the corruption and bureacratic red tape in government, and even from the examples set by Church and government officials. (He argued that education and freedom would be the solution to indolence.)
ADVERTISEMENT - CONTINUE READING BELOW
Recommended Videos
This idea was anathema to the Spaniards, who would not accept that the Filipinos were in the same league as they were. Yet Rizal and his fellow Ilustrados have proven them wrong, not just with in their work, but in their character as well.
Rizal gave this sculpture to his sister Narcisa and her daughter Angelica, who visited him in Dapitan often. Over 120 years later, the item is up for auction at the Leon Gallery, and is available for viewing until June 8, 2018.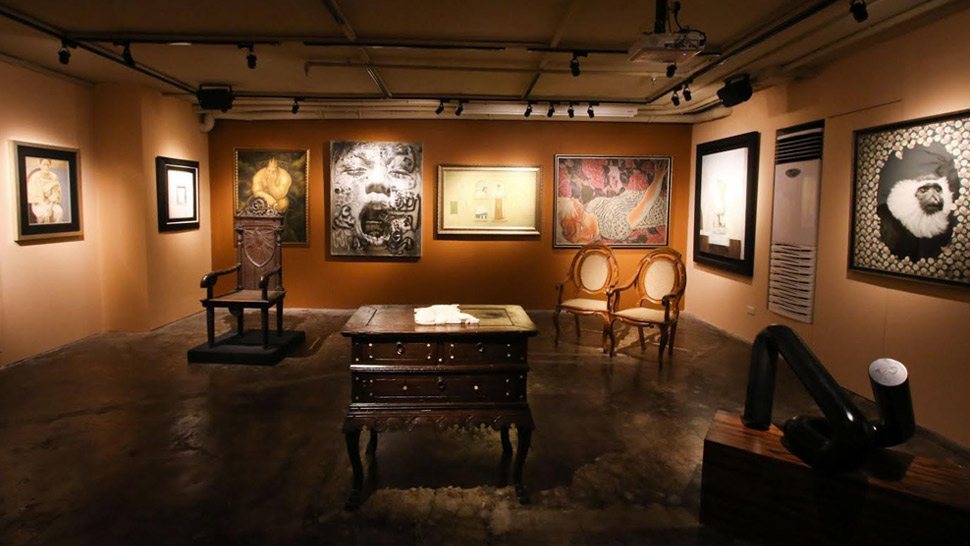 A WIFE'S GRIEF
Arguably one of the darkest chapters in Philippine history is the betrayal and murder of the Bonifacio brothers. Barely a year after the events at Pugad Lawin, which marked the start of the revolution, Bonifacio was invited to Cavite to take part in an election. This would be known as the Tejeros Convention. It was also the beginning of the end for the Supremo.
ADVERTISEMENT - CONTINUE READING BELOW
When Bonifacio rejected the outcome of the elections that declared Emilio Aguinaldo as President of the Revolutionary Republic, he and some of his supporters decided to come up with their own government, as stated in the Naik Military Agreement. This prompted Aguinaldo to arrest Andres and his brother Procopio. They were tried by a military court and executed mercilessly.
Not a lot of their contemporaries were brave enough to recount what really happened, save for Gregoria de Jesus—also known as Oryang—Bonifacio's wife and Katipunan's Lakambini.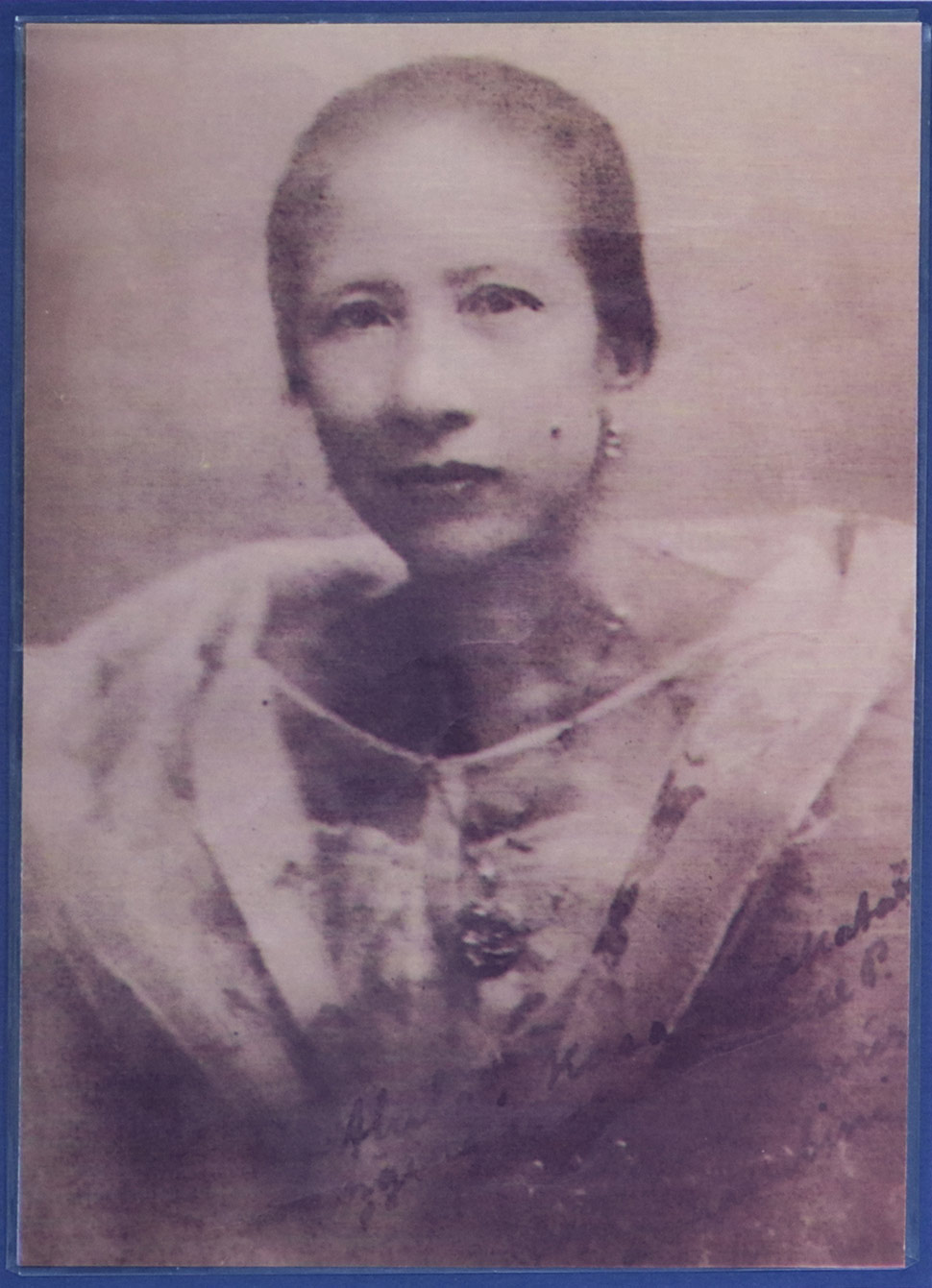 De Jesus documented her ordeal in a narration consisting of 15 pages, These writings came from the estate of Epifanio de los Santos, who, we speculate, was probably was tasked to come up with a detailed record of the events of the Philippine Revolution. Another possibility is that de los Santos' son, a journalist, might have asked De Jesus to write the narration.
ADVERTISEMENT - CONTINUE READING BELOW
As one might expect, De Jesus' story contained a lot of accusations against Aguinaldo, who was still living that time. This is probably the reason why some pages were "lost," according to Nakpil.
It is only now that these documents are seen in full, rife with details about Bonifacio's violent arrest, imprisonment, trial, and disappearance, seen from the point of view of his wife.
The handwritten testimony tells the pitiful state of the brothers days before their execution. Badly wounded and stripped naked, De Jesus had to beg for clothes and medicine for her husband and brother-in-law. And when these arrived, De Jesus wrote, the soldiers did not bring the items to the prisoners.
When she asked where Andres and Procopio were brought, soldiers pointed her to different directions.
"... Itinuro ako sa kabilang Bondok na labis ng taas ang inakyat ng kami any dumating, any wala. Lakad na naman kami. Ay mga kapatid. May dalawang Linggo kong hinahanap sa Bundok na walang tigil kami kundi sa gabi, ng di ko makita at walang makapagsabi kami ay sumunod sa kanilang tropa at kahit ang aking pagtanungan sa kanila ay kung saansaan ako itinuro."
According to De Jesus, the search took her a whole month, with nothing but bananas and rice porridge (which they had to beg for) to keep her and her companions going.
At the end of the story, she wrote:
"Salamat na lamang mga kapatid at akoy nabubuhay pa sa hirap na pinag daanan ko na may isang buwan akong lumakad na wala kaming kinakain kundi sagit na bubot at kung makapaglimos ng kaonting bigas ang aking mga kasamahan at ilulugaw at siyang ikakain sa akin at ang damit ko sa katawan ay dina halos masunog."
ADVERTISEMENT - CONTINUE READING BELOW
She signed the narration, "Gregoria de Bonifacio" and "Lakambini," a term she rarely used in documents.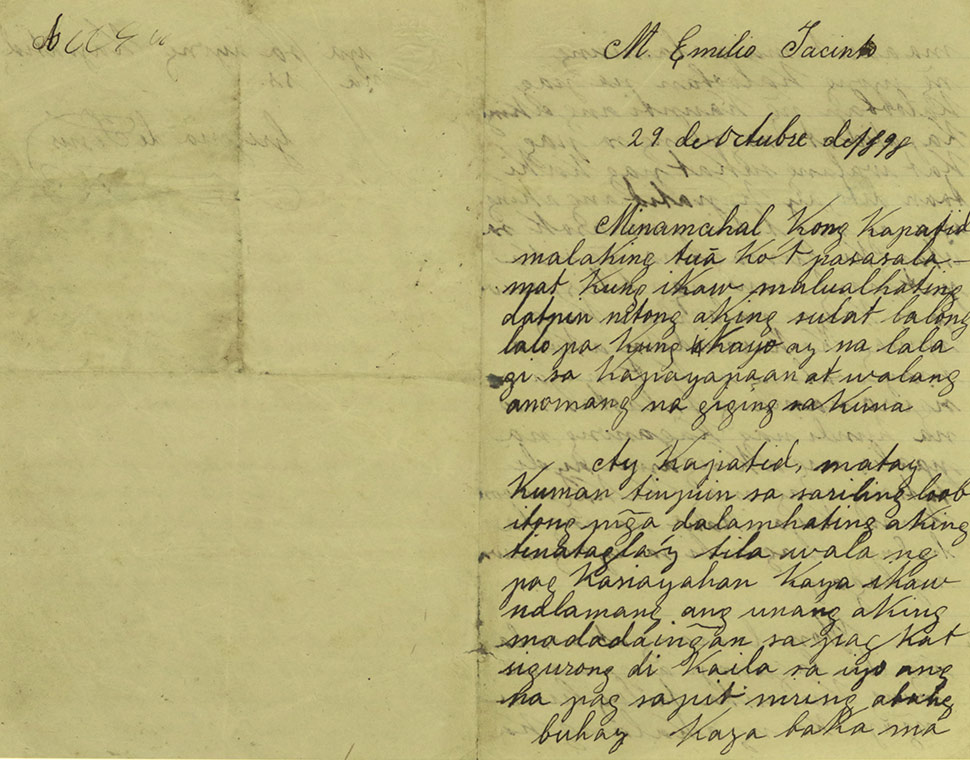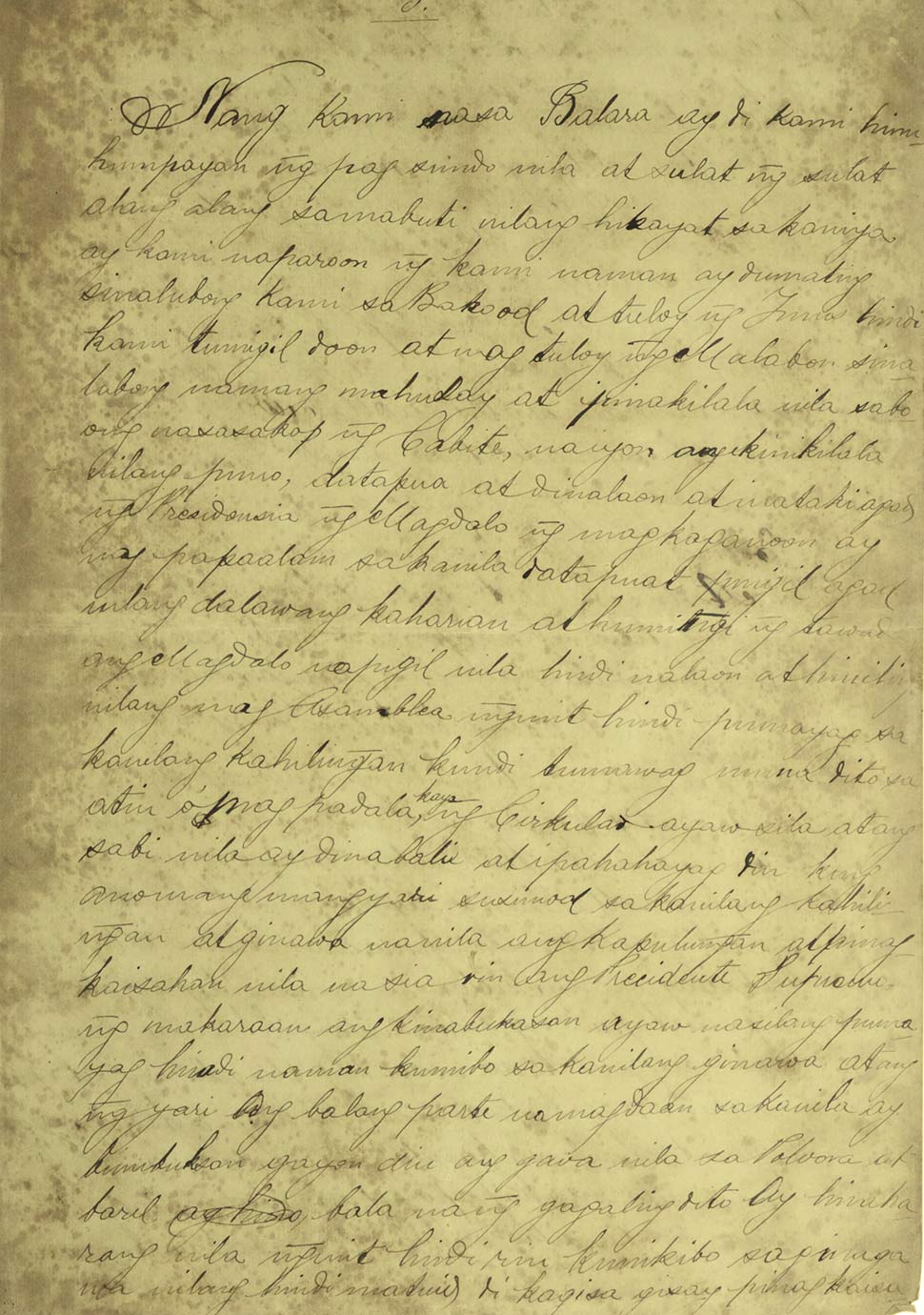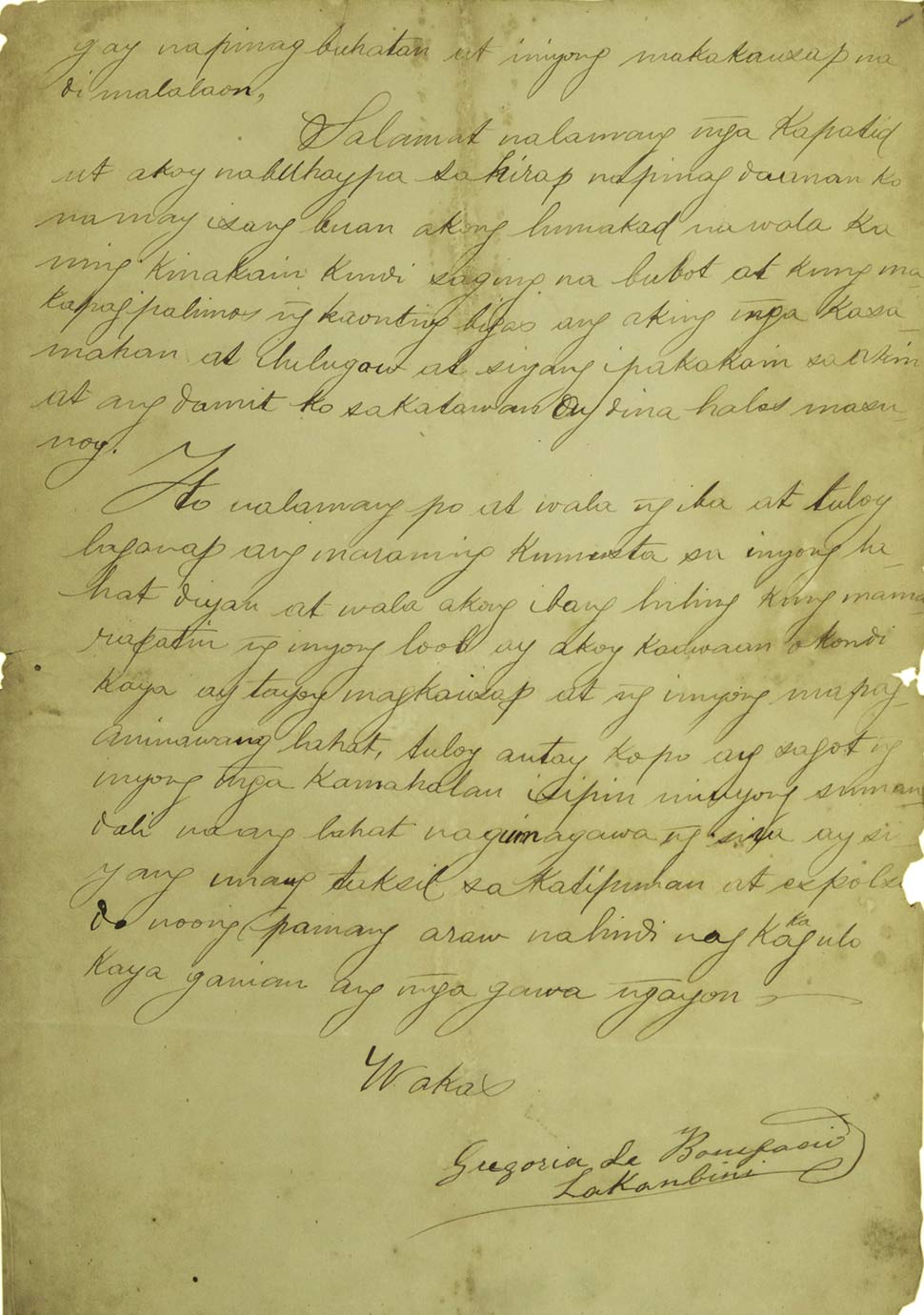 ADVERTISEMENT - CONTINUE READING BELOW
In this narration by De Jesus, she does not mention any names, even her husband's. It is characteristic of post-traumatic stress, Lizza Nakpil surmises. The memory must have been so painful and hard to relive.
Aside from this narration, which had been written years after the revolution, a document exploring how De Jesus felt during that time manifests in a letter she wrote on October 29, 1898. This was addressed to Emilio Jacinto, her husband's close friend and brains of the Katipunan.
In this letter, she tells how her family was affected by Bonifacio's death. Her family had fallen from grace. Her mother and brother had to work for no more than a few centavos. Her father had been taken away. She was asking him for help and for the help of his wife.
"… Ikaw na lamang ang unang aking madadaingan sapagka't sigurong di kaila sa iba ang nagsapit sa niring bang buhay. Kaya't maaring matatamising ng iyong kalooban na pagkalooban ng kaunti ang aking kapatid at magulang sapagka't walang sukat pagkakitaan dito."
The Lakambini was at her lowest, yet three months later, she would marry Julio Nakpil, a general in the Katipunan—and an ancestor of Lizza's. She would live the remainder of her life in the house of Ariston Bautista Lin and his wife Petrona, the older sister of Julio Nakpil.
WHAT-IF VERSIONS OF HISTORY
This depressing part of history only makes one wonder, "What if," Nakpil says. "What if Bonifacio didn't go to Cavite? What if he waited?" she asks.
ADVERTISEMENT - CONTINUE READING BELOW
Had Bonifacio waited, Nakpil speculates, he might have met Antonio Luna, and together, they might have founded an anti-Magdalo faction. It would be like the Avengers, with these heroes assembling against Aguinaldo, Nakpil says.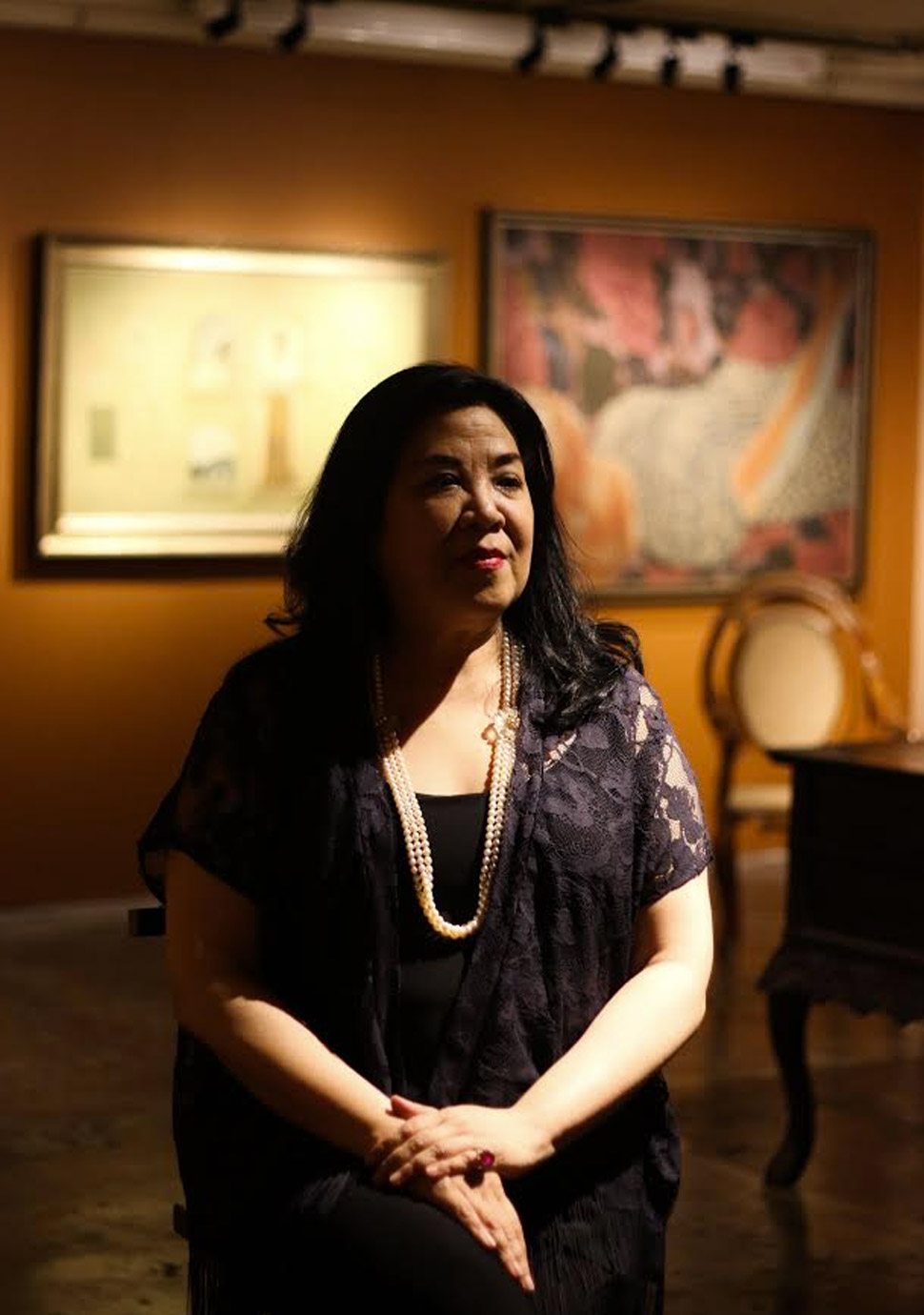 Then again, what's the point of pitting one hero against another? Nakpil observes that our heroes do not fit a one-size-fits-all stereotype or category. "Jose Rizal was not the man for all seasons. He embodied one part that we should exonerate," she says, adding that we are better off looking at their individual qualities that made our heroes remarkable.
These items and more are available for viewing until June 8, from 9 a.m. until 7 p.m. at Leon Gallery, GEurovilla 1, Rufino corner Legazpi Streets, Makati City.